INTRODUCTION
Delegates, here is the MERC April Newsletter, please circulate the Newsletter to your fellow Councillors and senior staff this week, so they can appreciate and understand the excellent work the Association and you are doing on behalf of your Council and community, with regard to mining and energy related matters.  
RESOURCES, ENERGY, INDUSTRY & INNOVATION FORUM IN DUBBO 6th – 9th JUNE
MERC is partnering with RDA Orana to run the Resources, Energy, Industry & Innovation Forum in Dubbo during the period 6-9th June 2023. This is a change from the earlier mooted dates of 23rd-26th May 2023, due to the clash with other events affecting the attendance of delegates and the unavailability of venues to accommodate the needs of our conference.
All Councils, Councillors, Joint Organisations of Councils, General Managers throughout NSW are being invited to attend individually, as well as stakeholders from industry and government agencies who are being enticed with marketing material via social media and email etc., to ensure state wide coverage of this very important and often missunderstood topic with decision makers having to strive for –" zero emissions" Federally by 2050 and less in some states.
On this basis, using the expertise of our event partners at RDA Orana  and our input, a lot of questions will be asked, answered and the impacts on our communities clarified and undertsood at the conference so Councils can adjust accordingly.
It is anticipated that potential members for MERC will emerge as they will see that MERC is a specific valued apolitical voice for any Councils in NSW with mining & energy related developments or be a member out on interest for Local Government communities generally in NSW. by way of MERC having the ability to organise this conference and being an advocate with a strong voice for them.
Competitive conference attendance packages (including an early bird registration incentive if booked by 15th May 2023) have been carefully considered by the organising Committee, taking into account potential sponsorship (where related industries have been targeted and packages compiled to assist them make their decisions). The organising Committee has been meeting weekly by zoom to ensure the conference is a success – your Council and senior staff' attendance will ensure that it is.
The focus has been on ensuring the cost is not a deterrent from as many Councillors and specialist technical staff attending this very important forum and for the organising Committee to at least break even with the outlays. Details on these packages will be released shortly once sponsorship is finalised in coming weeks..
The staging of a three day conference in regional NSW and using an organising Committee consisting of the Executive Officer from MERC, the CEO RDA Orana and their event staff member, rather than utilise expensive event planners, means that despite the excess workload, overheads are relatively low compared to other industry conferences held in cities and so the cost of attending is also low.
The conference theme is 'Towards Zero Emissions" and is designed to integrate industry with government (Federal, State and Local Government) to discuss the issues and impacts to work out the solutions by listening and observing best practice examples and hearing from experts from all sectors of the mining and energy space.
The conference will commence with the industry component on the first two days including a ¾ day for site visits to energy and mining developments of immense interest to industry, government and council members/ technical staff that can attend these days if they wish.
These 2 days are followed by day where industry and community representatives from Councils, State & Federal Governments come together in a forum discussing, the key issues such as use of a variety of energy options including the taboo nuclear energy option and its impacts on communities plus emerging options with hydrogen, gas, coal, wind, solar, battery, electricity, microgrids, waste management and so forth.
Provision has been made to have a session after site visits on Day 2 to discuss the issues and to look for solutions on the complexities of ensuring there are a workforce and housing to ensure the energy options developed is produced to keep the lights on, businesses running and communities/councils functioning.
It is an innovative program on a topical and controversial issue designed to attract a lot of interest from the NSW decision makers, including local Councils and their senior specialist staff.
Some of the speakers and panellists confirmed so far for the conference are the Hon Penny Sharp, NSW Minister for Climate Change and Energy; Kate Minter CEO, Rewiring Australia; Rob Parker founder Nuclear for Climate Change; Steve Galilee, CEO NSW Minerals Council; Professor Veena Sahajwalla, UNSW Sustainable Waste Research & Technology Centre -SMaRT; Director from EnergyCo; Executive from Whitehaven Coal; Brad Cam, Chair Housing Plus, Jacqui Masters, Training Services NSW; Dr Mark Apthorpe, Sustainable Electricty Infrastructure Jobs Advocate; Michael Sharpe, Sustainable  Communities and Waste Hub; Warwick Dawson, Pro Vice Chancellor, Industry & Engagement, University of Newcastle;Murray Wood, CEO Dubbo Regional Council plus more from NSW Councils – the Mayors of Dubbo, Orange and Parkes on impacts on their communities and opportunities.
The program speakers and panelists is still being confirmed awaiting  responses from the Federal Minister for Climate Change & Energy, Hon Chris Bowen: Federal Minister for Infrastructure, Transport, Regional Development & Local Government, Hon Catherine King; Deputy Premier NSW Dugald Saunders; Kevin Gallagher, Managing Director and CEO Santos; Sanjeev Gupta, owner of SIMEC Mining GFC Alliance – Tahmoor Coal Mine; Mike Sutherland, GM ASM to name a few of them. The following link will take you to the program:
Resources, Energy and Industry Innovation Forum Click on the blue links for more details.
Tuesday, 6 June 2023, Day 1: Industry Innovation Forum including lunch and followed by informal networking drinks – Dubbo Rhino Lodge, off the Newell Highway past the Zoo. Sessions include.
Leading and funding innovation.
Opportunities for clean energy adoption.
Monitoring and measuring emissions.
Activating innovation in regions (Zero Hub Innovation Zone workshop) 
Wednesday, 7 June 2023, Day 2: Industry Tours x 2 (buses), pick up from RDA Orana Office and motels. (Note: Finer details of both tours are being confirmed)
Resources Tour: 

Materials Science Advancements & Process Flowsheets presentation
ASM Metallization Technology (KSM) presentation
Tomingley (Alex Cherry) Ambient Noise Technology – Passive Seismic
CMOC North Parkes – training centre
Parkes Strategic Planning Precinct (SAP)

Energy Tour

Dubbo Hydrogen site 
Blueridge Microgrid/Lavo
Bodangora Wind Farm
Alkane Drill Rigs
Energy Co Substation
Squadron Energy – community engagement
3 pm Workforce and Housing Session – Dubbo Rhino Lodge. Welcome Function 5:30 pm The Exchange 
Thursday, 8 June 2023, Day 3: Industry and Community Development Forum – Dubbo Rhino Lodge, off Newell Highway, past the Zoo. Sessions with speakers/panellists include.
Zero emissions future
Industry Outlook
Leveraging opportunities
Managing transition
Formal Dinner, Lazy River Estate (buses will also support this). Keynote speaker TBC
Friday, 9 June 2023, Day 4: 8.30am-1.30pm. MERC Meeting – Starling Room, Dubbo RSL Memorial Club. Observers and potential members will be encouraged to attend. Life membership presentations.
GOVERNANCE MATTERS
1          Next Meetings of Association – The next Ordinary meeting will be on 9th June 2023 in the Dubbo RSL Starling Room. The August Ordinary meeting location is yet to be determined, whilst the AGM meeting will be held in November at a location to be confirmed. The Executive Committee will have a meeting (by teleconference) beforehand on dates to be determined by the Chair in consultation with the Executive Committee.
2          Resources, Energy Industry & Innovation Forum (REIIF) The REIIF date slots have been changed and now booked for the week 6-9th June 2023 as outlined above. The conference will be run in partnership with RDA Orana with MERC's Ordinary meeting being held on Friday 9th June 2023 after the conference, hoping that members attend the conference and networking dinner day before at least and having non members and potentially new members attend as observers.
3          COVID-19 Virus Impact on MERC – In 2023 MERC will be resuming its' meeting cycle activities in the normal manner. What this means for MERC delegates is that 2023 will have quarterly meetings as "face to face" meetings with use of zoom in exceptional circumstances. Executive Committee meetings will be by zoom means as determined. A lot of value is gleaned from being at a meeting in person and this can be lost when delegates attend by zoom. The focus will always be on giving delegates an opportunity to attend meetings. However, delegates must be present to vote for the AGM in view of the voting system in the constitution.
4          Speakers for Next Meeting in Dubbo – The invitees to be approached to speak at Dubbo will be difficult given that Ministers, Opposition, Mining & Energy Industry Leaders and speakers from areas of Innovation in the space such as Universities, Associations, experts, plus sponsors will be involved from 6th June and may not be available.
5          Inland NSW Growth Alliance (formerly Orana Opportunity Network (O2N) – MERC is trialling as a Bronze Member of INGA for 12 months. Their Newsletters are available on their website on o2n@o2n.org.au.  A partnership has been forged with RDA Orana to joint hosting of a Resources Energy & Innovation Forum with MERC in Dubbo as ouitlined above.
6          CRC Transformation in Mining Economies (CRCTiME) – MERC is a partner with CRC TiME on a no cost but consultative basis. They provide updates on progress with an opportunity for members to join webinars, workshops, surveys etc. Latest update is below. They were invited to participate in the Resources, Energy, Industry & Innovation Forum but were unavailable for the dates.
7          Renewable Energy Zones (REZ) – Consultatnts have conducted a survey of 21 stakeholders.including the Executive Officer of MERC on how the government can improve its "social licence" with roll out of the REZ's. Details are outlined below.
MATTERS OF INTEREST
(i) Renewable Energy Alliance (Re-Alliance)
Andrew Bray, National CEO Re-Alliance writes: "Australia's oldest coal-fired power station, Liddell, closed the last of its operating units today. What does this mean for the future of the Hunter region and for our energy transition?
In this piece, we explore why this is important, what this means for the future of the Hunter region and what lessons this closure holds for the future of the energy transition. 
The closure is an opportunity to move to cleaner, greener, more reliable and more efficient energy sources. When it was switched on 52 years ago, Liddell Power Station delivered the cheapest and most reliable energy.  However, like all power stations it has aged and become unreliable and inefficient over time. Initially Liddell generated 2,000MW at maximum capacity. It was later downgraded to 1,680MW. Since one of its four units shut down last year, the plant has been generating closer to 750MW. According to data group WattClarity, Liddell also needed to be restarted 335 times in 2022 – this makes for unreliable generation. 
With renewable energy, we have cleaner, greener, more reliable and more efficient ways of energy production. Announcing its closure all the way back in 2015, Liddell owner, AGL, said, "the installed capacity and energy output from Liddell is best replaced with lower emissions and more reliable generation, with a longer life span."
The fact that the original closure announcement was met with opposition illustrates how urgent transition has been stymied by politicians trying to hang on to the past. The fact it is now finally happening is a cause for both relief and optimism that the transition is now back on track. 
Building reliability through a planned transition
With eight years to plan the closure and transition to more reliable and cleaner renewable energy generation, the Australian Energy Market Operator (AEMO) said it was confident that energy reliability in New South Wales would not be impacted by the closure. "The notification of Liddell's retirement has allowed the market to respond, with NSW forecast to meet reliability measures until at least 2025," said Merryn York, AEMO Executive General Manager of System Design.
Recent large-scale renewable energy developments in NSW have created a pipeline of flexible energy resources. In order to support a fast transition, new "firming" capacity or flexible energy that can be utilised when renewables aren't producing energy or at times of high demand is also being developed. Projects under construction in NSW include the 700MW/1400MWh Waratah super battery, the 300MW/1200MWh Calala battery, the 200MW/400MWh Tamworth Big Battery and the Snowy 2.0 pumped hydro project to name a few.
The future of the region
The Hunter region has previously been synonymous with coal. Plans to develop the Hunter Energy Hub with grid-scale battery, solar thermal storage, wind, hydrogen and pumped hydro projects have created a new opportunity: to make the region the model for socio-economic resilience powered by clean energy. 
The Liddell Power Station has created jobs for multiple generations in the region. Reskilling programs are crucial to ensure that the region continues to offer economic prospects to its residents. We believe that a National Transition Authority is needed to ensure re-skilling and retraining workers to ensure they are ready to participate in growth industries like renewables and investing in diversifying the economies of impacted communities. For this reason, we are engaged in advocacy and partnership calling upon the Federal Government to establish the National Transition Authority.
Coal closures are necessary for a climate-safe future
If Australia is committed to creating a climate-safe future, emissions reduction targets need to be met – and coal closures are the number one priority for reducing our emissions. With the closure of Liddell, AGL, Australia's largest carbon polluter, will reduce its emissions by 17%.
Energy production is Australia's biggest source of emissions. Reducing emissions from Australia's electricity generation will be the main driver of emissions reductions in Australia's economy, delivering over a third of the target 43% by 2030.
The energy transition is an opportunity to build resilience
As more coal-fired power stations close, rapid transition to renewable energy ahead of closures is important to keep our energy systems reliable and resilient. It is equally important to ensure transmission networks are built to bring the generated renewable energy to the grid. 
With Liddell, we have seen that the closure of coal power stations, when planned in advance, can lead to better energy reliability, lower prices and reduced emissions. At the same time, this is an opportunity to create resilient communities in regional Australia. A National Transition Authority can help create this for regions.
We believe a swift and just energy transition is crucial to build a climate-safe future; we are committed to ensuring regional communities are supported through the energy switch". 
(ii) Renewable Energy Zones (REZ's)
A REZ is a hub of renewable projects across a region that forma a modern-day power station, producing a large amount of energy for the State. The State Government has set them up in the New England, Southern NSW, Hunter/Central Coast Regions and in the Riverina and Southern Riverina.
In following up Mike after the last two meeting presentations by him, EnergyCo, as part of their Stakeholder Engagement Strategy have set up a Listening Program where the MERC Executive Officer was one of 21 entities to be interviewed on a one on one basis (to ensure MERC is involved in the roll out of REZ's as a stakeholder) to assist in shaping how EnergyCo leads the delivery of the Renewable Energy Zones and Priority Transmission Projects in NSW.  
EnergyCo has engaged the services of RPS Group to conduct a series of one-on-one stakeholder interviews. Undertaking the consultation through an independent company ensures all feedback will remain anonymous as well as giving EnergyCo deeper research insights.
When the interviews are complete, RPS Group will provide un-identified interview transcripts for analysis. The key themes and insights from this data will help shape the way EnergyCo work in the future and they plan to release a public report summarising the insights from both our community survey and stakeholder inputs.  The results of the interviews are yet to be received.
The NSW Government has made the following announcement in relation to the NSW Electricity Infrastructure Roadmap.
"The NSW Government is pleased to announce it has reached an important milestone in publishing a Draft Renewable Energy Zone (South West) Access Scheme Order 2023 with its accompanying South West REZ Access Scheme Position Paper. The draft access scheme for the South West REZ has been informed by the extensive engagement and policy design work carried out with the Central-West Orana REZ Access Scheme, the first of its kind in the National Electricity Market. The Draft South West REZ Access Scheme builds on this work, with a number of key changes reflecting the unique characteristics of the South West REZ. These are discussed in detail in the South West REZ Access Scheme Position Paper.
Access schemes are a key part of the NSW Government's plan to coordinate new renewable energy and storage investment in REZs across the State. The Office of Energy and Climate Change together with the Energy Corporation of NSW (EnergyCo) welcomes feedback on the proposed design. This will help inform the Minister for Energy's final decision on whether or not a scheme should be implemented as well as the design of that scheme.
Have your say
The declaration was published for public consultation in early March 2023 and sets out how generation and storage projects can be granted access rights to new network infrastructure within the South West REZ and is the primary statutory instrument for the South West REZ Access Scheme. It is available to view here.
The Office of Energy and Climate Change together with EnergyCo, will host an online briefing about the Draft South West REZ Access Scheme and Policy Design on Friday 28 April 2023 from 2-4pm. Information about the briefing and how to register is available here.  You are invited to provide feedback on the Draft South West REZ Access Scheme Declaration and Position Paper by making a submission to electricity.roadmap@dpie.nsw.gov.au. Please include 'Your Name/Organisation – Draft South West REZ Access Scheme Declaration' in the subject line. Submissions close on Monday 15 May 2023". 
A senior Executive from EnergyCo will be addressing delegates at the Conference 6-9th June 2023 where discussion on the roll out of the REZ's can be asked.
(iii) Clean Energy Council
From their latest newsletter " Clean Energy Council has launched the Clean Energy Report 2023 in mid-April. It's a critical document for us and for the sector as a state-of-the-nation progress report. Gathering all the information and data to create a comprehensive, year-in-review snapshot gives us the chance to take stock of where we've come from, how we're doing and where we need to improve.
In 2022, renewable energy accounted for 35.9 per cent of Australia's total electricity generation, up for 32.5 per cent in 2021, and more than double the 16.9 per cent recorded in 2017. More than 5 GW of new renewable capacity was installed in 2022 – 2.7 GW from rooftop solar, and 2.3 GW from utility-scale developments. It's great to see rooftop solar still leading the way in Australia's clean energy transformation. Utility-scale is running to catch up, however: 2022 saw 5 GW of new renewable construction commitments in wind and solar farms – the highest year on record. For more stats and commentary, check out the report."
(iv) CRC TiME – April update)
 CEO Guy Bloggs provides a quarterly update on the CRC Transformation in Mining Economies " We recently published 12 new fact sheets on our website highlighting key findings from our foundational research projects. The topics range from post-mining land uses, policy and regulation, and mine closure in a changing climate, and feature case studies from Latrobe Valley, Bowen Basin and the Pilbara. Standalone case studies, resources and tools from our foundational projects will be released over the next few months.
Successful post-mine transitions are fundamentally about values. Understanding different notions of value, and how these vary across time and place, is important to determining what is desirable as well as feasible and possible in post-mine economies. See the 'Understanding the values of stakeholders in Australia post-mining economies' report for more. Other issues are outlined as follows:
In another collaboration, CRC TiME have been hosting and working with Associate Professor Jacquet's world-leading work covers post-mining economic transition paths, recognising and acknowledging the important contributions of miners and the mining community and overcoming individual and community loss and building resilience as local economies transform.
His focus has been on regions where coal-generated electricity has been replaced by gas in USA. We're currently working on Associate Professor Jacquet's schedule for his visit to Australia, which will include presenting at the World Mining Congress, a regional visit and a webinar. We are also working on opportunities for regional organisation representatives to join the regional visit.
Our Research Director, Professor Tom Measham, recently joined the Steering Committee for Global Coal Transitions Research Coordination Network (RCN). RCN is led out of North America and funded through the USA National Science Foundation. It is a network that brings together global social science scholars on the topic of coal transitions in different geographic settings.  
Tom will be travelling to the UK and Poland next month to meet the rest of the steering committee and plan the next steps in the development of the network. This is a huge opportunity to bring global knowledge back to Australia and share CRC TiME research findings, partnerships and resources globally".
OTHER MATTERS OF INTEREST – MINING & RENEWABLE ENERGY
"Net Zero Study Finds Australia Needs Nearly 3 Terwatts of Wind & Solar" article by Giles Parkinson 19 April 2023, Renew Economy "Australia will need nearly three terrawatts, or 3,000 gigawatts, of wind and solar if it is to meet its goal of a net zero economy by 2030, a plan that could cost up to $9 trillion, according to a new study. The astonishing numbers are revealed in a new report – Net Zero Australia – put together by Melbourne University, the University of Queensland, and the Nous Group, and released on Wednesday. To put the 3,000 gigawatts of wind and solar in some context, Australia currently only has about 30GW of large scale wind and solar across the country. So it has a lot to do.
The report underlines the scale, complexity and cost of the net zero challenge, which it describes as a "once-in-a-generation, globally significant and nation-building opportunity" that will transform the domestic economy, and Australia a key player in global decarbonisation efforts thanks to the exports of green energy and metals.
But it won't be easy.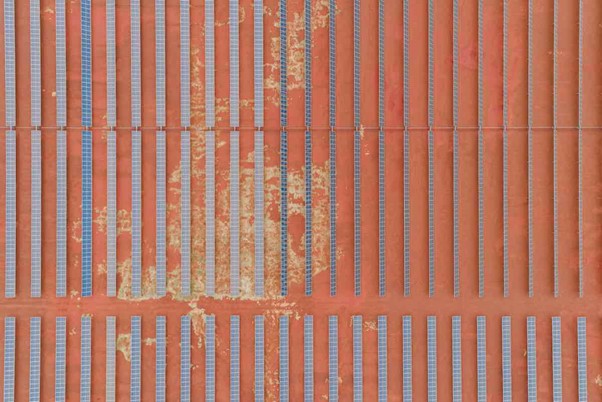 The 60MW Chichester solar farm in the Pilbara. Image: Alinta Energy
First off, Australia will need to triple the power capacity in the National Electricity Market's by 2030 to be on track for net zero by 2050, and it will ultimately need to increase the size of the NEM 40 times over to meet that economy wide and clean export target.
"(The energy transformation) requires us to grow renewables as our main domestic and export energy source such that by mid-century we have 400-500 GW serving our domestic energy system and potentially several thousand GW producing energy exports, compared to roughly 25 GW today," the report says.
Australia will also need to establish a fleet of batteries, pumped hydro energy storage and gas-fired firming that is larger in capacity than its domestic energy system now, and greatly increase electrification and energy efficiency across all sectors, including EVs and replacing gas-fired heat in homes and businesses.
The report models six different scenarios – ranging from "a reference point and slower electrification", to "rapid electrification" that sees no impediment to renewables (E+ RE+) to constrained renewables (E+ RE-) and local "onshoring" (E+ ONS) which makes the sensible conclusion that Australia should use clean energy to export refined products such as iron and aluminium rather than lumps of coal, minerals and fossil molecules.
Some of the scenarios appear designed to satisfy some of the key sponsors of the report, including gas companies APA and Dow and Worley, Andrew Forrest's Minderoo Foundation (big interest in hydrogen), and other organisations who favour carbon capture and storage.

Their big bet appears to be that the deployment of wind, solar and storage is somehow constrained by infrastructure, land access/, labour and other supply issues. That, they say, will create opportunities for more gas, CCS, and offshore wind.
Nuclear is written off as too expensive, and it says that even it can achieve substantial cost reductions and renewables were somehow constrained it would likely only play a limited role at best.
It should also be noted that while the report focuses heavily on costs and opportunities, it doesn't model the cost of inaction, or fossil fuel supply constraints, and it draws a straight line pathway to zero emissions, when most analysts reinforce the need to do much of the easy stuff quickly for a 1.5°C outcome.
Still, the report is remarkable when you consider that little more than a decade ago the likes of Beyond Zero Emissions were rolling out 100 per cent renewable scenarios and being widely mocked for doing so.
Now, even what could be described as the "energy establishment" accepts that the transition to wind, solar and storage is inevitable, and desirable, even if there is still debate about the scale and timing. This report acknowledges that in every scenario, fossil fuel generation in Australia will slump by 80 per cent by 2030.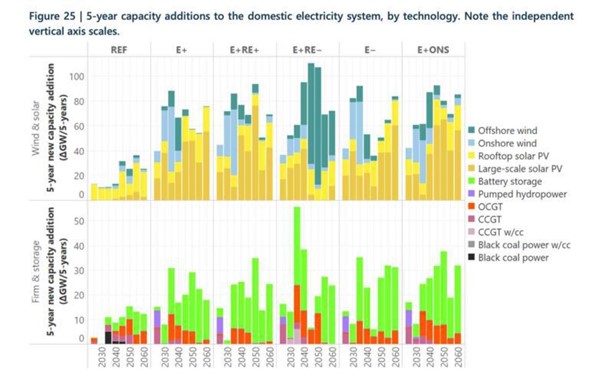 The report notes that between 40GW and 80GW of new wind and solar will be needed every five years, or up to five times the pace of the recent rollout of wind and solar in Australia's main grid. That, though, is just with the domestic energy system in mind. What is needed to meet clean exports and replace the current focus on coal and gas exports is simply astonishing – upwards of 10,000 terawatt hours a year, or around 50 times more than what is currently produced on the country's main grids.
That supply will inevitably come predominantly from wind and solar – the only point of debate is the extent to which CCS, hydrogen, gas and offshore wind will seize part of the market.
Professor Michael Brear, the director of the Melbourne Energy Institute at the University of Melbourne, says the modelling makes clear that renewables and electrification, supported by a major expansion of transmission lines and storage, are keys to reaching net zero.
"But we will need an all technology, hands on deck approach. That includes a large increase in permanent carbon storage, deep underground and in vegetation, and a doubling of gas-fired power capacity to support renewables and energy storage.
"Our modelling finds that there would be no role for nuclear energy unless costs fall sharply (to around 30% lower than current international best practice) and renewable energy growth is constrained."
The major points of contention might be the estimated costs of abatement – upwards of $300/tonne – which probably should be clarified as applying to only the hardest parts of the energy transition. And considering where we have come from in the last decade, likely to fall dramatically before they are addressed.
And there is also the projections of CCS, which seem to be used to justify a push for "blue hydrogen" (made from fossil fuels, and gas in particular), and gas generation in general, even up to 2060 in some scenarios. That does not appear consistent with a 1.5°C world, a target which the report does not even discuss.
It is interesting to note that a net zero analysis produced by Baringa on behalf of the Clean Energy Investor Group suggested no role for CCS, at least in the domestic economy.
At least, however, the nuclear question has been effectively buried, although it would be surprising if the conservative media and the federal Coalition took much note".
Disclaimer The comments and details in the articles in this newsletter do not reflect the views, policies or position of the Association or its member Councils and are sourced and reproduced from public media outlets by the Executive Officer to provide information for members that they may not already be exposed to in their Local Government areas.
Contacts Clr Kevin Duffy (Chair) cr.duffy@orange.nsw.gov.au or 0418652499 or Greg Lamont (Executive Officer) 0407937636, info@miningrelatedcouncils.asn.au.