INTRODUCTION
Delegates, here is the September MERC Newsletter, please circulate the Newsletter to your fellow Councillors and senior staff, so they can appreciate and understand the excellent work the Association and you are doing on behalf of your Council and community, with regard to mining and energy related matters.  Claim the date 9th December 2022 at Forbes for AGM.
EXECUTIVE SUMMARY
(a) GOVERNANCE MATTERS
Next Meetings of Association – Next Ordinary and AGM meetings to be held in Forbes on 9th December 2022, venue to be confirmed.
There is to be a tour of Moxey Farm, Goolagong, near Forbes (which is a dairy farm that farms sustainably by using renewable energy, by using their Digester converting waste into energy by recycling animal waste to grow crops and using water efficiently, with over 200 employees, sourced locally).
A network dinner will be held the day before. Arrangements are being sorted in consultation with relevant event staff and venue managers.
The Mini Conference date slots have been booked for the week 21-29th May 2023 at Dubbo Regional Theatre & Convention Centre. Discussions have commenced with an event management entity to assist.

COVID-19 Virus Impact on MERC – In 2022 MERC will be resuming its' activities in the normal manner. What this means for MERC delegates is that 2022 will have quarterly as "face to face" meetings with use of zoom in exceptional circumstances. Executive Committee meetings will be by zoom means as determined. A lot of value is gleaned from being at a meeting in person and this can be lost when delegates attend by zoom. However, focus will always be on giving delegates opportunity to attend meetings. However delegates must be present to vote at the upcoming AGM in Forbes.
Speakers for Next Meeting in Forbes – Minister for Regional NSW and Deputy Premier Hon Paul Toole plus Minister for Agriculture Hon Dugald Saunders & Opposition Shadows and Minor parties will be pursued. With everythig that is going on with government and the lead up to State elections this may have an impact on attendees.
Orana Opportunity Network (O2N) – MERC is trialing as a Bronze Member of ON2 for 12 months. Their Newsletters are available on their website on o2n@o2n.org.au.
CRC Transformation in Mining Economies (CRCTiME) – MERC is a partner with CRC TiME on a no cost but consultative basis. They provide updates on progress with opportunity for members to join webinars, workshops, surveys etc. Latest update is below.
Renewable Energy Zones (REZ) – Mike Young, Executive Director – Planning & Communities, Energy Corporation, Department Energy & Climate Change provided delegates with another updated informative insight on what is happening with Renewable Energy Zones in NSW on 2nd September 2022. There is an opportunity for MERC to be part of a working party with Energy Co to successfully roll out the REZ's. Mike and EO are in discussions on how this may work for MERC and EnergyCo to be involved in the REZ roll-out.
(b) MATTERS OF INTEREST
CRC for Transformations in Mining Economies (CRC TiME)
The Executive Officer will continue to liaise with the consultants on the foregoing and look for opportunities for MERC to be involved and keep delegates informed. CEO Guy Boggs writes that the CRC has been going for two years and will continue to provide information to partners that may be of interest.
RE-Alliance
Andrew Bray, National Director, RE-Alliance, writes – "A key challenge in our renewable energy transformation is building transmission lines in ways that are acceptable to people who will live underneath and around them – and this may involve additional costs.

As energy consumers, we are currently the ones who foot the bill – so what are we able to and prepared to pay for it? Last week, NSW-based transmission company Transgrid released their Concept Design and Cost Estimate for the HumeLink Project – Underground study. 

HumeLink is a new 500kV transmission line that will connect the pumped hydro project Snowy 2.0 to Sydney, Newcastle and Wollongong, where the power is most needed. Late last year, following a request from the local community, Transgrid agreed to investigate the feasibility of building the HumeLink project via underground cable instead of overhead transmission lines.

The resulting report found that the cost of undergrounding the HumeLink transmission lines is estimated to be $11.5 billion – at least three times more than the entire project's current cost of $3.3 billion. This option is expected to take 7 years to build, compared to 4-5 years for the overhead option.

Local community members responded to the report, calling it unbalanced. They think the costs of the underground lines are overstated for a number of technical reasons, and as such are calling for a comprehensive expert review of the study.This investigation of the HumeLink transmission line poses important questions for us in our renewable energy transformation.

How can we balance community concerns and wishes with what it will cost us? It's a challenging task – made only more challenging by the urgency with which we need to move to more reliable and sustainable energy sources". 

Renewable Energy Zones (REZ's)
A REZ is a hub of renewable projects across a region that forma a modern-day power station, producing a large amount of energy for the State. The State Government has set them up in the New England, Southern NSW and Hunter/Central Coast Regions and proposing to do the same in the Riverina and Southern Riverina.
Orana Opportunity Network (ON2)
The NSW Government has announced a $130 million fund to accelerate investment and deliver on the NSW Government's vision to position the state as a major global supplier and processor of critical minerals and high-tech metals well into the future. Stream One has closed. This fund will be administered by NSW Mining, Exploration and Geoscience to activate projects and support research and development. Funding will be delivered to:

unlock project blockages through strategic infrastructure investment
enhance investment through establishing new capacity in critical minerals processing
support scale-up and commercialisation of emerging technologies and applications
drive local skills development
support investment in exploration to promote new discoveries for an ongoing pipeline of critical minerals and high-tech metal resources
facilitate the role of critical minerals as an enabler to the clean economy
contribute to the state outcome of mineral and petroleum industries generating prosperity, safely.

Applications are now open for Stream 2 – Enabling Project Infrastructure. This stream provides funding of between $2 million and $10 million to support key infrastructure projects needed to accelerate the critical minerals and high-tech metals sector in NSW. For information about this funding opportunity, including guidelines, key dates, frequently asked questions, eligibility and applicant resources, please visit the Grants and Funding page.

Applications for Stream 2 must be lodged through the SmartyGrants Portal by 5pm Monday 31 October 2022. Applicants are encouraged to complete a readiness check with the Department before lodging an application.

For further information please contact the Mining, Exploration and Geoscience Industry Engagement team on industry.engagement@regional.nsw.gov.au.

NSW Governments Renewable Energy Roadmap


EnergyCo -The Energy Corporation of NSW (EnergyCo) will be the Infrastructure Planner for the first five NSW Renewable Energy Zones set out in the Electricity Infrastructure Investment Act 2020. It will coordinate where the generation, long duration storage and firming capacity will be built. EnergyCo is responsible for planning the location of Renewable Energy Zones and contracting and overseeing the suppliers delivering the transmission network infrastructure required to connect the generation built in Renewable Energy Zones to the electricity grid.

The Consumer Trustee is an independent role, appointed by the Minister for Energy and Environment under the Electricity Infrastructure Investment Act 2020. The Consumer Trustee's purpose is to act independently and in the long-term financial interests of NSW electricity customers to improve the affordability, reliability, security and sustainability of electricity supply. It does this through long-term planning and well-structured procurement processes. The Consumer Trustee will play a pivotal role in:

planning the level of investment in generation, storage, firming and network infrastructure over time in NSW
authorising network infrastructure projects
administering tenders to identify the best generation, firming and storage projects to offer Long-Term Energy Service Agreements
appointing a Financial Trustee to establish, own and administer the Scheme Financial Vehicle and execute Long-Term Energy Service Agreements. 

The Minister for Energy and Environment appointed AEMO Services Ltd, a subsidiary of the Australian Energy Market Operator (AEMO), as the NSW Consumer Trustee. The Minister made this appointment following a rigorous evaluation process undertaken by the Department of Planning and Environment. The evaluation was guided by strategic principles and criteria we publicly released in March and consultation with industry, our counterparts in state and federal government and AEMO itself.

AEMO Services, as the Consumer Trustee, has published the 2021 Infrastructure Investment Objectives (IIO) Report (7 December 2021). The IIO Report outlines to investors, developers, and the public what generation and long duration storage is required in NSW and when, while minimising costs for NSW consumers and maintaining reliable electricity supply. The IIO report sets out what is needed, including:

the NSW Consumer Trustee's 20-year Development Pathway for the construction of electricity infrastructure in NSW, and
its 10-Year Plan for conducting competitive tenders for Long-term Energy Service Agreements (LTESAs) to give effect to the Development Pathway.

The IIO report will be updated every two years. AEMO Services Ltd has been consulting stakeholders about the draft LTESA and Project Development Agreement term sheets for generation and long-duration storage. For more information please visit the AEMO Services website.

The Minister for Energy has appointed Dr Mark Apthorpe as the NSW Electricity Infrastructure Jobs Advocate. Dr Apthorpe is based in the Hunter and is the current chair of the Hunter Plant Operator Training School Ltd (HPOTS) and the Hunter section of the Chartered Institute of Logistics and Transport (CILT). He has also held senior executive roles in energy and logistics businesses. In his role as Jobs Advocate, Dr Apthorpe will advise the Minister on:

strategies and incentives to encourage investment, development, workforce development, employment, education and training in the energy sector as New South Wales transitions to renewable energy. His focus will be on regional NSW, including the Hunter, Central Coast, Illawarra, Far West, South West, New England and Central West regions of New South Wales.
road, rail and port infrastructure required in the regions specified above to promote export opportunities for generation, storage and network technology.

The Minister for Energy has appointed the Renewable Energy Sector Board co-chairs and members, and the NSW Government has made regulations on the Board's functions and procedures. The Board has representatives from unions, the steel, electricity and manufacturing sectors, the renewable energy industry, and electricity customers and held its first meeting on 5 March 2021.

The Board has developed a plan for the NSW renewable energy sector to achieve objectives in relation to the construction of generation, storage and network infrastructure in a cost effective way, which the Minister has approved.  These objectives include:

the use of locally produced and supplied goods and services 
employment of suitable qualified local workers 
opportunities for apprentices and trainees.

The Board's plan also advises the NSW Government on additional actions intended to drive sustainable growth and competitiveness of local industries and realise benefits for local workers and communities. The NSW Government supports, or supports in principle, all 15 of the Board's recommendations. Download a copy of the NSW Government's response to the NSW Renewable Energy Sector Board's advice. The Board is required to report to the Minister on its activities. It submitted a report in March 2021, June 2021 and June 2022.

The Australian Energy Regulator has a number of statutory functions under the Electricity Infrastructure Investment Act 2020, including determining the amount payable to network operators for network infrastructure projects. Its functions may be divided, and more than one body or person may be appointed.  On 12 November 2021, the NSW Government appointed the Australian Energy Regulator (AER) as a regulator under the NSW Electricity Roadmap.

The key functions the AER has been appointed to under the Electricity Infrastructure Investment Act 2020 include:

making 5-year revenue determinations for network infrastructure projects authorised by the Consumer Trustee, including the calculation of the prudent, efficient and reasonable capital costs of these projects
making annual contribution determinations in relation to the Electricity Infrastructure Fund
approving a risk management framework developed by the Consumer Trustee
reviewing tender rules in relation to long-term energy service agreements.

The NSW Government has appointed the Australian Energy Market Operator (AEMO) as the Energy Security Target (EST) Monitor for the Electricity Infrastructure Roadmap, under the Electricity Infrastructure Investment Act 2020 (EII Act). Under the appointment, AEMO is responsible for calculating and setting a 10‑year energy security target for NSW. This target is designed to provide market certainty as it ensures that there will be reliable supplies of electricity available to meet electricity demands over the medium term. 

AEMO is also responsible for assessing and monitoring whether the firm capacity (generation, firming and storage, transmission capacity) is sufficient to meet the energy security target under different scenarios. AEMO, as the EST Monitor, has released its first Energy Security Target Monitor (ESTM) report (December 2021). Under the EII Act, AEMO is required to provide an ESTM Report annually to the Minister for Energy and Environment. A further EST report was provided by the EST Monitor in May 2022.
(c) OTHER MATTERS OF INTEREST – COAL & RENEWABLE ENERGY
"NSW Waves Through Critical Transmission Works & Waratah Super Battery" Jim Regan, 14th September 2022, Renew Economy writes "Critical EnergyConnect superhighway transmission upgrades linking New South Wales, South Australia and Victoria, and connecting Snowy 2.0 to the grid, have been green-lighted by the NSW government, with officials predicting both projects will drive down power prices and boost the economy.
Final environmental approval of EnergyConnect – Australia's biggest energy transmission project – and 9km of new Snowy 2.0 transmission lines was announced on Wednesday. EnergyConnect will see new transmission lines installed from Wagga Wagga to Buronga near the Victorian border. At the same time, the proposed 700MW/1,400MWh Waratah Super Battery project was declared "Critical State Infrastructure", with the Perrottet government recognising the immediate priority of the project.
The Waratah Super Battery is slated to be the largest standby network battery in the Southern Hemisphere, effectively acting as a giant shock absorber so that transmission capacity currently stored in reserve can be freed up to transfer energy to consumers.
"These three projects are vital for the state's energy future, with EnergyConnect helping build the capacity of the grid and get renewable energy from south-west NSW and South Australia flowing around the state," said NSW energy minister Matt Kean "By having these strong connections and batteries in place, more energy will be available to everyone and further improve the grid's reliability, meaning prices will come down and power bills across the state will be lower," he said.
EnergyConnect is widely seen as key infrastructure required to improve grid reliability, expand the trade of electricity between states, and support the development of new wind and solar projects.
Transgrid, the NSW-based transmission company, initiated works on the $1.8 billion portion of the 900km link from Robertstown in South Australia and Wagga Wagga in New South Wales in June. Work on the South Australian portion of the project started in February. "We are pleased the NSW minister for planning has cleared the path for us to progress the second half of our $1.8 billion interconnector project," Transgrid CEO Brett Redman said "The government has completed a thorough review of the Environmental Impact Statement for the roughly 540km eastern section of the project, just as Transgrid accelerates construction efforts in the west of NSW."
Works on the western section of Australia's largest electricity transmission project are progressing well, with the construction of a 30-hectare camp to house hundreds of workers at Buronga, before crews prepare to assemble and erect the first of 1,500 steel towers, according to Redman. "The interconnector will enable sharing of energy between NSW and South Australia and Victoria for the first time, enable the integration of renewable generation and help the federal government achieve its climate change targets," he said.
Redman says EnergyConnect is estimated to save NSW electricity customers $180 million a year, once complete, and contribute $4 billion in net benefits. The project is now proceeding for assessment by the Commonwealth Department of Climate Change, Energy, the Environment. Refer www.reneweconomy.com.au
"Unions want Job Guarantees for Coal Workers in the Shift to Low Carbon Industries" Industrial Careers article 10th September: "There is going to be a big construction of renewable energy, national research officer for the Maritime Union of Australia Penny Howard said at a recent national union conference in NSW. "A lot of that will be built off the coast – floating, offshore wind turbines." The Illawarra is one of five Renewable Energy Zones (REZ) in NSW.
The state's energy minister Matt Kean says the government has received $43 billion worth of potential investments in the Illawarra REZ in the form of 44 proposed projects. Of these, 10 are wind developments, including eight offshore wind farms.
The Illawarra has also been identified as one of six regions for offshore wind energy generation by the federal government. "We will need seafarers, we will need a lot of electricians, we will need a lot of other tradespeople to put the turbines together, to install and maintain the generators and to repair the blades," Ms Howard said "It is an enormous problem that there's been no transition plan, authority, none of that infrastructure at either the NSW government, national or regional level.
"It's a problem we need to take up as soon as possible. We need a strong government program that looks at the skills of those workers, the training they might need. "There's probably income support that will be needed and then making sure they've got a job guarantee that ensures they can get employment in those new industries." Ms Howard said unions should continue to play a role in supporting workers during the transition, as well as in the renewable sector.
"Of course, we need to put requirements on those new industries, to ensure they're providing good, secure, permanent employment and they're not just going to use sub-contracting and poor labour standards," she said "No worker should be left behind. It is a social imperative that we deal with that collectively and make sure that workers who have spent their lives in coal mines can move across."
"From Black Gold to Green: Oil Majors Dig In to Australian Energy Transition" Sophie Vorrath, Renew Economy, October writes: "It's been a big week of energy announcements in Australia for the oil and gas major, Shell. On Friday, Shell Energy Australia announced its part in a joint venture to develop, own and operate a 500MW and 1,000MWh big battery in the NSW Central West Orana REZ.
That same day, Shell also unveiled $31.6 million plans to harness an estimated 21.5MW of demand-side capacity by managing the loads of at least 40 commercial and industrial sites across Australia. The project has won backing from ARENA. And on Monday, Shell Energy Operations bought up a 370MW hybrid wind, solar and battery storage project approved for Perth in Western Australia, in a joint venture with Foresight.
Outside of this week, Shell announced in March that it had agreed to buy a 49 per cent share of Australian wind farm developer WestWind Energy Development, which has a 3GW project pipeline across Victoria, New South Wales and Queensland. The stake in WestWind followed up on its investment in solar farm developer Esco Pacific, and its direct investment in the 100MW Gangarri solar project in Queensland.
Meanwhile, Shell has been quietly bulking up its retail activities, having bought the commercial and industrial focused ERM a few years ago, and more recently the retail-focused Powershop, which sparked a backlash from some customers. Shell also owns the German battery maker sonnen, which has widespread operations in Australia, and has struck a deal with steel maker Bluescope to install an electrolyser to test the green hydrogen market and technologies. And it's not the only oil major planning to tap in to Australia's energy transition. BP reportedly has $10 billion-plus worth of renewable energy plans for Australia, if governments continue to play nice with incentives.
In a speech delivered on Friday, BP's Australian president Frederic Baudry has reportedly said that company's Australian portfolio of low carbon investment projects has risen to the top three within the organisation globally with "tens of billions of dollars" of investment available if projects can be made economic.
In particular, the oil major is interested in the prospects of renewable hydrogen in Australia, having in June acquired a 40.5 per cent stake in the $30 billion Australian Renewable Energy Hub in the Pilbara, one of the biggest renewable and green hydrogen projects in the world. "Our analysis also shows hydrogen could have an 8-15 per cent share in global primary energy consumption by 2050, the same role natural gas plays today, the same in Australia provided we build the infrastructure to bring it to customers," Baudry speech reportedly says.
"It's hard to think now, that there was scepticism about the viability of a local LNG industry 30 years ago. But industry and government collaboration made it happen to the benefit of the Australian economy and trade balance. Therefore, and this is an essential first ask, in order to ensure Australia captures hydrogen's economic, environmental and energy security benefits, we need a supportive investment framework that will prevent capital leakage overseas, particularly to the US." Refer www.reneweconomy.com.au.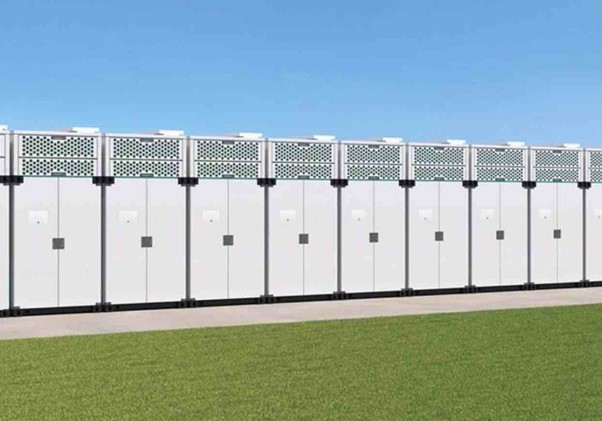 "Shell JV Unveils Plan for One of the Biggest Big Batteries in NSW" Sophie Vorrath, October, Renew Economy, writes "A joint venture between Ampyr Energy and global oil giant Shell will develop one of the biggest batteries yet proposed for New South Wales; a 500MW/1,000MWh facility that will be used to "smooth the grid" in the state's Central West.
Ampyr Australia, the local arm of Singapore-based outfit Ampyr Energy says it has agreed with Shell Energy Australia to jointly develop, own and operate the battery energy storage system in Wellington. Once operational, Shell Energy will hold the rights to charge and dispatch energy from the BESS. The 500MW, two-hour Wellington BESS – which Ampyr says has been under development for more than 18 months – will connect to the TransGrid Wellington substation. Ampyr says it will complement the existing and proposed pipeline of renewables projects in the Central West Orana REZ, smooth fluctuations in electricity supply, and provide system security and other network services.
The new battery plans come little more than a week after NSW launched the first in a series of renewable energy and energy storage auctions to replace the state's retiring coal-fired power stations. The historic tender, launched alongside the landmark NSW Electricity Infrastructure Roadmap, marked the first of a 10-year schedule of rolling tenders that are expected to incentivise around $32 billion in private capital.
All up the NSW tender process, which will be overseen by AEMO Services, aims deliver 12 gigawatts of renewable energy by 2030 and 2GW of long duration energy storage.The first competitive tender, open to bids on until October 28, is centred on the Central-West Orana REZ, based around Dubbo and Dunedoo on the lands of the Wiradjuri, Wailwan and Kamilaroi people. Although AEMO Services says "sufficiently advanced projects" from across the state are also encouraged to participate.
For the Wellington BESS, an Environmental Impact Statement (EIS) for the project is expected to be released for public consultation later this month and Ampyr says that, subject to approvals and finance, construction could kick off as early as mid-way through next year. Ampyr director, Ben Salmon, says the big battery will be one of the largest in NSW, contributing to the reliability of the National Electricity Market and bolstering the shift to renewables. "It is a very exciting time for renewable energy in Central West NSW, with over 3GW of utility-scale wind and solar operating, in construction and under development. This is great for the economy … [and] will boost growth in regional NSW and form a critical part of the new energy future for the region," Salmon said.
Headquartered in Singapore, with operations and assets in Australia, India, Europe, the UK and the US, Ampyr Energy has largely focused on utility-scale solar and – on the storage front – behind-the-meter and utility-scale BESS assets. In March of this year, Ampyr Energy announced joint venture plans to roll out 5GW of large-scale solar projects across the US, having embarked on similar plans for Europe a year earlier. In Australia, so far, the company played a notable role in the installation, last year, of a 3MW rooftop solar system at one of Australia's biggest breweries – the Asahi Beverage on Qld's Gold Coast.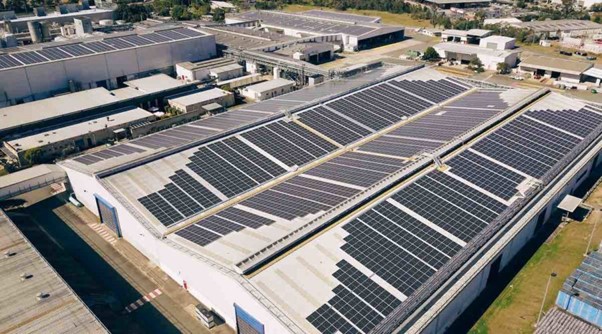 That project – pictured above – was described by Ampyr's installation partner on the job, Smart Commercial Solar, as one of the most complex projects the company had undertaken in Australia. The sheer size of the central solar control room, for instance, required it to be escorted by police to site.
Smart Commercial Solar general manager Maximilian Stenning said at the time that the installation took more than 20 workers roughly 18 months to complete and required more than 150km of cable to be laid to fill "virtually every bit of available space" on the brewery's roof with solar panels".
Disclaimer The comments and details in the articles in this newsletter do not reflect the views, policies or position of the Association or its member Councils and are sourced and reproduced from public media outlets by the Executive Officer to provide information for members that they may not already be exposed to in their Local Government areas
Contacts
Clr Michael Banasik (Chair) michael.banasik@wollondilly.nsw.gov.au  0425798068 or Greg Lamont (Executive Officer) 0407937636, info@miningrelatedcouncils.asn.au.