Introduction
Delegates, here is the October MERC Newsletter, please circulate the Newsletter to your fellow Councillors and senior staff, so they can appreciate and understand the excellent work the Association and you are doing on behalf of your Council and community, with regard to mining and energy related matters.
Thank You to Departing Delegates
September 2016 was a long time ago and with another election on 4th December 2021 some of you are continuing, some are not after the current term of 5 years and 3 months and longer if you were elected prior to 2016, as a Councillor and delegate to MERC. If you are a delegate to MERC and are retiring or not standing for your local council in December 2021, on behalf of MERC and your fellow delegates, we thank you for your contribution and commitment to MERC and hope that your council will send equally passionate delegates to replace you as a member of MERC. May you have a healthy, safe and prosperous future.
COVID-19 Virus Impact on MERC
The NSW Government continues to work very closely with Councils to support communities across the state in response to COVID19 and the changing hotspots. Hopefully, in 2022 MERC will be able to resume its' activities in the normal manner as the double vaccination rate reaches 90-95% whatever benchmark they keep shifting to and people vaccinate.
Next Meetings for the Association in 2021/2022
The Ordinary meeting on 15th October 2021 was the last meeting for the year and went well as a zoom meeting with good speakers. The AGM and Ordinary meeting is to be held in Orange at Orange Ex Services Club on 11th March 2022 with networking dinner and a tour the day before. The Executive Committee will have a meeting (by teleconference) on Wednesday 9th March 2022 at 9am & minutes distributed before the meeting on 11th March 2022.
RDA Orana Proposal
Delegates on 15th October 2021 considered a membership proposal from Orana RDA to be part of the Orana Opportunity Network (ON2) and participation in the UNSW Research Project on the Economic Impacts of Mine Automation in the NSW Orana Region. After forwarding the proposal and documentation from the presentation to delegates, the Executive Committee is now considering the feedback on the proposal and comments made at the meeting on 15th October 2021. A decision will be made shortly in November 2022.
CRC for Transformations in Mining Economies (CRC TiME)
MERC is a partner with CRC TiME on a no cost but consultative basis. They have webinars and workshops on their progress with the CRC establishment and their collaboration efforts.  As relevant activities present, delegates will be kept informed on them for participation. The latest forum is outlined in the next paragraph:
CRC TiME will be holding a virtual Forum on Creating Connections 29th November 2021 to 1st December 2021. As a member, MERC has a complimentary full registration which can be transferred to a colleague of MERC or attend as a paid attendee. The Executive Officer will cherry pick the sessions and attend. The program is in AEST as follows:
Monday 29th Nov 2021:
12-1pm Official Opening;
1-2pm Regional Economic Development – Post Mining Prosperity;
15-3.30pm Enabling Post Mine Transitions – Regional Closure Planning & Re-Purposing Mining Assets;
30-4.30pm Regional Hub Story Sharing;
Tuesday 30th November 2021;
30 am – 12.30pm Risk, Valuation & Decisions;
45-2pm Workshop 1 – The role of mine closure intangibles in ESG implementation and achieving net benefits and Workshop 2 Understanding values in post mining economies;
30-3.30pm Data Integration and Platforms
45-5.00pm Workshop 3 – Cumulative Regional Impact Assessment and Workshop 4 Innovation through demonstration and trial sites;
Wednesday 1st December 2021
30am-12.40pm Operational Solutions;
00-2.15pm Workshop 5 Implementing technology for positive impact and Workshop 6 Innovating supply chains;
45-3.45pm AGM
Royalties for Rejuvenation
The following email is from Stephen Wills, Executive Director, Royalties for Rejuvenation, DPIE submitted to the Executive Officer, for the information of delegates when he addressed them on 15th October 2021:
"Thank you for your time today to discuss the Royalties for Rejuvenation Fund.  As noted, the Deputy Premier announced the creation of the Royalties for Rejuvenation Fund in April 2021. The 2021-22 NSW Budget committed to setting aside $25 million each year to the Fund to support the economic diversification of coal mining communities over the coming decades. Coal mining communities will have a key role to play in advising the Government on how to best invest the Fund.
The Fund will support economic diversification in the four coal mining regions. As noted in the Deputy Premier's media release in May 2021 Expert Panels will be established with representatives from the communities in coal mining regions to input into delivery of the Fund.
The Department of Regional NSW is preparing a suite of amendments to the Mining Act 1992. As part of this package, the NSW Government is proposing to establish under legislation the Royalties for Rejuvenation Fund and its statutory expert panels.
It is proposed that an online information session will be held towards the end of October to provide additional information on the Fund and the Expert Panels."
LGNSW Special Conference 28th February – 2 March 2022
The LGNSW AGM and Conference will be broken into two parts being on 29th November 2021 (for the Annual Conference where the AGM to be conducted virtually) and February/March 2022 (Special Conference for the debating of motions, trade displays, workshops and conference speakers that MERC will attend with trade display).The Executive Officer has been in contact with the event manager and has submitted the appropriate application to set up a trade booth at cost of $4000 plus GST to promote membership of MERC.
Renewable Energy Zones
Recent reference group meetings for the Central West Orana REZ were held on 2nd September 2021 and the New England REZ proposed for 4th November 2021 has been postponed to a date to be determined after the draft declaration period has closed. Minutes will be forwarded as received. Note the following request from DPIE staff. For more information about NSW REZs please visit www.energy.nsw.gov.au/renewable-energy-zones or email rez@planning.nsw.gov.au.
"The Department is now seeking feedback on the Network Infrastructure Projects Policy Paper, which will inform the development of regulations under Part 5 of the Electricity Infrastructure Investment Act 2020 (EII Act). Consultation on this paper is part our ongoing implementation of the Electricity Infrastructure Roadmap.  See link below:
Network Infrastructure Projects Policy Paper This paper relates to how Renewable Energy Zone network infrastructure projects are proposed to be assessed, selected and to earn a regulated return. A Transmission Efficiency Test will be applied by the Regulator under the EII Act prior to the revenue determination. 
Consultation on this paper is open until Friday, 12 November 2021. Please visit our website to view this paper, further information on the consultation and access details on providing submissions. You can also access information here on two other policy papers, focusing on Parts 6 and 7 of the EII Act, that remain open for consultation. 
The Electricity Infrastructure Roadmap Taskforce, DPIE has put this EOI out: "We're currently seeking registrations of interest from prospective project developers for a Renewable Energy Zone (REZ) in the South West region. EnergyCo NSW is coordinating delivery of this REZ on behalf of the NSW Government, as part of the Electricity Infrastructure Roadmap.
To understand the scale, location and types of projects interested in connecting to the South-West REZ, we are asking generation, load, storage and network developers to provide information through a formal Registration of Interest (ROI) process. This will complement work already underway on detailed technical assessment and community engagement, including through the South-West REZ Regional Reference Group. 
Registering interest will ensure projects are considered as part of the design of the REZ.  EnergyCo NSW has recently updated the indicative geographic boundary and we encourage all prospective projects both inside and outside the updated boundary to make a submission to this ROI, as it will further the government's understanding interest in this region of NSW.  
We are seeking information on any project that will have a significant impact on the transmission network within, adjacent or connected to the South-West REZ. This is not limited to energy generation or storage projects. This extends out to potential changes to loads in this region or innovative network infrastructure solutions, as these play an equally critical role in network planning. The ROI will be open for four weeks to Wednesday 24 November 2021. For more information on the South-West REZ and to submit a dedicated ROI form: please visit the South-West REZ ROI webpage.
Please note: The ROI is for information gathering and consultation purposes only and all information will be treated confidentially. Participation does not constitute a formal proposal and will not impact project outcomes in future NSW Government contracting processes".  
Discussion Paper on  Reliable Energy Supply and Coal Mining Options
At the 15th October Ordinary meeting delegates discussed the inadequacies of the existing energy supply networks using examples in Cobar, Lachlan and Warren Shire Councils where the need exists to upgrade existing energy supply assets to provide reliable energy supply to regional industries and communities.
A working party was established consisting of Crs Dom Figliomeni (Wollonong City Council), Mark Hall (Lachlan Shire Council) and Chris Roylance (Forbes Shire Council) and Executive Officer to develop a discussion paper for distribution to delegates. Some excellent details have been gleaned to date and will be distributed to delegates in due course as information and possible action by resepctive members and MERC, in due course.
Related Matters of Interest – Mining and Energy Issues
"Why Solar Farms Won't Stew Your Fruit or Boil Your Berries" Sophie Vorrath 7 October 2021, www.reneweconomy.com.au writes: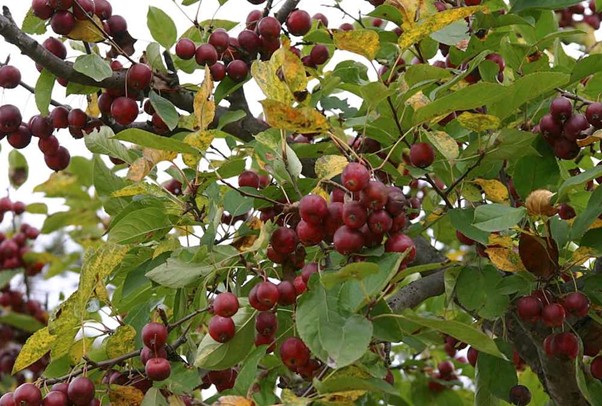 Image: Wikimedia Commons
"In Australia, where the relationship between rural farming communities and large-scale solar has not always been harmonious, a theory that solar panels might act as "massive heat banks" and even spoil food crops has been rolled out in opposition to new development. But a new international scientific study using satellite technologies has discovered that large-scale solar parks have a cooling effect on the land surrounding them, reducing nearby surface temperatures by up to 2.3°C.
The team of scientists, from Lancaster University, Ludong University in China, and the University of California Davis in the US studied two large-scale projects in arid locations: the 300MW Stateline solar farm in California, and the 850MW Longyangxia solar park in China. Using land surface temperature data collected through Landsat satellite images, an approach not previously applied to solar farms, the team found that the panels produced "cool islands" extending around 700 metres from the projects' boundaries.
The temperature of surrounding land surface was reduced by up to 2.3℃ at 100 metres away from the solar park, with the cooling effects reducing exponentially to 700 metres, according to the findings outlined in a paper published by the journal Renewable and Sustainable Energy Transition. And while further studies would be needed to determine the exact mechanisms that caused the cool island effect and how it might vary with location and design, the team hypothesises that it is due to the solar panels shading and insulating the land surface, as well as energy being converted into electricity by the solar panels.
This contrasts with the findings of the 2016 study that later caught the attention of frustrated Australian fruit farmers and then the regional press. That study, published in the journal Nature, reported that solar farms acted as heat banks, raising surrounding ambient temperatures by 3-4C°. Of course, it is important to note that the two studies used different scientific methods and, most notably, measured the temperature changes differently – land surface vs ambient.
Either way, we can agree that no fruit will be boiled by your average large-scale solar PV farm; but as the team from Lancaster note, the result from this study and others like it will be important to our broader understanding of the ecological impacts solar farms can have – both good and bad.
So while a "cool island" effect might be good for (some) fruit crops, "the scale of effect will depend on the location and could be positive, negative or inconsequential," as a statement from Lancaster University puts it. "Most studies examine the impacts of land use change for solar parks inside the site boundaries," said Dr Alona Armstrong, co-lead author from Lancaster University. "Here, we found a temperature effect that is evident up to around 700 metres away, suggesting that ecological processes may also be impacted.
"This heightens the importance of understanding the implications of renewable energy technologies on the hosting landscape – we need to ensure that the energy transition does not cause undue damage to ecological systems and ideally has net positive consequences on the places where we build them."
The researchers also note that as the study was focused on two solar parks in arid locations, further studies will be required to determine if cool islands are caused by solar parks in more temperate locations.
The paper's authors are: Li Guoqing of Ludong University; Rebecca R. Hernandez of the University California Davis; Alan Blackburn, Gemma Davies, Merryn Hunt, Duncan Whyatt, and Alona Armstrong of Lancaster University".
"Home Solar & Battery for $0 Upfront: Energy Australia Launches a Game Changer Deal" Sophie Vorrath, 7th October 2021, refer www.reneweconomy.com.au. Writes:
"New South Wales households looking to make the plunge into solar and battery storage have an interesting new option on the table, after the launch of a zero upfront cost package deal from EnergyAustralia was opened to eligible customers.
The Solar Home Bundle deal, simply called "On," is being rolled out to three regions in NSW – Sydney, Central Coast and Hunter – after an initial trial was "embraced" by customers and even rated a mention from comparison site Finder in its innovation awards. The newly expanded deal offers eligible customers (and we'll get to that bit later) a 5.67kW rooftop solar system using Tier 1 panels (no particular brands mentioned), an Alpha-ESS inverter, and a 10.1kWh Alpha-ESS battery valued at $14,820, installed by Clean Energy Council accredited installers.
Customers pay nothing for the system up front, but rather pay a monthly bill for all of the electricity they use – be it from solar or battery or grid – at a flat rate of 26.9 cents per kWh and a daily supply charge of $0.73. This arrangement is spread over a period of seven years, at the end of which time the system becomes the property of the customer.
According to the On Solar Home Bundle website, this works out to be roughly 5.5% cheaper than the average retail plan for the average residential customer in the Ausgrid area using 3,900kWh a year. (Although to be eligible for On, a household's annual usage must be at least 7,500kWh.)
EnergyAustralia says the idea of its "game changer" offer is not only to offer households a way in to solar and storage without the big up-front cost, but also to take the stress out of the process, including product selection, installation and maintenance. Monitoring is also included, with "weekly insights" into each household's energy use. "When it comes to getting solar and batteries it can be hard to know where to start. It's complicated and confusing – not to mention expensive. With our Solar Home Bundle we'll do the hard work for you," said EnergyAustralia chief customer officer Mark Brownfield in a statement last week.
"We trialled the offer initially to a small number of people to see if we were on the right track. We were – they loved it, saying it felt like it was too good to be true. They were looking for a catch, but there wasn't one," he added. "Homeowners continue to use their electricity and be charged for it like they were before. They pay a discounted rate for their usage, regardless of whether it comes from the grid, solar or battery. And the usage rate won't increase while they're on the seven-year plan. This is a great thing, especially for families with kids home-schooling and adults working from home, consuming lots of electricity. And it's a great feeling to know you're helping the environment by powering your home with the sun."
This is a decent pitch, particularly in light of the past two years of on-and-off lockdowns and a future work landscape that looks like being permanently altered, for many people, in terms of time spent working from home. It is a particularly good deal for those households also considering buying an EV.
To our rough calculations, over the seven year period, a customer using the stipulated minimum of 7,500kWh a year would pay around $2,500 a year for the battery, inverter, solar system, installation and maintenance – and grid access and electricity – and wind up with a decent quality solar and battery system at the end of it. Although they might want to rein in their electricity usage after that point!
In return, EnergyAustralia gets some "sticky" customers – although they're not technically locked in for the seven year period, they can quit in return for a "one-off payment" that buys out the system; and the batteries installed join the gen-tailer's NSW Virtual Power Plant, and are used help support the grid.
So, what are the catches? Not so much a catch but a barrier for some, is the list of eligibility criteria. To be able to sign up, customers must have neither solar nor a battery already installed; must own and have lived in their home for at least six months, have an average daily electricity usage of 21kWh or more and; live in an eligible NSW postcode (you can check that pretty easily on the site).
Other conditions that will exclude households from the deal are having a resident at the home dependent on life support equipment and being a concession card holder or eligible for other government rebates required by a government to be administered by an energy retailer. Those who can sign up must then also agree to pay their monthly bill by direct debit and agree to get their bills and any other correspondence by email".
"Two New Solar Farms Show Signs of Powering Up on NSW Grid" Sophie Vorrath , 5th November 202, www.reneweconomy.com.au  writes: "Two newly built large-scale solar farms have started sending small amounts of power to the grid this week in the south-west of New South Wales. In the Riverina region, the 120MW (dc) Hillston solar farm started showing small spurts of output on the NEM, as spotted by the eagle eye of Paul McArdle from Watt Clarity.
The beginnings of power generation come just a couple of months after the project's developer, AMP Power, revealed that it had secured project financing. AMP Power – the Australian operating company of global developer Amp Energy – took over development Hillston after acquiring the project from its original developer, Overland Sun Farming, in late-2020. The 120MW solar farm is expected to generate approximately 235,000GWh annually once it is generating at full capacity, the equivalent electricity consumption of 48,000 households.
McArdle also alerted RenewEconomy to some early movement on the NEM from the 90MW Sebastapol solar farm, also in south-west NSW, just south of the former gold-rush town of Temora. That project is being developed by Saudi-owned Fotowatio Renewable Ventures (FRV) in partnership with Canada-based Omers Infrastructure, to which it sold a 49% stake in its Australian business last month, to help fast-track and expand its multi-gigawatt pipeline of solar and big battery projects across Australia.
The Sebastapol project falls into the South-West Renewable Energy Zone, one of at least five renewable energy zones planned by the NSW Coalition government to replace its ageing coal fleet. Just last week the state government opened the South-West REZ to registrations of interest from developers of large-scale solar and wind generation, as well as of load, storage and network infrastructure. See also: Large Scale Solar Farm Map of Australia
"Methane Does More Damage to Climate than Coal, but Australia has Gas to Burn" Bruce Robertson, 5th November 2021, www.reneweconomy.com.au [Author: Bruce Robertson, LNG/gas analyst with the Institute for Energy Economics and Financial Analysis (IEEFA)].
Momentum builds to curb the rapid growth of natural gas. This week saw Australia's friends and allies, the U.S. and European Union and other country partners formally launch the Global Methane pledge, an initiative to reduce global methane emissions. More than 100 countries, representing 70% of the global economy and nearly half of anthropogenic methane emissions, have now signed onto the pledge, which commits signatories to reduce global methane emissions by at least 30% from 2020 levels by 2030. Australia refused to sign.
Methane is a powerful greenhouse gas and is worse for the climate than coal over the short term. It is over 80 times more powerful than CO2 on a 20-year view. Methane is the principal component of what is branded 'natural gas'. Twenty years is the critical timeframe for reaching the Paris Agreement target of halting temperature rises to less than 1.5 degrees C, a trajectory the world is sorely missing at the moment.
Methane emission reduction is vital to curbing the worst effects of climate change. It makes up at least one quarter of all greenhouse gases. Methane from the oil and gas supply chain accounts for 23% of emissions, while coal mining accounts for 12%. Far from declining, during 2020 methane emissions grew at the fastest rate since records began in 1982, despite it being a COVID-19 recession-affected year. Since 1990 methane emissions have grown by a considerable 25%. It is little wonder a Global Methane pledge has become a necessity.
This year, it is expected that methane emissions will continue to rise at an even faster rate as the production of the highest fossil fuel emitters – oil, gas and coal – has recovered.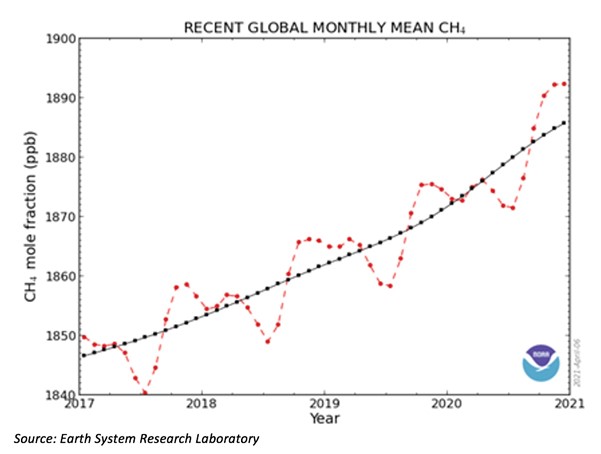 Figure 1: Globally Methane Emissions Are Growing Strongly.
The easy road to reducing methane emissions by 30% by 2030 "Cutting methane emissions is the best way to slow climate change over the next 25 years." Inger Andersen, Executive Director, UNEP It is highly unlikely that signatories have already created detailed roadmaps on how they will reduce methane emissions by 30% by 2030 as the Global Methane pledge dictates. There are, however, some easy-to-implement measures they could use that will quickly reduce methane (or as it is commonly called, 'natural gas') consumption and hence emissions.
In many countries, it is now cheaper to heat a home with renewable electricity and more efficient to heat hot water with a heat pump and cook with an induction cooktop. Some governments have already implemented programs to encourage a switch of energy that will result in reduced methane emissions.
The US, for instance, has implemented a methane leak fee on gas that never reaches the customer of up to US$1,500/tonne. This will encourage the gas industry to clean up its business, reduce venting and fix municipal and supply chain gas leaks. Essentially, the U.S. has recognised that to meet its climate change commitments, it has to tackle the methane issue. The U.S. gas industry has struggled to secure capital in recent years and has been unprofitable for most of the last decade.
The methane leakage fee is a 'polluter pays' fee. It will have little effect on the economics of gas in the U.S. as gas prices have risen so strongly that it will be comfortably absorbed. With pre-existing technology, a 75% reduction in methane from the oil and gas sector is possible; 50% of this could be done at zero net cost.
Using basic measures, signatories could comfortably achieve the global methane pledge of a 30% reduction by 2030.
Methane – or gas – cannot be a transition fuel any longer, anywhere in the world. As IEEFA has previously noted, methane is a very big danger to the climate and governments are only just waking up to its powerful effects, especially in light of the need to reduce emissions in the necessary short 2030 timeframe.
Over the years, many governments around the world have fallen for the marketing line run by the gas industry that gas is a "transition" or "bridge" fuel. It is not. Gas is a high emitting fuel when the full lifecycle is taken into account.
China, Russia and India are three of the top 6 global emitters of methane. Clearly their non-participation in the pledge to reduce methane is not helpful. China is the world's largest methane emitter. It is expanding the use of all fuels – including renewable energy – as it rapidly develops.
Russia is a massive 'natural gas' producer and the major supplier to Europe — and increasingly to China — through the Power of Siberia pipeline. As such, gas is a major foreign exchange earner for Russia, and the methane pledge rubs up against its historically weak climate change commitments.
India is a fast developing nation and has clearly defined targets to produce 500 gigawatts (GW) of renewable energy by 2030. Despite its rapidly growing renewables investments, India sees gas as a lower emitting fuel.
While gas has less particulate pollution and is a relatively cleaner burning fuel compared to coal, wood or dung, it is not clean on a lifecycle basis due to venting, flaring and gas leaks across the supply chain. Australia, the world's biggest exporter of LNG, also didn't participate in the methane reduction pledge. Instead, the Australian government is continuing to push through a "gas-fired recovery" post COVID-19.
The government is heavily subsidising companies in the production of gas and LNG and is attempting to open up new gas fields in almost every state and territory. Instead of reducing emissions, the Australian government wants to see the gas industry – and emissions – grow.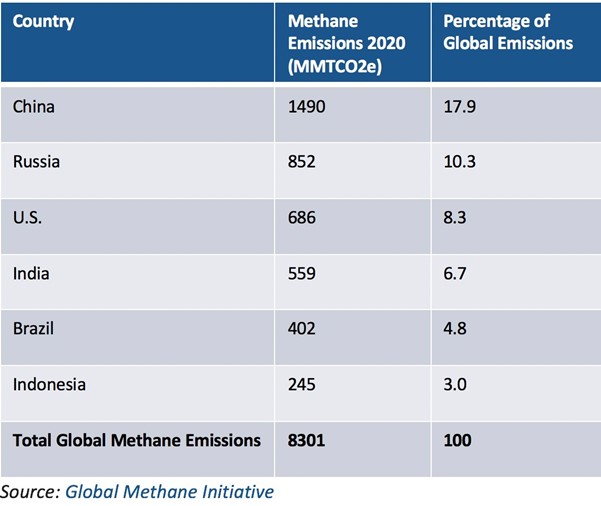 Figure 2: The Top Six Global Emitters of Methane
The fact that a major emitter – the U.S. – has signed up and led the initiative along with Europe is very positive, as is the inclusion of top emitters Brazil and Indonesia. Three of the top six methane emitters have signed the pledge which is a great way to begin. As with all pledges, they start with a few interested countries. We expect membership of the methane pledge to gather momentum over time, and in-country strategies to develop to move out of oil and gas extraction.
Disclaimer The comments and details in the articles in this newsletter do not reflect the views, policies or position of the Association or its member Councils and are sourced and reproduced from public media outlets by the Executive Officer to provide information for members that they may not already be exposed to in their Local Government areas
Contacts
Clr Peter Shinton (Chair) peter.shinton@warrumbungle.nsw.gov.au 0268492000 or Greg Lamont (Executive Officer) 0407937636, info@miningrelatedcouncils.asn.au.