Introduction
Delegates, here is the October MERC Newsletter albeit a little late due to delays in setting up the next round of meetings in November. Please circulate the Newsletter to your fellow Councillors and senior staff, so they can appreciate and understand the excellent work the Association and you are doing on behalf of your Council and community, with regard to mining and energy related matters.
COVID-19 Virus Impact on MERC
The NSW Government is working very closely with Councils to support communities across the state in response to COVID-19. Consequently, there will be changes as circumstances alter that will affect MERC and members going forward due to the NSW Government's respective Ministerial Public Health Orders to implement controls as necessary to combat the COVID -19 Virus.
The next MERC Ordinary meeting will be held on 27th November 2020 as a "face to face" meeting at Blayney with capability to attend by video conference and the Executive Committee having a zoom meeting on 20th November 2020, in view of the Covid-19 position. An advice has been forwarded to all delegates informing them of the arrangements made with Department of Fair Trading and Chair for the meetings.
Two year terms and Nominations for Executive Committee
MERC is to consider the Executive Committee being elected for two year terms and to clarify the wording in Clause 7.1 of the constitution on the composition of the Executive Committee on whether two from any one member Council can be on it, at a future Special General or the Annual General meeting of MERC.
Executive Committee currently comprises Chair, two Deputy Chairs and three other delegates with all to come from separate council areas and they are elected annually, however recent events have demonstrated the clause needs rewriting for clarity purposes.
At the Executive Committee meeting on 14th August 2020, it was agreed that the interpretation will be as follows until the Constitution wording is improved.
"it is understood that the position has always been that representation from as many separate members as possible be on the Executive Committee, unless there are not enough nominations, then multiple representation can occur".
Next Meetings for the Association in 2020
The remaining meetings in 2020 were agreed to be held by zoom for the Executive Committee on 20th November 2020 and the Ordinary & AGM to be held at Blayney on 27th November as a "face to face " meeting with video conferencing options.
Accommodation in Blayney – Blayney Central Motel, Adelaide St, ph 02 63683355; Blayney Goldfields Motel ph 02 63682000; Blayney Budget Leumeah Motel ph 02 63682755; Blayney Caravan Park ph 02 63632799; Royal Hotel ph 02 63682210 and Exchange Hotel 02 63682124.
Meetings and Executive Committee Elections
Under the constitution, MERC is required to have one General Meeting (the Annual General) a year and as many other General (Ordinary) Meetings as the Executive Committee determine. MERC must have four Executive Committee meetings a year. The Executive is to be elected annually at the AGM by delegates.
Note that in the MERC constitution there is no postal voting (Clause 14.3) or provision for those attending the meeting by video or tele-conference on how to vote, even though if requested, tele-conferencing facilities are to be made available (Clause 4.4). What does this mean are delegates regarded as present if on video or phone and how do they vote remotely, in this present day and age since Covid? Executive Officer has investigated the options, interpretations  with Dept Fair Trading and other Associations that have addressed this.
Elections for the Executive Committee are to be conducted as per Clauses 14.6.and 14.7 taking into account the Voting Methods used in Annexure A to the Constitution for Chair, Deputy Chairs & Executive Committee – by open voting only to ensure everyone has the opportunity to vote without constitutional changes. This voting method will require the voter to be present when election is held, either in person or by video conference such as zoom.
The Executive Committee will meet on 20th November  2020 and will either endorse the open voting method under these unprecedented times or refer it to the AGM to determine before the election if there is to be any contested elections. Nominations have been called and must be in to Executive Officer by 4.30pm 13th November 2020.
If any changes are required to our constitution they must be made at a General (Annual or Special) Meeting with at least two thirds of the delegates present at the meeting to agree to such alterations or amendments.
Outside of this, the Department of Fair Trading has issued a directive that under the Associations Incorporations Act 2009 & Regulation 2016 the MERC AGM can be deferred until 2021 or we can have an AGM with combination of virtual and face to face by 21st March 2021 to enable everyone to participate, without having to change the constitution. Consequently the decision has been made to have the AGM as normal with zoom given MERC had already resolved to do this on 14th August by the Executive Committee.
Update on the Voluntary Planning Agreement
The Guidelines for VPA's and a VPA framework agreement (including scope and calculation methodologies) has been agreed to by NSWMC & the MERC VPA Working Party and DPIE have put on their website. The link is:
https://www.planningportal.nsw.gov.au/major-projects/assessment/policies-and-guidelines/key-guidance/social
Resources for Regions (R4R).
Details were recently released on Round 7 of the Resources for Regions Program as announced by the Deputy Premier, Hon John Barilaro, which was very well received by members, particularly the 24 eligible LGA's.
At the meeting on 14th August 2020 the Executive Committee on behalf of all members,  requested the Executive Officer seek clarification on the program criteria as initially displayed to the working party there were 31 LGA's listed, however the final list was 24 and it wasn't clear the reasons for the reduction.
The Executive Officer has had discussions with DPIE, Regional NSW Department, Executive Director Regional Programs, Johnathon Wheaton and his team recently and he provided the clarification to delegates in the previous newsletter.
There is a vast amount of information about the Program on the Resources for Regions webpage, and an especially long list of FaQs.
Membership Campaign
At the Ordinary meeting in Sydney on 5th  March 2020, it was agreed that MERC authorise the Executive Officer to develop and implement a marketing campaign in consultation with the Chair and relevant MERC membership staff to include pamphlets, notepads with "We are your voice – become a member" or suchlike on them for handouts, a banner indicating locality of members throughout NSW, a video to play on a laptop to link back to the webpage, set up a membership page on the website, etc. to the value of $5000 plus take a stand at the LGNSW Conference in November 22-24, at Cessnock and do a presentation to the Country Mayor's Association at a future meeting.
Unfortunately, due to COVID 19, whilst a stand was booked for the LGNSW, this has been cancelled in its usual format and will now be a half day virtual conference, which doesn't suit an organisation like ours, relying on "face to face" conversation and relationship selling.
Discussions on the content of a membership web page and the marketing content with the principal of Cibis has occurred. Volunteers to provide testimonials via video have been sourced by the Executive Officer who is now in pursuit of them and has provided scripts and guidelines for their videos. This will be taken up with the Executive Committee on 20th November 2020.
List of Speakers for future meetings of MERC
MERC will be continually pursuing the following speakers for future meetings with The Greens now listed:
Hon Rob Stokes, Minister for Planning & Public Spaces, Liberal Party;
Hon Matt Kean, Minister for Energy & Environment, Liberal Party;
Hon John Barilaro, Deputy Premier, Minister for Regional NSW, Investment & Trade, Leader of NSW National Party;
Hon Adam Marshall, Minister for Agriculture & Western NSW, National Party;
David Shoebridge MLC (Energy) & Abigail Boyd MLC (Mining), from The Greens;
Other relevant Opposition party members and government senior officers will also be pursued for meetings as required depending on locality of the meetings – Shadow Minister for Local Government (Greg Warren) keen to address delegates post COVID;
Leader of Shooters, Fishers and Famrers Party in Legislative Assembly & MP ofr Orange, Phil Donato;
Relevant Senior Departmental Executives;
CEO's, Clean Energy Council and Clean Energy Finance Corporation, ARENA, etc.
Speakers organised to date for the November meeting are:
Dr Alex King, Executive Director, Resources Policy, Planning & Programs to speak on "Strategic Statement on Coal Exploration and Mining in NSW".
Phil Donato MP for Orange & MP for Barwon Roy Butler on the Santos Gas development approval at Narrabri and Vickery South Coal Mine at Boggabri and their policy position on mining & energy related matters for the community.
Research Fellowship Update
Here is the latest update from Peter Dupen (PhD student) which the Executive Officer has been following up regularly as the Executive Committee is keen to see this project commence, recognising the difficulties experienced during COVID 19:
"the new news is that Aurelia just called me to advise that Aurelia do not wish to proceed with the PM-enhanced engagement.  Essentially the business has concluded that they don't wish to provoke unnecessary attention to the proposal by taking part in our trial. I'm disappointed but not despondent. 
The fact that Aurelia nearly said yes makes me optimistic that we can find another mining project which does see sufficient merit in early stakeholder understanding (rather than rumour-driven) and identification of stakeholder thresholds of concern at the outset of a proposal. One big advantage is that it would provide much greater certainty as to whether they should proceed or amend before too much money is spent.
Steve O'Donoghue (DPIE) has been scouting around for alternative projects and says the only mining proposals in the Goldilocks zone are some mineral sands projects out past Broken Hill – nearest landowner 5 kms away.  I mentioned windfarms but he says there's none in pre-EIS stage right now that they know of, much more solar.  No promising pumped hydro projects.
Steve suggested that I should speak to the two planning folk doing quarries to see if there's any decent prospects.  I'll talk to them on Friday next week, in the meantime I'll get back to the windfarm association and see if they've got any ideas.  I've got a few other probes out, but nothing has appeared to date".
It looks like getting a development project to suit is becoming a real issue for the PhD Research Project for MERC and despite the fact progress has been made with a web – interface platform and the Project Evaluation Plan, the project is having difficulty getting off the ground which does not augur well for its' future.
The Executive Officer has discussed the project status and options with the Chair and will be taking the options to the Executive Committee on 20th November 2020 to discuss the issues. The UTS would continue to be involved as the project remains central to the PhD project for Peter Dupen and MERC and related sponsors once a suitable project is found. Peter is going to attend the Executive Committee meeting by zoom on the 20th November 2020 and provide an update on the project.
Strategic Plan 2020 – 2023 Review
The draft Strategic Plan 2020-23 Strategic Directions, Deliverables and Actions compiled by the working party of Cr McRae, Cr Banasik and Glenn Wilcox have been adopted by the Executive Committee to include in the draft Strategic Plan for adoption on 27th November 2020.
Update on CRC for Transformations in Mining Economies
MERC was invited last year to be a NSW partner in the establishment of the national Cooperative Research Centre (CRC) for Transformations in Mining Economies (CRC TiME) being established in Perth, Western Australia, at University of Western Australia, at no cost to MERC. This fits in with our strategic plan by being involved in making a difference through research partnerships with Universities and industry in Australia on various topics such as rehabilitation and post mining impacts on economies.
The national partnership was required to get the grant to set up the CRC for transforming mining economies from mining to no mining plus value add them. More will come from this partnership and delegates will be kept informed in due course from their regular newsletters.
Guy Bloggs, CEO, CRC TiME has provided this update:
"We are excited to have provided our recommendations to Board regarding investment in the Foundational Project Portfolio. The Board will meet on October 26th to confirm their final recommendation and investment approval. Subject to their approval, we expect to begin contracting projects as soon thereafter as possible to ensure approved Foundational Projects can begin activity before the end of the year.
In anticipation of this, we have been preparing our project management systems and contracting processes. This includes entering all projects into our TurnKey project management system and consideration of our Project Agreement within the context of the Foundational Projects". MERC will be kept informed of these opportunities as they evolve.
The Executive Officer has confirmed an interest in participating in order for MERC to stay in the loop to see what opportunities may emerge for MERC and members in accordance with our Strategic Plan deliverables with research.
Renewable Energy Zones
The NSW Government is implementing three pilots and one of them is the 3,000 megawatt Renewable Energy Zone (REZ) in the Central-West of NSW as part of their Electricity Strategy, Net Zero Plan and the Commonwealth-NSW Memorandum of Understanding on Energy and Emissions. Stu Hodgson addressed delegates on the REZ at the Executive Committee meeting on 14th August 2020 and indicated that they would like MERC to have a representative on their Regional Reference Group (RRG) going forward, more details to come.
An inaugural meeting of the was held on 29th October 2020 to establish the terms of reference for the quarterly meetings. MERC to be involved going forward. For more information about NSW REZs please visit www.energy.nsw.gov.au/renewable-energy-zones, or email the team at rez@planning.nsw.gov.au.
Submission to the Productivity Commission on its Review of the Infrastructure Contributions System in NSW and their Rating Review
The submission also includes comments on the Productivity Commissions recommendations that mining rating income being reduced to meet the average business rate levy income (which the State Government has supported), if introduced in legislation will be catastrophic for mining councils and needs to be followed up. Bland Shire Council supported by Parkes Shire Council (MERC members) are taking the matter to the LGNSW Conference and their motion has been distributed for members consideration and support.
The Productivity Commissioner has spoken further to MERC representatives on our submission particularly mining planning agreements. The meeting was held on 27th October at 9.30am by zoom with Chair, Executive Officer, Cr Hasler, Steve Loane and Warwick Giblin as members of the VPA working party. Below is a summary of points made.
"Unlike in a major urban area where large developments are mainstream in the landscape, mining and energy projects in rural and regional areas often dominate or impose large upon a district or region, given the size of the land area involved in the project; the often vast scale of the development; and the often substantial change from a rural landscape and society to an industrialised one.
DPIE has made it clear that whilst Planning Agreements (PA's) provide for public benefits that are not wholly unrelated to a development, that is encourages 'a link of some kind', they are not required to bear the same nexus with development as required for section 7.11 local contributions. It has reiterated a VPA can apply to:-
a) direct & indirect impacts; &
b) impacts on the community social fabric (including intangible ones).
Impacts with costs to Local Communities/Councils' (environmental, social and economic) :-
In-migration (FIFO & DIDO – those not 'wedded' to the area), out-migration (lower income groups, bought out farmers & older residents), shortage of labour to local, non-mining industries (agriculture); 
intangibles eg. loss of sense of place (ie changes in natural & built landscapes that affect resident's sense of identity & place, and the level of satisfaction with their surrounds), loss of social/community cohesion, shared norms of behaviour and values and cultural heritage conflicts; and
housing affordability, skills shortages & staff retention, shortage of childcare, health, trades, education & training services.
Local Infrastructure Contributions:-Cost shifting is increasing at an accelerated rate and occurs when state and federal governments oblige councils to assume more and more responsibility for infrastructure, services and regulatory functions, without providing sufficient supporting funding. In addition, NSW has also experienced the constraint of rate pegging for over 40 years, and local government has strongly opposed the policy since its inception.
MERC strongly opposes the maximum caps on s 7.11 local infrastructure contributions. The current thresholds were introduced in 2010 and no evidence or analysis was provided at the time to support the use of the mandated figures.
Adjusting the rating system to better accommodate industrialisation of the rural landscape. The development landscape has changed significantly across rural and regional NSW over the past 20 years and it is overdue for the rate categorisation to be updated to reflect not only areas of mining but also solar farms, wind farms, coal seam gas and shale gas developments.
MERC contends that all these different land-use types result in at least temporary industrialisation of the rural landscape that should be able to be classified accordingly. It would be prudent to levy rates that reflect their significant capital undertaking and generation of high value economic output.
Just as there is a mining rate, MERC suggests there ought to be, say, an 'energy development' rate. The rating mechanism should however acknowledge the relatively short-term nature of these developments (maybe 50 years duration) and thus not be based on Ordinary Rating such that it limits a Council's ability to increase its overall ordinary rate pool of funding.
Rather, it is suggested that for rating purposes these developments be treated as designated external rate items or as annual levies paid to the council whilst the development is undertaken, but not part of the general rate category. A key objective is to protect the general income base of councils and to reduce fluctuations both positive and negative across the various categories.
In the case of mining, it is suggested the valuation be based on the resource available and the time period through which the resource diminishes as it is extracted. In the case of wind and solar farms, the valuation could be identified by the designated name plate generation capacity across the life of the project. To be clear MERC strongly opposes the allocation of the abovementioned developments within the standard 'Business' category.
Rating Review by LGNSW – IPART Review Recommendation 34
Further to the information above raised with the Productivity Commissioner as promised to delegates on 14th August 2020, MERC distributed the IPART report and State Government's response and has been in contact with LGNSW. Shaun McBride, LGNWS Chief Economist in a response has indicated that they are addressing the many motions being submitted to the LGNSW Conference later in November 2020 by Council's affected by the recommendation from IPART if the State Government adopts it (Bland, Parkes, Blayney, Lachlan etc.).
"Thank you for your councils conference motions on this matter. To assist LGNSW in our advocacy against the adoption of this recommendation, are you able to provide modelling of the financial impacts on your councils if this recommendation was implemented. i.e: total revenue, total rate revenue, amount of mining rate revenue that would be lost (next financial year and out to five years), likely increases in residential, farmland and business rates to compensate and/or offsetting cuts to infrastructure and services ($ & %) and any other information/modelling that you may have undertaken.
(Note: Lachlan and Bland have already indicated potential mining rate losses of $700k pa)
Please provide what information you can at the earliest opportunity. We propose to make representations to the Minister sooner rather than later, on this issue. Please call me if you have any queries". shaun.mcbride@lgnsw.org.au  T 02 9242 4072  |  M 0438 625 045
Related Matters of Interest – Mining and Energy Issues
"Coal the Australian Story" Denis Porter, former CEO NSW Minerals Council 1998-2001.
"Hi Greg – I am writing to let you know that the second volume of Coal: the Australian Story is now available for order from Connor Court Publishing for release in November. The title of this book is Coal: the Australian Story Volume 2 1970 to 2020 and, as the title suggests, the book covers the story of the industry's development over the period from the 1970s to the present, with some brief thoughts on the future.
The detailed table of contents below provides a more detailed guide to the scope of the book which covers many of the major issues and developments in the industry, including foreign investment, prices, regulation, reform, industrial battles, tax controversies, research and mine safety.
If you would like further details, please let me know. Refer dnporter@bigpond.net.au
Regards, Denis Porter, ex CEO NSW Minerals Council (1998 to 2001)"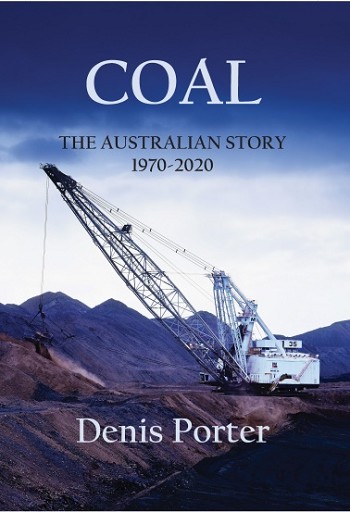 "World's Biggest Power Producer buys $750m wind project in NSW" Renew Economy article 30th October 2020. Michael Mazengarb writes: "Engie, the world's biggest independent power producer, is reviving its push into the Australia renewable energy market with the purchase of development rights to the $750 million Hills of Gold wind project in northern New South Wales.
Engie will take on the ongoing development of the 420MW wind farm, the largest wind project in the state, which is set to be constructed near the town of Nundle in NSW's New England region, after buying out the development entity Wind Energy Partners.
The project will be at the heart of what is set to be one of Australia's first renewable energy zones, planned by the NSW government for the New England region, and is set to create more than 215 direct jobs during the construction phase, and 30 ongoing roles once in operation.
Engie Australia's general manager of asset management, Andrew Kerley, said that Engie would look to draw upon its global project development expertise to complete the construction of the Hills of Gold wind farm. "The Hills of Gold Wind Farm is a quality project that adds renewable energy to the national grid, while also creating local economic activity during construction and operation of the 25-year lifespan of the asset," Kerley said "We're looking forward to the opportunity of building the Hills of Gold Wind Farm and to working with the local community to unlock the benefits of renewable energy development."
Engie is one of the world's largest electricity utilities, with the French multinational operating more than 115GW of generation capacity globally, including a 19GW portfolio of renewable energy projects.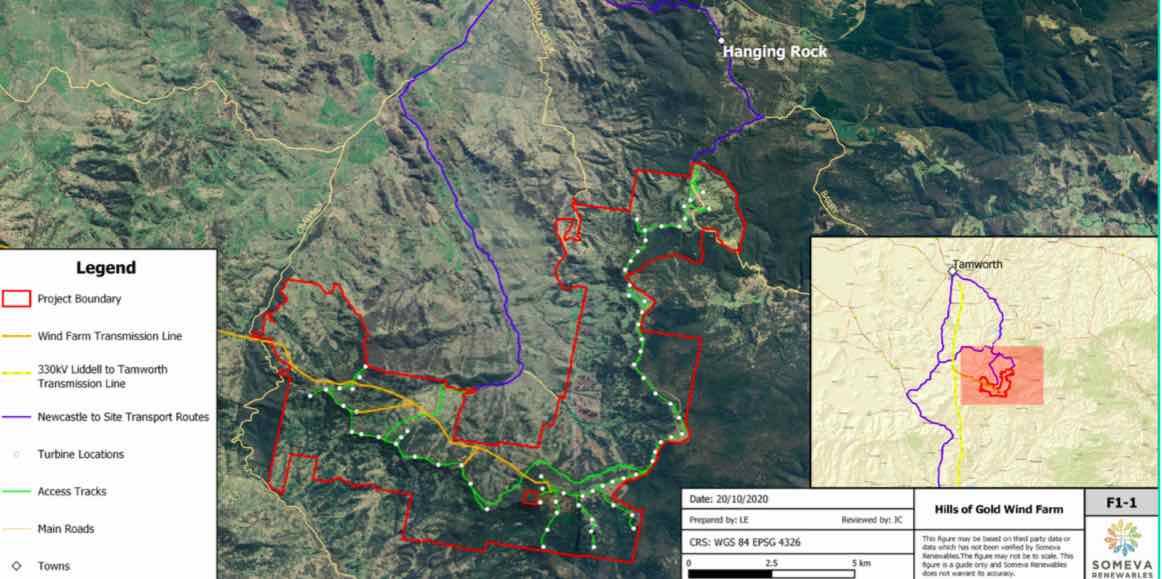 Engie's acquisition of the rights to the Hills of Gold wind farm is the latest in a number of multinational energy companies that have made a push into the Australian clean energy space, as they work to pivot away from businesses built on traditional fossil fuel projects.
This includes global energy giants Enel, and oil majors Total, Shell and BP, which have all made major acquisitions as they expand their local investments in clean energy ventures, and who can provide the balance sheet to overcome nervous financiers.
The project will involve the installation of up to 70 wind turbines, with a rated output of 6MW per wind turbine, and will include the installation of an onsite substation linking the project to the transmission network link that runs between Liddell and Tamworth. At 6MW per turbine, the project will see some of the largest wind turbines ever deployed in Australia and with each turbine standing at more than 200 metres in height.
Engie is no stranger to Australia, having been the majority owner and operator of the brown-coal Hazelwood power station in Victoria that was closed in 2017, and it has set itself a goal of supporting up to 2,000MW of new wind and solar generation capacity in Australia.
Earlier in October, Engie joined Infrastructure Capital Group and Mitsui to establish the Australian Renewable Energy Trust, a new investment vehicle that was kick-started with the transfer of Engie's 119MW Willogoleche wind farm into the fund. It is likely that the Hills of Gold project could also be transferred to the trust once operational.
Engie has also been a major partner in the Greater Springfield development, outside of Brisbane, which is aiming to become an energy-neutral city, in a quest to be the 'world's greenest city' by 2038. Last week, Engie announced that it would support the roll-out of electric vehicle and hydrogen refuelling infrastructure throughout the city. Construction of the Hills of Gold wind farm is expected to commence in early 2022.
"Matt Kean: Conservatives should embrace Wind and Solar not fight it" Article 28th October 2020, Renew Economy. "New South Wales Energy Minister Matt Kean called out the climate laggards stalling Australia's embrace of clean energy technologies, saying those that defy the global transition away from fossil fuels are ignoring the power of economics and technological progress.
Kean gave an impassioned defence of his strong stance on climate action, and said wind and solar should be embraced as a cheaper alternative to coal and gas, telling a forum hosted by The Australia Institute that "you don't need to believe in climate change to believe in capitalism."
Kean was speaking at the launch of the think tank's latest Climate of the Nation report, which includes the results of polling research that showed more than eight in 10 Australians think that climate change is already occurring in Australia, and support the phase-out of coal-fired power stations.
Kean said that climate change posed an environmental and a significant economic threat to Australia, and that conservatives should lead Australia's push into clean energy industries rather than getting embroiled in partisan debates. "Together with Japan's announcement this week, 60 per cent of Australia's two-way trade is now with countries who will soon be looking for cleaner alternatives to power their economies," Kean said. "Ignoring the reality of climate change is not just a risk to our natural environment, which it is, it's a risk to our living standards, to our jobs, and to our entire way of life.
"If that evidence is not enough to convince you on the need to take action, then even big oil and gas companies who have profited from extracting fossil fuels for decades, are planning for life beyond carbon moving to decarbonise their businesses. They are not doing this because they are climate alarmists. They are doing it because they are capitalists and want to ensure that they remain a going concern as the world changes," Kean added.
To add to the Japan commitment to zero emissions, UK Tory prime minister Boris Johnson called directly on Australia to lift its game and take "bold action" and commit to "ambitious targets" on climate change.
As a minister within a Liberal government in New South Wales, Kean has attracted criticism from other conservatives for his enthusiastic embrace of clean energy technologies.
Kean rejected the notion that his views on climate action are at odds with conservative values, saying that they were more consistent with a view that markets and technologies were key drivers of innovation and change.
"World leaders of all colours took the scientific advice seriously. Former British Prime Minister Margaret Thatcher backed up action to reduce emissions. In 1992, President Bush signed the first global agreement to address climate change. My point is that climate change didn't start out as a political issue. We made it one," Kean said.
"What could be more conservative than protecting and handing our environment to the next generation better than we found it? What could be more important to centre-right governments in growing the economy, creating jobs and increasing our prosperity?
"This has traditionally been an article of faith for the right of the body politic. So rather than being at odds with the values at the centre-right, I'm absolutely in line with them, and it's about time someone stood up for the centre of Australian politics in this debate," Kean added.
Kean said it made clear economic sense for Australia to transition away from fossil fuels, with wind, solar and storage delivering supplies of energy cheaper than coal and gas, and that Australia would be left worse off if it continued to prop up the fossil fuel sector.
"Today, the cheapest way to deliver electricity into the system is a combination of wind, solar, storage, and also demand response," Kean said. "That's not me saying that. That's the engineers, the scientists and the economists. That's the CSIRO and AEMO. I think we should be listening to the people well qualified to give this advice.
"As this report shows, Australians see the change, we understand it, and we want to make sure that we reap the opportunities created for new jobs and investment," Kean added. "We don't want to find ourselves on the wrong side of megatrends like rising carbon-based protectionism while other economies steal our march in new clean technologies and industries."
In the Climate of the Nation 2020 report, The Australia Institute surveyed around 2,000 Australians on their opinions and concerns around climate change, finding that a vast majority of Australians support a phase-out of coal-fired power stations and that two-thirds of Australians support the introduction of a net-zero emissions target for 2050.
A record-high number of respondents said that they thought that climate change was already occurring in Australia, at 79 per cent, with one of the lowest proportion of responders saying that they did not think climate change was occurring, representing just 9 per cent of those surveyed.
"Our research shows that far from dampening the call for climate action, the COVID-19 crisis has strengthened Australians' resolve for all levels of government to take action on climate change," TAI's climate and energy program director Richie Merzian said. There is one clear message most Australians want more renewables and less fossil fuels. That means phase out coal fired power stations, bypass a gas-fired transition and plug into renewables to power their future.
"The catastrophic Black Summer bushfires saw Australians experience firsthand the tragic consequences of the worst impacts of climate inaction and that direct experience has only served to intensify concern for climate change and the call for decisive action to decarbonise Australia," Merzian added.
Disclaimer The comments and details in the articles in this newsletter do not reflect the views, policies or position of the Association or its member Councils and are sourced and reproduced from public media outlets by the Executive Officer to provide information for members that they may not already be exposed to in their Local Government areas
Contacts
Clr Peter Shinton (Chair) peter.shinton@warrumbungle.nsw.gov.au 0268492000 or Greg Lamont (Executive Officer) 0407937636, info@miningrelatedcouncils.asn.au.