INTRODUCTION
Delegates, here is the November MERC Newsletter for your information, Please circulate the Newsletter to your fellow Councillors and senior staff, so they can appreciate and understand the excellent work the Association and you are doing on behalf of your Council and community, with regard to mining and energy related matters.
WE WOULD LIKE TO WISH A VERY MERRY CHRISTMAS & A HAPPY NEW YEAR TO ALL DELEGATES, COUNCILLORS AND STAFF IN MEMBER COUNCILS
POSTPONEMENT OF AGM
THE NEXT MERC AGM MEETING (ORIGINALLY SET DOWN FOR FORBES 9TH DEC 2022) HAS BEEN POSTPONED UNTIL TUESDAY 21ST FEBRUARY 2023 IN SYDNEY, THE DAY AFTER LGNSW RURAL & REGIONAL SUMMIT, IN THE USUAL MEETING ROOMS AT 99 YORK ST, LEVEL 2 SYDNEY. DEPARTMENT FAIR TRADING HAS PROVIDED WRITTEN APPROVAL FOR POSTPONEMENT OF AGM UNTIL 31ST MARCH 2023 WITH FINANCIALS TO BE LODGED WITH THEM BY END OF APRIL 2023.
EXECUTIVE SUMMARY
(a) AGM Executive Committee Elections
Under it's constitution, MERC is required to have one General Meeting (the Annual General) a year and as many other General (Ordinary) Meetings as the Executive Committee determine. MERC must have four Executive Committee meetings a year. The Executive is to be elected annually at the AGM by delegates.
There is no provision in the constitution for postal voting (Clause 14.3) or provision for those attending the meeting by video or tele-conference on how to vote, even though if requested, tele-conferencing facilities are to be made available for delegates to attend the meeting (Clause 4.4).
What does this mean to delegates? Are delegates regarded as being present at the meeting if on video or phone and if so can they vote remotely in this present day and age since Covid? Every delegate must be given the opportunity to vote, however the MERC voting system requires delegates to be present to vote where possible as this is dependant on the number of candidates for the positions. See below an explanation of the MERC voting system.
If more than 2 delegates stand for the position of Chair, the voting system is to be preferential, otherwise either by Open Voting (show of hands) or Ordinary Ballot (secret ballot) and for the Deputy Chair (two positions), if contested, the voting system that must be used is either by show of hands or secret ballot, as determined by delegates on the day. The voting system for the Executive Committee (3 positions) must be by preferential, if contested.
What this means is that delegates need to be in attendance to vote if the candidate numbers for the respective positions require the preferential system or delegates resolve the voting system to be by secret ballot. Otherwise if a show of hands is chosen to be the voting method, it can be managed if there are zoom attendees not physically present, by the returning officer, if required for the non Chair positions.
If an election is to be held, the nominations in the prescribed form, must be in to the Executive Officer no later than 2 weeks prior to the AGM, so that will be 7th February 2023. Nominations are to be seconded by a current delegate signed or emailed an intention to sign plus option of attaching a resume.
If any changes are required to our constitution for voting they must be made at a General (Annual or Special) Meeting with at least two thirds of the delegates present at the meeting to agree to such alterations or amendments. It is too late to do that fpor this election.
The Election of Executive Committee Positions Process (Extract from Constitution)
Voting Clause 14.6 Elections for a position on the Executive and Executive Committee shall be conducted in accordance with the provisions outlined in the sub clauses 14.6.1, 14.6.2, 14.6.3 and 14.6.4, following.
14.6.1         Contested Elections – Chairperson & Deputy Chairperson            
If the number of candidates nominated for the positions of Chairperson and Deputy Chairperson is greater than one, the election is to be a contested election;
In the event of there being only two nominations for the election of one candidate for the indicated positions in (1) the voting system in such contested election will be by Ordinary Ballot (secret ballot) or by Open Voting (show of hands)
In the event of more than two nominations for a position in (1), the voting system used for the election shall be the preferential system;
If a contested election is required for either Chairperson or Deputy Chairpersons, the decision on the voting method for (2) is to be made at the Annual General Meeting immediately prior to the election.
14.6.2      Contested Election – Three positions for the Executive Committee
If the number of candidates nominated for the three (3) remaining Executive Committee positions is greater than that number, the election is to be a contested election.
The voting system in a contested election for the three (3) positions will be preferential.
14.6.3      Candidates' Nominations and Resumes
Nominations for office bearer positions are to be called for by the Executive Officer no later than two (2) weeks prior to the Annual General meeting date;
The Candidates for the positions in clause 14.6.1 and clause 14.6.2 should forward their nominations on the form provided to reach the Executive Officer not later than 4.30pm one week prior to the Annual General Meeting. Candidates should ensure their nomination is seconded by a current Association delegate. This may take the form of the seconder signing the candidate's nomination form or alternatively by sending an email confirming their intent to second the nomination to reach the Executive Officer by the date of the election;
The nomination can be accompanied by a brief resume setting out details of the candidate's background in local government and the Association (if applicable) for distribution to delegates by the Executive Officer;
(b) GOVERNANCE MATTERS
Next Meetings of Association – The next Ordinary and AGM meetings set down to be held in Forbes on 9th December 2022, at Forbes Inn, has been postponed until February 21st 2023.The Mini Conference date slots have been booked for the week 24-26th

May 2023 at Dubbo Regional Theatre & Convention Centre. Discussions have commenced with an event management entity to assist

COVID-19 Virus Impact on MERC – In 2023 MERC will be resuming its' activities in the normal manner. What this means for MERC delegates is that 2023 will have quarterly meetings as "face to face" meetings with use of zoom in exceptional circumstances. Executive Committee meetings will be by zoom means as determined. A lot of value is gleaned from being at a meeting in person and this can be lost when delegates attend by zoom. The focus will always be on giving delegates opportunity to attend meetings. However, delegates must be present to vote at the upcoming AGM in Sydney in view of the voting system.
Speakers for Next Meeting in Sydney – The invitees approached to speak at Forbes will be extended to speak at Sydney, hopefully the day after the LGNSW Summit on Rural & Regional Issues will help with speakers and attendees in the lead up to the State election in March.
Orana Opportunity Network (O2N) – MERC is trialling as a Bronze Member of ON2 for 12 months. Their Newsletters are available on their website on o2n@o2n.org.au. Discussions are underway with Orana RDA to look at joint hosting a Resources Energy & Innovation Forum with MERC on 24th

May 2023 in Dubbo;

CRC Transformation in Mining Economies (CRCTiME) – MERC is a partner with CRC TiME on a no cost but consultative basis. They provide updates on progress with an opportunity for members to join webinars, workshops, surveys etc. Latest update is below.
Renewable Energy Zones (REZ) – Consultatnts have conducted a survey of 21 stakeholders.including the Exeutive Officer of MERC on how the government can improve its "social licence" with roll out of the REZ's. Details are outlined below.
Resources for Regions (R4R) – Stephen Wills, Resources NSW has been approached for MERC representatives to meet on R4R issues to improve current system.
Royalties for Rejuvenation – MERC approached the Minister requesting changes to the structure of the panels, where current Councillors are excluded from consideration and seeking MERC having a seat at the table on all panels when established. Minister Toole, has replied indicating that sufficient experience will be gleaned from those appointed to the panels which are currently being rolled out with a recruiting firm doing the appointments on a merit basis.
(c) MATTERS OF INTEREST
CRC for Transformations in Mining Economies (CRC TiME)
The Executive Officer will continue to liaise with the consultants on the foregoing and look for opportunities for MERC to be involved and keep delegates informed. CEO Guy Boggs writes:-
"You can read more about recent achievements and next steps in our second Annual Report

.

#BreakingBarriers 2022
Wow! Our team is still buzzing from the energy, knowledge and connections arising from CRC TiME's first in-person Forum last month. It was an incredible two days of sharing, learning and reflecting.  Importantly, we received feedback that the Forum provided a safe space for challenging conversations, building knowledge, deepening existing connections and developing new relationships.

Our team will share an Insights Summary and photo gallery from the Forum before the holiday break. Select recorded presentations will also be available in the new year.

Project Pipeline Update
Our project pipeline continues to grow with more projects approved in recent months. Our Research team is also working on 2023 project development priorities and the continual improvement of processes underlying pipeline development to ensure collaborative and high impact projects.

Approved projects in contracting
– Algae-based technologies for improved environmental outcomes and sustainable post-mining futures ($679,347). It is led by CSIRO with 14 participants.
– Collaborative planning for post-mining development in Latrobe Valley ($698,157). It is led by Federation University with 27 participants.
– Identifying development pathways and increasing transition capacity ($1,057,705). It is led by CSIRO with 9 participants.
– Opportunities for growth in Australia's mine closure solutions industry ($583,475). It is led by CSIRO with 20 participants
– Evaluation of an ecosystem forecasting system for rehabilitated arid landscapes ($150,000).
– Future proofing a small community from the impacts of the mine lifecycle ($102,825)

Through CSIRO, the Department of Climate Change, Energy, the Environment and Water has contracted CRC TiME to deliver the sub-projects of the Mining sector natural capital accounting System project. These projects ($1.2 million cash value) are beginning or in the final stages of approval.
– Business case and mining sector capacity building, including Beenup Case Study. It is led by Curtin University.
– Alcoa case study. It is led by Murdoch University.
– Hanson case study. It is led by Curtin University.
– BHP Olympic Dam case study. It is led by University of South Australia.

Approved projects
– Mine pit lake assessment and management: a national initiative to support mine closure and regional opportunities ($5,855,044). It is led by WA ChemCentre with 25 participants.
– A systematic approach to regional cumulative effects assessment (RCEA) to support transitions in mining economies – funding proposal to support stage 1 ($246,500). It is co-led by Western Australia Biodiversity Science Institute and Murdoch University with 15 participants.

Extending our impact
Our team, researchers and partners have been working hard to share lessons and recommendations from CRC TiME research over the last six months. Highlights included:
– A strong presence at the Australian Centre for Geomechanics' 2022 Mine Closure Conference in Brisbane. This followed our role in the Program Committee.
– Participating in the WA Mining Conference and Exhibition in Perth. I joined a conference panel on accelerating R&D and innovation to solve industry challenges.
– Joining the 'Making Nature's Wealth Count' online forum, hosted by the Commonwealth Department of Climate Change, Energy, the Environment and Water. This builds on our work with the Australian Government on natural capital accounting.
– Delivering an address at MineEx CRC's Annual Forum, reinforcing that closure must be an integral part of any advancements in ESG.
– Visible and diverse representation at the International Mining and Resources Conference in November. Representatives, including Board member Adjunct Professor Christine Charles and First Nations Advisory Team Chair Jim Walker, joined panels on Indigenous participation, the social dimensions of ESG and industry credibility.
– Participating in the National Innovation Summit, hosted by Cooperative Research Australia.

Making progress on First Nations Inclusion
As you know, CRC TiME aims to facilitate a legacy that is a designed with and by First Nations people. We are grateful this commitment is supported across our diverse partnership. This requires us transitioning from an engagement to an Inclusion approach across all aspects of our operations, from how we undertake research, to supplier engagement and communications.
To support this, we have now finalised our First Nations Inclusion Strategy which we will share with our partners in 2023. This was informed by the Foundations for Indigenous Inclusion project reports, direct feedback and input and our own internal processes.
In implementing the strategy, our 2022/23 focus will be on:
– Developing our own and researcher capability through training and profiling good practice
– Further developing our own processes and systems, including new guidance
– Working with First Nations communities and organisations that invite us to or express an interest in collaboration.

We expect there to be many lessons as we work to implement the strategy and will be honest about our progress. Importantly, this is a shared journey and we look forward to our partners support.

New CRC TiME Distinguished Paper Awards
We recently launched the annual CRC TiME Distinguished Paper Awards, recognising excellence in peer-reviewed research conducted by CRC TiME authors. The award winners will be announced at the 2023 CRC TiME Forum. Find out more here.

Latest CRC TiME publications
Congratulations to the authors of recently released publications. You can read these on the CRC TiME publications page:
– Rehabilitation of the Latrobe Valley Coal Mines – integrating regulation of mine rehabilitation and planning for land and water use
– CRC TiME Annual Report 2022 (and see CRC TiME Financial Statements for the Year Ended 30 June 2022)
– Understanding the values of stakeholders in Australian post-mining economies
– A roadmap for adapting to technological change in remote sensing and monitoring capabilities
– Developing the business case for responsible acid and metalliferous drainage (AMD) management.

Thanks for your support in 2022 and wishing you all a safe and happy holiday season, and a wonderful start to 2023!"

Renewable Energy Alliance (RE-Alliance)


Andrew Bray, National Director writes: "International climate meetings often happen a long way from home, and it can be hard to see how they impact regional communities in Australia.

So, what happened at COP27, the United Nations' 2022 climate conference, and what does it mean for Australia's energy transformation and our communities?

International recognition of the need for clean energy is growing and this reinforces that the development of new transmission and Renewable Energy Zones in Australia is part of a world-wide trend. Making sure we do it right for the communities involved is paramount.

There was a focus at COP27 on First Nations' land rights, with Traditional Owners and First Nations' advocates calling on the Albanese government for proper consultation on and meaningful benefits shared from renewable energy projects.

We were also pleased to see some international commitments made to achieving a just energy transition, as well as provisional support for communities in vulnerable countries to deal with climate impacts.

However, a big disappointment from COP27 was watching the world continue to support fossil fuels – the biggest contributor to global climate change. 

Read more on what the outcomes from COP27 mean for our energy transformation and communities.

With a warming climate and worsening extreme weather events, we need a swift switch to renewables and away from fossil fuels to protect our communities from the worst impacts of climate change. 

Here in Australia, with ample sun and wind, we have a chance to be a leader in building a clean energy future that protects and benefits our communities – if we choose".

Renewable Energy Zones (REZ's)
A REZ is a hub of renewable projects across a region that forma a modern-day power station, producing a large amount of energy for the State. The State Government has set them up in the New England, Southern NSW, Hunter/Central Coast Regions and in the Riverina and Southern Riverina.

In following up Mike after the last two meeting presentations by him, EnergyCo, as part of their Stakeholder Engagement Strategy have set up a Listening Program where the MERC Executive Officer was one of 21 entities to be interviewed on a one on one basis (to ensure MERC is involved in the roll out of REZ's as a stakeholder) to assist in shaping how EnergyCo leads the delivery of the Renewable Energy Zones and Priority Transmission Projects in NSW.

EnergyCo has engaged the services of RPS Group to conduct a series of one-on-one stakeholder interviews. Undertaking the consultation through an independent company ensures all feedback will remain anonymous as well as giving EnergyCo deeper research insights.

When the interviews are complete, RPS Group will provide un-identified interview transcripts for analysis. The key themes and insights from this data will help shape the way EnergyCo work in the future and they plan to release a public report summarising the insights from both our community survey and stakeholder inputs. The results of the interviews are yet to be received.

RDA Orana / ON2


RDA Orana are organising a Resources & Energy Industry Innovation Forum in May 2023 in Dubbo and are interested in joining with MERC for its mini conference having a Local Government Day as part of the Forum, discussions are underway to clarify if it could work to suit MERC's membership campaign. RDA Orana newsletters often have matters of interest for delegates and the following may be on interest to delegates

"New Vision for Regional NSW" – The NSW Government is committed to supporting and building thriving regional communities and ensuring regional NSW is a great place to live now and into the future. Our Vision for Regional Communities and Action Plan 2023-25 outline immediate priorities and longer-term strategies to make regional NSW an even better place to call home"
(c) OTHER MATTERS OF INTEREST – MINING & RENEWABLE ENERGY
"Huge Win Farm That Angus Taylor Rejected Opens"" Article by Sophie Vorrath, 30th November 2023, Renew Economy " The 227MW Collector wind farm has celebrated its official opening in the New South Wales southern tablelands this week, marking delivery of the largest wind project in Australia for its Thai-based developer, Ratch.Ratch-Australia announced the official launch of the project on Tuesday, more than a year after Collector was given the all-clear to run at full capacity, using all 54 of its Vestas wind turbines.
Still, it's a milestone worth marking, particularly considering it faced down some high profile opponents, during a time of rather heavy anti-wind sentiment in Australia – and Australian politics. One of those opponents was the former Morrison government energy minister Angus Taylor who remains, to this day, the federal member for the seat of Hume, where the Collector wind farm is located, and the Opposition Treasury spokesman.
Taylor, whose anti-wind stance is firmly on the record, is reported to have singled out the Collector project as being part of an "economically unviable" industry that relied on massive subsidies.
In fact, the wind farm, which has been more than 10 years in the making, reached financial close in 2019 with an investment of $180 million into the $360 million project by the federal government's Clean Energy Finance Corporation. And while it started out as a merchant project, it has since chalked up two separate offtake deals, with renewables outfit Iberdrola and with supermarket giant Aldi Foods, for the majority of its output.
Needless to say, Taylor did not attend the opening ceremony for Collector – he has not attended any wind farm-related events, except protests, such as the Anti-Wind demonstration organised by broadcaster Alan Jones nearly a decade ago.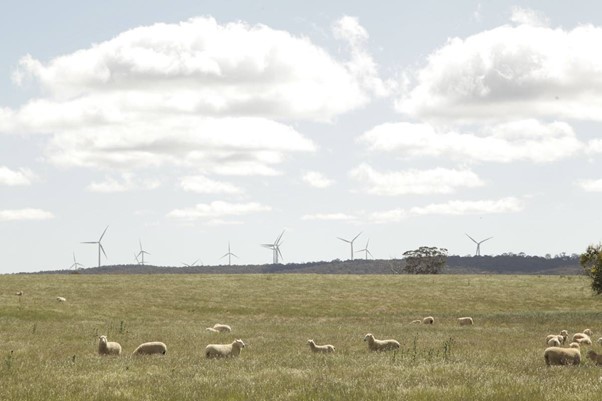 Image: Ratch-Australia
CEFC chief Ian Learmonth, who did attend the event, says the Collector wind farm is another shining example of the green bank's "bridge to contracting" finance strategy. "It takes brave and innovative investors like Ratch to build out a project like this," Learmonth said. "Now they can see the fruits of their labour because nearly 80 per cent of the power has been contracted to Aldi and to Iberdrola Group."
Aldi Australia's director of corporate responsibility, Daniel Baker, says Collector wind farm has allowed the supermarket chain to become the first in Australia to have all stores, warehouses and offices powered entirely by renewables. "It is through partnerships like this one … that we were able to achieve our commitment six months ahead of schedule in 2021," Baker said. "Collector Wind Farm is another strong step forward in infrastructure that will help Australia reach its target of zero emissions by 2050, an ambition that Aldi absolutely endorses"
"First Nations Clean Energy Network: How Renewables Can avoid THE Mistakes of the Past" Amalyah Hart, Renew Economy, 30th November 2023 writes" As the new federal Labor government promises new jobs, low power bills and reduced emissions through its Powering Australia plan, the renewables sector is set to boom over the next decade.
Given all new energy projects are being installed on unceded First Nations land, the First Nations Clean Energy Network, an organisation representing Indigenous land councils, organisations and industry groups, has released two new guides to make sure new projects don't repeat the mistakes of the fossil fuel sector's past and are geared towards the best outcomes for First Nations communities from conception.
The first report, Aboriginal and Torres Strait Islander Best Practice Principles for Clean Energy Projects lays out 10 principles for the clean energy industry, government and communities.
The principles include recognising that Aboriginal and Torres Strait Islander sovereignty was never ceded, ensuring First Nations people are resourced to obtain qualified independent legal, scientific and business advice in negotiations, ensuring the benefits of the agreement are shared, obtaining a 'social license to operate' through consistent, respectful negotiations, and recognising that consent must be maintained over time.
Of particular importance is the principle that energy companies engaging with First Nations communities must do the work within their own ranks as well as without, implementing a Reconciliation Action Plan with Reconciliation Australia.
The second report, Clean Energy Negotiations Guide for First Nations, is designed to help communities who want to negotiate or initiate mid to large clean energy developments on country. The guide covers all aspects of the negotiation, from joining or opposing a project to getting resources and advice.
"We see this as an enormous opportunity to make sure that we can deal with some of the issues of energy security for our mob, but also to make sure that some of the economic development that our communities want to see is done with clean, sustainable energy, and done the right way," said Yorta Yorta woman Karrina Nolan, executive director of Original Power and a member of the First Nations Clean Energy Network steering group.
"There's a lot of legacy issues that we all acknowledge that have come from extractive industry practices, and this is an opportunity to reset that relationship," Nolan told the webinar launch of the new guides on Tuesday.
Djrau woman Ruby Heard, director of Alinga Energy Consulting and also a member of the steering group, said that renewable energy offers a unique advantage for Aboriginal and Torres Strait Islander communities to generate their own power.
"Right now many of our communities run completely on diesel generators," Heard said. "And so not only is that very expensive for our communities to maintain and keep their electricity running, a lot of our communities are also subject to seasonal flooding and that means that they can get cut off and can find it very hard to get diesel to make sure they have consistent power. So, we've got massive reliability issues in our remote communities."
The guides are intended not only to provide a baseline framework for energy companies when engaging with First Nations communities, they are also designed to empower communities to advocate for and build their own economic advantage, by harnessing the green revolution. "These principles place First Nations people in their communities at the centre of the development, design, implementation and benefit sharing of these medium to large scale, clean energy projects," said Chris Croker, Managing Director of Impact Investment partners, also a member of the Network's steering group and a Luritja man. "While largely written for fellow First Nations communities with the clean energy projects being proposed on or near their lands, the principles are practically designed for all groups, developers, investors, government, and community."
Croker said he anticipated that governments at every level would consider the principles when assessing new energy developments. He pointed out that these principles protect both country and people. "We need to commit to protecting country and the environment, do our best to protect rare and endangered flora and fauna," he said. "[As well as] ensuring that the economic benefits of projects are actually shared with the First Nations community."
"First Nations communities have the right to self-determine what happens on their country and by providing principled and practical advice they can ensure clean energy projects are designed to provide meaningful jobs, economic benefits and reliable, clean energy," added Nolan.
In a nod to the massive number of members attending the webinar, Heard said: "There are a tonne of people in this industry signalling that the future of energy involves First Nations people, and that their perspectives and needs should be heard. "If we focus on embedding these outcomes in our energy projects, we will see the best results for Indigenous people, for the projects themselves, and for this country."
Disclaimer The comments and details in the articles in this newsletter do not reflect the views, policies or position of the Association or its member Councils and are sourced and reproduced from public media outlets by the Executive Officer to provide information for members that they may not already be exposed to in their Local Government areas
Contacts
Clr Michael Banasik (Chair) michael.banasik@wollondilly.nsw.gov.au  0425798068 or Greg Lamont (Executive Officer) 0407937636, info@miningrelatedcouncils.asn.au.