Introduction
Delegates, here is the May MERC Newsletter, please circulate the Newsletter to your fellow Councillors and senior staff, so they can appreciate and understand the excellent work the Association and you are doing on behalf of your Council and community, with regard to mining and energy related matters.
COVID-19 Virus Impact on MERC
The NSW Government continues to work very closely with Councils to support communities across the state in response to COVID and the changing hotspots. If there is a resurgence of the virus from time to time, the MERC 2021 meetings may be affected, however the Orange meeting on 30th July 2021 will be a normal face to face meeting (at this stage unless there is a Covid interruption) to encourage attendance in person and networking.
Next Meetings for the Association in 2021
The Ordinary meeting on 30th July 2021 will be the last meeting for the year until November when the AGM will be held, in view of the caretaker situation of councils in August, as a result of the September 4th Local Government elections. Orange City Council, have kindly agreed to host the next MERC meeting in Orange on 30th July with a tour of attractions and/or mining & energy related developments in the LGA and networking dinner being planned for the day before.
You may recall we were going to Orange last year but Covid caused a change of plans. Arrangements for the meeting and hopefully a tour day before, network dinner etc have commenced through Tourism Manager at Orange City Council, whereby a list of accommodation will be sent out shortly and a program will be sent out for 29th July when finalised.
The Executive Committee will have a teleconference meeting on a day to be determined to suit the majority of the Executive Committee members before the Ordinary meeting on 30th July 2021.
Meeting in Gunnedah 20th/21st May 2021
The meeting in Gunnedah was "one of our better tours, networking dinner and meeting events for a long while" delegates were saying on Friday, no doubt delegates have been starved of adventure, tired of teleconferencing and enjoyed finally having a Minister to talk to about their community issues in a relaxed rural environment at Gunnedah!!!.
To recap, delegates were taken on a tour of the Whitehaven owned Maules Creek open cut coal mine,  escorted by Darren Swain from Whitehaven, in a mini bus driven by Cr Owen Hasler, then the bus went via the historic "Kurrumbede" homestead for a quick look then to the middle of the very large Gunnedah Solar Farm in construction – all very informative.
Mayor Cr Jamie Chaffey, Gunnedah Shire Council attended the networking dinner outlining the $250m of investment in the district through government programs, mining, renewable energy, agricultural development and Council initiatives. The Deputy Mayor, Cr Rob Hooke reiterated the comments next morning when welcoming delegates to the meeting and the Shire urging them to spend a little lnoger in the area before going home. The speakers were also very good with their presentations covering the following topics:
Hon Adam Marshall, MP Northern Tablelands, Minister for Agriculture & Minister for Western NSW spoke for at least 45 minutes on:-
Land Use & Extractive Industries conflicts which were a "hot topic" years ago, now it's Renewable Energy as the hot topic he said which is challenging for all.
Right to Farm Bill – Darryl Quinlivan is the new Agriculture Commissioner where the successful implementation of the Bill is to be his primary focus.
Biodiversity Offsets requirements were queried by delegates and a general discussion held.
Delegates asked the Minister for his response to the questions prepared for his address (in the draft minutes) on Shenhua, Central West Orana REZ name to be renamed to Orana REZ (Minister agreed to follow up), the difficulty MERC is having getting Ministers and Senior bureaucrats to address MERC delegates on relevant issues (Minister agreed to follow up if not happening for MERC)
Rohan Boehm – Joint Managing Director, Geni Energy on the establishment of the Virtual Power Plant, Northwest Renewable Energy Precinct & the Community Renewable Energy Project for Walgett Aboriginal Medical Services and how Local Government can get more involved and to lead by:-
Revisiting and Updating Energy Policies & Procedures.
Bring Energy inputs/outputs into a management accounting system to track real costs of energy at your Council.
Partner with Smart Energy Systems (no cheap solar or using 'cowboys in the game') and use Smart Australian technology (local content).
Emma Stilts – President, Manilla Community Renewable Energy Inc. on the Manilla Solar Project with Llewellyn Owens, Chief Technical Officer, Providence Asset Group on the Hydrogen & Battery Storage system developed for the Manilla Solar Project, funded by Minister for Energy & Environment, Hon Matt Kean for $3.5m.
Rebecca Scrivener, Head Regional Operational Unit, Regulatory Operations Regional, NSW Environment Protection Authority, outlining the role of the unit, enforcement processes and penalties approach to ensure compliance.
Where slides were forwarded and used by speakers these have been distributed to delegates for their information.
Membership Campaign
MERC will be participating in the 2021 LGNSW Annual Conference in November with stand, attend dinner, target/talk to potential members, to include pamphlets, notepads with "We are coal your voice – become a member" or suchlike (badges) on them for handouts, a banner indicating locality of members throughout NSW, a video to play on a laptop to link back to the webpage, set up a membership page on the website, etc, relying on "face to face" conversation and relationship selling.
A membership page has been established on the website with a facility to contact the Association for more details, encouraging membership. Meanwhile it is bad news after Singleton and now Cessnock City Council have withdrawn from MERC, from 1 /7/21, leaving no Hunter Valley Councils in MERC.
List of Speakers for future meetings of MERC
MERC will be continually pursuing the following speakers for future meetings
Hon Rob Stokes, Minister for Planning & Public Spaces, Liberal Party;
Hon Matt Kean, Minister for Energy & Environment, Liberal Party;
Hon John Barilaro, Deputy Premier, Minister for Regional NSW, Investment & Trade, Leader of NSW National Party;
Hon Adam Marshall, Minister for Agriculture & Western NSW, National Party;
David Shoebridge MLC (Energy) & Abigail Boyd MLC (Mining), from The Greens;
Other relevant Opposition party members and government senior officers will also be pursued for meetings as required depending on locality of the meetings – Shadow Minister for Local Government (Greg Warren) keen to address delegates post COVID;
Leader of Shooters, Fishers and Farmers Party in Legislative Assembly & MP for Orange, Phil Donato;
Relevant Senior Departmental Executives;
CEO's, Clean Energy Council and Clean Energy Finance Corporation, ARENA, and various renewable energy speakers, etc.
Business and Industry leaders that have matters of interest for members.
Speakers for the 30th July 2021 are yet to be finalised, currently pursuing Minister Stokes, Minister Kean and Deputy Premier, Hon John Barilaro, but at short notice might be difficult.
Resources for Regions Round 8
The $75 million Resources for Regions Round Eight is now open for applications. The promotion email says that "since 2012, the Resources for Regions program has funded 149 projects worth $345 million over seven rounds in mining-impacted communities across regional NSW".
The $75 million Resources for Regions Round Eight aims to continue to deliver improved infrastructure and enhanced community amenity and programs to the most mining-impacted communities in regional NSW. The Program Guidelines are available on the Resources for Regions webpage and delegates can register for a webinar on Thursday the 27 May from 1:00pm to 2:00pm (AEST). Please register for the webinar here.
This webinar will outline key information about Resources for Regions Round Eight, including project eligibility, assessment and timing, and give you the chance to ask questions. Applications to Round Eight will close at 12pm (AEST) on Monday 12 July 2021. If you require assistance with your application please contact regionalnsw.business@regional.nsw.gov.au or call 1300 679 673 for a referral.
CRC for Transformations in Mining Economies (CRC TiME)
MERC is a partner with CRC TiME on a no cost but consultative basis. They have webinars and workshops on their progress with the CRC establishment and their collaboration efforts. The most recent activity is a survey on post mining impacts on communities, networking gatherings on east and west coast and set up an in kind register portal for MERC to join. As relevant activities present, delegates will be kept informed on them for participation.
Strategic Plan 2020 – 2023
The Strategic Plan 2020-23 Strategic Directions, Deliverables and Actions were adopted by delegates at the Ordinary meeting on 27th November 2020 and is full of new strategies to be implemented  over the next three years which will hopefully help with membership growth and involvement of members. It is on our web page for reference.
Renewable Energy Zones
The last meeting was held on 2nd June 2021 at Dubbo Zoo, whereby the minutes will be distributed when to hand. Matters on the agenda were the REZ Access Scheme; Energy Corporation of NSW establishment and progress with recruitment for it; the Engagement of CWO REZ community; CWO Transmission Project; Regional Energy Strategy Objectives and CWOREZ Boundaries.
The NSW Government is also coordinating delivery of an 8 gigawatt Renewable Energy Zone (REZ) in the New England region as part of the Electricity Infrastructure Roadmap. To understand the scale, location and types of projects interested in connecting to the New England REZ, they are asking generation, storage and network developers to provide information through a Registration of Interest (ROI). This will complement work already underway on detailed technical assessment and community engagement, including through the New England REZ Regional Reference Group.
Registrations of interest will ensure any projects are considered as part of the design of the REZ. The ROI will be open for six weeks to Friday 16 July 2021. via a dedicated ROI form on the New England REZ ROI page. The ROI is for information gathering and consultation purposes only and all information will be treated confidentially. Participation does not constitute a formal proposal and will not impact project outcomes in future NSW Government contracting processes.
 For more information about NSW REZs please visit www.energy.nsw.gov.au/renewable-energy-zones or email us at rez@planning.nsw.gov.au.
Rating Matters – Use of Land for Mining
The Court of Appeal recently overturned  the Land & Environment Court (LEC) Decision on Dominant Use of Land "Mining" for Rating Purposes which significantly raised the rating liability for mining companies that hold land for mining purposes under the Local Government Act 1993. Since then the landowner has appealed to the Court of Appeal (Court) challenging the decision insofar as it related to some of the land.
The Court in the decision of Mangoola Coal Operations Pty Limited v Muswellbrook Shire Council [2021] NSWCA 46 has set aside the decision relating to that land and remitted the case to the LEC for determination according to law.
The background and issues of the case can be found in the original post here  (courtesy of Lindsay Taylor Lawyers). In this post they discuss the five key issues arising from the appeal and note its implications for local councils.
Issues on appeal in determining the dominant use of the land for rating purposes:
Whether grazing occurred and whether the drought was relevant
Mangoola challenged the primary judge's finding that there were no 'grazing activities' on certain lands, arguing that he had failed to take into account the impacts of drought on those land.
The Court found that determining the rating category of land in a given year required consideration of the use of land 'in context'—i.e., what previously occurred on the land and what might be intended to occur afterwards.
As there was no reason other than drought why grazing had not occurred on the land in the relevant years, and there was no evidence that the grazing activity had been abandoned (i.e. permanently ceased) and would not resume once the drought was over, the trial judge should have inferred that grazing was intended to resume on the land and should have taken this into account in determining its dominant use for rating purposes.
Alternatively, the Court held, it was unreasonable and therefore not open for the trial judge to find on the facts that there was no use of the land for farming in the relevant years.
The importance placed on the easement for utilities
The primary judge had approached his examination of the easement by emphasising its essentiality to the mine's operations, as it supplied the mine with water and electricity.
The Court found this approach to be erroneous when determining the dominant use of land. Rather than focusing on how important the use of the easement was to the adjacent mine, the primary judge should have examined the nature and extent of easement and its impact on the land it burdened as a whole.
The use of land burdened by an easement cannot be not determined by the use of the easement by which it is burdened, however important that easement may be to the land that benefits from the easement.
Consequently, because the easement covered only 1% of one section of the land and the landowner's property rights 'were only marginally qualified by the easement', the use of that part of the land for mining purposes could not be decisive in determining the dominant use of the land for rating purposes (at [55]).
Whether there was any mining use of the land
The Court rejected the argument that there was no mining use of the relevant parcels of land.  The presence of the monitoring devices (required by the project approval) and the use of the electricity cables and water pipes were all for mining purposes, even though that use was 'of limited significance' in considering the dominant use of land as a whole.
The Court disagreed with the appellant that the source of the requirement to carry out that use was irrelevant. It found that 'if a use is essential, not simply for practical reasons, but because there is a legal requirement for that activity to occur, that will be relevant to characterising the activity' (at [58]).
Whether the offset areas for biodiversity conservation and Aboriginal cultural heritage protection could properly be characterised as being 'used for a coal mine'
The Court was emphatic that biodiversity and heritage offset areas are 'for purposes that are the antithesis of mining' (at [60]).
Although the Court agreed that it was relevant to consider why these areas existed as offsets—i.e., to address the environmental and heritage impacts of the mine—it disagreed that lands are 'for a mine' for rating purposes simply because they were mandatory offsets under a condition of approval. If the land is to be used for another purpose, the mere holding of that land for a mine-related purpose does not mean it is used for a mine.
The significance of the environmental monitoring devices and mining exploration activities
While not ignoring the importance of monitoring activity for the mine, the Court found that environmental monitoring devices had 'very little impact', giving rise to 'little, if any, interference' with farming activity on the land (at [62]).  As such they were of limited significance in determining the dominant use of Mangoola's land.  Their significance was only to the holder of the easement and the easement was only a small part of the subject land.
As a matter of principle, mining exploration activities could be significant in determining the dominant use of land.  However, in these particular circumstances, they were not because their activities were extremely limited.
Implications
In our earlier post on the LEC decision, we suggested that councils may wish to review the rating categorisation of land owned by mining companies in their LGA which is used to service a mine. However, this case has confirmed that the focus is on the use of the particular land being rated, not the benefit that land used for mining might gain from using the particular land.
It is also worth noting the caution given by the Court about dividing one parcel into a number of sections when determining the dominant use of land. While this is permissible as an aid to an en globo assessment, the focus must remain on the dominant use of the land as a whole.
Finally, we remind councils that the state of rating is in flux. New laws for an 'environmental' land category and the creation of sub-categories for existing categories, which we blogged about in December, have just passed the lower house of NSW Parliament.
The full text of the judgement is accessible here.
Related Matters of Interest – Mining and Energy Issues
" Federal Government Decision to Subsidise Snowy Hydro with Taxpayers Money a Disgrace" David Leitch, Renew Economy, 25th May 2021 writes: "The manner of the federal Coalition government's decision to provide $600 million of taxpayer funds to Snowy Hydro's proposed gas generator at Kurri Kurri is a disgrace. The 660MW Kurri Kurri open gas project, assuming it will go ahead, will reinforce Snowy's dominant position in the long duration firming market, and it will give it dominance of the NSW, Victoria and South Australia markets. But it also flies in the face of developments in battery storage. Snowy Hydro is the only major "gentailer" not doing batteries, and its strategy seems to be based around the assumption that battery storage is not happening.
Some further observations from this analysis:
+ An open cycle gas turbines such as Kurri Kurri will earn its cost of capital if the output is contracted in a traditional way as a "cap" at the current NSW price around $11/MWh. However, we don't think traditional caps are how things will be done going forward. We do think that Snowy does its homework and knows what's it talking about.
+ The way in which this investment has been forced into the market is a disgrace. No up-to-date study has been produced to suggest it's needed. Even if one accepted the very dubious conclusions of the Commonwealth/NSW taskforce, as opposed to the more authoritative work from AEMO, the fact is the NSW policy and investment landscape has changed materially since the task force reported, in a way that increases reliability without needing this capacity to be built.
+ In our opinion Snowy will, post Snowy 2.0 and Kurri Kurri, and post EnergyAustralia's investment in Tallawarra B, have about 63% of the capacity of the traditional peaking (gas and hydro) market in the combined NSW, Victorian and South Australian market. We expect the ACCC to look into this and cannot understand why the ACCC's hasn't already commented.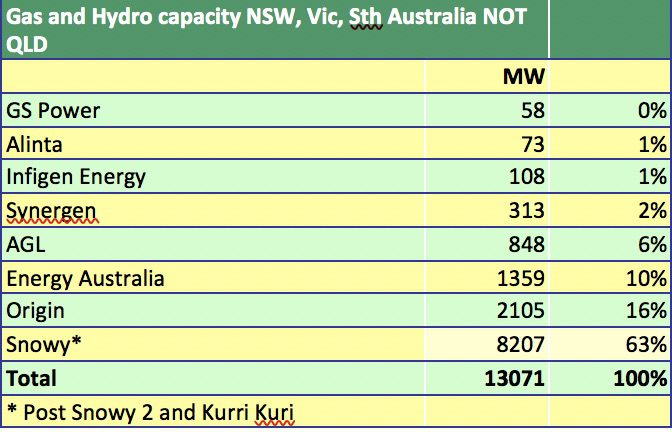 Source AEMO, ITK
Despite all the advantages of market power that Snowy has, we nevertheless wonder if it will earn its cost of capital because we expect batteries to capture at least half and probably more of all the firming market.
We expect batteries to capture the majority of average daily firming demand (typically less than four hours) and expect that, for batteries, this firming service will only be one of the services they offer. Batteries are the enabling technology of the 21st century grid that Australia's world leading power engineers are about to build.
The grid of the 21st century will be the inverter and battery run grid(s) control system. It will be the modern power electronics' engineering triumph. The role of non battery firming is still being sorted out. There will be a role, but how big?
The rough guess is about 10% of demand can't be firmed by batteries or demand response. But in saying that if aluminium smelters started thinking of the opportunities that demand response offers, instead of complaining about the problems, much more might be possible.
Organisations such as the Hunter Alliance and the NSW Govt are contemplating diagrams such as the one presented by Simon Holmes A Court at the Smart Energy Conference. No-one underestimates the challenges. But it's a long way ahead of what the three stooges, Angus (Taylor), Keith (Pitt) and Michael (McCormack), running Federal policy have offered.
Hunter Industrial renewable precinct. Source: Simon Holmes A Court
As far as Snowy itself goes we think it has put itself in a bad position. Whatever the truth of the matter, the perception now is that it's now just a tool of the Federal Government. As such it is tarred with the poor opinion the vast majority of the industry has in regard to Federal Policy. In my opinion the CEO does a poor job of communicating to stakeholders and frankly appears to take the public, politicians and analysts for fools, and this only feeds the increasingly negative perception.
We'd argue a more open discussion such as the strategy days run by AGL and ORG would at least let stakeholders understand the company's point of view and strategy. If Snowy were to be a listed company, as it so nearly was:
a) Investors would question its balance sheet.
b) They would question its ability to run significant capital expenditure projects at multiple sites simultaneously.
c) There would be incredible doubt about the return on capital of Snowy 2.0. ITK supports Snowy 2.0 on the basis that we do need longer term renewable firming and the benefits outweigh the impact on the National Park. However, at the moment I am not aware of a single person I've spoken to outside management that thinks it will earn its cost of capital. Of course, management may be right and everyone else wrong.
d) Investors would question the wisdom of having as chair a person who, when he was CEO of Santos, saw that company's share price go from $17 when he started to $4 when he left in 2015, and who caused two LNG trains to be built when there was only enough gas for one.
e) Finally, undertaking a heavy capital expenditure program at a time operating profits are going to the toilet would be bad for the share price. Board members Knox and Karen Moses (ex Origin) will understand that well.
EnergyAustralia's brownfields expansion and Snowy's 660 MW Kurri Kurri plant mean that Andrew Forrest's Squadron Energy will almost certainly not proceed with their combined cycle proposal at Pt Kembla. In turn and more speculatively, ITK thinks this makes the whole Squadron Energy Pt Kembla LNG import terminal less likely.
Despite lots of talk, and very strong commitment signals from Squadron management, there is very little public announcement of customers signed up to the terminal. One might theorise that the gas plant could have provided a foundation load. We suspect that customers have been told by Santos that they can get a sharper price from the proposed Narrabri gas field once that gets the final go ahead.
Peaking generators traditionally provide insurance
The traditional value of a high variable, low capital cost open cycle gas generator is to provide insurance services. The owner of the asset traditionally sold "caps" to retailers. The vanilla product, traded on the ASX exchange, is the $300 cap. The owner of the gas generator essentially promises that for the insured quantity of MWs the retailer won't have to pay more than $300/MWh during the period insured.
If the price of electricity goes above $300/MWh the seller of the cap uses its gas generator to generate sells the output to the pool thereby covering its risk. If the price is between the fuel cost and $300 so in the range of say $120-$300 the gas generator may run for its own benefit, that's the "cream" on top of the cap revenue. If the price never exceeds $300 and particularly if the price is below the fuel cost the gas generator may not run at all but still collects the cap = premium revenue.
NSW FY24 caps last traded at $10.86. So for a 660 MW asset, the annual cap revenue if 100% of output was sold as caps would be around $63 million, and if that was all there was to it, Kurri Kurri would look pretty good. The more it runs the worse the results would be because fuel and maintenance costs have to be subtracted from revenue.
Perhaps that's an exaggerated statement, but that's sort of how it works. In addition, the $600m cost shown in the table below may well turn out to be less than the actual capital cost when supporting gas infrastructure etc is also taken into account.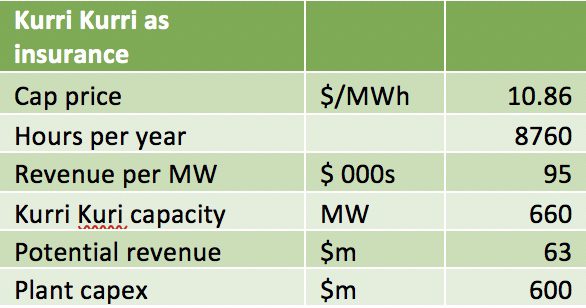 Source: ITK, ASX
 In Australia, peaking gas generators particularly in NSW, require storage
One of the myths of gas generators is that they can provide an unlimited amount of dispatchable power. After all you just run gas through the pipeline and away you go. In reality, the pipeline system is limited. Typically all the gas generators want to run at the same time, because the electricity price is high, and so the gas transmission system starts to empty out. For this reason most gas generators put in enough gas storage for some hours of operation at the plant.
As we saw recently in Texas the gas generation system is vulnerable to the fact that gas pipelines often use electric compressors. Still, we don't need to go there, it's enough to point out that gas supply to a NSW gas peaker is typically a bit limited.
The market is evolving and traditional caps have become yesterday's story
As a result of several trends ITK believes the market is moving away from traditional caps. Specifically, we think the trend is towards selling "firmed energy". For instance, the NSW technology road map envisages supporting "fixed volume/fixed shape" structures. And indeed both Infigen/Iberadola and Snowy itself have talked about selling "firmed renewables".  We think this trend plays into the hands of battery suppliers.
In the US batteries are subsidised, as they qualify for the Investment tax credit. Australia doesn't have the policy smarts to do that. Still, even ignoring the subsidy batteries are a great firming product at least in the daily market. The following chart show the averaged daily price and the quantity of mainland gas and hydro generation supplied on the average day over the past 12 months.
Again averages are not really where Snowy aim at but they are a target for batteries. Leaving aside that price leads demand in this chart it looks as if there is about a 3 hour evening peak price interval where the price goes from $60 to $120 and back again. You could charge in the middle of the day at $20. The margin is not enough to justify a battery on its own but if you are doing a battery anyway it's a great contribution to cost, may justify the extra duration and will take market share from gas and hydro.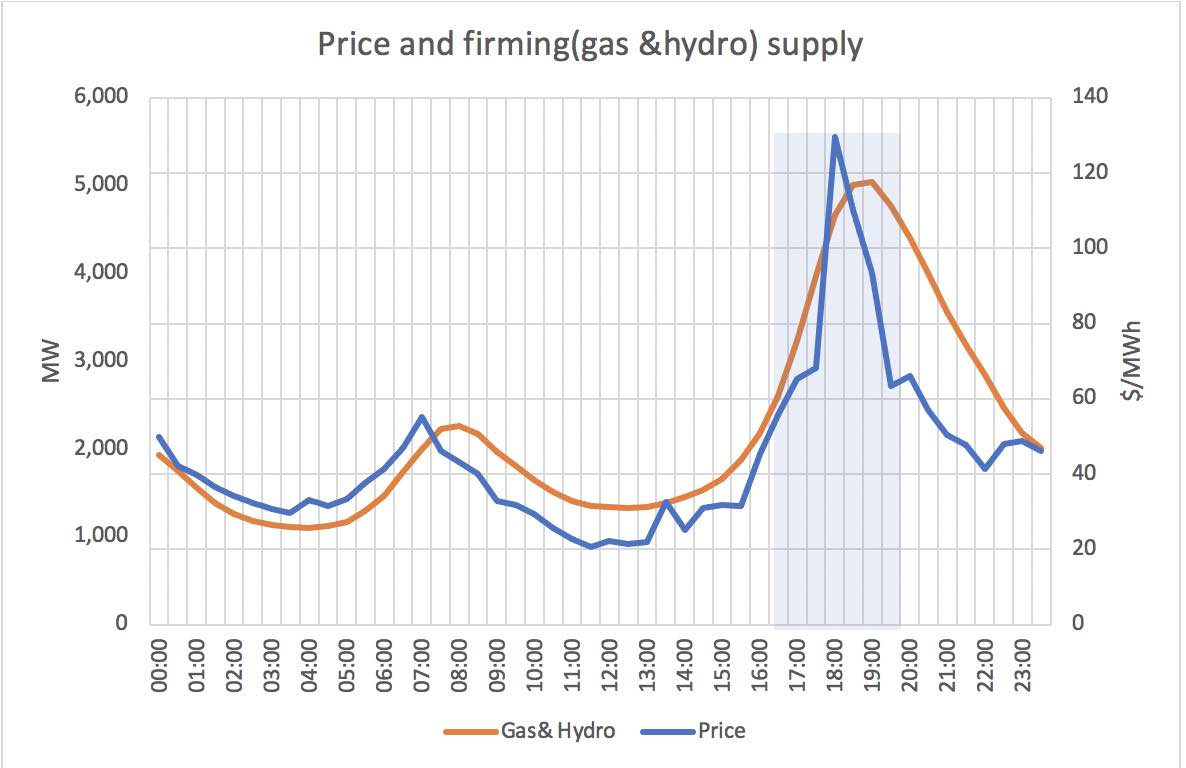 A battery needs $100/hour margin if arbitrage is all it does, we assume:
20-year life. More specifically 7500 cycles. We think this is controversial, but our understanding is that warranties over 20-year life can be obtained, albeit surely with some maintenance capex.
Weighted Average Cost of Capital (WACC) 5%
4-hour battery cycled once per day
MLF 95%
Annual degradation of 1.9%
$25 m of grid connection costs
Efficiency 90%
We then use Excel solver to find the daily gross margin ($/MWh) to earn the specified WACC (weighted average cost of capital).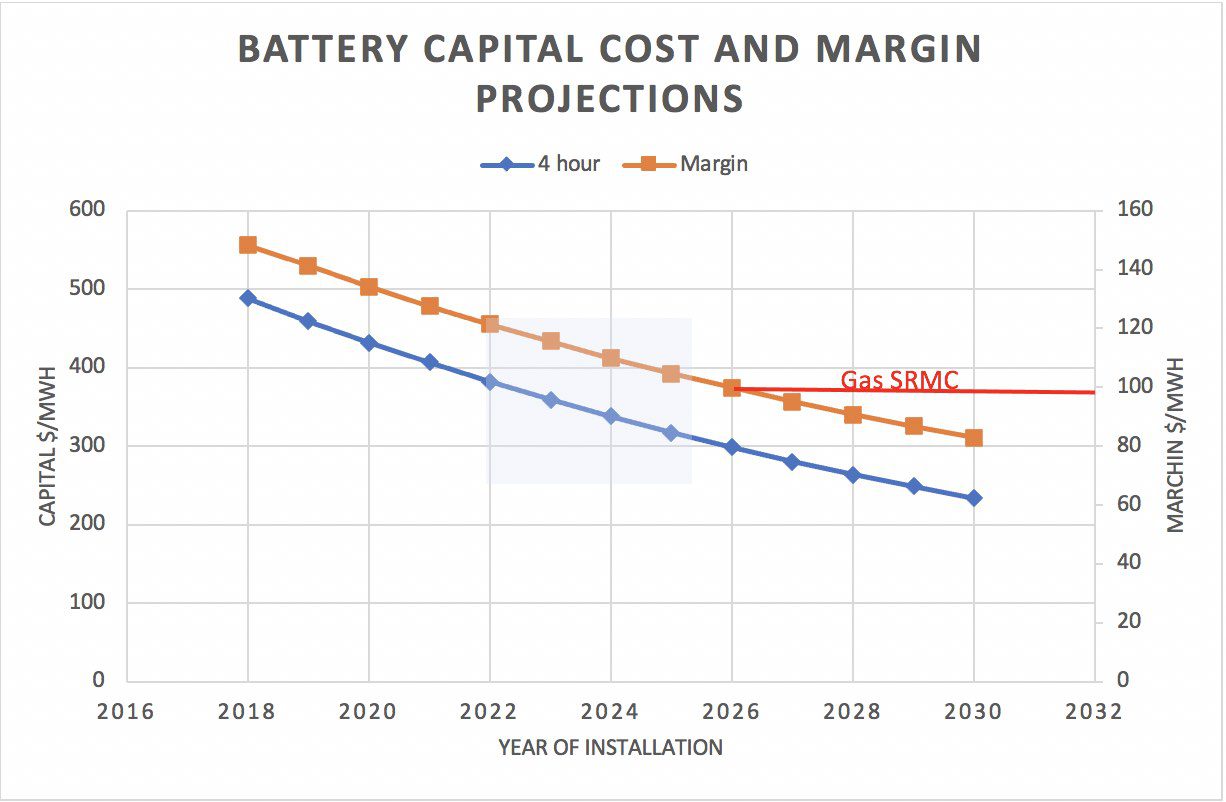 Source: ITK
To compete with existing gas and earn cost of capital the margin needs to be less than $100/MWh, which we project is achievable around 2026. To compete with new gas the battery is arguably just about competitive now. Using a hydrogen price of A$2/kg, which we are still far from achieving, the SRMC (short run marginal cost) of a gas generator is in excess of $150/MWh for open cycle gas.
Batteries are going to reduce the cap price, or the firming reward. So this the crucial point, leaving carbon to one side, there is an increasingly widespread view that batteries are going to be able to undercut open cycle gas generators in the up to 4 hours market.
Nextera's May 2021 investor presentation states at slide 22: "Increased capacity and technology improvements have resulted in energy storage cost declines and the ability to create low cost near firm wind and solar".
The Nextera slide extract below assumes "4 hour battery at 25% of nameplate solar capacity; total battery system costs calculated as 2X BNEF battery pack cost". Nextera's is the world's best utility as measured by long term shareholder value accretion and they know what they are talking about.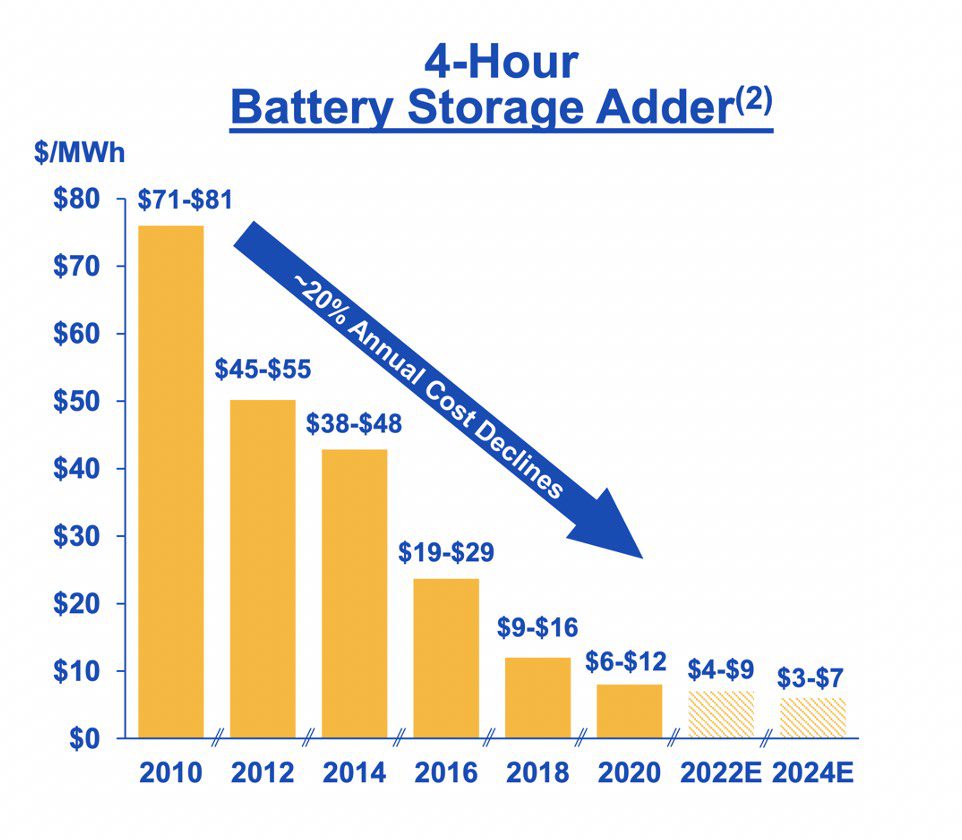 Source: Nextera
There are numerous studies of gas vs batteries as peaking suppliers. Most of the analysis is from parties talking their book: For instance, here are the results of a study sponsored by leading battery producer Fluence:    https://blog.fluenceenergy.com/fluence-energy-storage-solar-storage-mid-merit-utility-scale-asset for the USA as far back as 2019 and here is a report prepared by the Clean Energy Council for Australia just a couple of months ago https://www.cleanenergycouncil.org.au/resources/resources-hub/battery-storage-the-new-clean-peaker.
Also talking its book, but from the point of view of the owner of an actual battery and representing some of the most fact-based analysis I've seen in Australia, is this article from Andrew Wilson (University of Queensland at the time). https://wattclarity.com.au/articles/2020/10/batteries-vs-peaking-plants-a-case-study-from-13-october/  Additionally ITK has its very own numbers and views, and summarised are:
Batteries are going to proliferate in the NEM because they are vastly better at providing system services than any other technology. They operate at time scales 100s if not 1000s of times faster than gas peakers, can provide virtual inertia, fast frequency, voltage and currency. Batteries are quick to deploy, have small physical space requirements, no environmental issues etc, etc. The value that batteries provide as "peakers" is on top of their guaranteed role in running the grid.
Batteries are locked in. If you don't believe me just look at what all the big players are doing. Snowy is the only major gentailer not doing batteries. It's Snowy's attitude to batteries that most demonstrates the backward looking nature of its corporate culture driven by a Board that with one exception is much more driven by gas than anything else.
Once a battery is installed it can undercut gas on variable cost anytime the electricity price is less than say $100/MWh.
Disclaimer The comments and details in the articles in this newsletter do not reflect the views, policies or position of the Association or its member Councils and are sourced and reproduced from public media outlets by the Executive Officer to provide information for members that they may not already be exposed to in their Local Government areas
Contacts
Clr Peter Shinton (Chair) peter.shinton@warrumbungle.nsw.gov.au 0268492000 or Greg Lamont (Executive Officer) 0407937636, info@miningrelatedcouncils.asn.au.