Introduction
Delegates, here is the March MERC Newsletter, please circulate the Newsletter to your fellow Councillors and senior staff this week, so they can appreciate and understand the excellent work the Association and you are doing on behalf of your Council and community, with regard to mining and energy related matters.  
Delegates
There has been some significant changes to the MERC delegates list due to election results and some delegates not restanding in their LGA's. A big thank you to those departing delegates for their contribution to MERC and a warm welcome to their replacement delegates. If any new delegates have any questions about MERC please contact the Executive Officer, details are at end on the newsletter
Executive Committee
At the Annual General Meeting elections held on 18th March 2022 in Orange, the following delegates were elected to the MERC Executive Committee until the next Annual General Meeting in November 2022:-
Chair – Cr Michael Banasik (Wollondilly Shire Council);
Deputy Chairs – Cr Phyllis Miller, OAM (Forbes Shire Council) & Cr Kevin Duffy (Orange City Council);
Executive Committee – Cr Scott Ferguson (Balyney Shire Council), Cr Dennis Brady (Lachlan Shire Council) and Cr Denis Todd (Warrumbungle Shire Council).
COVID-19 Virus Impact on MERC
In 2022 MERC will be resuming its' activities in the normal manner as the level of vaccination rate is reached for the State Government to relax controls sufficiently to enable this to occur, unless there is another major outbreak and the Government issues a Public Health Order to follow..
What this means for MERC delegates is that 2022 will have quarterly face to face meetings and Executive Committee meetings will be by zoom means.
The AGM was a "one-off" approved by Department of Fair Trading providing it was held before 31st March 2022 and was allowed to be "face to face and by zoom".
Next Meetings for the Association in 2022
At the Annual General Meeting on 18th March 2022, it was determined that the next two MERC meetings will be held in Sydney in late May/early June (set for 3rd June 2022 venue to be confirmed to be in Club York, 99 York St, Sydney) & late August/early September.
Generally, MERC is trying to stick with the following week after the Country Mayors meeting and in a week when the majority of member Councils don't have a meeting to ensure a quorum and we meet close to when parliament sits or rises to get Ministers located in Sydney to speak eg Minister for Energy Matt Kean or Minister for Planning Anthony Roberts. Delegates usually bump in for the Sydney meetings the evening before and are encouraged to meet for networking over dinner when ideas are shared.
The AGM and Ordinary meeting will be held in Dubbo in November with a networking dinner and hopefully (if it can be arranged) a tour the day before of critical mineral sites and renewable energy developments. The Executive Committee will have a meeting (by teleconference) before each Ordinary Meeting at a time agreed by the Executive Committee (this is tentative and subject to confirmation by the Executive Committee). Meanwhile Executive Committee to meet on 12th April by zoom at 5pm for a post AGM catch up.
Orana Opportunity Network (ON2)
Delegates on 15th October 2021 considered a membership proposal from Orana RDA to be part of the Orana Opportunity Network (ON2) and participation in the UNSW Research Project on the Economic Impacts of Mine Automation in the NSW Orana Region.
After forwarding the proposal and documentation from the presentation to delegates, the decision has been made to join ON2 for 12 months as a Bronze member, then to reassess the benefits during the period whether to consider continuing as a member. Arrangements are now in hand to finalise the membership agreement.
Meanwhile the Orana Opportunity Network (ON2) is very active in promoting activities and grants available in the Central West that member councils may benefit from. For instance, it held it's the inaugural Resources, Energy & Industry Innovation Forum in Dubbo on 17th February 2022. Its focus is to update stakeholders on what is happening in the sector, the outlook for it and the innovations that are supporting sectoral developments in the Orana and Central West region. It was a virtual event with 25 plus guest speakers.
The ON2 March Newsletter is available on o2n@o2n.org.au and there are other interesting articles in the newsletter by RE-Alliance (who have presented to MERC several times, originally the Australian Wind Alliance – Andrew Bray) on community workshops they have conducted in the Central West Orana REZ (CWOREZ) to glean issues, concerns, visons and opportunities.
RE-Alliance have also made submissions to DPE on the revised Solar Guidelines to encourage best practice from the solar industry, focussing on the local impacts building on what MERC had submitted initially to DPE where there are opportunities for DPE to impose access fees, compulsory contributions, improved community consultations and increased social licence.
Further details on RE-Alliance can be obtained from Fiona Luckhurst, Community Engagement Officer at RE-Alliance for the CWOREZ on fiona@re-alliance.org.au .
CRC for Transformations in Mining Economies (CRC TiME)
MERC is a partner with CRC TiME on a no cost but consultative basis. They have webinars and workshops on their progress with the CRC establishment and their collaboration efforts.  As relevant activities present, delegates will be kept informed on them for participation. The following is an update on progress with projects from Guy Boggs, CEO.
New Initiatives. During our first 18 months, CRC TiME and partners have collaborated on Foundation Projects, new projects and strategic planning, leading to the identification of research initiatives that will drive transformation. The relationship between 'initiatives' and 'projects' can be one to one, or one to many where multiple projects deliver as part of one initiative.
Critically, these initiatives signal the start of a co-design process where CRC TiME will provide opportunity for partners to actively participate in the design of the work to be delivered within each initiative. The fleshing out of the initiatives will also provide transparency on where partner and CRC TiME cash and in-kind resources are being invested.
Fifteen initiatives have been identified for further development over the course of the year, with the first seven expected to be scoped by July and the remainder by October. Prospectus' are available for three initiatives that are already underway with more to follow over the coming weeks.
Projects Approved. Congratulations to Dr Suzanne Prober and partners for the recently approved project on "Evidence for effectiveness of climate-adapted seed sourcing strategies for revegetation success and transition to mine closure in a changing climate" at the March Board meeting. This $1.24M project brings together over 14 partners from research, mining, government and METS sectors. The project will create a national network of embedded experiments and work with regulators, industry and First Nations groups to support the development of new guidance for seed sourcing.
Project Pipeline. CRC TiME's proposal submission process provides an avenue for all participants to propose ideas for potential projects. This process will continue to operate in parallel with the initiatives described above and all projects scoped as part of an initiative will need to move through the project development stages as defined in the project development guidelines.  It is not a requirement to align project ideas to initiatives when submitting, but this will be a significant advantage. Since the last newsletter, the following ideas have been approved to proceed to the concept scoping stage:
Project Idea: Implementing cumulative regional impact assessment for mine relinquishment. Submitted by: Renee Young (WABSI). Potential participants: include WABSI, Murdoch, Newmont, MMG, BHP, CSIRO, DWER, Pershke Consulting, South32, Golder
Project Idea: Securitisation of intangible uncertainty for mine closure. Submitted by Eric Lilford (Curtin). Potential participants: Curtin University and others TBC
Project Idea: METS Mine Closure Roadmap. Submitted by Dominic Banfield and Vivek Srinivasan (CSIRO). Potential participants: all METS participants in CRC TiME
New Participants. We are delighted to welcome the Isaac Regional Council as our latest new partner in the CRC. The Isaac Region is a prominent Australian region experiencing transformation through mine closure, with 22 active Metallurgical coal mines, 9 active Thermal Coal Mines and an additional 15 mines in either care and maintenance, construction of advanced stages of approval. The Isaac Regional Council has been actively supporting the Bowen Regional Hub as a key member of the CRC TiME hub secretariat and building connections in the region.
First Nations Advisory Team.  I would like to welcome Jim Walker as the Acting Chair for the CRC TiME First Nations Advisory Team. Mr Walker is an Aboriginal man from the Jagera, Yiman and Goreng Goreng First Nations peoples, and an Indigenous lecturer within UQ's School of Earth and Environmental Sciences. Mr Walker was the Manager of the Office of Indigenous Engagement within CSIRO and has extensive experience in Indigenous Affairs as a senior manager within the Australian Government.
We are seeking to finalise membership of our First Nations Advisory Team in coming weeks and invite partners to contribute nominations to Jim Walker and Tom Measham for consideration.
Engagement Planning. CRC TiME will be running three lines of engagement to support the co-design of projects within each initiative. This includes college based meetings, regional hub discussion and cross stakeholder thematic workshops. These processes have begun, with recent 'Regions in Transitions' workshops in Brisbane and the Latrobe Valley and Mining College participant meetings. These will ramp up over coming months and further information on engagement plans will be provided on the website and tailored to address feedback from the initiative survey. We will also be initiating a Foundation Project Webinar series to share key findings from these projects starting on 8 April – watch this space!
We encourage your participation and welcome feedback. If you have any questions on our engagement planning, please contact our Impact and Translation Lead, Emma Yuen.
Impact Framework and Adoption, Monitoring and Evaluation. The CRC TiME Impact Framework will be launched in coming weeks. The framework is in the final stages of graphic design following endorsement by the Board at the end of 2021. This is a critical document in framing how we connect research with impact and will be important in our initiative planning process as we design projects that invest not only in research, but in the adoption and translation activities and outputs that will ensure we create fit for purpose, innovative solutions.
We have also updated our project development process with guidance that approximately 10% of project budgets should be allocated to Monitoring / Evaluation and Communication / Adoption activities to ensure projects strongly connect with impact.
Publications Update. Congratulations to all project teams on their work delivering Foundation Projects. A total of 19 publications across 17 projects have been received (see table below), with 9 in review and 10 published on our publications page. Project Fact Sheets for each project are in development to provide industry ready documents that highlight key outcomes.
As always, do not hesitate to contact any of the team if you have any questions or would like bring something to our attention.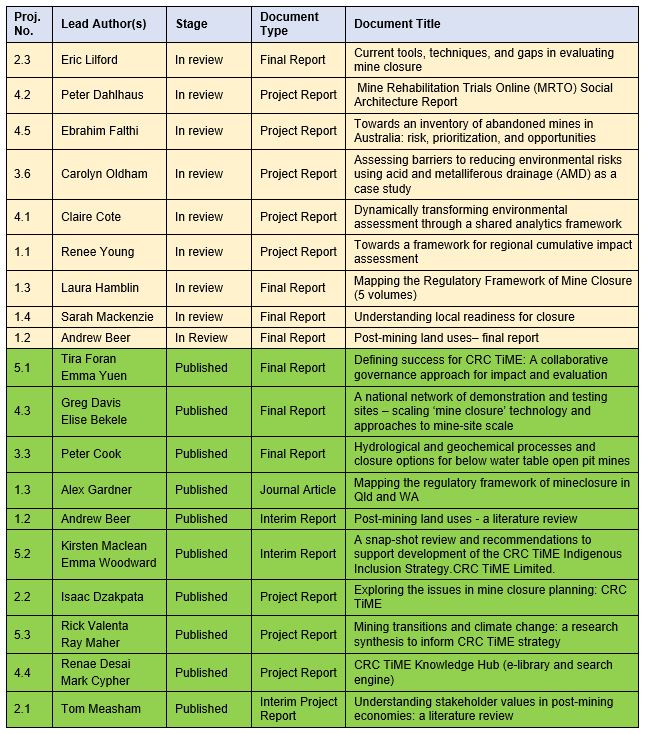 Exposure Bill for the Mining & Petroleum Legislation Amendment Bill 2021
A letter has been received from the Deputy Secretary, Georgina Beattie from the Mining, Exploration & Geoscience Division, Regional NSW regarding the Exposure Bill for the Mining & Petroleum Legislation Amendment Bill 2021, outlined as follows:
"The NSW Minerals Strategy committed to review mining regulations, policies and processes to improve transparency, efficiency and community confidence. The review has led to a number of proposed reforms, including a set of legislative amendments to enable more efficient decision-making, streamline and modernise processes, improve clarity, and compliance. The amendments also support the NSW Government's commitment to establish the new Royalties for Rejuvenation Fund.
A draft of the Mining and Petroleum Legislation Amendment Bill 2021 was released on the Mining, Exploration & Geoscience website, along with the Explanatory Guide. Refer to: meg.policy@regional.nsw.gov.au
All feedback will be published on the Mining, Exploration and Geoscience website early in 2022. The Bill has recently been introduced into Parliament.
Royalties for Rejuvenation Fund Update
The Deputy Premier announced the creation of the Royalties for Rejuvenation Fund in April 2021. The 2021-22 NSW Budget committed to setting aside $25 million each year to the Fund to support the economic diversification of coal mining communities over the coming decades. Coal mining communities will have a key role to play in advising the Government on how to best invest the Fund.
The Fund will support economic diversification in the four coal mining regions. As noted in the Deputy Premier's media release in May 2021, Expert Panels will be established with representatives from the communities in coal mining regions to input into delivery of the Fund.
The Department of Regional NSW is preparing a suite of amendments to the Mining Act 1992. As part of this package, the NSW Government is proposing to establish under legislation the Royalties for Rejuvenation Fund and its statutory expert panels. This will ensure that coal mining communities guide investments supported by the Fund.
Ahead of the Bill being introduced into Parliament, interim expert panels may be appointed for regions where short-term priorities necessitate timely advice". Refer www.regional.nsw.gov.au for more details as this unfolds in a changing political environment. The bill has been recently introduced into parliament
LGNSW Special Conference 28th February – 2 March 2022
MERC had a stand at the LGNSW Special Conference for the debating of motions, trade displays, workshops and conference speakers from 28th February – 2nd March 2022 in the Hyatt Regency, where the Executive Officer of MERC attended to assist with enquiries and encourage memberships.
MERC was allocated stand no 11, in a prominent position, as a 3 metre back board with x 2 metre side panels space, with the provision of bar stool seats and a table with the MERC banner displayed and some promotional handouts available – it looks very professional, come along and chat. There were several positive leads to be followed up from the presence of MERC at the LGNSW Conference.
Renewable Energy Zones
The Minister for Energy and Environment declared the CWOREZ on 5th November 2021. The declaration is the first step in formalising the REZ under the Electricity Infrastructure Investment Act 2020. It sets out the intended network capacity (size), geographical area (location) and infrastructure that will make up the REZ. This enables and sets the scope of key legislative functions under the Act, including access schemes and REZ network solutions. For more information about NSW REZs please visit www.energy.nsw.gov.au/renewable-energy-zones or email rez@planning.nsw.gov.au.
A REZ is a hub of renewable projects across a region that forma a modern day power station, producing a large amount of energy for the State. The State Government has set them up in the New England, Southern NSW and Hunter/Central Coast Regions.
The REZ's are receiving a huge interest from renewable energy businesses providing a challenge for the NSW Government to facilitate it and for local communities/Councils to grapple with. Refer article below provided by Warwick Giblin from Oz Environmental providing the details to this situation, suggesting there is an opportunity for MERC to be more involved.
"Subject: REZs – huge interest from renewable energy businesses. And a challenge for the NSW Govt to facilitate it, and for local communities/Councils to grapple with
https://reneweconomy.com.au/nsw-swamped-by-34gw-of-wind-solar-and-storage-for-new-renewable-zone/
Current MERC process for involvement in the REZ's is by receiving minutes from each REZ Regional Reference Group meeting and forwarding them to members (which attendances at and the staging of them have been affected by COVID during 2021). MERC does not have members in every REZ that is being established..
If MERC is to get more involved in the REZ's it would need to have a discussion at a future meeting to review the current Strategic Plan actions and how it would like to resource any actions if it were to become more involved in the processes across the whole of the State given the growth of the REZ throughout NSW as outlined in the following article.
The following is an update on the NSW Electricity Infrastructure Roadmap from James Hays, CEO, Energy Corporation. DPE. "The NSW Government has developed a comprehensive plan to ensure that NSW continues to have reliable and affordable electricity following the planned closure of the Eraring Power Station. This includes the acceleration of the Electricity Infrastructure Roadmap. This paper is split into NSW Consumer Trustee & Energy Corporation of NSW comments.  
NSW Consumer Trustee – The Roadmap is designed to be adaptive to changes in the market, such as those related to the retirement timeframes of existing power stations. The NSW Consumer Trustee has notified of an update to how it expects to implement the plan for competitive tenders, available here. 
This update shows that the indicative sizes for the Q4 2022 tender are expected to be 2,500 GWh annual amount of new generation and 600 MW of long-duration storage. The NSW Consumer Trustee can recommend the award of more or less energy investment than the indicative tender size if it is in the long-term financial interests of consumers to do so. 
Excitingly, energy investment in NSW has continued at a pace since the Roadmap was enacted with around 3.6 GW of new investment committed and anticipated. Almost all of this new investment is likely to be able to participate in the enlarged Q4 tender, driving competition and value for consumers.
The NSW Consumer Trustee has been focused on providing an opportunity for investors and developers to learn about the competitive tender process and the value of the products that will be offered. Following stakeholder feedback, the Q2 pilot tender will now be a Market Briefing to better prepare the market for the enlarged Q4 tender.
The NSW Consumer Trustee welcomes participation for Long-term Energy Service Agreements (LTESAs) from projects across NSW, including those outside of the Central-West Orana Renewable Energy Zone (CWO REZ) seeking to connect to existing transmission infrastructure.  Access Rights will also be offered and are likely to be limited to projects within the CWO REZ for this specific tender. 
The tenders conducted by the NSW Consumer Trustee are the only way projects can be awarded an LTESA, Access Right or both products. Projects needing both products must seek these through a single competitive tender. Guidance Notes for generation and long-duration storage projects in each Renewable Energy Zone (REZ) and for those outside of a REZ will be available on the NSW Consumer Trustee website in April.
The Market Briefing will be a series of engagements that will demonstrate: 
how the merit criteria will be assessed, including financial assessment, grid impacts and community and social licence. The intention of this is to help proponents bid successfully for LTESAs and Access Rights 
the characteristics of a project with 'outstanding merit' outside a REZ and how this will be assessed 
how the access scheme will work for projects in connecting to new transmission infrastructure via access rights and to existing transmission infrastructure 
the NSW Consumer Trustee's planned approach to competitive tenders so proponents can produce high-quality, competitive proposals. 
Information on how to participate in this Market Briefing will be available on the NSW Consumer Trustee's website in April.
Energy Corporation of NSW
As part of the NSW Government's commitment to accelerate the Roadmap, it has established a Transmission Acceleration Facility that will play an important role in fast tracking the delivery of critical transmission infrastructure. The Facility will be used to undertake development activities to accelerate key transmission projects, including the CWO REZ, the New England Renewable Energy Zone and the Hunter Transmission Project. 
The first investment to be completed will be the Waratah Super Battery. An Expression of Interest was released on 4 April 2022. Click here for more information.  The Facility will also allow the concurrent development of multiple renewable energy zones, to facilitate the acceleration of the Roadmap. 
We are committed to delivering certainty on product and service design and more information about how the Roadmap comes together. 
As part of this commitment, in April we will be providing you with a deeper look at the value of the LTESA and how it will work to help facilitate new private investment in the long-term financial interests of NSW electricity consumers. In coming weeks and months, we will replicate this for other topics and use new channels to better deliver this information.
In the meantime, if you have a query or other information you would like to share with us you can do so by emailing Electricity.Roadmap@dpie.nsw.gov.au (for the Roadmap Taskforce and EnergyCo) and stakeholderengagement@aemoservices.com.au (for the NSW Consumer Trustee). We will also collate questions and publish a response. 
Hydrogen Hub
Tim McMinn & Michael Probert addressed delegates at the 18th March 2022 meeting in Orange and provided the following comments post their presentation below:
"Thanks again for giving us the opportunity to present to your members last week on the NSW Hydrogen Strategy and key actions.  As promised, I've attached a copy of the NSW Hydrogen Strategy which will give you further detail.
We also discussed some of the potential interest amongst your members to secure sources of green hydrogen for applications such as rubbish truck trials.  We would encourage councils to register their interest in green hydrogen consumption through our currently open form – more details can be found here: https://netzeronsw.smartygrants.com.au/hydrogenconsumer
Please let us know via the NSW Hydrogen Mailbox if you have any further questions" which is on hydrogen@planning.nsw.gov.au "
Delegates may wish to pursue this offer given the cost savings opportunities that exist.
Electric Vehicles
Ross de Rango from the Electric Vehicle Council presented to delegates at our Orange meeting on 18th March and slides were distruibuted to members for their information. Mayor, Dubbo Regional Council, Cr Mathew Dickerson assisted with a practioners account of electric vehicles and had his Mayoral vehicle (a Hyundi Ionic 5 )present for delgates to drive. There is potential for Councils to consider the acquisition of electric vehicles for locally used pool cars in view of fuel costs.
Rating of Mining Land Relative to Business Rates Update on OLG Guidelines
This item is re-submitted given its importance to MERC members and for the interest of new delegates. The Minister for Local Government, Hon Shelley Hancock, had written to MERC on 25th March 2021, confirming that the NSW Government have accepted IPART's recommendation that mining rates should be set relative to busness rates, primarily to reflect differences in the cost  of providing council infrastructure and services to these properties.
The Minister also indicated that the NSW Government are not contemplating legislating to limit how mining land should be rated relative to business rates by local government, instead Guidelines will be prepared for the local government sector.
In reply, MERC wrote to the Minister offering the expertise of members of MERC to be part of the working party to write the Guidelines. Since then the Local Government Amendment Act 2021 has been passed and some of the changes adopted from the IPART recommendations have been implemented effective from 24th May 2021, with more to come.
In the meantime, the Minister has advised that a Local Government Rating Reference Group has now been established to provide technical input on rating issues and advice how best to meet Council's operational needs during implementation of the mining rates relative to business rates.
Following an EOI process, an initial meeting was held on 3rd November 2021, with the Reference Group, where rating professionals from Wollongong City, Wollondilly, Blayney, Singleton, Cessnock and Mid Western Regional  Council's are members of the group. Four of these Council's are members of MERC so our issues of concern should be raised.
The Minister thanked MERC for bringing this matter to NSW Government's attention. If there are any queries the OLG Policy Team can be contacted on 02 44284100 or by email to olg@olg.nsw.gov.au
Related Matters of Interest – Mining and Energy Issues
1. "Edify Energy selects Tesla Megapack batteries for big battery projects in NSW"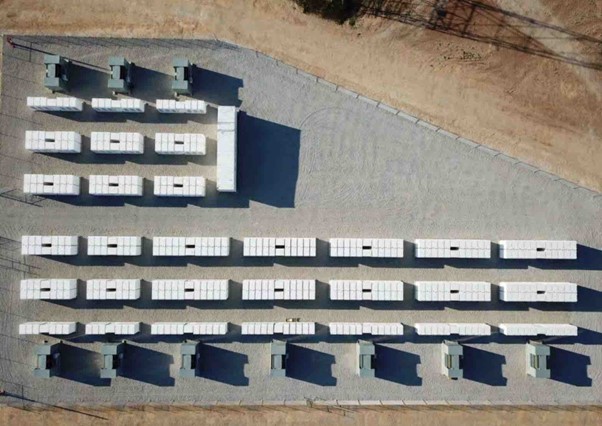 Giles Parkinson, Renew Economy, 21st March 2022 writes:
Australian solar and battery storage developer Edify Energy says it has selected Tesla Megapack technology for three large scale battery projects in the NSW south west that will total 150MW with two hours of storage.
The projects, to be located in the Murrumbidgee shire, are part of a deal with global oil giant Shell Energy and will be fitted with "advanced inverters", meaning they will feature "grid forming" capabilities that will provide key system services and help lay the path to a grid operating with 100 per cent renewables
Edify says the Riverina and Darlington Point energy storage systems will feature three independent and co-located projects near the 275MW Darlington Point solar farm and will feed into Transgrids' substation at Darlington Point.
The projects are the 60MW/120MWh Riverina Energy Storage System 1, which will be contracted to Shell, the 65MW/130MW Riverina Energy Storage System 2, and the 25MW / 50MWh Darlington Point Energy Storage System. The Shell component will provide "firming" for that company's newly one contract for the NSW government electricity supply, which services hospitals, schools and buildings.
Contracts for the two other components will be announced in coming weeks. Construction is due to start later this year. The choice of Tesla should not be a surprise as Tesla was chosen by Edify to build the 25MW/50MWh Gannawarra big battery, located next to the solar farm of the same name in Victoria. Still, others who have built batteries with Tesla, such as Neoen, have chosen other providers in recent transactions.
"One of the key drivers in our business is innovation and the strong belief that most roadblocks to a greener energy system can be overcome with the advancement in technology," said Edify CEO John Cole. "The advantages of large-scale batteries in our growing world of renewables are well documented and supported.  Energy storage is rapidly becoming a valued capacity solution for the National Electricity Market, given its fast and precise response and technical capability. The pace of advancement in this growing technology class is exciting and with it a breaking of the barriers to acceptance from market and network participants."
Tesla Megapacks are larger battery modules of around 3MWh that superseded the earlier Powerpacks that were used at the original Tesla big battery at Hornsdale, and at later installations at Gannawarra, Lake Bonney and Bulgana. The Megapacks have also been selected for the Victorian Big Battery, and the Wallgrove and Bouldercomble batteries, and a handful of smaller commercial and industrial projects.
The Edify battery storage projects are located on Wiradjuri country, the largest Aboriginal Nation in NSW. See also RenewEconomy's Big Battery Storage Map of Australia
Australia's Mining Industry is Powering Our Economic Recovery  Tania Constable, Chief Executive Officer, 6/2/22, Friends of Mining article, Minerals Council of Australia writes: "Trade data released by the Australian Bureau of Statistics yesterday shows resources export revenue reached a new record high of $351 billion in 2021 – up 21 per cent from the previous record set in 2019 – and that resources contributed 68 per cent of total Australian export revenue in 2021.
This data reaffirms the vital role of the mining industry in powering Australia's economy through the COVID-19 pandemic and its ongoing importance in leading our economic recovery. Australian miners produce commodities that are indispensable to modern life and necessary for economies around the world to flourish. With over 250 projects under development in Australia our future investments, employment and exports are sure to rise.
Trade data released today by the Australian Bureau of Statistics shows resources export revenue reached a new record high of $351 billion in 2021 – up 21 per cent from the previous record set in 2019. Resources contributed 68 per cent of total Australian export revenue in 2021.
Iron ore contributed $154.2 billion, up 32 per cent from 2020 and a new record high. Coal contributed $62 billion, up 43 per cent from 2020. Aluminium (including alumina and bauxite) was $13.7 billion, up 15 per cent from 2020 and copper (metal and concentrates) contributed $12.1 billion, up 14 per cent from 2020 and a new record high. Gold contributed $25.9 billion.
This incredible growth in revenue has also delivered Australia its largest ever trade surplus ($123 billion) during the COVID-19 pandemic, at a time when it needed economic stimulus the most. This record growth demonstrates the importance of Australia's mining industry to our economy.
Ongoing demand for resources is driving the 258,000 direct mining jobs, with significant benefits flowing to all of Australia and particularly regional communities. Australia is proving again how its highly skilled, innovative mining workforce is competitively supplying the minerals for the future. But we can't take these great trade figures for granted. More must be done to attract the investment needed for new projects in Australia to meet growing world demand for minerals for every day living and to drive the energy transition to net zero emissions.
Over a decade ago the investment phase of the mining boom underpinned the nation's rebound from the Global Financial Crisis with over $370 billion spent in the five years to 2014 developing new resources projects and building critical infrastructure in regional areas. Today, we see massive benefits from this investment.
While Australia has significant endowments of copper, lithium, nickel, gold and rare earth elements, developing these deposits into the mines of the future is far from guaranteed. Globally competitive tax rates, more workplace flexibility and increased government funding for pre-competitive exploration programs are all essential to mining's long-term future and Australia's economic prosperity. And when the mining industry is strong, all Australians benefit."
2. NSW Unveils "First of It's Kind" Access Standards for New Renewable Energy Zones
Michael Mazengarb, Renew Economy, 6th April 2022, writes "The NSW Government has released a draft of its proposed access standards for projects seeking to participate in the state's ambitious Renewable Energy Zones – that could influence more than $30 billion in new investment in wind, solar and storage projects.
The access arrangements for the Renewable Energy Zones will guide how billions in anticipated investment in clean energy projects will be made – informing where the projects will be located and how they will connect to the grid. On Wednesday, the Energy Corporation of NSW, which has been tasked with implementing the government's renewable energy zones, released a consultation draft of its proposed access standards, for the first zone in the state's Central-West Orana region.
The NSW Government is aiming to support the development of 12GW of new clean energy generation capacity, along with 2GW of energy storage capacity, that could spur as much as $32 billion in investment. Similar arrangements are also under development in Queensland and Victoria.
The Renewable Energy Zones offer a potentially attractive deal for clean energy projects, with the ability to access coordinated investments in new network infrastructure and the offer of long-term energy supply agreements from the NSW Government that will help de-risk investments.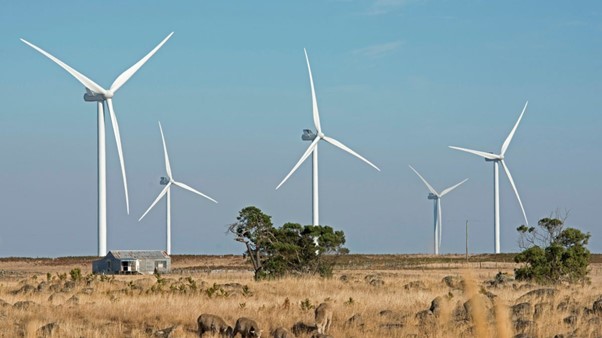 Photo credit: Canva
"By managing generation and storage connections in the REZs, the access schemes will enable active coordination of network, generation and storage investment," the NSW Government said. "This will help optimise the network, reducing bills for energy consumers, and improving planning outcomes for local communities."
"The Central-West Orana Access Scheme will be the first of its kind in the NEM," the consultation paper adds. The NSW Government was inundated with $38 billion worth of proposed projects for the Orana-West zone, representing almost ten-times more generation capacity than the 3,000MW the state government aims to attract to the zone.
In February, the NSW Government unveiled a proposed transmission network corridor that could have the ability to support as much as 11GW of generation capacity, potentially leading to massive expansion of the zone. The REZ scheme will help mitigate the risks currently faced by several new renewable energy developments due to lags in investment in new network infrastructure. Some parts of Australia's grid have seen numerous wind and solar projects either delayed from connecting to the network or having their output curtailed, to manage network congestion.
By offering to coordinate new network infrastructure, the proposed renewable energy zones should come without the risk of connection delays and curtailment. "REZ access schemes will govern the volume of projects that may be granted access rights to connect to REZ scheme infrastructure and define the terms and conditions of the access rights," the NSW Government says.
"[It will] enable investment in new, low-cost generation and storage projects by providing increased certainty of curtailment risks for access right holders while maintaining an efficient level of utilisation of the REZ scheme infrastructure."
In return for enjoying the benefits of participating in the renewable energy zones, projects will need to sign on to the proposed access standards, making performance commitments that ensure projects will have the ability to support the reliable operation of the grid. This will include the proposed standards designed to manage the voltage, frequency and timing of generators and how the generators respond to potential disruptions within the electricity system.
"Proponents will need to agree to meet these standards as a condition of the access rights tender and to propose the REZ Access Standards in their application to connect to the REZ," the consultation paper says. "It is intended that the REZ Access Standards are set at a level that can be met by reasonable quality equipment that is currently in the market, and proponents accept they will not be negotiated."
The access standards will detail the performance expectations of the projects connecting to the grid in the Renewable Energy Zones, ensuring they comply with the technical needs of the grid and that the projects commissioned can appropriately replace the coal fired generators expected to exit the NSW electricity market over the next decade.
Consultation on the proposed REZ access standards is open until 27 April.
Disclaimer The comments and details in the articles in this newsletter do not reflect the views, policies or position of the Association or its member Councils and are sourced and reproduced from public media outlets by the Executive Officer to provide information for members that they may not already be exposed to in their Local Government areas
Contacts
Clr Michael Banasik (Acting Chair) michael.banasik@wollondilly.nsw.gov.au  0425798068 or Greg Lamont (Executive Officer) 0407937636, info@miningrelatedcouncils.asn.au.