Introduction
Delegates, hope you had a nice Easter & safe travels. Here is the March MERC Newsletter, please circulate the Newsletter to your fellow Councillors and senior staff, so they can appreciate and understand the excellent work the Association and you are doing on behalf of your Council and community, with regard to mining and energy related matters.
COVID-19 Virus Impact on MERC
The NSW Government continues to work very closely with Councils to support communities across the state in response to COVID and the changing hotspots. Consequently, there will be changes as circumstances alter that will affect MERC and members going forward due to the NSW Government's respective Ministerial Public Health Orders to implement controls as necessary to combat the COVID virus. If there is a resurgence of the virus from time to time the 2021 meetings may be affected, however the Gunnedah meeting will be a normal face to face meeting at this stage to encourage attendance in person and networking.
Two year terms and Nominations for Executive Committee
MERC has deferred consideration of appointments to the Executive Committee for two year terms until after November 2021 when new councils and delegates are appointed and they can determine if MERC needs to do this or not. Clause 7.1 in constitution was changed to:
"The Executive of the Association shall comprise the Chairperson, two Deputy Chairpersons, if such delegates are willing to accept nomination; and three (3) other delegates as the Association shall from time to time determine necessary.  All delegates appointed to the Executive Committee must come from separate member council areas".   
Next Meetings for the Association in 2021
This meeting round in May could be the last meeting for the year until November when the AGM has to be held, as the scheduled August meeting will either be cancelled or brought forward to July, in view of the caretaker situation of councils in August, as a result of the September 4th Local Government elections.
Deputy Chair of MERC, Cr Owen Hasler, Gunnedah Shire Council has been busy organising the Gunnedah tours, dinner, meeting rooms and accommodation lists for delegates with the support of the General Manager, Eric Groth and staff at Council to make this a showcase success.
On Thursday 20th May 2021 programmed is a tour from 1pm of the Whitehaven Coal Mine at Maules Creek, a visit to the historic former Mackellar family home (parents of renowned poet Dorothea Mackellar), both owned by Whitehaven Coal, then hopefully a visit to the Canadian Solar Farm under construction, followed by a networking dinner on Thursday at Maverick Bistro, Conadilly St Gunnedah. The meeting on Friday 21st May 2021 will be in Gunnedah Shire Council buildings in their Civic precinct, more details as they unfold on exact venue.
The accommodation options near the Maverick Bistro in Conadilly St, Gunnedah are:
Gunnedah Motor Inn, across the road left and lower price range tariff, Ph 67422377  Mobile 0438136558; Maynestay – next door, mid-price range, ph 67427152; Alyn Motel – across the road right, mid-price range, ph  67425028; Billabong – next block towards town centre,  low price range,  ph 67422033; Mackellar- next block towards town centre, top price range, ph 67426838.
Gunnedah has accommodation however, it is very popular due to the extensive mining and rural activities in the area, so delegates are encouraged to book early. The Executive Committee will have a zoom meeting before the Ordinary meeting on 21stth May (date to be finalised by Executive Committee, likely to be in the week of the 21st).
Membership Campaign
MERC will be participating in the 2021 LGNSW Annual Conference in November with stand, attend dinner, target/talk to potential members, to include pamphlets, notepads with "We are your voice – become a member" or suchlike (badges) on them for handouts, a banner indicating locality of members throughout NSW, a video to play on a laptop to link back to the webpage, set up a membership page on the website, etc, relying on "face to face" conversation and relationship selling.
A membership page has been established on the website with a facility to contact the Association for more details, encouraging membership. Meanwhile Cessnock City Council has withdrawn from MERC, from 1 /7/21, leaving no Hunter Valley Councils in MERC.
List of Speakers for future meetings of MERC
MERC will be continually pursuing the following speakers for future meetings
Hon Rob Stokes, Minister for Planning & Public Spaces, Liberal Party;
Hon Matt Kean, Minister for Energy & Environment, Liberal Party;
Hon John Barilaro, Deputy Premier, Minister for Regional NSW, Investment & Trade, Leader of NSW National Party;
Hon Adam Marshall, Minister for Agriculture & Western NSW, National Party;
David Shoebridge MLC (Energy) & Abigail Boyd MLC (Mining), from The Greens;
Other relevant Opposition party members and government senior officers will also be pursued for meetings as required depending on locality of the meetings – Shadow Minister for Local Government (Greg Warren) keen to address delegates post COVID;
Leader of Shooters, Fishers and Farmers Party in Legislative Assembly & MP for Orange, Phil Donato;
Relevant Senior Departmental Executives;
CEO's, Clean Energy Council and Clean Energy Finance Corporation, ARENA, and various renewable energy speakers, etc.
Business and Industry leaders that have matters of interest for members.
Speakers for the 21st May 2021 being pursued are Minister for Agriculture and Minister for Western NSW, Hon Adam Marshall, an EPA Senior Officer from the Armidale Office, NSW Minerals Council CEO Steven Galilee, Geni Energy principal Rohan Boehm and Chair IPC, Mary O'Kane. Invitations have been sent and are being pursued.
Research Fellowship Update
Unfortunately, the PhD project has come to an end. In a recent discussion with Peter he is working on his report on the participatory modelling concept for MERC while trying to make a living and refocusing. The Executive Officer will forward documentation on participatory modelling from the PhD student (when received) to all members as information on the project.
Independent Planning Commission
Recent discussions with the Director Communication and Engagement, Office of the Independent Planning Commission (IPC), Troy Deighton about this participatory collaboration modelling approach to improve the consultation process and outcomes for the community, he was impressed with the idea and felt this approach could benefit the DPIE when assessing submissions and looking at the EIS issues. 
Executive Officer also had discussions with Troy in relation to the IPC seeking input from MERC on what questions should they have in their fact sheets on their web page. Main issue as Executive officer sees it is their credibility in the process i.e. are they truly independent in their assessment process taking into the expensive consultant reports versus community composed submissions and is this enough information to make the best assessment, finally who makes the final decision – the IPC, government, Premier, Deputy Premier, Cabinet or who, this needs to be made clear to the community as it's not the local Council. Please submit to the Executive Officer if you have any thoughts on this so I can relay them to Troy this week.
CRC for Transformations in Mining Economies
The partnership with CRC for Transformations in Mining Economies (CRC TiME) and any universities in the future may enable this project or ones like it to be delivered as opportunities present themselves.  Any leads will be favourably received and followed up. Executive Officer to attend a webinar on progress with the CRC TiME project, with details to be relayed to you.
Strategic Plan 2020 – 2023 Review
The Strategic Plan 2020-23 Strategic Directions, Deliverables and Actions were adopted by delegates at the Ordinary meeting on 27th November 2020 and is full of new strategies to be implemented  over the next three years which will hopefully  help with membership growth and involvement of members. It is on our web page for reference.
Renewable Energy Zones
MERC resolved on 26th February2021 that the Executive Officer seek clarification on the name of the "Central West Orana REZ" on the basis that it is more representative of Orana than the Central West when one looks at the zone map and suggests consideration be given that it be re-named to Orana REZ. Last meeting held on 22nd February 2021, minutes were sent out.
Rating Review by LGNSW – IPART Review Recommendation 34
Further to the information raised with the Productivity Commissioner on 14th August 2020, MERC distributed the IPART report and State Government's response, it was discussed further by delegates on 27th November 2020, since then the Executive Officer has been in contact with LGNSW about their rates modelling and actions since the LGNSW Conference.
The link for the background document, media release and the draft bill, consultation process, etc. is below, click on it. Please read it and  assess how your Council may be affected if implemented.
https://www.olg.nsw.gov.au/councils/policy-and-legislation/fairer-rating-system-consultation/
Delegates had raised their concerns about the possibility of the State Government passing legislation that will have a negative impact on Councils with mining rating. MERC provided a submission based on the comments made at the Blayney meeting, the Motions passed at the LGNSW Conference and input from rating personnel where required.
In discussions with the Deputy Premier and Local Members of Parliament on 19th February 2021 in Cobar, delegates were concerned that mining affected LGA State Members of Parliament representatives were allegedly not aware of the "Towards a Fairer Rating System Review" being undertaken by the Office of Local Government and the mining rate issues.
MERC at its meeting on 26th February 2021 resolved to do something about this by requesting the Executive Officer forward the MERC submission and the 2014 submission by Blayney Shire Council on the mining rating reviews be referred to Deputy Premier & Minister for Regional Development (Hon John Barilaro); Minister for Agriculture & Western NSW (Hon Adam Marshall); Member for Orange (Phil Donato); Member for Dubbo (Dugald Saunders); Member for Barwon (Roy Butler) for their information and attention, so they are aware.
In the meantime in discussions with Shaun McBride, LGNSW he has said "as you may be aware, the Bill (Local Government Amendment Rating Act) passed unamended through the Legislative Assembly but stalled as they have yet to decide the new President of the Legislative Council. Parliament is now in recess until May, so the Bill and any LC amendments will not proceed until then. LGNSW advocated an amendment to decouple the ESL from rate pegging and the Greens will put forward an amendment to the LC similar to that proposed by us. However, I would be pleasantly surprised if it gets up".
See reply from the Minister for Local Government, Hon Shelley Hancock to our request for involvement in the development of guidelines for mining rates, etc. following: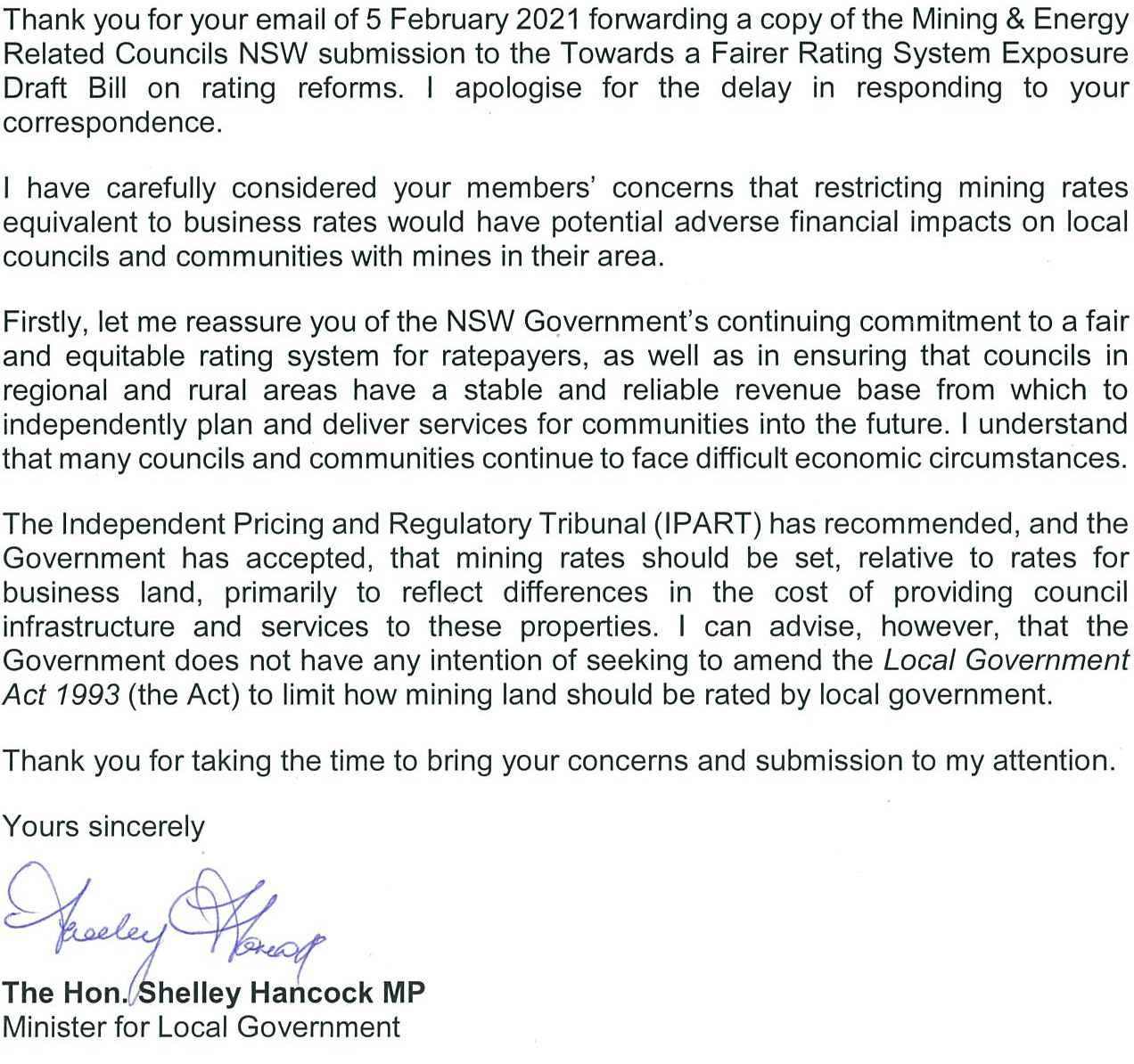 Improving the infrastructure contributions system in NSW
Submitted by Kate Speare Director, Infrastructure Funding and Public Space Policy, Department of Planning, Industry and Environment 'I am writing to inform you of changes to the NSW infrastructure contributions system, which respond to a range of recent planning system and governance reviews.
A package of five proposed changes were on public exhibition during April – June 2020. The proposed system improvements included new reporting requirements for contributions received by councils and other planning authorities, and updated guidance to improve the transparency, efficiency and accountability of the system.
During public exhibition of the five proposed changes, we received 89 submissions from government, industry and community stakeholders. The department has considered your submissions and responded by amending the proposals. Our response is outlined in a submissions report available on our website. Three of the five exhibited proposals have now been released:
1.The Planning Agreements Practice Note has been updated to provide guidance to planning authorities when preparing planning agreements. It reinforces the NSW Government's position that planning agreements are to be used primarily to fund innovative infrastructure solutions and not for the primary purpose of value capture.
2.The Section 7.12 Fixed Development Consent Levies – Practice Note sets out what is to be included in a section 7.12 Contributions Plan as well as criteria for metropolitan and regional councils requesting an increase to the standard maximum section 7.12 levy from 1% to 2%, or more than 2% including a requirement for councils to review their section 7.12 contribution plans every 5 years.
3.The Environmental Planning and Assessment Regulation 2000 has been amended to include new accounting, reporting and online publication requirements for councils and planning authorities. Minor updates have also been made.
Next steps – The remaining two proposed changes – to section 7.11 contributions plans and Special Infrastructure Contributions – have not yet been released.
They are being considered as part of the Government's response to a review of the NSW infrastructure contributions system undertaken last year by the Productivity Commission (final report released in December 2020).
More information is available on our website. Planning Circulars also provide further information about the changes. Briefings on the changes are being organised and will be notified separately. I appreciate all the submissions that were received during public exhibition; your feedback has helped inform the final form of the system improvements.  Please contact us by email if you have any questions. 
Related Matters of Interest – Mining and Energy Issues
Green Rise Affects Coal Viability  Industrial Careers 1st March 'A flood of renewable energy could render five of Australia's coal plants unviable in just a few years. A new report by consultants Green Energy Markets and the Institute for Energy Economics and Financial Analysis (IEEFA) has found that previous estimates of the rise of renewables in Australia may have underestimated how much green power will enter the national electricity market in the next five years. 
The report (available here in PDF form) says a wave of new solar and wind energy could make five of Australia's 16 coal power plants financially unviable by 2025.
The analysis suggests Australia needs a national transition plan to guide the looming shift away from coal-fired power. The report estimates that up to 70,000 gigawatt hours of new electricity supply will come from renewable sources built between 2018 and 2025. 
Renewable energy is on track to make up between 40 and 50 per cent of Australia's electricity by 2025, forcing output from coal and gas-fired power stations to fall by 28 per cent and 78 per cent respectively over those seven years. Driven by pure economics, coal and gas are expected to be displaced because the fuel for wind and solar energy is free.
Green Energy Markets director Tristan Edis says the rise of green power has been more rapid than government authorities predicted just two years ago. The "days of baseload electricity are over… it's been cleared out of town by solar," he said. "We need a different type of technology that can fill the gap, and duck and weave to give what we need around solar."
The experts say the Federal Government should listen to its own Australian Energy Market Operator (AEMO), which has called for investment in batteries, pumped hydro, demand management and gas to create an optimal local power grid. AEMO notes that gas-fired power is likely to be more expensive than other options, but this does not appear to have influenced the Morrison government's push for a "gas-fired recovery" from recession. 
The government has been promoting ideas including building a new gas plant with taxpayer's money, and underwriting several others by instructing the Clean Energy Finance Corporation (CEFC) to support gas developments. Mr Edis says it would be wise to move away from the apparent policy of keeping fossil fuels in the system for as long as possible.
"Rather than propping up these plants which are getting very old, we need new government policies that support private-sector investment in dispatchable power plants that will be viable over the long term," he said "To be viable they need to be highly flexible to work around changes in wind and solar output. And they need to be low emission if we are to deliver on our climate change obligations."
Goulburn Community Solar & Battery Farm Closer to Reality Renewable Economy, Sophie Vorrath, 5th March 2021 writes: "Plans to build a 1.8MW community solar and battery farm in the New South Wales-based electorate of federal energy minister Angus Taylor are gathering pace, after developers issued a call for expressions of interest to design and build the project.
The Goulburn Solar Farm, which is being built in the NSW Southern Tablelands by not-for-profit group Community Energy 4 Goulburn (CE4G), aims to be majority-owned by local residents, who can buy in to the project for a minimum $400 a share.
CE4G's president, Peter Fraser, said on Tuesday that the group was particularly keen to sign up local companies and contractors for the $4 million project, that would include a stand-by 400kW/800kWh battery. "It's a great opportunity for local contractors and developers to get involved in this important technology, not just for the jobs it creates but also for the chance to learn new skills that will be in increasing demand over the next decades," Fraser said."The whole idea of community energy is to keep the profits within the community rather than sending those profits to a corporation that has no direct connection to our community. And the more jobs we also keep in Goulburn the better."
The pioneering community energy project has attracted strong interest from local investors, with an investor information meeting in mid-October attracting more than 150 attendees and raising more than $500,000 towards the cost of construction. "It's obvious that people are looking for safe ethical investment opportunities, and in a regional community like Goulburn, the appetite is very strong, even though it's right in the middle of Angus Taylor's electorate," CE4G's Fraser said at the time.
As One Step has reported, the trail-blazing – and John Hewson-endorsed – project has come a long way since CE4G was set up four years ago. In August of 2019, the group secured a contract with local outfit Komo Energy for development services of the solar farm and in March of 2020, won a $2.1 million grant from the state government to add the battery storage component.
According to the latest update posted last month, the project has now banked more than 85% of its target in a trust account in Bank Australia. "We've registered over 200 members and issued share certificates to our investors. We've taken delivery of a comprehensive connection study from Essential Energy outlining our next steps, all within budget," the update says. "Our project is one of the first community energy projects in NSW and now that we are ready to begin construction, we are very keen to see local companies, contractors and designers to get involved in this fantastic community owned project," said Fraser this week.
The project's development partner Komo Energy will be managing the tender process. Interested parties can register their EOI by going to the Goulburn solar farm website and following the links.
Lismore pushes for 100% Renewables One Step Off the Grid, Sophie Vorrath, 15th March 2021, writes: The Lismore City Council is looking to a range of innovative measures – including community funding for a large scale solar project, a type of consumer retailing model, and an ambitious energy efficiency program as part of its plan to go 100 per cent renewable by 2023. As we reported last week, Lismore – in the northern rivers region of NSW – is looking to wean itself entirely off fossil fuel energy within a decade, and thinking differently about energy use is one of the keys to achieving that goal.
On top of that list, says major Jenny Dowell, is an aggressive approach to energy efficiency – the city's consultants have suggested that the council could reduce its consumption by 30 per cent over the next 10 years. This would reduce the amount of energy consumed each year from more than 8,000MWh to around 5,400MWh"
The Ever-Shrinking role of Gas in Australia's Power System Renew Economy Kelan Joshe, 5th March writes: "There's a lot riding on predictions of the future, when it comes to climate. In Australia, the future of coal is mostly a debate about whether its demise is fast, or slow. For the country's gas-fired power generation, the debate is slightly more complicated.
The government, for instance, believes that Australia ought to be building new gas-fired power stations, in order to buttress grid reliability and "affordability". 1,000 megawatts of new gas in the Hunter Valley is erroneously justified on the grounds that it is "required" to ensure reliable provision of electricity. This view is supported by Australia's Labor party, with their draft policy platform declaring that "Labor recognises that gas-power generation has a critical role to play in firming the National Electricity Market (NEM) to ensure reliability and price affordability as it transitions to net zero emissions and as other technologies emerge".
The other key player in this debate is former Chief Scientist Alan Finkel, who's strongly maintained that gas ought to retain a role in Australia's future power grids. "Maybe 20 or 30 years from now we'll have new kinds of batteries, vastly powerful more extensive batteries and we can do it with batteries," Finkel said last year. "But gosh, the quickest way to develop our renewable electricity system is to support it with gas".
The Sydney Morning Herald reports today that Finkel, now "Special advisor on low emissions technology", has been tasked with convincing world governments that Australia "has a plan to achieve net zero emissions". He has reiterated his support for fossil gas. "I like to say that if you were to remove public health from society, you'd be back to the Renaissance. If you were to remove education from our society you'd be back to the Middle Ages. And if you remove manageable energy from society you'd be back to the Stone Age".
The 'gas and renewables' partnership narrative has been championed by the gas industry, too. Instead of framing themselves as at odds with zero carbon sources, they present themselves as complementary, with a liberal usage of "low emissions" (how low? Don't think about it) and cute visual metaphors ramming the message home through paid Facebook advertising".
Energy Insiders Podcast: Adam Brand's Climate & Energy Action Plan Giles Parkinson, Renew Economy, 15th March 2021 writes: "Greens leader Adam Bandt joins Energy Insiders to discuss his party's policies, the Coalition's "deliberate" misinformation program, and the chances of striking a deal with Labor. And you can find previous editions of the Energy Insiders Podcast here, or on your favourite podcast platform. And to read a transcript of the Adam Bandt interview, you can go here.
NSW Targets Industrial Emitters with $750 million Decarbonisation Push, Michael Mazengarb, Renew Economy, 8th March 2021, writes: "The NSW government will spend $750 million to help slash the emissions of the state's industries, investing in green hydrogen production, supporting industries to shift to low emissions manufacturing and funding new clean technology research and development.
The New Zero Industry and Innovation Program, launched on Monday by New South Wales energy minister Matt Kean, has been established as part of the state government's commitment to reaching zero net emissions. The funding will be provided over the next ten years and will target the state's industrial emitters, which represent a substantial proportion of the state's greenhouse gas emissions and who are a major consumer of fossil fuels.
"Almost 30 per cent of our State's carbon emissions are created by our top 55 industrial facilities, which are critical contributors to the NSW economy," Kean said. "Supporting their move to cleaner equipment, technology and processes will significantly reduce emissions, while helping to protect jobs and maintain a resilient economy. This program will build on that to help create the jobs of the future and drive a clean industrial revolution."
Kean has led the development of an ambitious package of clean energy and emissions reduction policies and has seen the Berejiklian government commit to a 2030 target to reduce emissions by 35 per cent. Kean has argued that the conservative side of politics should embrace investment in clean energy industries, placing the state minister in stark contrast with his federal Liberal party colleagues, saying there are substantial opportunities to attract new modern industries and drive new investment and job creation in the state, which are a key target of the push into green industries.
Kean oversaw the development of the NSW's government electricity infrastructure strategy, which aims to support the construction of up to 12GW of new wind and solar project over the next decade to replace the state's ageing fleet of coal-fired generators, and he wants to use the shift to green energy to position the state as a leading global supplier of low emissions industrial products.
Funding under the latest industry decarbonisation plan will be provided through three core streams. The research and development of new clean technology innovations will receive a $195 million boost, with the NSW government hoping to seize upon new economic and job creation opportunities being created by emerging low emissions technologies.
A further $175 million will be provided to businesses to set up new clean energy industries in the state, including the production of green hydrogen, which has emerged as a viable source of zero emissions thermal heat for use in many high-temperature manufacturing processes.
The funding will also be used to develop new opportunities to electrify industrial processes, allowing them to be run on supplies of power from wind and solar projects and opportunities to cut emissions in the land sector and primary industries.
The NSW government will also commit $380 million to fund industries to 're-tool' and 'future proof' their operations with a shift to lower emissions technologies, building off the investments in new low emissions technologies and industries within the state.
Support will be offered to encourage the development of new green manufacturing precincts, similar to plans announced last year by steel producer BlueScope, which said it would look to establish a green manufacturing hub in Port Kembla.
Kean launched the plan at BlueScope manufacturing facilities in Wollongong on Monday, where he said that investments in new green technologies would create new jobs and support existing jobs in the state, and position heavy industries with a competitive advantage.
"NSW was one of the first jurisdictions in the world to set a net zero objective, but we must get there in a way that grows the economy, makes our businesses and industry more competitive and puts us ahead of the pack in the low carbon global economy," Kean said.
"This $750 million program will support the development of new clean technologies, create world-leading centres of research and development and help existing industries future-proof their operations."
WWF Australia's Energy Transition Manager Nicky Ison said the environmental group welcomed the announcement from the NSW government, saying that Australia needed to seize the chance to use abundant renewable energy resources to transition to green industries.
"Supporting the transition of heavy industry and manufacturing to be powered by renewable heating and electricity is a critical step to enable NSW and Australia to reach a net zero emissions target," Ison said.
"While investing in the creation of new renewable industries like hydrogen will create jobs of the future and help us achieve our potential as a renewable exporting energy superpower. WWF-Australia has been calling for investments in initiatives like Renewable Energy Industrial Precincts, which offer a way for heavy clusters of industries like steel and chemical manufacturing to access affordable renewable energy. Australia is blessed with an abundance of renewable energy resources, which can both power our domestic industries and enable new clean exports to create jobs and wealth into the future." Expressions of interest for funding under the program will be open from April.
Disclaimer The comments and details in the articles in this newsletter do not reflect the views, policies or position of the Association or its member Councils and are sourced and reproduced from public media outlets by the Executive Officer to provide information for members that they may not already be exposed to in their Local Government areas
Contacts
Clr Peter Shinton (Chair) peter.shinton@warrumbungle.nsw.gov.au 0268492000 or Greg Lamont (Executive Officer) 0407937636, info@miningrelatedcouncils.asn.au