Introduction
Delegates, here is the July MERC Newsletter, please circulate the Newsletter to your fellow Councillors and senior staff, so they can appreciate and understand the excellent work the Association and you are doing on behalf of your Council and community, with regard to mining and energy related matters.  
New format for Newsletter
A suggestion by Cr Scott Ferguson, Blayney Shire Council Mayor and member of the Executive Committee of MERC that the newsletter have an Executive Summary at the front so busy delegates and staff of member Councils can have a quick read of the issues within the newsletter on matters of interest to them. Thereafter they can delve further into the details.
As we realise everyone is time poor so here goes with a different format for you. There will be an Executive Summary with governance items and then summaries of other items with more details are located further in. This should still give delegates the information they need albeit in a more condensed way. Hope you enjoy and any feedback would be appreciated.
EXECUTIVE SUMMARY
(a) GOVERNANCE MATTERS
Next Meetings of Association – Next Ordinary meeting to be held in Sydney 2nd September 2022 at Club York, Second Level, 99 York Sydney. Executive Committee meeting on 30th August by zoom from 5pm . After that the AGM and Ordinary meeting to be held in Dubbo 11th November with tour and network dinner day before, arrangements and dates being sorted in consutation with Dubbo event staff.
COVID-19 Virus Impact on MERC – In 2022 MERC will be resuming its' activities in the normal manner. What this means for MERC delegates is that 2022 will have quarterly as "face to face" meetings with use of zoom in exceptional circumstances. Executive Committee meetings will be by zoom means as determined.
Speakers for Next Meeting in Sydney – Minister for Planning, Minister for Energy, Minister for Regional NSW and Deputy Premier plus Opposition Shadows will be pursued, but with everythig that is going on with government will be hard. The CEO NSW Minerals Council has confrimed for 2nd September meeting in Sydney.
Orana Opportunity Network (O2N) – MERC is trialing as a Bronze Member of ON2 for 12 months. Their Newsletters are available on their website on o2n@o2n.org.au.
CRC Transformation in Mining Economies (CRCTiME) – MERC is a partner with CRC TiME on a no cost but consultative basis. They provide updates on progress with opportunity for members to join webinars, workshops, surveys etc. Latest update is below.
Renewable Energy Zones (REZ) – Mike Young, Executive Director – Planning & Communities, Energy Corporation, Department Energy & Climate Change provided delegates with an informative insight on what is happening with Renewable Energy Zones in NSW. There is an opportunity for MERC to be part of a working party with Energy Co to successfully roll out the REZ's. Waiting for Mike to get back to EO to talk about opportunities for MERC to be involved in the REZ roll-out.
(b) MATTERS OF INTEREST
CRC for Transformations in Mining Economies (CRC TiME)


CSIRO Futures is partnering with the Cooperative Research Centre for Transformations in Mining Economics (CRC TiME) to scope a potential project on the opportunity for the Australian Mining, Equipment, Technology and Services (METS) sector to improve mine closure outcomes. While this study is in the scoping phase, they are seeking interviews with key CRC TiME partners to guide the direction of the project, including identifying key questions that the project should seek to address and opportunities for the project to add value to the sector.

Other topics discussed in this interview may include:

Barriers to successful mine closure
Strengths of the Australian METS sector in mine closure activities
Opportunities for the METS sector to support local solutions to improve economic, environmental and social outcomes

Interview with Executive Officer occurred 10th June where NSW's Resources for Rejuvenation project was outlined to them. Latest email from Anthea at CSIRO Futures as follows:-

"Thank you for you making the time to participate in a consultation to help inform the development of a mine closure scoping study. CSIRO Futures has developed a draft scope for a project seeking to identify Opportunities for Growth in Australia's Mine Closure Solutions Industry. I've included a high level overview of the project below for your reference.   We are now seeking partners to enable delivery of the scoped project. Please let me know if you are interested in finding out more about the project and discussing how your organisation could support it.

If this project is fully funded we expect delivery to commence in early 2023. The project will involve extensive stakeholder engagement, including consultations, workshops and draft report reviews. We may be in touch during project delivery to gauge your interest in participating in these engagement activities. The Project Overview is:

The closure of mine sites and management of their residual risk is an expensive and risky challenge for mining companies and governments alike. However, mine closure activities offer a revenue stream for a diverse set of businesses offering solutions across the mine closure value chain. This economic opportunity is expected to grow in coming decades as mines reach the end of their operational lives, and as miners increasingly face ESG pressures to deliver lasting value through mine closure activities.

CSIRO Futures and CRC TiME are proposing the development of a report that seeks to explore the mine closure solutions (MCS) value chain and identify the scale of the economic opportunity for Australia in activating an ecosystem of businesses to enable effective MCS. In addition to mine site rehabilitation, the project will also consider solutions that can capture additional value from mine-waste and develop valuable post-mining land uses.

The report will also discuss how social and community value can be enabled through mine closure and post-mining land use solutions. At a high level, the report will discuss the following:

The MCS industry landscape

Describe the current MCS industry landscape
Identify key challenges and drivers for the sector including key closure challenges facing miners.

Opportunities for growth

Identify areas of expected growth considering both domestic and export opportunities, including international markets and opportunities for First Nations businesses and employment.
Quantify the scale of the economic opportunity for Australia (where data is available) and consider how triple bottom line value can be generated through MCS.
Identify novel and emerging MCS supported by case studies

Recommendations for industry development

Identify high-level recommendations for MCS industry development (including R&D, policy, regulatory and commercial)
Identify case studies on international best practice to support industry development."

The Executive Officer will continue to liaise with the consultants on the foregoing and look for opportunities for MERC to be involved and keep delegates informed.

Re-Alliance


Andrew Bray, National Director, Re-Alliance, July 2022 writes: " Recently, and without much fanfare, the Tasmanian Government released the Tasmanian Renewable Energy Coordination Framework – and it has some really excellent features. Tasmania has an ambitious climate program with a legislated Renewable Energy Target of 200% and a plan to meet this target. The Framework will help guide the renewable energy rollout.

The Framework was shaped by young people. At the suggestion of Tasmania's Commissioner for Children and Young People, a 'Youth Version' of the Tasmanian Renewable Energy Action Plan was released that invited feedback, to give young Tasmanians an opportunity to have their say on the future. 

The government department Renewables, Climate and Future Industries Tasmania (ReCFIT) asked for submissions more broadly on the Framework, and groups and individuals offered suggestions. You can read RE-Alliance's submission here. The submissions from young people and others pointed out a gap: there was a lack of coordination and communication with communities in the plans for renewable energy developments.

A few key elements of the Renewable Energy Coordination Framework are:

Benefit and engagement guide – The Framework recommends the creation of a community engagement and benefit guide to support best-practice community engagement and deployment of community benefit programs by renewable energy companies. We look forward to its release and reading the details. 

Renewable Energy Zone Coordinator – The Framework endorses creating and appointing a Renewable Energy Zone Coordinator, who would "progress the planning, design and ultimate development of future REZ to support the achievement of the Tasmanian Renewable Energy Target." Having someone to coordinate benefits, provide a source of reliable and accessible information for locals, and act as a conduit between the community, government and industry is crucial. 

Planning process review to better protect Tasmania's nature – In our submission to ReCFIT, we recommended the Tasmanian Environment Protection Authority play a greater role in planning new projects, to see Tasmania's unique wilderness properly looked after. We're pleased to see an action in the Framework reflecting this: "Review energy and land use, environmental and social legislation, policies and strategies to enable appropriate development in pursuit of renewable policy objectives."

To learn more about great aspects of the Framework, check out our blog post.

What's missing from the Framework? One gap in the Framework is engagement and benefit programs that are designed with Traditional Owners and with the principle of Free, Prior and Informed Consent. There are also a lack of details about and a lack of funding for the Framework, as so far only $800,000 per year has been promised, and such an important element may need greater commitment.

A key takeaway from the process so far is the immense value of intentionally seeking feedback from young people, who are so often excluded from important government decisions. This process of actively including young people is a great model. As the Commissioner for Children and Young People stated: 

"In a fantastic initiative that I hope will be emulated by other organisations, young Tasmanians are being given the opportunity to have their views considered in the drafting of Tasmania's Renewable Energy Action Plan."

Find out more about the impact young Tasmanians are having on their futures.

It's wonderful to see young Australians shaping their renewable energy future!"

Renewable Energy Zones (REZ's)


A REZ is a hub of renewable projects across a region that forma a modern-day power station, producing a large amount of energy for the State. The State Government has set them up in the New England, Southern NSW and Hunter/Central Coast Regions.

The latest updates from Energy Corporation NSW & NSW Consumer Trustee, by James Hayes, CEO EnergyCo: The Australian Energy Market Operator (AEMO) as the Energy Security Target (EST) Monitor for the Electricity Infrastructure Roadmap, under the Electricity Infrastructure Investment Act 2020, has provided the NSW Government an updated EST Monitor Report.

The updated EST Monitor Report shows that additional action is necessary to ensure a reliable electricity supply following the potential early retirement of the Eraring Power station in 2025. In response to the updated report, the Consumer Trustee has been directed by the Minister for Energy, to tender for Long Term Energy Service Agreements for firming infrastructure in addition to the procurement of the Waratah Super Battery as a network standby battery.

Based on a very strong market response to the Waratah Super Battery EOI, both processes are expected to be highly contested. The NSW Office of Energy & Climate Change anticipates that at least 350MW of firming infrastructure located in Sydney, Newcastle, Wollongong sub region operational by Summer 2025-26, is necessary to mitigate risks to meeting the EST.

The Consumer Trustee, AEMO Services, will now prepare the required infrastructure Investments Objectives Report, expected to be published by November 2022, which will outline the firming pathway, including determining the size and timing of tenders. More information is available on the Consumer Trustee website.

The tender will be open to all firming infrastructure technologies, but consistent with the Government's objective of net zero emissions by 2050, successful projects will be required to have emissions intensity lower than the most recent NSW grid average and achieve net zero scope 1 emissions by 2035. This can be achieved by purchasing and voluntarily selling offsets.

More details available on electricity.roadmap@dpie.nsw.gov.au Firming Infrastructure refers to flexible energy that can be dispatched when there is a sudden increase in demand such as batteries and gas peaking generators.

Related Matters of Interest – Coal Mining, Renewable Energy & Microgrid Issues

A 'graphite battery' in Wodonga will be Australia's first Commercial Thermal Energy Storage

© Provided by ABC Business Thermal energy storage systems, like these orange containers, could become a common site outside factories in coming years (Supplied: Graphite Energy).
When Finland recently unveiled the world's first "sand battery", there was speculation that Australian manufacturers would soon be rolling out their own versions, as they looked to burn less gas. Now, a pet food factory in Wodonga has announced it's doing just that. The Mars Petcare facility, one of the largest pet-food makers in the country, will take delivery of a "graphite battery" later this year, as part of a trial to reduce emissions and ultimately save money.
From the outside, the orange container won't look like much, but experts say the system's installation is an important moment in the country's clean energy transition, and such thermal energy storage (TES) facilities will become a common sight over the next decade.
"It will be the first major commercial application of thermal energy storage to displace gas in Australia, so it's a big deal," said Dominic Zaal, director of the Australian Solar Thermal Research Institute (ASTRI), which is funded through the Australian Renewable Energy Agency (ARENA). "It will be the first of many. Within 10 years this will be widespread."
So, how does it work, and what can it be used for? Water goes in, steam comes out
Like the Finnish sand battery, the Wodonga TES system purchases renewable electricity from the grid when it's cheapest and converts this to heat through resistive heating (like an electric bar-heater).This heat is then stored in the graphite blocks at temperatures of up to 900C.
The modular design can be scaled up. A single container has a capacity of about 3 megawatt-hours of thermal energy, which is equivalent to the amount of electrical energy stored by a large neighbourhood chemical battery. In practice, the battery is designed to be charged and discharged at the same time, which means that over the course of a day it can process up to 8MWh of thermal energy.
When heat is needed, water is run through pipes within the seacrate, and converted to high-pressure steam, at temperatures of 150-250C. This heat is then used wherever it's needed. In the case of the Wodonga factory, it will cook pet food. The clean energy system will reduce the factory's gas consumption by 20 per cent, said Paul Matuschka, its head of sustainability.
The system is scheduled to begin operation early next year, and more batteries may be installed.
"We've got a metric to be 100 per cent renewable from direct operations by 2040," Mr Matuschka said. The struggle to get off gas. About 16 per cent of Australia's emissions are due to the burning of gas in industry for processes needing high temperatures (anything above 100C).
Cutting these emissions requires more than installing solar panels and batteries, as electricity on its own can't generate high enough temperatures. Heat pumps (the same technology used by reverse cycle air-conditioners), which can be powered by renewables, max out at about 100C.
TES is seen by many as the solution to this problem. Mars Petcare Wodonga is a case in point: gas accounts for three-quarters of its energy consumption. "Over 90 per cent of the natural gas usage is used for cooking," Mr Matuschka said. Without TES, the factory can't get off gas, he said. "We're looking at thermal energy storage as a critical component to help us achieve getting to 100 per cent net zero from direct operations."
Other large manufacturers investigating thermal storage. While the Wodonga project has been in the pipeline for more than two years, interest in TES has tracked the recent hike in gas prices. Wholesale gas prices have more than doubled since last year, and are forecast to stay high in 2023. The Wodonga TES system is being made by an Australian company, Graphite Energy, based at Lake Cargelligo in Central NSW.
It's seen sudden demand in recent months, said CEO Peter Lemmich. "Now that we've seen these increases in price, there's obviously an enormous amount of interest from people," he said. The price increase, he said, has "eliminated the green premium" for TES. "So going green is no longer a cost impost to the business."
ASTRI's Dominic Zaal said he was currently advising some of the largest food and paper manufacturers in the country about TES systems and getting off gas. "We've had interest for a good year or two but in the the last three months, since Russia's excursion into Ukraine … the imperative has been significant. I've got at least 10 fairly large firms who are interested in this technology."
Wodonga trial being watched closely. The time it takes for TES units to pay for themselves through gas savings depended on where a business was getting its electricity, Mr Zaal said.If they're buying from the grid, it might take 10 years, but if they're generating their own it could take as little as five, he said. "These systems are 30-year systems. Once paid back, it's pretty much free," he said.
Mars Petcare had calculated a payback period of 10-12 years, Mr Matushcka said. Other businesses were closely watching the Wodonga factory trial, Graphite Energy's Peter Lemmich said. "Everyone that we speak to knows that this project is going ahead and they're all sort of kind of sitting back going, let's have a look at that. And if that does what you said it's going to do, then, you know, we want to talk."
Milestone – a First Home Quits Gas in Town Shift to Electrification" Sophie Vorrath, Aug 2, Renew Economy writes: "Horizon Power's plan to shift the entire Western Australian town of Esperance off the reticulated gas network made its start this week, with the first household successfully transitioned to an all-electric energy supply. The Labor McGowan government announced the milestone for the Energy Transition plan, which is converting 379 gas customers in the WA south coast town to alternative energy solutions ahead of the closure of the area's privately-owned gas network in March 2023.
The electrification of Esperance was set in motion in April of this year, when the state government committed $10.5 million in financial support for 258 private residential and 41 business customers to quit gas. The transition program, which is being managed by state-owned utility Horizon Power, offers financial assistance for existing gas customers to remove their gas appliances and replace them with new 'like for like' electric alternatives, including installation costs and electrical work.
Businesses can get free independent energy audits, with a grant scheme providing financial support for their chosen transition pathway. "Today's announcement marks an important milestone for this exciting project, which provides significant benefits to the Esperance community," said WA energy minister Bill Johnston on Tuesday. "Customers are telling us the process is simple and straight-forward, and the level of support they have received from Horizon Power has been excellent. The McGowan government remains committed to ensuring impacted customers have a choice in their new energy solutions."
To this end, Horizon Power is offering the option to support a conversion of appliances to liquefied petroleum gas (LPG), but this is strictly under circumstances where full electrification is deemed not economically or technically feasible. Otherwise, the clear message to the people of Esperance – which is also in the process of meeting nearly half of its energy needs via a renewable microgrid combining solar, wind and battery storage – is to seize the opportunity to quit gas.
"Converting to electricity reduces greenhouse gas emissions and aligns with the Shire of Esperance's Climate Change Declaration and supports the WA Government's commitment to zero emissions by 2050," Horizon's Esperance Energy Transition Plan Customer Hub says. "Energy efficient electric appliances often have lower running costs than their gas equivalents and mean more of a household's energy consumption will come from renewable energy, helping to decrease greenhouse gas emissions in the Esperance community. Complete home electrification also reduces supply and service charges by having less energy sources and suppliers in the home."
Esperance's journey to electrification came about as a result of local market economics, but it is becoming increasingly clear that the electrification of homes and businesses on all parts of Australia's grid is the best way forward, economically and environmentally. "Gas is no longer the cheap fuel it once was," Victoria's energy minister Lily D'Ambrosio said last month, when the state released its landmark Gas Substitution Roadmap, removing the obligation of new homes to connect to the gas network and paving the way for all electric homes.
Victoria follows the ACT government, which has set up incentives for households to shift away from the use of gas in their homes through an expanded energy efficiency scheme, and which has helped fund the construction of gas free suburbs".
"Exciting & Pivotal Moment – NSW prepares for the Big Switch form Coal to Renewables" Giles Parkinson, 2 Aug Renew Economy writes: "The New South Wales Coalition government and its newly created energy agencies are gearing up for the start of a series of auctions designed to transform the country's biggest and most coal dependent state grid to one dominated by renewables and storage.
"This is an exciting and pivotal moment," says Paul Verschuer, the head of AEMO Services, which as the newly appointed "Consumer Trustee" is managing the process for the state government. It will fundamentally change the energy system to produce a cleaner, cheaper and more reliable system for consumers."
The scale of energy minister Matt Kean's planned transition – replacing the bulk if not all of the 10GW of ageing coal fired generation with wind, solar and storage and other firming capacity – is enormous, and the timeline, to do this within a decade if needed, is also ambitious.
It is also devilishly complex. Apart from the physical and engineering task of building the new infrastructure and managing a new energy system, there is also the challenge of getting the right amount of the anticipated tens of billions of dollars of investment in the grid at the right time. The program outlined by the NSW government agencies and AEMO Services is designed to solve this conundrum and involves a complicated system of auctions and tenders that will kick off later this month, when registrations for the first tender round are due, with first bids required from October 4.
This first tender will seek around 1GW of new wind and solar and 600MW of storage (of varying durations) and will be the of what will become a twice-yearly event. NSW has laid the foundations of its renewable infrastructure requirements with the creation of five renewable energy zones, and possibly more, including potentially in offshore wind, to host the bulk of its new capacity.
On top of that it is proposing a unique mixture of new financial products that are still being progressively refined and finessed. The primary purpose is to prevent the "free-for-all" that blighted recent investment surges and to ensure that it is co-ordinated.
This might look like central control to some investors, and the jury is still out on how successful the NSW plan will be. It is unlike anything that has been proposed till now. Essentially, two new products are being created that are designed to provide a pricing floor to generation and storage projects to lower the cost of equity and finance and to attract more bankers, and to avoid a repeat of the grid congestion problems that have plagued the industry.
The first product, long-term energy service agreements, or LTESAs, are designed to provide a price floor that is roughly equal to the break-even price for a new wind or solar project, and storage projects such as pumped hydro and battery storage. It comes in the form of a type of put option that a developer can exercise if market prices fall unexpectedly, but it also allows the developer to sign more lucrative contracts with third parties, or source higher prices from the open market.
In a briefing on Tuesday, AEMO Services says it is designed to deliver certainty that will lower the cost of capital and debt, and encourage more banks to enter the market that were previously fearful of the market volatility.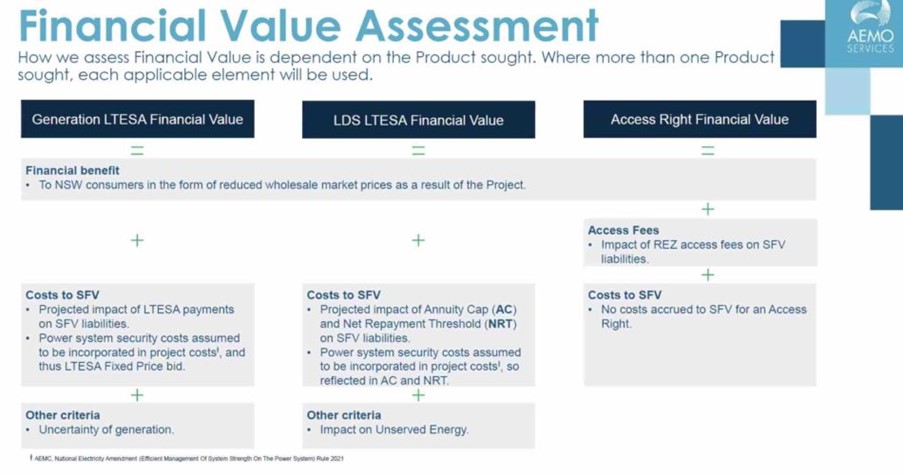 "There's a whole range of banks that haven't been able to lend into the Australian market under merchant structures, who can suddenly now lend to your projects because they've got a floor (price)," said Brad Hopkins, the head of financial markets at AEMO Services. "(This puts) projects within their merchant exposure limits and (means) they're suddenly allowed into the Australian market in a big way."
The second financial product is more complex, and still earlier in its evolution, and comes amid a problem on network access and pricing that has stumped the country's major regulators and rule makers over the last decade.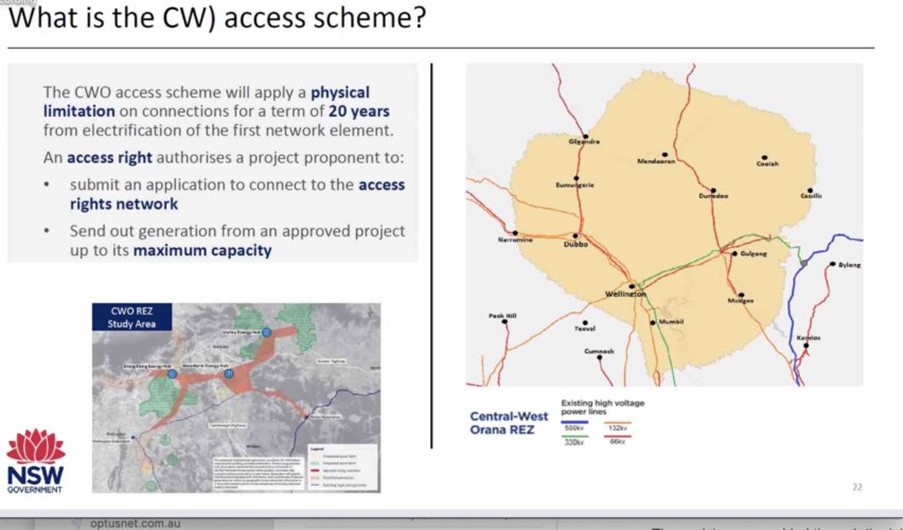 The NSW solution is to auction access rights to the REZs that are designed to put a physical limit on the number of projects within a renewable zone and will award a maximum output capacity to each project. It is designed to help project developers understand the risk of curtailment of their wind and solar projects, and avoid some of the problems encountered across Australia's grids, and particularly in the south-west of NSW and north west Victoria where a part of the grid became known as the "rhombus of regret" for the severe restraints on output and new connections that occurred.
The auction assessments will be judged not just on the potential maximum output, but also the timing of it and the potential load. In the Central West Orana REZ, the minimum capacity sought is 3GW, and the maximum is 5.84GW, although that could change. There will also be maximum time of day capacities.
The program won't allow a project to connect if it pushes the transmission curtailment in the zone beyond 4.37 per cent (which is actually four times higher than the curtailment reported in the last quarter across the main grid). The scheme is sill being finessed.
Recent changes include ensuring that existing projects are not penalised or squeezed out by the new access rights, the removal of contract "shapes", the inclusion of short-term storage (because of its value in soaking up excess output), and the extension of contract duration to 20 years from 15 years.
The first auctions will offer LTESAs to wind and solar projects located anywhere in NSW (but not those unveiled before November 2019), and access rights to the first of the REZs to be opened up, the Central West Orana zone. There will be multiple hurdles to overcome for the bidders. Their offerings won't be just based on lowest prices. AEMO Services says projects will be judged on their impact on the grid, their impact on market prices, and other key metrics such as consumer engagement.
Social licence, it says, is a key ingredient. "We think that what's good for generators can also be good for consumers," says Jennifer Radford, the manager of the REZ process. "What we're looking for is an efficient utilisation of the network that meets both of those requirements. But we can't do any of it without community support. We've kind of reached this kind of golden, magic point in time where we've got broad government support for a renewable energy transition. We've got industry well on board, but we need to bring communities on that journey." Radford says the access fees will go largely to fund community and employment programs.
This first tender will be the first of many, with at least two auctions to occur each year to complete the transition. AEMO Services says it is not yet ready to identify which REZs will follow Central West.
See also: NSW plans new "firming" tender to replace Eraring and support electrification and EV switch
Disclaimer The comments and details in the articles in this newsletter do not reflect the views, policies or position of the Association or its member Councils and are sourced and reproduced from public media outlets by the Executive Officer to provide information for members that they may not already be exposed to in their Local Government areas
Contacts
Clr Michael Banasik (Chair) michael.banasik@wollondilly.nsw.gov.au  0425798068 or Greg Lamont (Executive Officer) 0407937636, info@miningrelatedcouncils.asn.au