INTRODUCTION
Delegates, here is the December MERC Newsletter for your information, Please circulate the Newsletter to your fellow Councillors and senior staff, so they can appreciate and understand the excellent work the Association and you are doing on behalf of your Council and community, with regard to mining and energy related matters.
POSTPONEMENT OF AGM – IMPORTANT MESSAGES TO NOTE
THE AGM MEETING (ORIGINALLY SET DOWN FOR FORBES 9TH DEC 2022) WAS POSTPONED DUE TO THE FLOODING ISSUES IN CENTRAL WEST AT THE TIME, UNTIL WEDNESDAY 22nd FEBRUARY 2023 IN SYDNEY, IN THE USUAL UPSTAIRS YORK MEETING ROOMS AT 99 YORK ST, LEVEL 2, SYDNEY.
THE DEPARTMENT FAIR TRADING (DFT) PROVIDED APPROVAL FOR POSTPONEMENT OF THE AGM UNTIL 31ST MARCH 2023 WITH FINANCIALS TO BE LODGED WITH THEM BY END OF APRIL 2023.
AFTER VERBAL APPROVAL WAS GRANTED BY DFT IN LATE NOVEMBER 2022, MERC PROGRAMMED TO HAVE OUR DEFFERED AGM MEETING HELD THE DAY AFTER LGNSW HELD ITS REGIONAL SUMMIT ON 20TH FEBRUARY 2023, TO HAVE ACCESS TO MINISTERS FOR SPEAKERS & TO ASSIST DELEGATES WITH ACCOMMODATION AND TRAVEL COSTS.
UNFORTUNATELY, THIS DAY CLASHED WITH CMA, SO TO AVOID THIS, MERC HAS MOVED OUR AGM AND ORDINARY MEETING TO THE DAY AFTER CMA's ie WEDNESDAY 22ND FEBRUARY 2023.
THIS MAY STILL CAUSE SOME ISSUES FOR DELEGATES WITH TRAVEL ARRANGEMENTS & BEING ABLE TO ATTEND THE MERC MEETINGS GIVEN THE THREE CONSECUTIVE EVENTS, COST OF ACCOMMODATION AND TIME SPENT IN SYDNEY FOR BUSY DELGATES.
IF DELEGATES CANNOT MAKE THE AGM MEETING ON 22ND FEBRUARY 2023, CAN THEY CONTACT THE EXECUTIVE OFFICER AS SOON AS POSSIBLE TO LOOK AT OPTIONS FOR YOU TO ATTEND AND VOTE. THE AGM MUST BE HELD BEFORE 31ST MARCH 2023.
AGM – EXECUTIVE COMMITTEE ELECTIONS
Under it's constitution, MERC is required to have one General Meeting (the Annual General) a year and as many other General (Ordinary) Meetings as the Executive Committee determine. MERC must have four Executive Committee meetings a year. The Executive is to be elected annually at the AGM by delegates.
There is no provision in the constitution for postal voting (Clause 14.3) or provision for those attending the meeting by video or tele-conference on how to vote, even though if requested, tele-conferencing facilities are to be made availablefor delegates to attend the meeting (Clause 4.4).
What does this mean to delegates? Are delegates regarded as being present at the meeting if on video or phone and if so can they vote remotely in this present day and age since Covid? Every delegate must be given the opportunity to vote, however the MERC voting system in it's constitution requires delegates to be present to vote, as this is dependant on the number of candidates for the positions. See below an explanation of the MERC voting system.
MERC Voting System Overview
If more than 2 delegates stand for the position of Chair, the voting system is to be preferential, otherwise less than 2 stand, to be by either Open Voting (show of hands) or Ordinary Ballot (secret ballot) and for the Deputy Chair (two positions), if contested, the voting system that must be used is either by show of hands or secret ballot, as determined by delegates on the day. The voting system for the Executive Committee (3 positions) must be by preferential, if contested.

What this means is that delegates need to be in attendance to vote if the candidate numbers for the respective positions require the preferential system or delegates resolve the voting system to be by secret ballot. Otherwise if a show of hands is chosen to be the voting method, it can be managed if there are zoom attendees albeit not physically present, by the returning officer, if required for the non Chair positions.

If an election is to be held, the nominations in the prescribed form, must be in to the Executive Officer no later than 2 weeks prior to the AGM, so that will be by 4.30pm 7th February 2023. Nominations are to be seconded by a current delegate signed or emailed an intention to sign plus have the option of attaching a resume. Delegates can nominate for all three positions but only one from each member Council can be on the Executive Committee.

If any changes are required to our constitution for voting they must be made at a General (Annual or Special) Meeting with at least two thirds of the delegates present at the meeting to agree to such alterations or amendments. It is too late to do that for this election.

The Election of Executive Committee Positions Process (Extract from Constitution)

Voting Clause 14.6 Elections for a position on the Executive and Executive Committee shall be conducted in accordance with the provisions outlined in the sub clauses 14.6.1, 14.6.2, 14.6.3 and 14.6.4, of the MERC constitution following.

14.6.1         Contested Elections – Chairperson & Deputy Chairperson            

If the number of candidates nominated for the positions of Chairperson and Deputy Chairperson is greater than one, the election is to be a contested election;
In the event of there being only two nominations for the election of one candidate for the indicated positions in (1) the voting system in such contested election will be by Ordinary Ballot (secret ballot) or by Open Voting (show of hands)
In the event of more than two nominations for a position in (1), the voting system used for the election shall be the preferential system;
If a contested election is required for either Chairperson or Deputy Chairpersons, the decision on the voting method for (2) is to be made at the Annual General Meeting immediately prior to the election.

14.6.2      Contested Election – Three positions for the Executive Committee

If the number of candidates nominated for the three (3) remaining Executive Committee positions is greater than that number, the election is to be a contested election.
The voting system in a contested election for the three (3) positions will be preferential.

14.6.3      Candidates' Nominations and Resumes

Nominations for office bearer positions are to be called for by the Executive Officer no later than two (2) weeks prior to the Annual General meeting date;
The Candidates for the positions in clause 14.6.1 and clause 14.6.2 should forward their nominations on the form provided to reach the Executive Officer not later than 4.30pm one week prior to the Annual General Meeting. Candidates should ensure their nomination is seconded by a current Association delegate. This may take the form of the seconder signing the candidate's nomination form or alternatively by sending an email confirming their intent to second the nomination to reach the Executive Officer by the date of the election;
The nomination can be accompanied by a brief resume setting out details of the candidate's background in local government and the Association (if applicable) for distribution to delegates by the Executive Officer;

Nominations received 14th February were:
Chair- Cr Kevin Duffy & Cr Phyllis Miller OAM (since withdrew);
Deputy Chair – Cr Dennis Brady & Cr Phyllis Miller OAM
Executive Committee – Crs Scott Ferguson and Denis Todd and one from the floor on 22nd February 2023
GOVERNANCE MATTERS
Next Meetings of Association – The next Ordinary and AGM meetings are set down to be held onl February 22nd 2023, Second level, Club York, 99 York St, Sydney. The Mini Conference date slots have been booked for the week 24-25th May 2023 at Dubbo Regional Theatre & Covention Centre. Ordinary meeting to be held on 26th May 2023 from the same venue.
COVID-19 Virus Impact on MERC – In 2023 MERC will be resuming its' activities in the normal manner. What this means for MERC delegates is that 2023 will have quarterly meetings as "face to face" meetings with use of zoom in exceptional circumstances. Executive Committee meetings will be by zoom means as determined. A lot of value is gleaned from being at a meeting in person and this can be lost when delegates attend by zoom. The focus will always be on giving delegates opportunity to attend meetings.
Speakers for Next Meeting in Sydney – The invitees approached to speak in Sydney are Shodow Minister Resources, Courtney Houstoss, MLC on Labor's Resourcrs platform; Mike Young, Execeutuve Director, Energy Co and results of consultants report of improving the Social Licence on roll out of the REZ's throughout NSW and possible involvement of MERC and Megan Dixon Orana RDA on organising the Mini Conference in collaboration with industry and government 24-25th May 2023 in Dubbo. It has been extremely difficult to get prominent Ministers during the election campiagn.
Orana Opportunity Network (O2N) – MERC is trialling as a Bronze Member of ON2 for 12 months. Their Newsletters are available on their website on o2n@o2n.org.au. They have changed their name to Inland NSW Growth Alliance;
CRC Transformation in Mining Economies (CRCTiME) – MERC is a partner with CRC TiME on a no cost but consultative basis. They provide updates on progress with an opportunity for members to join webinars, workshops, surveys etc. Latest update is below.
Renewable Energy Zones (REZ) – Consultatnts have conducted a survey of 21 stakeholders.including the Executive Officer of MERC on how the government can improve its "social licence" with roll out of the REZ's. Details are outlined below.
MATTERS OF INTEREST
Renewable Energy Alliance (RE-Alliance)


Andrew Bray, National Director Re-Alliance writes: "A year and a half ago, we made some recommendations to improve outcomes for local communities in the roll-out of transmission lines. What's changed since then?

Transmission infrastructure is crucial to our energy transformation – it will connect us to the clean and reliable power that's generated from renewable sources. 

Without community acceptance, new transmission infrastructure may not be built at all. Proper consultation with host landholders and communities is crucial, as is ensuring they receive adequate benefits from the projects. 


Since the release of our Building Trust for Transmission report in mid-2021, we're delighted to see many of our recommendations have been implemented by various State and Federal Governments, energy market bodies and transmission companies.

These include the Federal Government's promise to expand the RIT-T to include the social and environmental costs and benefits to local communities; transmission companies improving their consultation style; and State Government policy reform in NSW allowing transmission companies to implement a strategic benefits payments scheme. 

However, some recommendations remain unaddressed and there are still opportunities for future reform. See below:
– State reforms that allow transmission companies to use community benefit sharing models to distribute financial benefits of new transmission developments into affected communities
Whilst NSW has led the way in this area, other states are yet to adopt a similar Strategic Benefit Payment arrangement. Further areas of possible reform include expanding the payments to also include neighbour benefits and community benefit funds.
– One of the NSW First Nations Guidelines recommendations was a requirement for transmission companies to prepare and implement an Aboriginal participation plan for projects – and we will be looking to companies to action this. There is room for the transmission industry to step up and work collaboratively with First Nations people and the FNCEN on best practice approaches to First Nations people's issues associated with new projects.
– Providing guidance on consultation requirements: early engagement with stakeholders. In its Final Report of Stage 2 of the Transmission Planning and Investment Review, the AEMC recommended that the AER provide additional guidance to stakeholders around its expectations on transmission network service providers (TNSPs) regarding engagement and consultation with local communities.
– The Commission also recommended changes be made to the National Electricity Rules (NER) to ensure that the expectations on TNSPs to engage and consult local communities and other affected stakeholders at key points in the planning process are consistent for all major transmission projects identified through the Integrated System Plan.
– Developing formal advice regarding efficient social licence related costs
In their Final Stage 2 Report into the Transmission Planning and Investment Review, the AEMC recommended that the AER provide additional guidance to stakeholders regarding how the costs associated with building and maintaining social licence for major transmission projects should be considered and assessed. The AER is in the process of developing a Guideline on this matter.


RE-Alliance supports more transparency around the Rewiring the Nation's funding model; we encourage the Australian Energy Regulator to provide guidance around its expectations on transmission network service providers' consultation requirements with local communities; and there is room for the transmission industry to work better and more collaboratively with First Nations people on new projects.

Read more about what's been achieved and what still remains in order to get the best outcomes for local communities in the roll-out of transmission." 

Renewable Energy Zones (REZ's)
A REZ is a hub of renewable projects across a region that forma a modern-day power station, producing a large amount of energy for the State. The State Government has set them up in the New England, Southern NSW, Hunter/Central Coast Regions and in the Riverina and Southern Riverina.

In following up Mike after the last two meeting presentations by him, EnergyCo, as part of their Stakeholder Engagement Strategy have set up a Listening Program where the MERC Executive Officer was one of 21 entities to be interviewed on a one on one basis (to ensure MERC is involved in the roll out of REZ's as a stakeholder) to assist in shaping how EnergyCo leads the delivery of the Renewable Energy Zones and Priority Transmission Projects in NSW.  

EnergyCo has engaged the services of RPS Group to conduct a series of one-on-one stakeholder interviews. Undertaking the consultation through an independent company ensures all feedback will remain anonymous as well as giving EnergyCo deeper research insights.

RPS Group will provide un-identified interview transcripts for analysis. The key themes and insights from this data will help shape the way EnergyCo work in the future and they plan to release a public report summarising the insights from both our community survey and stakeholder inputs.  The results of the interviews are yet to be distributed and Mike is coming to our meeting on 22nd to talk about the results and possible involvement of MERC.

RDA Orana/ Inland NSW Growth Alliance
RDA Orana are organising a Resources & Energy Industry Innovation Forum in May 2023 in Dubbo and discussions have been held with MERC for its mini conference having a Local Government Day as part of the Forum, site visits day before, RDA Orana newsletters often have matters of interest for delegates which will be passed on when relevant information in them.



OTHER MATTERS OF INTEREST – MINING & RENEWABLE ENERGY
"Slam Dunk for Families- Pilot Launched to Kick Gas Out of Homes" Sophie Vorrath, Renew Economy writes:" The bid to kick fossil gas out of Australian homes, electrify everything and power it with solar is off and running in New South Wales, with the launch of an $8 million pilot to decarbonise three local communities across the state.
The trial, which has received the immediate endorsement of Rewiring Australia's Saul Griffith, will focus on finding the best ways to upgrade existing homes with all-electric and energy efficient appliances and technologies.
The significance of this approach – there have been a few pilots, including in the ACT, to make new-build homes gas free and solar-electric powered – is that it is about de-gassing and "rewiring" existing homes, which is a more complex task.
NSW energy minister Matt Kean, whose government goes to the polls at the end of next month, says the pilot will run a competitive process to partner with the private sector to test cost effective ways to upgrade to zero emissions homes in an urban, regional and remote community.
The idea is to approach to task with the understanding that no two homes are the same, from stand-alone houses to apartment blocks, and to trial the cheapest suite of zero emissions technologies across a cross-section of communities.
"This trial will focus on finding the best ways to save households money on their energy bills by installing zero emissions appliances and technologies," Kean said on Friday "This is all about using the latest technology to give people more control of their energy bills, while contributing to NSW's target to reduce emissions by 70% by 2035."
Griffith, whose extensive research demonstrates the economic and climate benefits of shifting Australian households to more efficient electric living, says the new policy is a strong step forward. According to Rewiring Australia's research, households that install solar and a battery and then replace gas fired heating, water, cooktops, and petrol/diesel cars for efficient electric alternatives can slash thousands of dollars from their annual energy bills.
Rewiring Australia has demonstrated that electrification with commercially available technologies is the fastest, cheapest way to combat inflation and decarbonise the economy. According to its modelling, it will be cost effective for households to entirely replace conventional gas and other outdated appliances with EV, solar and efficient alternatives by the mid-2020s.
"By 2025 this will be a slam-dunk for all families," Griffith said in a press conference in Wollongong on Friday, following the policy announcement. So, giving it a shot now supported by some "relatively modest government co-funding" makes good sense – and will help guide consumers and industry soon.
Griffith argues we shouldn't be thinking of electrification as a cost, at all, considering the potential it has to save Australian households, en masse, and thereby boost the national economy. "Over time, we're going to save so much money – mostly because we'll be driving our cars using our rooftop solar. When you get to that point, it will cost you one or two cents to drive a kilometre instead of 20 to 25 cents on petrol or diesel.
"That really will drive huge savings in Australian households. And, for the whole nation, you could expect this to be saving $20, $30 or $40 billion a year as a nation in our households. So, a small commitment now from the state governments and federal governments can actually release a huge saving for the nation down the road," Griffith said. "The Australian people have the highest uptake of rooftop solar in the world, and they know that a small push from the government will allow them to go further by installing the batteries, electric cooktops, heaters, and water systems that free them of fossil fuel emissions and bills.
"Committing to this trial allows governments to foster the technology breakthroughs we know the world will need to dramatically reduce emissions by 2030." The pilot program will launch in the seco d half of 2023 and will be voluntary for households in the selected communities to join"
"Origin Poised to Sign Eraring Big Battery Deal-But Coal Closure in Flux Amid Project Delays" Giles Parkinson writes: Origin Energy says it is getting close to sealing a deal on its giant Eraring battery in NSW, but has indicated that the planned closure date of the coal plant it is designed to help replace remains in flux.
Origin plans to build a battery of up to 700MW and 2800MWh, which would rank as the biggest in the country, although it will almost certainly be built in stages, with the first stage likely to be 460MW with one or two hours of storage. "We're very well advanced on the Eraring battery," CEO Frank Calabria told analysts in a briefing on Thursday to discuss its half year results. "We're in quite advanced negotiations with the selected contractors as we approach the FID (final investment) decision which will be very soon we expect."
Calabria says while battery costs – particularly lithium – have risen (but not in the most recent times), the business case for the battery has also strengthened given the increased volatility in markets and the anticipated coal closures in the grid over the coming decade.
But while plans for the big battery advance, and it is due to be completed by 2025, the exact closure dates of all four units at the 2800MW Eraring plant – the biggest in the country – look in danger of slipping, particularly given the delays and problems in the Snowy 2.0 pumped hydro project and other large scale renewable projects.
Origin has always described the planned closure date of Eraring as "potentially as early as August 2025." Its latest report repeats the statement and that it will continue to assess the market, and this will inform the final timing for the closure of all four units. But there is growing speculation that the timing may slip, as there is, in the words of Calabria, "a lot to digest" in energy markets. The Australian Energy Market Operator will next week release an update of its ESOO, its near term forecasts on whether the grid will have enough supply in future years.
There's been a couple of big moving events – particularly the problems at Snowy 2.0, which AEMO have finally been officially told about, and the fact Australia's rate of new wind and solar projects is running at around half that needed to meet AEMO's, and the federal government's, forecast of 82 per cent renewables by 2030.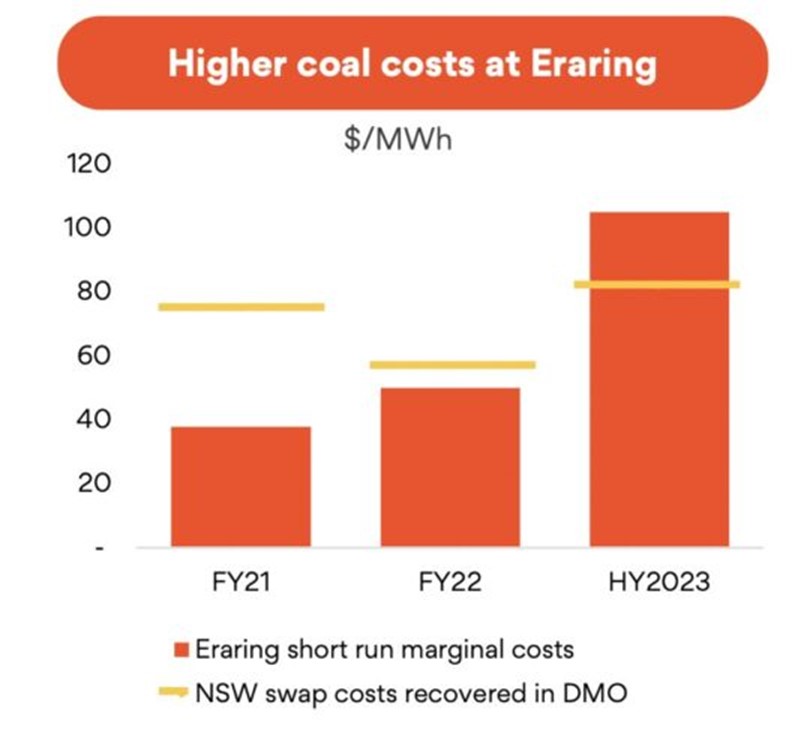 Eraring's future will also depend on anticipated maintenance costs, and the cost of coal, which has spiked markedly in the last year, and has pushed its short run marginal cost above the $100/MWh mark, more than double what it was two years ago. (See graph above).
The country's biggest coal generator spent $200 million boosting its coal stocks in the last half and actually lost money during the period, although Origin is confident that a re-set of electricity tariffs (which means higher bills for consumers) will allow Eraring to start making money again soon. The situation is further complicated by the proposed coal price cap, and how much compensation Origin will receive from the state and federal governments given its margins are so close to the cap proposed.
And, of course, there is the fate of the proposed $18.4 billion bid by Brookfield and its US bidding partner EIG (which wants the LNG business). Those talks have dragged on for months longer than expected, but they are continuing.
Origin confirmed in its presentation that it is looking at additional big batteries, particularly next to its gas peaking stations that it says will be crucial as the grid flips from coal to wind and solar, but also confirmed that much of its new renewable's capacity will be funded by third parties.
One interesting graph that caught the attention of analysts was that – for all the look of Origin having the best "platform" to transition to renewables – it sees renewables and storage still accounting for a minority of earnings five years out.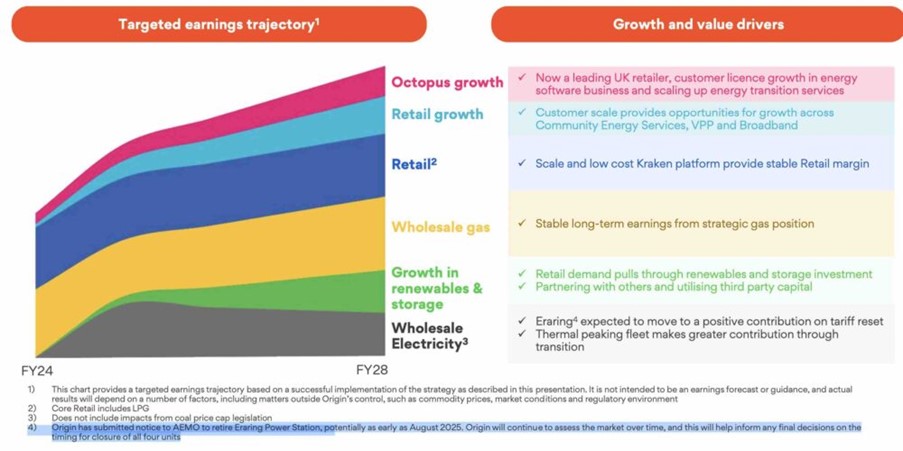 This graph above suggests that the growth in earnings from renewables and storage over the next five years will be lower than that of wholesale electricity – its thermal fleet – and wholesale gas markets will continue to be the biggest earner for the company, followed by retail.
Of course, those forecasts may mean little if the takeover from the Brookfield consortium goes ahead, and the asset manager delivers on its pledge to fast track renewables and spend $20 billion by 2030, but time is running out on that pledge too. Gas was the saviour to the company in the last half, with a windfall distribution of $786 million from its LNG business, and gains in its wholesale gas business in Australia partially offsetting the dramatic slump in electricity earnings, which were hit by the higher cost of fossil fuels and the delay in passing on those costs to consumers.
The company's underlying profit slumped to just $44 million in the first half, down 84 per cent from $268 million a year earlier, despite a $170 million lift in earnings from its LNG business. It declared an improved dividend of 16.5c, up from 12.5c, citing a better outlook. A couple of other observations about the Origin presentation:
The company will make an estimated $218 million profit from the deferral of large scale generation certificates, by choosing to pay a shortfall charge now and buying the LGCs at a (hopefully) cheaper market price within the three year grace period. Origin says it has grown its virtual power plant resource significantly to 449MW, up from 258MW, although it says only around 30-40 per cent of this could be considered "firm". These resources included demand management, battery storage and EVs.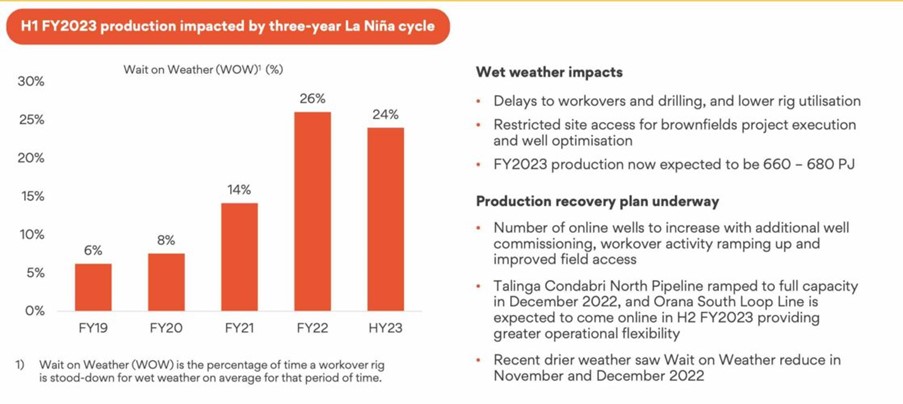 And it turns out that fossil fuels are weather-dependent too. "Wait on weather" statistics – which reflect the percentage of time a workover rig is stood-down for wet weather on average for that period of time – remained at 24 per cent in the first half, only slightly down from 26 per cent in the last financial year. This, of course, adds to the delays and coal shortages caused by rain causing mine and train disruptions through much of the last year".
Disclaimer The comments and details in the articles in this newsletter do not reflect the views, policies or position of the Association or its member Councils and are sourced and reproduced from public media outlets by the Executive Officer to provide information for members that they may not already be exposed to in their Local Government areas
Contacts
Clr Michael Banasik (Chair) michael.banasik@wollondilly.nsw.gov.au  0425798068 or Greg Lamont (Executive Officer) 0407937636, info@miningrelatedcouncils.asn.au.