Introduction
Delegates, here is the December MERC Newsletter, please circulate the Newsletter to your fellow Councillors and senior staff, so they can appreciate and understand the excellent work the Association and you are doing on behalf of your Council and community, with regard to mining and energy related matters.
COVID-19 Virus Impact on MERC
The NSW Government is working very closely with Councils to support communities across the state in response to COVID-19 and the changing hotspots. Consequently, there will be changes as circumstances alter that will affect MERC and members going forward due to the NSW Government's respective Ministerial Public Health Orders to implement controls as necessary to combat the COVID -19 Virus. Now that there has been another resurgence of the virus, 2021 meetings may be affected.
The next MERC Ordinary meeting hoping to be as a "face to face" meeting at Wollongong with capability to attend by video conference and the Executive Committee having a zoom meeting some time before hand either day before or week before, in view of the Covid-19 position and the success of the meeting cycle held in November 2020. The Executive Committee will determine the date of the Executive Committee meeting in mid-February 2021.
Two year terms and Nominations for Executive Committee
MERC is to consider the Executive Committee being elected for two year terms and to clarify the wording in Clause 7.1 of the constitution on the composition of the Executive Committee on whether two from any one member Council can be on it, at the Special General in February 2021 before the Ordinary meeting. Executive Committee has re worded Clause 7.1 as a guide.
Next Meetings for the Association in 2021
Wollongong City Council has agreed to host the next meeting of MERC on  26th February 2021 with delegates meeting for a Network Dinner the evening before. Arrangements with Wollongomg City Council staff have commenced and a suitable venue to conduct a face to face meeting with virtual attendance is being sought plus a network dinner venue to be selected near the waterfront. Once confirmed, then accommodation can be arranged by delegates to be in the CBD area near where the venues are likely to be.
Wollongong City Council staff have requested that I send out the Visitor Guide and Map which are attached for your information for reference. Hopefully the Covid situation allows this to proceed as a face to face meeting.
Any member Councils interested in hosting the May, August or November meetings please contact the Executive Officer, noting that some of these meetings may be in Sydney to catch up with Ministers to speak on relevant issues such as Ministers Kean and Barilaro.
Membership Campaign
MERC will be particpating in the 2021 LGNSW Annual Conference with stand, attend dinner, target/talk to potential members, to include pamphlets, notepads with "We are your voice – become a member" or suchlike (badges) on them for handouts, a banner indicating locality of members throughout NSW, a video to play on a laptop to link back to the webpage, set up a membership page on the website, etc and do a presentation to the Country Mayor's Association at a future meeting, relying on "face to face" conversation and relationship selling.
Discussions on the content of a membership web page and the marketing content with the principal of Cibis has occurred. Volunteers are still required to provide testimonials via video  and Executive Officer has provided scripts and guidleines for the videos.Forbes Shire Council are leading the way, call Executive Officer if interested, otherwise Executive Officer will pursue the Gunnedah Shire Council volunteers (Crs Hooke and Hasler)!.
List of Speakers for future meetings of MERC
MERC will be continually pursuing the following speakers for future meetings
Hon Rob Stokes, Minister for Planning & Public Spaces, Liberal Party;
Hon Matt Kean, Minister for Energy & Environment, Liberal Party;
Hon John Barilaro, Deputy Premier, Minister for Regional NSW, Investment & Trade, Leader of NSW National Party;
Hon Adam Marshall, Minister for Agriculture & Western NSW, National Party;
David Shoebridge MLC (Energy) & Abigail Boyd MLC (Mining), from The Greens;
Other relevant Opposition party members and government senior officers will also be pursued for meetings as required depending on locality of the meetings – Shadow Minister for Local Government (Greg Warren) keen to address delegates post COVID;
Leader of Shooters, Fishers and Farmers Party in Legislative Assembly & MP forr Orange, Phil Donato;
Relevant Senior Departmental Executives;
CEO's, Clean Energy Council and Clean Energy Finance Corporation, ARENA, and various renewable energy speakers, etc.
Research Fellowship Update
Steve O'Donoghue (DPIE) has been scouting around for alternative projects and says the only mining proposals in the Goldilocks zone are some mineral sands projects out past Broken Hill – nearest landowner 5 kms away.  I mentioned windfarms but he says there's none in pre-EIS stage right now that they know of, much more solar.  No promising pumped hydro projects.
It looks like getting a development project to suit is becoming a real issue for the PhD Research Project for MERC and despite the fact progress has been made with a web – interface platform and the Project Evaluation Plan, the project is having difficulty getting off the ground which does not augur well for its' future.
The Executive Committee on 20th November 2020 after discussions with Peter Dupen decided to extend the project until next meeting in February 2021 to determine the future of the project if a development project can't be found, it will likely be squashed and other options considered. At the time of printing this newsletter the situation remains the same.
Strategic Plan 2020 – 2023 Review
The Strategic Plan 2020-23 Strategic Directions, Deliverables and Actions compiled by the working party has been adopted by delegates at the Ordinary meeting on 27th November 2020 and is full of new strategies to be implemented  over the next three years which will hopefully  help with membership and members.
Update on CRC for Transformations in Mining Economies
MERC was invited last year to be a NSW partner in the establishment of the national Cooperative Research Centre (CRC) for Transformations in Mining Economies (CRC TiME) being established in Perth, Western Australia, at University of Western Australia, at no cost to MERC. This fits in with our strategic plan by being involved in making a difference through research partnerships with Universities and industry in Australia on various topics such as rehabilitation and post mining impacts on economies.
The national partnership was required to get the grant to set up the CRC for transforming mining economies from mining to no mining plus value add them. More will come from this partnership and delegates will be kept informed in due course from their regular newsletters.
The Executive Officer has confirmed an interest in participating in order for MERC to stay in the loop to see what opportunities may emerge for MERC and members in accordance with our Strategic Plan deliverables with research.
Renewable Energy Zones
The NSW Government is implementing three pilots and one of them is the 3,000 megawatt Renewable Energy Zone (REZ) in the Central-West of NSW as part of their Electricity Strategy, Net Zero Plan and the Commonwealth-NSW Memorandum of Understanding on Energy and Emissions. Stu Hodgson addressed delegates on the REZ at the Executive Committee meeting on 14th August 2020 and indicated that they would like MERC to have a representative on their Regional Reference Group (RRG) going forward, more details to come.
An inaugural Regional Reference Group (RRG) Central West REZ meeting was held on 29th October 2020 to establish the terms of reference for the quarterly meetings. MERC to be involved going forward with Executive Officer being part of the three pilot groups to provide feedback to MERC members. For more information about NSW REZs please visit www.energy.nsw.gov.au/renewable-energy-zones, or email the team at rez@planning.nsw.gov.au.
Rating Review by LGNSW – IPART Review Recommendation 34
Further to the information above raised with the Productivity Commissioner on 14th August 2020, MERC distributed the IPART report and State Government's response, it was discussed further by delegates on 27th November 2020, since then the Executive Officer has been in contact with LGNSW about their rates modelling and actions since the LGNSW Conference.
Shaun McBride, LGNWS Chief Economist, in a response to this has indicated that LGNSW are addressing the many motions passed at the LGNSW Conference in November 2020 and has provided a copy of the letter sent to the Minister for Local Government from the President of LGNSW Linda Scott about the rating motions, which has been distributed to delegates along with the Draft legislation and background paper on the rationale for the changes to rating they propose.
Delegates on 27th November 2020, raised their concerns about the possibility of the State Government passing legislation that will have a negative impact for Councils with mining rating. The Executive Officer has been liaising with Shaun McBride at LGNSW both waiting on the draft exposure bill to be published.
This document has only been released this week with LGNSW and the Council Engagement Managers from the OLG circulating details to all Councils encouraging them to participate in the consultation with a media release from the Minister for Local Government on the Draft Local Government Amendment (Rates) Bill 2021.
The link for the background document, media release and the draft bill, consultation process, etc. is below, click on it. Please read it and  assess how your Council may be affected if implemented.
https://www.olg.nsw.gov.au/councils/policy-and-legislation/fairer-rating-system-consultation/
Any questions can be directed back to the OLG Policy team through the OLG switchboard on 02 4428 4100. MERC will be making a submission as will LGNSW, more details on this will be provided in the new year when the documents have been read.
As usual with governments', details on contentious issues are released several days before Christmas with a short consultation period in January when everyone is on leave and a lot of rural councils don't meet and you can't sit on any Northern Beaches of Sydney to read them!
Related Matters of Interest – Mining and Energy Issues
Renewables will push power prices lower even after Liddell closure, says AEMC" Renew Economy, 21st December 2020, article by Giles Parkinson:
"Significant declines in electricity prices in Australia are forecast to largely offset any impacts of the closure of the Liddell power station, according to the 2020 release of the Australian Energy Market Commission's (AEMC) "electricity price trends" report. Households can expect to be paying about $120 (or 9%) less for electricity in 2023", say the AEMC, highlighting the key reason for this as "the introduction of new sources of energy generation like solar and wind", among other factors like gas prices that are reduced from record historical highs. Renewable energy is highlighted in two key areas.
First, among their impacts on wholesale electricity prices, where renewables 'bid' into the market at lower values and thus reduce the final half-hour prices in Australia's National Electricity Market.
Victoria: "Wholesale costs are expected to go down by 37.2 per cent (or $197) over the reporting period contributing -17.4 percentage points. This is driven by increases in generation capacity, particularly wind farms" South Australia: "Wholesale costs are expected to go down by 41.0 per cent (or $349) over the reporting period contributing -18.5 percentage points. This is driven by increasing solar PV penetration, which is evident in an increase of negative prices in South Australia" New South Wales: "Wholesale costs are expected to go down by 11.7 per cent (or $57) over the reporting period contributing -4.4 percentage points. This is driven by increasing solar PV penetration"
Second, the 'environmental schemes' components of electricity bills, which contain subsidies for renewables and other incentives. "Environmental costs are expected to drop by $5 out to FY22/23 due to a decrease in large-scale renewable energy costs as more renewable generation comes online", say the AEMC. "After seeing these costs mostly increase over the past decade, they have now been projected to drop for two years running".
The AEMC's latest report reflects a key post-subsidy period for renewable energy. As most schemes wind down, future incentivisation will rely on government schemes that guide the development of renewables and provide certainty for private and community investors.
The NSW government's 'Electricity Infrastructure Roadmap' was not modelled as part of this. The closure of the Liddell power station does, in the AEMC's modelling, place some pressure on NSW wholesale power prices, but that prices will still be lower, and that incorporating recent announcement would likely offset this.
"Our report shows that prices will fall over FY20/21 and FY21/22 and could increase slightly in FY22/23 if there is less capacity following the scheduled exit of some coal-fired power from the market" AEMC Chief Executive Benn Barr said. "But the outcome for 2023 prices may well be different following recent announcements on increasing renewable energy capacity in both NSW and Victoria." Barr explain that "our numbers do not reflect the impact those developments could have on prices", and that "it is important to stress these are projections not predictions. Trends can change sharply in response to new policies and sudden market changes".
Despite, this, the Daily Telegraph newspaper has published a piece by Senior Journalist John Rolfe entitled "Liddell power station: Closure to significantly add to household power bills", declaring that "Power bills in NSW will rise by eight per cent by 2022 following the closure of the Liddell coal-fired power station, according to new modelling". Though the price does increase, Barr says that "In any case, the overall figures show that prices in 2023 will still be lower than they are today".
Graphics supplied in the report clearly show the 2023 daily cost profile for NSW well below 2020 for almost all time periods bar the evening peak; with solar primarily responsible for the 'dip' in prices in the middle of the day: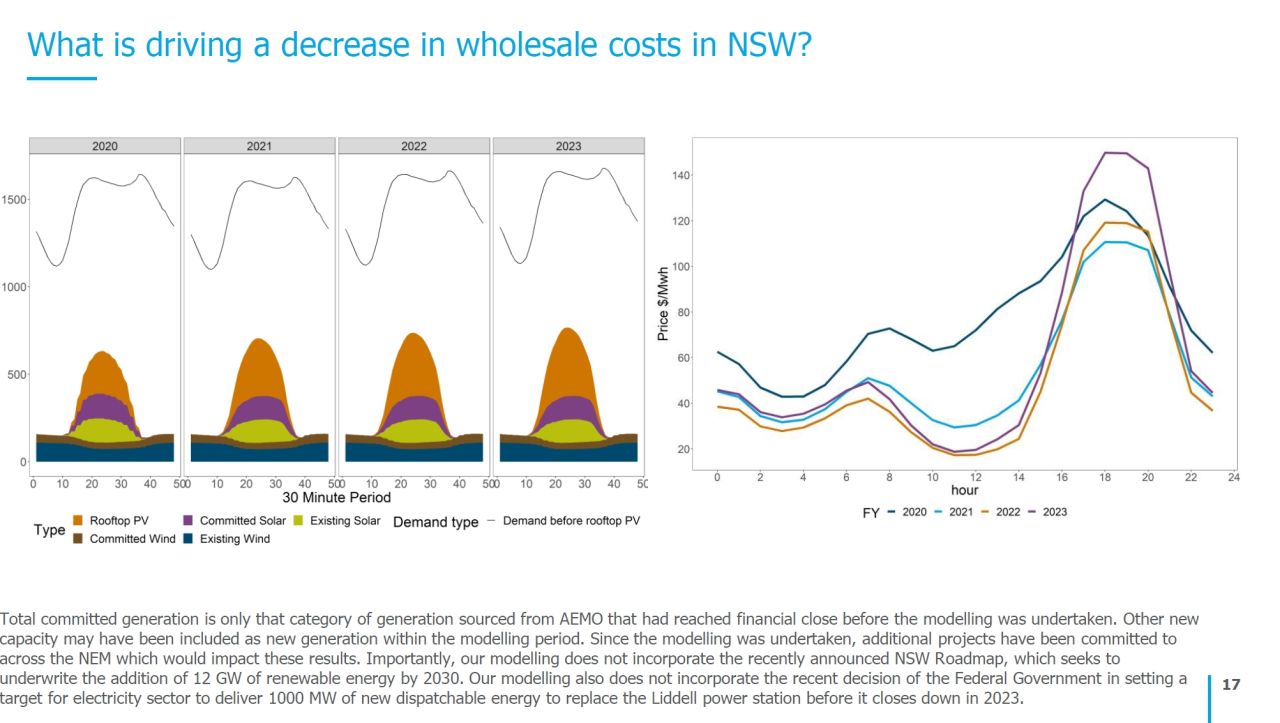 A large component of the NSW's energy plan involves incentives for large-scale energy storage, such as hydro and lithium-ion battery storage. This would likely specifically depress the purple 'peak' in the chart above, and bring electricity prices down even further, in addition to the impacts of renewables clearly seen above. This is reflected in the predictions of the report:
While the report attribute a drop in gas prices to lower future electricity bills, this is relative to the significant peaks of past years. Gas prices are forecasted to remain significantly higher than the lows of 2020, related to the impacts of COVID19 on demand, and roughly where they were in 2016-17.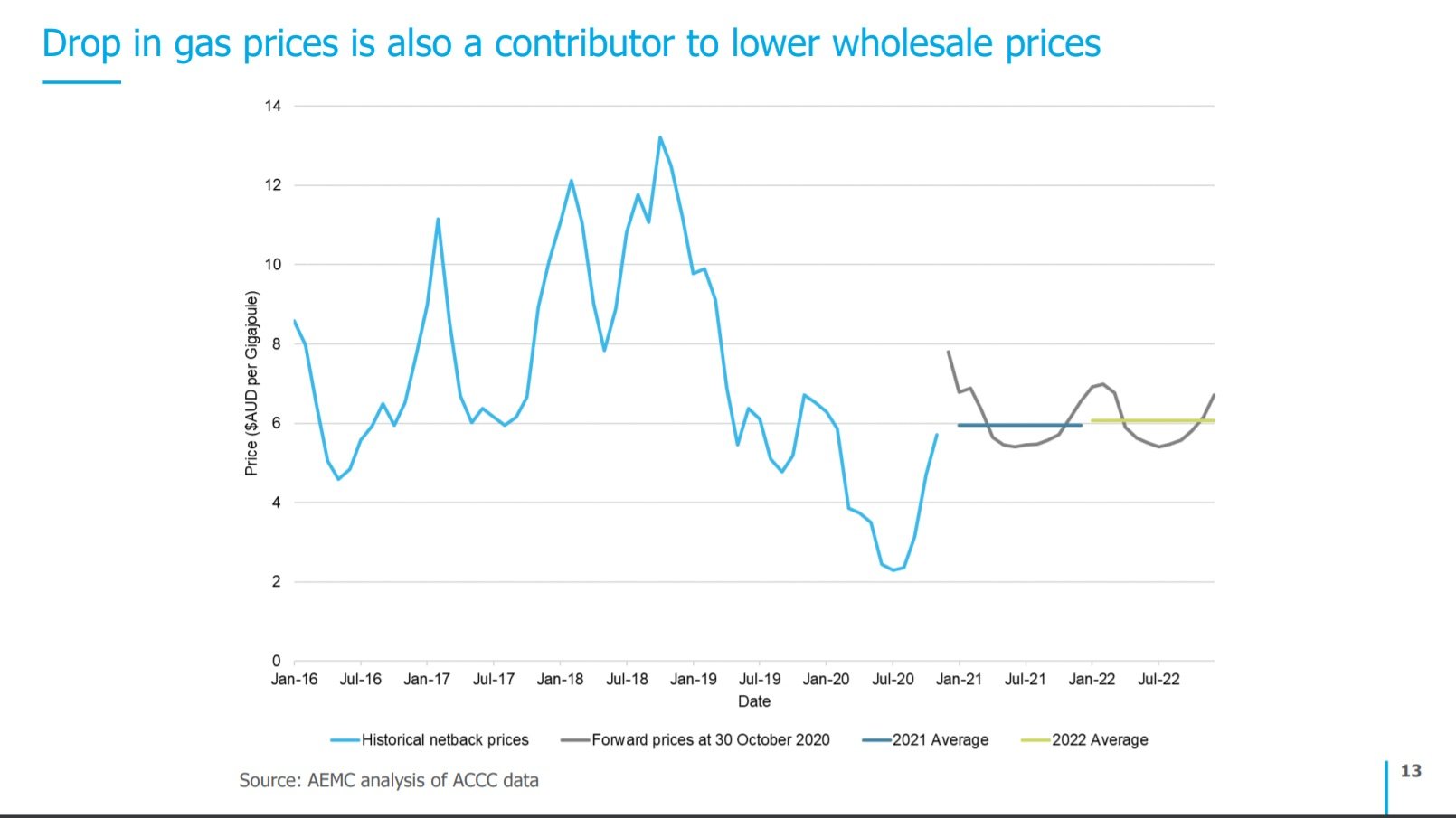 The report also highlights that it did not model the purported "1,000 megawatts" of new, publicly funded fossil gas generation in NSW, and it remains unclear exactly what the details of this federal government plan are. Earlier in the year, Prime Minister Scott Morrison suggested this quantity of capacity was required in New South Wales to replace Liddell, and later revised that down to 250 megawatts.
A report into the shutdown of Liddell, delayed by Federal Energy Minister Angus Taylor, failed to justify predictions that wholesale electricity prices would "sky-rocket" if the plant were shut down as scheduled. A 'backgrounder' provided to media outlets used a truncated
"Old Hunter Valley coal mine could be turned into big pumped hydro storage plant" 18th December, Giles Parkinson, writes in Renew Economy the following article: "An idea to convert underground coal mines into pumped hydro storage facilities is about to be tested in a feasibility study to be conducted at an old coal mine near Newcastle that could lead to a 600MW facility being established there.
The $13.4 million feasibility study and pilot project will be undertaken at the Newstan Colliery owned by Centennial Coal and is looking to take advantage of the site's grid connection, proximity to major transmission lines, and the existence of a lower reservoir. This could help overcome the higher-than-expected costs for pumped hydro that has caused delays, cancellations, and cost blowouts in a number of proposed pumped hydro storage projects across the country.
Despite a large short-list of projects, a federal government underwriting program has failed to land any funding agreements and only the massive Snowy 2.0 pumped hydro scheme is going ahead, through the government owned Snowy Hydro, despite many concerns about its commercial viability and environmental impacts.
Funding support for the Centennial Coal study is being led by the NSW state government, which is providing $4.16 million through its Emerging Energy Program, which is also supporting battery storage and other projects.
The Newstan Colliery, Fassifern, operated for more than 100 years but has been on care and maintenance since 2014, although the company had been canvassing re-starting operations at the mine to exploit the remaining thermal coal and semi-coking coal reserves.
But if the trial proves successful, it could open the path to use other disused or ageing coal mines as pumped hydro plants. The idea of using old mines is not new. Genex is looking to use the deep pit of the Kidston gold mine in north Queensland to build a 250MW pumped hydro plant with eight hours storage and is due to finalising funding for the $700 million project in coming weeks.
Germany, which is phasing out it's black and brown coal generation, is also looking at using disused coal plants as giant pumped hydro storage facilities. The first of these could be built at the Prosper-Haniel coal mine in the state of North-Rhine Westphalia, which will be converted into a 200 megawatt pumped-storage facility. A newly released academic study has also found that under "favourable" conditions, the idea of building underground pumped-storage hydro power plants in old mines "seems both technically feasible and economically reasonable."
Katie Brassil, Centennial's head of external relations, said the project represented an "important and tangible step" in evolving Centennial's business from one solely based on coal, to a diversified energy company. "This project will explore the potential to utilise our existing assets of land, geographic proximity to infrastructure, gas and underground mining voids to provide large scale energy storage and dispatchable generation in the future," she said.
The Australian Renewable Energy Agency is contributing $995,000 to the project. "On top of potentially lower construction costs by using the site, there would be future employment opportunities in the construction and operation of a PHES scheme," CEO Darren Miller said.
Financing pumped hydro projects can be difficult. Origin had looked to expand its Shoalhaven facility in NSW but canned the idea due to unexpectedly high costs. Genex' plans at Kidston have been delayed by contract and financing negotiations.
ARENA had also committed $45 million to fund the construction of one of three pumped hydro projects in South Australia. The winning project was chosen but not revealed earlier this year. The funding agreement was supposed to have been announced before the end of June but has been delayed without explanation. One of the contenders, a project led by AGL at a copper mining project, was dumped after the partners found a new ore body and decided to mine instead.
"REZ Transmission project declared critical" published: 17 December 2020, DPIE, www.planning@nsw.gov.au  A Renewable Energy Zone transmission project in NSW's Central West has been declared Critical State Significant Infrastructure as a result of its importance to future energy supply and security" DPIE, www.planning@nsw.gov.au, 21st December 2020.
The Central West Orana Renewable Energy Zone (REZ) Transmission project will develop high-voltage transmission lines, substations and other electricity infrastructure. Minister for Planning and Public Spaces Rob Stokes said the project could help to bring a significant capacity of renewable energy online.
"If approved, this project will deliver 3,000 megawatts of new energy capacity which is enough to power 1.4 million homes and pave the way for $5.2 billion in private investment in renewable energy projects," Mr Stokes said. "This would increase the grid's capacity and enable the development of Australia's first coordinated Renewable Energy Zone which will support the pipeline of wind, solar and energy storage projects in the Central West Orana region."
Minister for Energy and Environment Matt Kean said the declaration is an important step in delivering the State's first Renewable Energy Zone (REZ). "Last month we got our landmark energy legislation through the Parliament, and now we get on with the job of delivering the cheap, reliable grid that will power us into the future," Mr Kean said.
"Transmission is such a critical piece of the energy infrastructure puzzle. We have seen huge investment interest in generation and storage projects for the Central-West Orana REZ, and projects like this will ensure we can get that capacity into the grid and into homes and business across the State."
Member for Dubbo Dugald Saunders said TransGrid would undertake detailed community consultation on the transmission study corridor. "We want to make sure this infrastructure is built where our local community wants and welcomes it, and I encourage landowners and the Central West Orana community to get involved in the consultation process for this major project that will unlock the economic benefits of the REZ for generations to come," Mr Saunders said. An Environmental Impact Statement will be prepared by TransGrid and released for community feedback and detailed assessment.
"Wind farms drive price drop, volatility" Industrial Careers, 14th December 2020 article: "New research shows wind farms are lowering electricity prices but increasing price volatility in the national energy market. University of Technology Sydney (UTS) researcher Muthe Mwampashi has examined data from the national energy market (NEM) between 2011 and 2020, to understand how wind power affected price levels and, for the first time, price volatility.
The study, Wind generation and the dynamics of electricity prices in Australia, found that a 1 gigawatt per hour increase in wind generation decreased daily prices up to $1.30 per megawatt-hour and typically increased price volatility up to 2 per cent.
"While lower prices are good news, increased volatility in prices – including negative prices and rapid price spikes – are a concern because this creates greater uncertainty in the market, and poses a risk to investors, as well as impacting end-consumer electricity bills," says Mr Mwampashi. "Australia is currently experiencing one of the world's fastest transitions to renewable energy generation – up to 10 times higher than the global average.
"This rapid transition brings considerable challenges, particularly because the national energy market is made up of an interconnected network of states with very different mixes of renewable energy generation – from mostly hydro, to solar and wind," he says.
The study focused on the impact of wind energy because it is the dominant variable renewable energy. South Australia in particular has more than 50 per cent wind penetration – the highest in the national energy market, and second only to Denmark in the world.
It revealed that it is not only consumer demand and the ups and downs of electricity generation – whether the wind blows – that drive price levels and volatility. Gas prices, the amount of hydropower generation and interconnector flows between states also have a significant impact.
Higher gas prices in the export market drive increases in Australian electricity prices, and hydropower, while more reliable, can be affected by drought. One solution put forth for the intermittency of variable renewable energy is greater use of cross-border interconnectors because they allow pooling and sharing of available generation capacities.
The study also looked at the effect of the implementation of the carbon pricing mechanism between 2012 and 2014, and the nationwide lockdown restrictions due to the COVID-19 pandemic. Both had a measurable impact on electricity price dynamics.
"More Needed than Tentative First Step on Rating Flexibility" Media Release, LGNSW, President, Linda Scott, 21st December 2020. Media enquiries contact 0448 718 892.
"Introducing flexibility to NSW's antiquated ratings system was a good first step to help deliver the infrastructure and services communities need and deserve – but more must be done, Local Government NSW (LGNSW) said today. LGNSW President Linda Scott said proposed new ratings categories, along with a new ratings formula recognising the impact of population growth, were certainly advances on the current moribund system.
"However, we are staring down the barrel of a prolonged economic recovery period, and many councils are facing a financial crisis as they try to provide and maintain infrastructure and services to their communities," Cr Scott said. "The rigidity of NSW's current ratings system and its one-size-fits-all rate peg has deprived communities of vital local infrastructure for far too long. "These reforms don't go far enough to solve underlying financial sustainability issues, so we are looking at a band-aid rather than a cure."
Cr Scott was speaking after Local Government Minister Shelley Hancock unveiled a draft Local Government Amendment (Rating) Bill 2020, due to be introduced into Parliament next year. The Bill, which has been put out for consultation over Christmas and the summer holiday period, allows:
special rate variations to help councils undertake joint infrastructure projects with other levels of government
A new "environmental land" rate category, the division of business rates into industrial and commercial categories, and more flexible residential, business and farmland rating subcategories
Gradual rate harmonisation for amalgamated councils over four years, rather than a single year hit to resident's hip pockets.
Minister Hancock also foreshadowed a new ratings formula which incorporated recognition of the additional demands on community infrastructure and services by population growth, which is expected to be released by IPART in September 2021. But Cr Scott said real change required the Government to take the next step and scrap the rate cap – a move also backed by the NSW Productivity Commission, NSW TCorp, the Planning Institute of Australia, the Committee for Sydney, the Sydney Business Chamber and the Western Sydney Business Chamber.
"Earlier this month the Productivity Commission found average NSW council rates stood at $591 per capita in 2019, compared to an $835 average for all other states," she said. "This means our communities right across NSW are missing out on good local roads, footpaths, sports facilities, parks, and all the other infrastructure and service components they need.
"If councils have insufficient funding to keep local infrastructure such as roads in shape, we all suffer – through increased congestion, lower productivity and a worse quality of life for everyone."
Cr Scott said councils were also deeply concerned at a proposal to link mining land rates to standard business rates "The two categories are very different: once local gas and mineral resources are extracted, the associated wealth is lost to the local community forever, but local businesses continue to contribute to the prosperity of the local economy. "It would be grossly unfair to reduce mining rates and ask those paying residential, farmland or business rates to make up the difference."
Cr Scott said a lot more work was needed on the Government's draft Bill to achieve meaningful reform and ensure a financially sustainable system.   "A fully flexible ratings system is key to ensuring councils can continue to provide and maintain infrastructure and services to their communities, helping to drive a locally-led recovery," she said "LGNSW will continue to advocate strongly for reform that will build a fair, financially sustainable way to fund the community infrastructure and services our communities need and deserve."
"Genex says Jemalong solar farm energised, ready to send power to grid" Michael Magerab, Renew Economy, 17th December 2020 writes: "Genex Power's 50MW Jemalong solar farm has been "energised", a key milestone that will enable it to begin production in coming days. The Jemalong solar project, which has been constructed near Forbes in central New South Wales, began construction just nine months ago, when the company said that the project would deliver a 'step change' to the company's revenues. The project will join the 50MW Kidston stage 1 solar project in Queensland, as the second of Genex's operational solar projects, and once fully operational in early 2021, will effectively double the company's revenues.
Genex acquired the development rights to the Jemalong solar farm from Vast Solar, which had built a 1MW demonstration solar thermal plant on a neighbouring site. The ASX-listed Genex has large ambitions for building a portfolio of clean energy projects, including a flagship 250MW pumped hydro energy storage project at the Kidston site, and a potential 270MW expansion of the solar farm.
The company recently announced that it had secured a partnership with Japanese utility J-Power to progress the development of a 150MW wind farm, also set to become part of the Kidston energy hub. Genex CEO James Harding said that energisation is a key milestone for Genex, and a particularly significant achievement given disruptions that had impacted the energy sector throughout 2020.
The company said that it had largely been able to avoid Covid-19 related disruptions, and had implemented a number of protections for both on-site and off-site staff. "Energisation of the Jemalong Solar Project is a significant milestone for the Company and further demonstrates our ability to deliver on large-scale projects," Harding said. "The Project, once fully operational, is capable of producing up to 128,700MWh of energy per annum, generating enough electricity to power more than 23,000 Australian homes."
"I would like to take this opportunity to thank the project delivery team, especially our nominated EPC Contractor Beon, who have displayed outstanding professionalism and determination to develop the project during these uncertain times. Despite the effects of the COVID-19 pandemic, the project has experienced no significant delays and is being delivered within budget."
Genex said that the Jemalong solar farm would operate on a merchant basis, selling electricity directly into the National Electricity Market and would likewise benefit from the sale of renewable energy certificates. "The project will operate initially on a merchant basis, taking advantage of the relatively strong daytime electricity prices in New South Wales with the average electricity price in November 2020 sitting around $62/MWh. Project revenues will also be collected from the sale of Large-Scale Generation Certificates which attracted an average sale price of approximately $30 each in November," Harding added.
Genex remains just one of a handful of pure-play clean energy companies listed on the ASX. Wind power developers Infigen Energy and Windlab were both delisted during 2020 following their respective acquisitions by third parties. ASX listed Tilt Renewables flagged on Monday that it may also become the subject of its own takeover offer, after majority shareholder Infratil announced that it would commence a review of its shareholding following interest from potential buyers.
Another year lost: Taylor ends 2020 with key energy reforms in limbo Michael Magerab, Renew Economy, 10th December, article: "As the federal parliament sets to wind up for the year and heads into its summer recess, key Morrison government energy reforms remain in limbo, stalled in a legislative backlog that will further delay the implementation of the Grid Reliability Fund, the UNGI program and implementation of the Technology Roadmap.
Thursday represents the last sitting day for federal parliament in 2020, with parliament not scheduled to return until February next year. It also represents another lost year for energy policy.
A number of the Morrison government's energy policies will end the year unresolved, with federal energy and emissions reduction minister Angus Taylor ending 2020 without a single piece of legislation through parliament. The clean energy industry, and institutions such as the Enegy Security Board, has cited the lack of federal policy as one of the chief impediments to new investments.
One substantial piece of the government's policy agenda, the establishment of a $1 billion Grid Reliability Fund, remains stalled, with legislation designed to create the fund and allocate responsibility to the Clean Energy Finance Corporation (CEFC) for its administration stalled in parliament.
A series of legislative amendments that would establish the Grid Reliability Fund was introduced to parliament in August, but have not progressed, with the amendments still stuck before the House of Representatives and have yet to be debated. The lack of progress on the Grid Reliability Fund has flow-on impacts for other government policy, particularly the Underwriting New Generation Investments (UNGI) program, which needs to fund to provide financial support for a dozen pumped hydro and gas generators that were shortlisted under the UNGI program nearly two years ago.
The lack of legislation to create the Grid Reliability Fund,  now not likely to occur before March next year at the earliest, has left a number of major energy infrastructure investments left in limbo. To date, the only successful outcome of the UNGI program has been $8.7 million in funding that was provided through the federal budget to Trevor St Baker's Vales Point coal fired power station, to pay for upgrades. Additionally, the Morrison government has not tabled a package of flagged amendments that are set to further open up both the CEFC and the Australian Renewable Energy Agency (ARENA) to provide funding to carbon capture and storage projects.
Officials from the Department of Industry, Science, Energy and Resources told a recent session of senate estimates that a further package of legislative amendments would be forthcoming, that would make further changes to both the investment mandates of ARENA and the CEFC. The additional amendments will further expand and align the investment remit of the agencies, enabling funding to be directed to other priority technologies identified by the government's Technology Roadmap, include funding for carbon capture and storage projects.
"The government has said also publicly that its intention is to amend the mandate of the CEFC and that of ARENA to be able to support the Low Emissions Technology Roadmap, which includes carbon capture and storage," department deputy secretary Jo Evans told senate estimates.
The planned legislative changes that could also see the CEFC opened up to investing taxpayer funds in gas projects, including those that operate at a loss, have been met by strong criticism. Opposition from the plan has been expressed by many of the former heads of the CEFC and ARENA, who combined to issue a joint statement calling on the Morrison government to abandon plans they described as "flawed".
While the parliamentary year has been disrupted by the Covid-19 pandemic, which restricted the ability of parliament to sit throughout much of 2020, several of the state parliaments have successfully passed legislation implementing milestone reforms to the energy sector.
This includes the successful passage of legislation through the New South Wales parliament, implementing the state's electricity infrastructure strategy, that is set to unlock as much as $32 billion of investment in new clean energy and storage projects. The legislation survived an attempt from the One Nation party to derail the legislation and forced the parliament to undertake a marathon 30-hour debate to deal with almost 250 amendments put forward by leader Mark Latham.
Federal energy and emissions reduction minister Angus Taylor, and the department, have been contacted for comment".
Disclaimer The comments and details in the articles in this newsletter do not reflect the views, policies or position of the Association or its member Councils and are sourced and reproduced from public media outlets by the Executive Officer to provide information for members that they may not already be exposed to in their Local Government areas
Contacts
Clr Peter Shinton (Chair) peter.shinton@warrumbungle.nsw.gov.au 0268492000 or Greg Lamont (Executive Officer) 0407937636, info@miningrelatedcouncils.asn.au.
WISHING YOU ALL A VERY MERRY CHRISTMAS AND A HAPPY NEW YEAR