Introduction
Delegates, here is the December 2019 MERC Newsletter sent out on 20th December 2019.This newsletter has a lot of important information and interesting articles in it for you to read, please circulate this to your fellow Councillors and senior staff, so they can appreciate and understand the excellent work the Association and you are doing on behalf of your Council and community, with regard to mining and energy related matters.
Update on the Voluntary Planning Agreement Steering Committee
The Guidelines for VPA's and a VPA framework agreement (including scope and calculation methodologies) has now been agreed to by NSWMC & the MERC VPA Working Party. A foreword has been written for Executive Officers to sign off as part of the document. The DPIE now has it to sign off on it before circulation.
Resources for Regions (R4R) versus a Royalties for Regions.
In our pursuit of the R4R being changed to suit mining affected Councils, the MERC working party has been very active, as previous newsletters have outlined. The working party will meet again in January with the government staff doing the review.
Resources NSW have chosen MERC to be the primary consultation entity for Local Government on this and the working party has already been involved in several meetings to develop the proposed changes to the Resources for Regions Program.
Regional Advisory Forum (RAF)
The Executive Officer is hoping to have the Minister for Planning & Public Spaces at the next meeting in Sydney for MERC where the need for RAF will be stressed .There has been a response from the senior staff on whether RAF is to continue or not with the situation still being assessed.
Next Meetings of Association for 2020
The locations/dates for meetings in 2020 will be Sydney 4/5th March (Executive Committee meets at 2pm on 4th, Ordinary  Meeting at 9am on 5th March, in the Club York premises); at Blayney 7/8th May 2019; Orange in August (dates TBA) and Sydney in November (dates TBA).This fits in with Country Mayors and the member Council meeting cycles.
Membership Campaign
The Association at its May meeting in 2018, adopted a Marketing Policy to ensure membership increased by targeting more renewable energy development affected LGA's in NSW and to formalise and strengthen the membership campaign. If any delegates have any colleagues in Local Government that may be interested in being part of our voice, please contact the Executive Officer.Several Councils have expressed interest in joining and are being pursued by the Executive Officer.
Speakers for next meetings of MERC
MERC is pursuing the following speakers for future meetings:
Hon Rob Stokes, Minister for Planning & Public Spaces, Liberal Party;
Hon Matt Kean, Minister for Energy & Environment, Liberal Party;
Hon John Barilaro, Deputy Premier, Minister for Regional NSW, Investment & Trade, Leader of NSW National Party;
Hon Adam Marshall, Minister for Agriculture & Western NSW;
Other relevant Opposition party members and government senior officers will also be pursued for meetings as required depending on locality of the meetings;
CEO's, Clean Energy Council and Clean Energy Finance Corporation, ARENA, etc.
Life Membership Updates – Mitchell & Connor
Life membership badge, plaque and certificate was presented to ex Cr Chris Connor at the November Annual General Meeting in Gloucester on 8th November 2019. Chris and Carolyn were in attendnace Wednesday and Thursday evenings to catch up with delegates and thoroughly enjoyed themselves in the catch up with delegates.
Col has advised he will liaise with the Executive Officer to attend a future meeting when able to in view of his ongoing medical treatments.
Coal Seam Gas Policy
The amended Coal Seam Gas Policy has now been improved with the addition of the double casing minmum and cementing of all bores from the well head (ground) to the production horizon (extraction zone at the bottom of the well) details and adopted at the November 8th meeting. A copy of the amended policy will be forwarded to delegates for their information and/or consideration in due course.
Research Fellowship Update
In recent discussions with the PhD student, arrangements are being made to develop a Memorandum of Understanding (MOU) with the UTS which will outline details on insurances, performance measures, exit strategies, roles, finances, etc., once all sponsors, funds and details are finalised.
In the meantime, Peter Dupen has managed to get the DPIE on side to put $20k into the project and has $10,000 from the NSW Minerals Councils, MERC has committed $40k over two years. With a $70k program albeit not as much as we would have liked, it still enables the UTS to seek government funding. Peter is actively canvassing other entities to be involved in the project as sponsors and is seeking other grant options too. He and supervisors have been concentrating on 3 main tasks – progressing the design of the engagement process and evaluation framework; seeking agency support for the project and further funding for the project.
In the meantime, Peter Dupen, the PhD student has requested your support on the consultancy front, in view of his specific areas of expertise as follows:
"I would also like to introduce myself to your associated Councils, as my reasons for taking on this PhD project arise from my experience in assessing and policing mining impacts particularly on groundwater and surface water resources.  Prior to starting this project for example, I was the Mining Manager for WaterNSW – a position entirely focussed on examining impacts of mining and advocating for their reduction.
As agreed at the outset, I will receive no income from the PhD project funds.  To enable me to survive and prosper whilst undertaking it, I have started a new consultancy (www.h2onestly.com) devoted to assisting Councils, agencies and communities to use advanced analytics and technologies to understand environmental impacts and make good decisions.  H2onestly's point of difference from all other consultancies is that I don't intend to work for industry at all, thereby assuring regulators and communities that I'm uncompromised in working for their interests.  I have a network of impact analysts, IT gurus, environmental specialists, policy advisors and many other skilled practitioners available to assist in whatever tasks arise, and I am well versed in project management and making things happen on-time and on-budget. 
It is in keeping with MERC's list of consultants that have been circulated that MERC can have Peter's resume distributed, which will be sent under separate cover. Meanwhile interested parties can contact him on 0438 729 164, or Pete@H2onestly.com.  His passion and ethics are to be commended, hopefully there is some interest out there for his services.
Related Matters of Interest – Mining and Energy Issues
Rare Earths Deal Signed Industrial Careers, 5th December 2019, article says:
"Australia's rare earths industry has welcomed a new deal with the US. Australia and the United States have signed an agreement focusing on critical minerals. The deal could boost the rare earths industry in Australia, according to some mineral experts.
The global rare earths supply came to the attention of many after Beijing threatened to restrict the rare earth trade amid its ongoing trade war with the US. In an extremely remote part of Australia, Nolans Bore, a rare earths project north of Alice Springs, has welcomed the new deal.
The company behind the project, Arafura Resources, says that after 15 years, pending native title approval and finance, it will start construction late next year. While full details of the deal are not yet available, Brian Fowler, general manager for the Northern Territory with Arafura, says politicians appear to be realising how geopolitically threatened rare earths are, due to China's market dominance.
"[China] controls 85 per cent of the world's supply of rare earths," Mr Fowler has told reporters. "We have the potential to supply somewhere in the region of 8 to 10 per cent of the world's requirement for neodymium and praseodymium, two of the rare earths minerals. "Their role is in the production of the highest strength magnets on the planet, they are the absolute essential elements in the electrification of motor vehicles and in the production of clean energy using things like wind turbines."
With more car companies making more electric models, neodymium and praseodymium supplies will have to increase in the future.
Processing research director for CSIRO's mineral resources, Chris Vernon, said the new deal could be just what is needed. "[The deal] looks very promising," he said.
"One of the bottlenecks to getting a project off the ground in Australia was the financing and the uncertainty [so] if government is stepping in and providing some surety about getting finance, that can only be a good thing. "The rare earths market is about to explode, simply because we expect to put so many electric vehicles on the road; every one of those requires rare earths for their magnets. There's also a burgeoning market in other technology uses. "A car only takes a few tens of kilograms of rare earths but when you're looking at some high-tech military equipment for example, you could be looking at hundreds of kilograms of rare earths. There is a real hunger for more rare earths." Refer www.industrialcareers.com.au for more details.

AEMC Predicts Price Fall Industrial Careers, 9th December 2019 article says:
Official forecasts predict power prices will fall in most Australian states and territories over the next three years. The Australian Energy Market Commission (AEMC) says it expects continued price falls driven in large part by increasing supplies of renewable energy generation in the electricity market.
It says further investment in batteries, wind and solar will help meet power system needs at a lower cost to consumers. The AEMC does not expect any new investment in gas or coal generation beyond projects already committed.
On a state-by-state basis, the advisory body predicts South-East Queensland electricity prices will fall by 20 per cent by June 2022, New South Wales prices will fall overall by 8 per cent, Victoria by 5 per cent, ACT by 7 per cent, Tasmania by 5 per cent and South Australia by 2 per cent.
The AEMC says power costs in Western Australia will rise by 6 per cent by 2022, mainly due to increased gas costs. Not enough information was provided about the Northern Territory to adequately forecast price changes, AEMC said.
The AEMC's report reveals 2,338MW of solar, 2,566MW of wind and 210MW of gas turbine power are on the way. Its modelling found a further investment in 1,555MW of battery power, 1,553MW of wind power and 372MW of solar power are needed to meet the market's needs. Refer www.industrialcareers.com.au
Newcastle's world-leading environmental initiatives win major award       Article from LGNSW Newsletter, dated 3 December 2019 of interest:
"City of Newcastle's efforts to bring the city up to world-leading environmental standards through initiatives such as a 5MW solar farm, 5000 new LED street lights and electric vehicle charging stations has earned it the leading prize in Local Government NSW's (LGNSW) Excellence in the Environment Awards".
LGNSW President Linda Scott said Newcastle led an impressive array of 16 category winners at this year's awards. Each year NSW councils invest around $1.7 billion in environmental management and these awards recognise and celebrate their achievements," she said. "The City of Newcastle is an outstanding example of the environmental leadership councils provide, implementing a whole-of-council sustainability framework based on leading-edge United Nations' sustainable development goals.
"They delivered more than $10 million in projects to improve sustainability, using CSIRO predictive modelling to reduce air conditioning loads on buildings, established a network of sky cameras to predict cloud impact on solar power, created an e-transit hub with a solar car park and built a 5MW solar farm They also planted 1000 street trees and 100,000 native plants. The outcome is a city that is well positioned for environmental sustainability well into the future."
The initiative also won the prestigious Louise Petchell Memorial Award for Individual Sustainability for the City of Newcastle's Innovation and Sustainability Coordinator, Adam Clarke.
"Adam showed great leadership in driving many of these initiatives through a combination of inspiration, education and enthusiasm and is a deserving winner of this year's individual award," Cr Scott said.
Good & Bad News for Wind Farms, Andrew Bray, Australian Wind Alliance, email: Let's start with the good news. Our updated report into wind's growing role in regional Australia: the Building Stronger Communities report, found that jobs in wind have tripled in the past 2 years. This is a sign of the mammoth investment and prosperity that wind energy has provided for regional communities.
And what's more? These wind projects are sharing more and more of their income with farmers and with communities, through community enhancement funds (CEFs).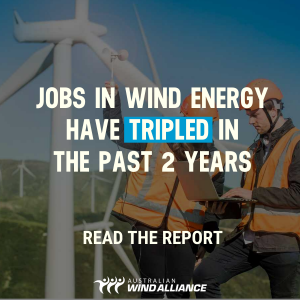 Will you read the report and send it to your local MP and energy minister Angus Taylor? This year, wind farms will give between $24.9 and $29.4 million to host communities, through CEFs and host landholder payments. Many of these landholders are farmers happy to see the drought-proof income during one of the worst droughts in recorded history.
The wind energy on their property is supporting their work decarbonising our energy grid and fighting climate change and bringing prosperity to regional Australia.
The bad news? Renewable energy investment has fallen off a cliff this year and dropped by 60% (source: Clean Energy Council). This is due to an energy policy void we are now heading into as the Renewable Energy Target (RET) ends, and the federal government does not have any coherent policy in sight.
Now, more than ever, Australia must invest in the infrastructure that will power a 21st-century clean energy economy. That's why we are calling on the federal government and Angus Taylor to:
Support the underwriting of transmission capacity to open up new Renewable Energy Zones (REZs);
Allocate more funding to the Australian Renewable Energy Agency (ARENA) and;
Modernise the electricity market to efficiently handle high concentrations of renewable energy.
Click here to read the report and send a copy to your local MP and Angus Taylor to call on their support for wind energy and regional Australia.
Together we can fight for wind energy and regional Australia.
Draft 2020 Integrated System Plan sets path for renewables Clean Energy Council, email, 12th December 2019. Refer www.cleanenergycouncil.org.au:
 "The Draft 2020 Integrated System Plan (ISP) released by the Australian Energy Market Operator (AEMO) today confirms that a renewables future is unequivocally the least regret and lowest cost option, the Clean Energy Council said. Clean Energy Council Chief Executive Kane Thornton said the draft ISP provides a dynamic and actionable roadmap that can guide the transition through a period of complexity and uncertainty.
"The ISP points to a highly diverse future energy system where over 30 GW of new utility-scale renewable generation is needed, and distributed energy generation is expected to double or even triple to provide 13 to 22 per cent of the total annual National Electricity Market consumption."
"The ISP rightly identifies that to unlock this exciting new energy potential, significant investment in the transmission network is needed. We strongly support AEMO's development path for extensive upgrades to the transmission grid to deliver the infrastructure needed to make the most of our vast clean energy resources, ensure the future stability and security of Australia's energy system and deliver low-cost energy to consumers."
"As we have consistently said, a clear roadmap for transmission development is imperative in order to build investor confidence for new clean energy generation – which is urgently needed to ensure new generation is in place before our ageing coal power plants retire."
"Releasing a draft ISP is also a positive development. We support AEMO taking this additional step and its consultative approach to developing the 2020 ISP. There is a huge amount of detail to be worked through in the draft ISP. We look forward to working closely with AEMO on this and providing further input to ensure the 2020 ISP delivers the robust strategy needed to guide the future of Australia's energy system."
The Draft 2020 Integrated System Plan is available on the AEMO website. Please contact Andreas Wenzel on 03 9929 4114 for more information or to arrange an interview.
HOPE YOU & YOUR FAMILIES ALL HAVE A VERY MERRY CHRISTMAS & A HAPPY & PROSPEROUS NEW YEAR
Disclaimer
The comments and details in the articles in this newsletter do not reflect the views, policies or position of the Association or its member Councils and are sourced and reproduced from public media outlets by the Executive Officer to provide information for members that they may not already be exposed to in their Local Government areas
Contacts
Clr Peter Shinton (Chair) peter.shinton@warrumbungle.nsw.gov.au 0268492000 or Greg Lamont (Executive Officer) 0407937636, info@miningrelatedcouncils.asn.au.