INTRODUCTION
Delegates, here is the August MERC Newsletter, please circulate the Newsletter to your fellow Councillors and senior staff, so they can appreciate and understand the excellent work the Association and you are doing on behalf of your Council and community, with regard to mining and energy related matters.  
EXECUTIVE SUMMARY
(a) GOVERNANCE MATTERS
Next Meetings of Association – Next Ordinary meeting to be held in Dubbo 25th November 2022, venue to be confirmed. The AGM and Ordinary meeting to be held in with tour and network dinner day before, arrangements and dates being sorted in consultation with Dubbo event staff and venue managers. The Mini Conference date slots have been booked for 21-29th May 2023 at Dubbo Regional Theatre & Convention Centre. Discussions have commenced with an event management entity to assist.
COVID-19 Virus Impact on MERC – In 2022 MERC will be resuming its' activities in the normal manner. What this means for MERC delegates is that 2022 will have quarterly as "face to face" meetings with use of zoom in exceptional circumstances. Executive Committee meetings will be by zoom means as determined. A lot of value is gleaned from being at a meeting in person and this can be lost when delegates attend by zoom. However, focus will always be on giving delegates opportunity to attend meetings which may be difficult for voting at the upcoming AGM in Dubbo.
Speakers for Next Meeting in Dubbo – Minister for Regional NSW and Deputy Premier Hon Paul Toole plus Minister for Agriculture Hon Dugald Saunders & Opposition Shadows and Minor parties will be pursued. With everythig that is going on with government and the lead up to State elections may have an impact on attendees.
Orana Opportunity Network (O2N) – MERC is trialing as a Bronze Member of ON2 for 12 months. Their Newsletters are available on their website on o2n@o2n.org.au. Read more in the Matters of Interest section on CEO's presentation to delegates on 2nd September 's Ordinary meeting.
CRC Transformation in Mining Economies (CRCTiME) – MERC is a partner with CRC TiME on a no cost but consultative basis. They provide updates on progress with opportunity for members to join webinars, workshops, surveys etc. Latest update is below.
Renewable Energy Zones (REZ) – Mike Young, Executive Director – Planning & Communities, Energy Corporation, Department Energy & Climate Change provided delegates with another updated informative insight on what is happening with Renewable Energy Zones in NSW. There is an opportunity for MERC to be part of a working party with Energy Co to successfully roll out the REZ's. Mike and EO to talk about how this may work for MERC and EenrgyCoto be involved in the REZ roll-out.
(b) MATTERS OF INTEREST
CRC for Transformations in Mining Economies (CRC TiME)


The Executive Officer will continue to liaise with the consultants on the foregoing and look for opportunities for MERC to be involved and keep delegates informed. CEO Guy Boggs writes that the CRC has been going for two years and will continue to provide information to partners that may be of interest.

Since the release of our 15 initiatives, hub meetings were held in South Australia, South West WA, Bowen Basin and Latrobe Valley from March to April 2022, providing stakeholders a chance to discuss opportunities in the regions. Gove has elected to have key projects engage with other closure planning processes running in the region and Pilbara elected to link CRC TiME work with the economic development planning work related to hydrogen already occurring in the region.

RE-Alliance


Andrew Bray, National Director, RE-Alliance, presented to delegates on 2nd September 2022 and writes in his latest newsletter: "I had the honour of recently attending the inaugural First Nations Clean Energy Symposium, along with RE-Alliance's VIC/TAS Coordinator Tony Goodfellow. 

It was a powerful example of First Nations leadership in confronting the challenges and opportunities of an energy transition. The symposium celebrated some great examples of First Nations clean energy achievements happening globally and highlighted how crucial it is that we work to ensure First Nations people are central to the renewable energy transformation. 

In particular, it is clear that following the leadership of First Nations groups is vital. Karrina Nolan, descendant of the Yorta Yorta people and a key architect of the First Nations Clean Energy Network (FNCEN) who organised the symposium, said:

"If done well, clean energy will provide a big boost to our communities. We have an opportunity to do development right this time, protecting country and sacred sites while delivering reliable power, jobs and economic opportunity for our communities."

It was a real highlight to hear so many First Nations voices talking about our energy transformation. Kado Muir, Ngalia Traditional Owner and Chair of the National Native Title Council said, "We want to be active participants in the economy of renewable energy, as owners of projects, technology and power distribution into markets."

Across the country, First Nations communities are right now designing and building renewables. It was great to hear their experiences. Gadrian Hoosan, a Garrwa and Yanyuwa man from Borroloola, has plans to build a micro-grid for his community. 

Les Shultz, a Ngadju Traditional Owner, is currently negotiating on a massive green hydrogen project in Western Australia. He's hoping to get good social and economic opportunities for his people, but also to be an example that others can use in negotiations for future projects. 

There is some great work currently being done to make First Nations leadership more central in Australia's clean energy transformation – for instance, federal Energy Ministers have committed to a co-designed and resourced First Nations Clean Energy Strategy. The recently released NSW First Nations Guidelines are also an important step forward. 

But there's also lots of room for improvement, as we look at excellent examples overseas like the U.S.'s Navajo Power.

For more important takeaways and powerful moments from the First Nations Clean Energy Symposium, read on here. 

The First Nations Clean Energy Symposium was an example of the immense benefits that our renewable energy transformation can provide, if we are guided by First Nations leadership. It's crucial that we support First Nations initiatives, like the vital work the First Nations Clean Energy Network is doing in community, industry and policy. We encourage you to support them.

Renewable Energy Zones (REZ's)


A REZ is a hub of renewable projects across a region that forma a modern-day power station, producing a large amount of energy for the State. The State Government has set them up in the New England, Southern NSW and Hunter/Central Coast Regions.

Mike Young updated delegates on 2nd September 2022 on the further progress with the Central West Orana REZ and outlined them as follows:

Energy Corporation of NSW is a statutory authority re-established in line with legislative functions under the Energy and Utilities Administration Act 1987 and Electricity Infrastructure Investment Act 2020 has been set up to "join the dots" with the design, delivery and coordination of Renewable Energy Zones (REZ's) and other electricity infrastructure in a way that benefits consumers, investors and regional communities;
Transmission development is becoming increasingly controversial in local communities, with communities already raising concerns with compensation, consultation, land use conflict and cost recovery.
The loss of social licence has the potential to delay the rollout of transmission infrastructure which would jeopardise energy security, slow NSW's transition to net zero emissions and increase electricity costs for consumers. To avoid this the government will need to actively build community support for the transition rollout.
Consequently, Mike is keen to work with MERC to establish a dedicated forum, with strategic planning & coordination, developing a governance model for community benefit funding for community projects. In the following areas:

Council Forum – establishing a dedicated forum to work on delivery of enabling services and infrastructure with Councils in each REZ;
Strategic Planning & Coordination – preparing and implementing coordinated strategies and funding models to address key issues in consultation with Councils, generators and government agencies (e.g. Local Roads Strategy, Workforce Accommodation Strategy, Waste Management Strategy, etc);
Community Benefit Funding – establishing a governance committee for distribution of access fees from generators, including Councils and other stakeholders – noting that the intention is to invite applications for community projects and programs;
Interactions with Planning System – all existing planning processes under the EP&A Act will continue to apply, including provision for planning agreements between proponents and councils – noting that there are some reforms proposed for developer contributions. Central West Orana Transmission Project.
Progress with Central West Orana REZ – Note the following data: ~180 km of 500kV/330kV • At least 3GW of transfer capacity • 3 major energy hubs to connect renewable energy projects • Appoint network operator to build, finance and operate – end 2022 • Planning approval – end 2023 • Construction – 2024/2025 • Operation – 2026/27.

Given MERC's involvement with VPA's and Resources for Regions criteria working parties involving Department of Planning and stakeholder bodies like the NSW Minerals Council in the past he has suggested to delegates that MERC could work with Energy Co with some of the foregoing. If it comes off there may be funds available for this that MERC could be eligible for its involvement.

Orana Opportunity Network (ON2)


CEO RDA Orana, Megan Dixon addressed delegates at the 2nd September Ordinary meeting on the following, outlining that MERC EO had provided letters of support for the following 2 projects and she was there to provide the background.

Development of a Business Case to establish a Zero Emissions Business Incubator & Innovation Zone. The NSW Government has a Regional NSW – Business Case and Strategy Development Fund, which closed 31st August 2022. O2N intends to seek funding to progress the business case, with a focus on 2 specific consultancies:
(i) Stakeholder engagement to consolidate and negotiates partnerships, design requirements, detailed feasibility and development of the operations and governance structures for the facility and the
(ii) Design and documentation for the development of the Zero Hub buildings, as per the specs developed from the first consultancy.

This facility can be a catalyst to put the regions on the map for resources and energy, as identified by industry when doing our industry planning for O2N. Our focus is to drive innovation, collaboration and advancement in the resources, energy and construction sectors. It is intended that the facility be based on strong partnerships between industry, governments, education providers, researchers, and the community, and enable strong collaboration is critical in shaping the future of the METS and resources sector not only in the region but internationally.

The facility will build on and support the activity occurring across the region; including the establishment of the renewable energy zone, the critical minerals hub and the efforts by industry to move towards zero emissions production.

Development of a Business Case to Undertake a Transport Study for the Golden Highway. 

The NSW Government have funding available for business cases, and RDA Orana are planning to seek funding to update and expand the study done in 2013/14 to include rail and air as well as road; to take into account new projects including Inland Rail, mining and renewable energy developments.

RDA Orana know that studies are being done by NSW Transport but feel that this study will plug any gaps and enable their local Government partners and them to advocate for improvements. It will also take into account three modes of transport between the two regions and the flow of goods both from the Orana as well as the flow of goods from the Hunter.

Letters of support were provided to RDA Orana to support the two projects on the basis that member Councils will benefit by the projects.

Resources for Regions


Steven Wills – Executive Director, Kirstan Fulton – Director & Lana Hall – Program Manager from Department Regional NSW updated delegates on Round 9, Resources for Regions $140m program at the 2nd September meeting, details have been distributed to Councils with closing dates end of September for applications.

There are still concerns delegates have with the criteria for Round 9, so delegates resolved that MERC engage Oz Environmental (Warwick Giblin) in collaboration with the Executive Officer and Executive Committee, to prepare a submission with relevant case studies of affected members, to Hon Paul Toole, Minister for Regional NSW & Deputy Premier and forward a copy to the NSW State Government Opposition and Minor Party Leaders on:-

reviewing the current methodology used for Round 9 Resources for Regions program in order to address the inequities with the current "eligible criteria list of Local Government Areas (LGA's)" in relation to LGA's being neighbours of active mining developments and employment location anomalies but are not currently eligible for funding, albeit significantly affected;
implementing legislative changes to ensure that all State Significant Developments for mining and developments require the proponent to develop Planning Agreements in consultation with affected LGA's that neighbour active mines;
the establishment of a working party consisting of MERC delegates, MERC's consultant and Regional NSW to undertake input into (a) & (b).

Royalties for Rejuvenation


Steven Wills – Executive Director, Department Regional NSW took the opportunity to update delegates on the Royalties for Rejuvenation program to establish expert panels paying $5000k meeting fees to participate. Delegates had some concerns about the establishment of the panel and who was to be appointed to it. Consequently, it was resolved that MERC write to the Hon Paul Toole, Minister for Regional NSW & Deputy Premier (with a copy to go to the NSW State Government Opposition and Minor Party Leaders) to:

express MERC's disappointment with the exclusion of current Mayors and Councillors on the recently established Royalties for Rejuvenation Expert Panels when our delegates who consist of experienced elected persons that come from mining related LGA's who would have the expertise sought for the panels;
consider the appointment of relevant delegates from MERC such as the Executive Officer and/or other senior staff delegates to the regional Royalties for Rejuvenation Expert Panels and reimburse expenses for them to attend accordingly.
(c) OTHER MATTERS OF INTEREST – COAL & RENEWABLE ENERGY
'Crunch Time for Grid: More Wind, Solar, Storage and Links Urgently Needed Before Coal Exodus" Giles Parkinson, 31st August 2022, Renew Economy writes: The Australian Energy Market Operator has placed an "urgent" sign on the need for new wind, solar and storage capacity, and new transmission links, to help cope with the anticipated mass exodus of another five coal generators before the end of the decade.
AEMO, in its annual assessment of potential future market deficits known as the Electricity Statement of Opportunities (ESOO), says there is more than enough capacity in the pipeline to meet Australia's electricity needs as coal retires, but not enough of this new capacity has reached the "committed stage."
At least not yet. And its concerns are amplified by the threat of delays to projects, including the new Project Energy Connect link between South Australia and NSW, which already appears to be running one year late. AEMO notes that there is 7.3GW of what it calls "committed" generation, and another 3.4GW – mostly wind, solar and battery storage" – of what it calls "anticipated" projects.
Strangely, these include some projects, like the Torrens Island battery in South Australia and the country's biggest wind farm at MacIntyre in Queensland, that have visibly already started construction. If this "anticipated" capacity is built – as most people expect they would be – then there are no short-term issues with grid reliability, apart from the risk of more extreme weather events and failing coal and gas generators.
With these assets, and added transmission lines, the threat of breaching the new, tighter, "interim reliability standard" is pushed out to the end of the decade. Still, AEMO wants more capacity in anticipation of even more rapid closures of ageing thermal capacity and to mitigate further delays.
It's important to note here that AEMO takes a very conservative view of what is "committed" and what is "anticipated". Even its anticipated list does not include the detailed NSW and Victoria government plans for their respective renewable roadmaps, including their auctions planned for new renewable energy zones. That's one of the problems with the ESOO. It is designed to inform the market where the best investment opportunities lie, but is often used for headlines that scream "blackouts" on the assumption that this investment does not occur.
One of the reasons some projects have not been committed is the uncertainty surrounding the design of market rules, although the change of federal government, its commitment to 82 per cent renewables by 2030, and the injection of environment and emissions into the national electricity objective, should smooth the path.
AEMO notes that its Integrated System Plan identifies some 45GW of new wind solar and "firming" investment that will be required to deal with the anticipated exit of most of the country's coal generators, and it wants the market to get a move on, both with new generation and new transmission links. "The report reiterates the urgency of progressing generation, storage and transmission developments to maintain a secure, reliable and affordable supply of electricity to homes and businesses," AEMO CEO Daniel Westerman said in a statement.
"Forecast reliability gaps have emerged across NEM regions due to considerable coal and gas plant closures, along with insufficient new generation capacity commitments needed to offset higher electricity use."
But Westerman makes it clear that "should the 3.4GW of anticipated generation and storage projects, alongside ISP actionable transmission projects, be delivered to their current schedules, then reliability standards would be met in all regions of the NEM until later in the decade when more large thermal generators exit."
These "anticipated" projects include the huge, and already financed and contracted, Riverina big battery, the 104MW Karara wind project which is part of the massive 1GW MacIntyre project that has actually begun construction, the MacIntyre project itself, and the Tailem Bend battery that is about to begin construction.
Others on the "anticipated" list include the 250MW Torrens Island battery that has also begun construction, and EnergyAustralia's announced Wooreen battery that is also about to begin construction.
Westerman notes there is a much bigger proposed pipeline of 113GW of variable renewable energy (VRE) and 53GW of dispatchable resources (including battery, pumped hydro, and other technologies) that demonstrate the opportunity for the market to respond to any emerging reliability gaps.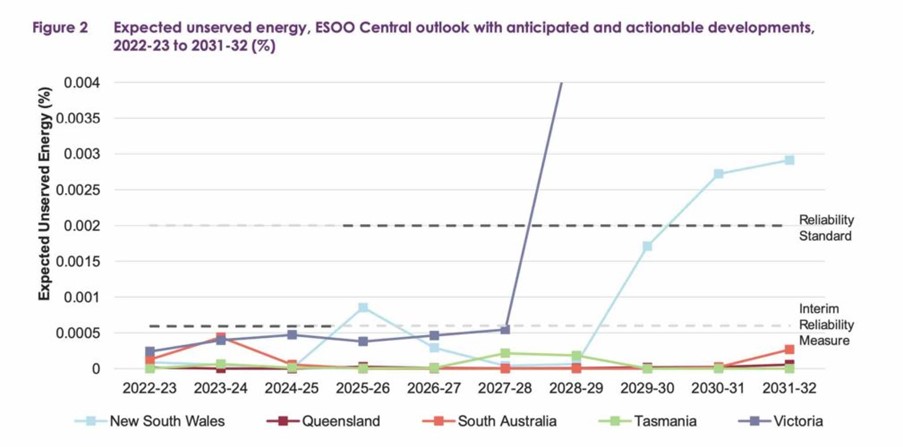 This graph above illustrates the forecasts for reliability, assuming that the "anticipated projects" do go ahead. There is a blip above the interim reliability measure in NSW in 2025, around the time that the country's biggest coal fired generator Eraring is scheduled to retire. That may explain the NSW government's recent decision to tender for around 400MW of "firming capacity" to ensure that the major load centres are properly serviced.
Victoria is forecast to test reliability standards once Yallourn closes in late 2028, and NSW again at the end of the decade as Vales Point retires. But both state governments have put in plans – offshore wind in Victoria, an infrastructure roadmap in NSW – that the ESOO document does not recognise as "anticipated."
Still, Westerman says the grid cannot afford any more delays. The report also notes the likelihood that demand will actually increase in coming years as electrification becomes commonplace in homes and businesses, and as the uptake of electric vehicles also accelerates.
"One Skill Shortage More Than any Other is Holding Back the Race to Net Zero"
 Dr Bjorn Stumberg* writes: "The race to create zero carbon economies is heating up dramatically in 2022. This is a race to not only secure a safe climate but also to secure prosperity in this century's global economy. Australia has finally clocked that this is, in fact, a race, and is getting into gear. Enviably, as the lucky country, we have the head start of an abundance of renewable energy resources – solar and wind – and minerals critical for the production of batteries.
But transforming the economy requires skills as well as raw resources, and here Australia has a shortage and is losing ground to intense global competition. In this week's Jobs and Skills Summit the federal government will test their coalition building skills at the table with business and union leaders to tackle skills shortages across many sectors, including 'future industries'.
While there is a multitude of pressing skills shortages, I believe that one skill stands out as critical to Australia's future prosperity: that skill is flexibility. Flexibility is central to both the transformation process and to many of the services in the new economy, making it a central theme in my new book, Amy's Balancing Act – a tale of clean energy and the power of diversity. To illustrate the role of flexibility, let's consider the electricity system, which is at the forefront of decarbonisation and  emblematic of the transformation of old industries.
The electricity system of the 20th century was grounded in assertions of secure fuel supply and centralised control focused on stability and maintenance of long term assets. This slow pace of change was instilled in the communities, trades, engineers, operators and regulators supporting the system.
But over the past twenty years the pace of change has been accelerating dramatically. Last year power from solar panels and wind turbines made up almost a quarter of Australia's electricity generation, and for a week provided 100% of South Australia's demand. What's more, Australia's solar power comes more from our roofs than solar farms, undermining the approach of centralised control and creating a new way for customers to engage with the system.
Looking a mere 7.5 years ahead to 2030, the target is for 82% of electricity to come from renewables. As highlighted in today's ESOO report from AEMO, this change is even greater than it sounds once you factor in the electrification of appliances and sectors adding to electricity demand. So how does flexibility play into this?
On the engineering front, flexibility in generating (and drawing) power is becoming the most valuable capability in the energy market. This is why BlackRock, and most major energy companies, are investing billions into batteries that are incredibly flexible in responding to changes in supply/demand balance. But technology flexibility is only a small part of system flexibility. More important is the flexibility of the people using and managing the system. 
This human flexibility is a skill deserving comparable investment. An immediate priority is fostering flexibility within the trades that are building the new energy system. This is vital for keeping up with rapidly evolving technologies and facilitating retraining from declining industries.
Similarly, rapid changes demand flexibility from the staff within the energy market bodies (who play the protagonist role in Amy's Balancing Act), market participants, and planning and policy departments.
And as consumers of electricity, we will all be asked to flexibly adapt our usage to match weather patterns – particularly through power hungry and easily automated appliances such as water and space heaters and electric vehicles. The switch in electricity prices to now being cheaper during sunlight hours than overnight is an early example of this.
These are just a few examples, from a single sector, of how flexibility is the defining skill of the future economy. By investing in flexibility – and embracing the related power of diversity more broadly – Australia will have the natural and human resources to ensure our ongoing prosperity in a zero emissions world."
*Dr Bjorn Sturmberg is Research Leader in the Battery Storage and Grid Integration Program at the Australian National University and author of Amy's Balancing Act, published by Little Steps Publishing.
Heat pumps can cut your energy costs by up to 90%. It's not magic, just physics" Article written by Allan Pears, Senior Research Fellow RMIT University, Melbourne 8th September 2022 :"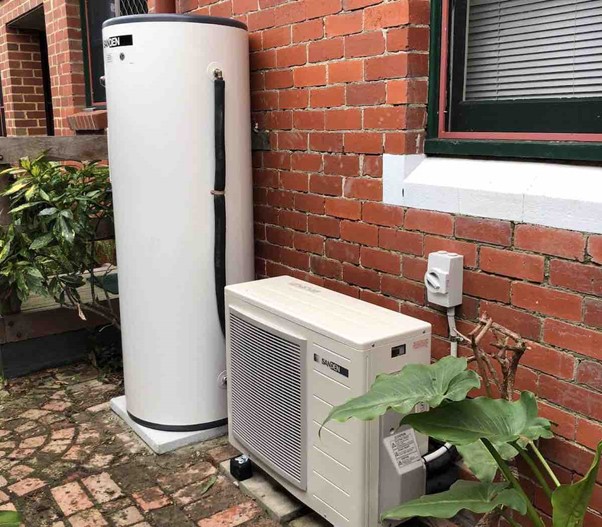 Heat pumps are becoming all the rage around a world that has to slash carbon emissions rapidly while cutting energy costs. In buildings, they replace space heating and water heating – and provide cooling as a bonus.
A heat pump extracts heat from outside, concentrates it (using an electric compressor) to raise the temperature, and pumps the heat to where it is needed. Indeed, millions of Australian homes already have heat pumps in the form of refrigerators and reverse-cycle air conditioners bought for cooling. They can heat as well and save a lot of money compared with other forms of heating!
Even before the restrictions on Russian gas supply, many European countries were rolling out heat pumps – even in cold climates. Now, government policies are accelerating change. The United States, which has had very cheap gas in recent years, has joined the rush: President Joe Biden has declared heat pumps are "essential to the national defence" and ordered production be ramped up.
The ACT government is encouraging electrification of buildings using heat pumps, and is considering legislation to mandate this in new housing developments. The Victorian government recently launched a Gas Substitution Roadmap and is reframing its incentives programs towards heat pumps. Other states and territories are also reviewing policies.
1.1.1     Just how big are the energy cost savings? Relative to an electric fan heater or traditional electric hot water service, I calculate a heat pump can save 60-85% on energy costs, which is a similar range to ACT government estimates. Comparisons with gas are tricky, as efficiencies and energy prices vary a lot. Typically, though, a heat pump costs around half as much for heating as gas. If, instead of exporting your excess rooftop solar output, you use it to run a heat pump, I calculate it will be up to 90% cheaper than gas.
Heat pumps are also good for the climate. My calculations show a typical heat pump using average Australian electricity from the grid will cut emissions by about a quarter relative to gas, and three-quarters relative to an electric fan or panel heater.
If a high-efficiency heat pump replaces inefficient gas heating or runs mainly on solar, reductions can be much bigger. The gap is widening as zero-emission renewable electricity replaces coal and gas generation, and heat pumps become even more efficient.
1.1.2     How do heat pumps work? Heat pumps available today achieve 300-600% efficiency – that is, for each unit of electricity consumed, they produce three to six units of heat. Heat pumps can operate in freezing conditions too. How is this possible, when the maximum efficiency of traditional electric and gas heaters is 100%, and cold air is cold?
It's not magic. Think about your fridge, which is a small heat pump. Inside the fridge is a cold panel called an evaporator. It absorbs heat from the warm food and other sources, because heat flows naturally from a warmer object to a cooler object.
The electric motor under the fridge drives a compressor that concentrates the heat to a higher temperature, which it dumps into your kitchen. The sides and back of a typical fridge get warm as this happens. So, your fridge cools the food while heating the kitchen a bit.
A heat pump obeys the laws of thermodynamics, which allow it to operate at efficiencies from 200% to over 1,000% in theory. But the bigger the temperature difference, the less efficient the heat pump is. If a heat pump needs to draw heat from the environment, how can it work in cold weather? Remember your fridge keeps the freezer compartment cold while pumping heat into your kitchen. The laws of physics are at play. What we experience as a cold temperature is actually quite hot: it's all relative.
Outer space is close to a temperature known as absolute zero, zero degrees Kelvin, or –273℃. So, a temperature of 0℃ (at which water freezes), or even the recommended freezer temperature of -18℃, is actually quite hot relative to outer space. The main problem for a heat pump in "cold" weather is that ice can form on its heat exchanger, as water vapour in the air cools and condenses, then freezes. This ice blocks the air flow that normally provides the "hot" air to the heat pump. Heat pumps can be designed to minimise this problem.
1.1.3     How do you choose the right heat pump for your home? Selecting a suitable heat pump (more commonly known as a reverse-cycle air conditioner) can be tricky, as most advisers are used to discussing gas options. Resources such as yourhome.gov.au, choice.com.au and the popular Facebook page My Efficient Electric Home can help. All household units must carry energy labels (see energyrating.gov.au): the more stars the better. The independent FairAir web calculator allows you to estimate heating and cooling requirements of a home and the size needed to maintain comfort.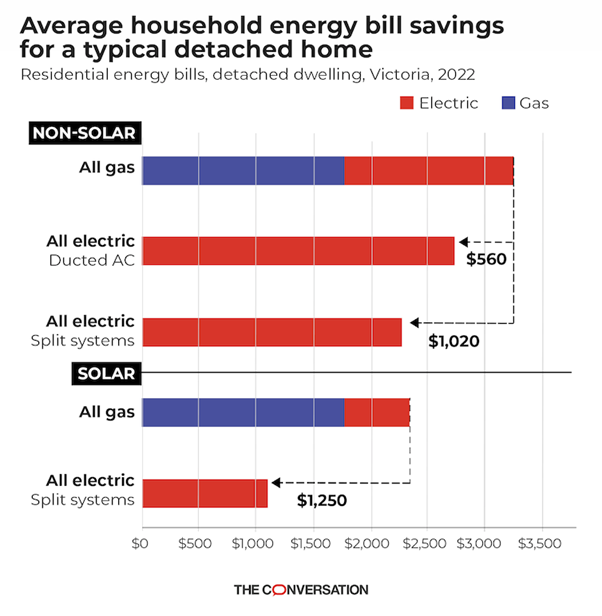 Data: State of Victoria Gas Substitution Roadmap 2022, CC BY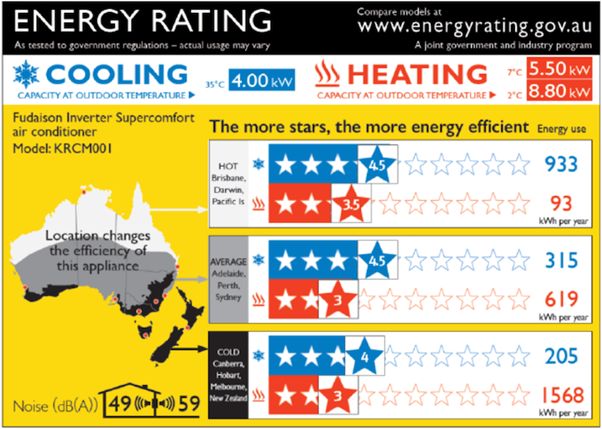 The government is phasing in this climate zone label to replace the old star rating label on reverse-cycle air conditioners.  Unfortunately, the phase-in is slow, so many products still do not show climate related differences. Bigger heat pumps are more expensive, so unnecessary oversizing can cost a lot more. Also, insulating, sealing drafts and other building efficiency measures allow you to buy a smaller, cheaper heat pump that will use even less energy and provide better comfort.
When using a heat pump, it is very important to clean its filter every few months. A blocked filter reduces efficiency and the heating and cooling output. If you have an older heat pump that no longer delivers as much heat (or cooling), it may have lost some refrigerant and need a top-up"
This article is republished from The Conversation under a Creative Commons license. Read the original article.
Disclaimer The comments and details in the articles in this newsletter do not reflect the views, policies or position of the Association or its member Councils and are sourced and reproduced from public media outlets by the Executive Officer to provide information for members that they may not already be exposed to in their Local Government areas
Contacts
Clr Michael Banasik (Chair) michael.banasik@wollondilly.nsw.gov.au  0425798068 or Greg Lamont (Executive Officer) 0407937636, info@miningrelatedcouncils.asn.au.