Introduction
Delegates, here is the August MERC Newsletter, held back until some clarity has been received from the State Government on Covid lockdown arrangements. Please circulate the Newsletter to your fellow Councillors and senior staff, so they can appreciate and understand the excellent work the Association and you are doing on behalf of your Council and community, with regard to mining and energy related matters.
Executive Committee Appointment
Cr Jim Nolan, Broken Hill City Council, has been appointed to the MERC Executive Committee after expressions of interest were called to replace Cr Sue Moore. Jim has been on the Executive Committee before and is a long serving delegate with many years of experience in dealing with mining and energy related matters. Next meeting of the Executive Committee will be by zoom on 13th October 2021 commencing at 9am.
Cr Jo McRae Resigns from Orange City Council
Cr McRae has resigned from Local Government and will be missed as a delegate from Orange City Council at MERC meetings in view of per participation in debating issues in an objective and thoughtful manner and her interests in mining and energy related matters affecting regional communities. Cr McRae was also a major driver in the working party established to review the Strategic Plan and the development of actions in the MERC Strategic Plan 2020-23. All delegates wish Jo well in her future endeavours.
COVID-19 Virus Impact on MERC
The NSW Government continues to work very closely with Councils to support communities across the state in response to COVID19 and the changing hotspots. At this stage, given the regional areas are in the spotlight hopefully with the use of contact tracing, masks, sanitiser, social distancing & QR codes in place, the Orange meeting on 15th October 2021 will be a normal face to face meeting with zoom option in case any members are still in lockdown.
Unless there is a more drastic Covid interruption, the meeting will proceed to encourage attendance in person, for networking and to farewell some longstanding delegates.
Local Government Elections Postponed
The State Government has postponed the Local Government Elections by three (3) months until 4 December 2021 at this stage, then it is a matter for the NSW Parliament to consider whether it proceeds or is postponed to next year, if there is a further change.
The Electoral Commission has indicated that it will be unable to conduct elections by electronic means this time around (which was an option previously mooted  by the Minister for Local Government to reduce the pre poll voting process as a Covid control measure), due to a lack of resources and time.
This decision to postpone the Council elections poses a lot of complications for the implementation of statutory requirements associated with electing and inducting a new Council over Christmas and January and the appointment of delegates to various entities such as MERC that would normally occur after the elections in September each year.
Next Meetings for the Association in 2021
The Ordinary meeting on 15th October 2021 will be the last meeting for the year when the AGM will be held and delegates are appointed. If the Council election is held in December or in 2022 and there are any changes to delegates elected to the Executive Committee not being re-elected or standing, then the Chair/Executive will deal with the situation as per the constitution.
Hopefully, the meeting on 15th October 2021 will be held in Orange Ex Services Club Auditorium under Covid controls with social distancing, masks, QR code, sanitising, etc. You may recall MERC was going to Orange last year and this year, but Covid caused a change of plans then whereby the meeting location was cancelled and a virtual meeting held.
Whilst the Orange Ex Services Club is currently closed during lockdown, in discussions with the events staff this week, they have booked the restaurant and meeting rooms for MERC subject to being able to open on 14/15th October 2021.
It is proposed that the Executive Committee will have a teleconference meeting on Wednesday 13th October 2021 at 9am and minutes distributed before the meeting on 15th October 2021 and if a face to face meeting is to be held on 15th October and the lockdown is still in force then our AGM and Ordinary meetings will have to be conducted virtually in isolation which creates some issues which are not insurmountable.
Regarding accommodation if not already booked, when you do mention the MERC meeting is being held in the Orange Ex Services Club's on 15th October 2021 as the Mercure Motel is part of the club and is located next door to the club (ph 02 63625611 situated at 94 Byng St, Orange). Across the road is the Town & Country Motel and de Russie Boutique Hotel around the corner in Hill St.
A networking dinner and tour of the Water Management Systems in Orange City Council region beforehand with the Director of Engineering on 14th October 2021 is being arranged.
RDA Orana Proposal
Delegates on 30th July 2021 considered a membership proposal from Orana RDA to be part of the Orana Opportunity Network (ON2) and participation in the UNSW Research Project on the Economic Impacts of Mine Automation in the NSW Orana Region and an offer to present at a future meeting.
MERC subsequently resolved to confirm the request from the CEO and Director Regional Development to present the proposals to the next meeting of MERC in Orange on 15th October 2021.The CEO has indicated that RDA Orana Chair and CEO will present to MERC on 15th .
Minister for Planning & Public Spaces
The Hon Rob Stokes, Minister for Planning & Public Places has indicated he is able to address delegates virtually on 15th October 2021 on reforms undertaken by the State Government in recent times, particularly those that affect regional councils and communities eg Rapid Assessment Framework and recent proposed changes to the contributions system, is one area of interest, as outlined below:-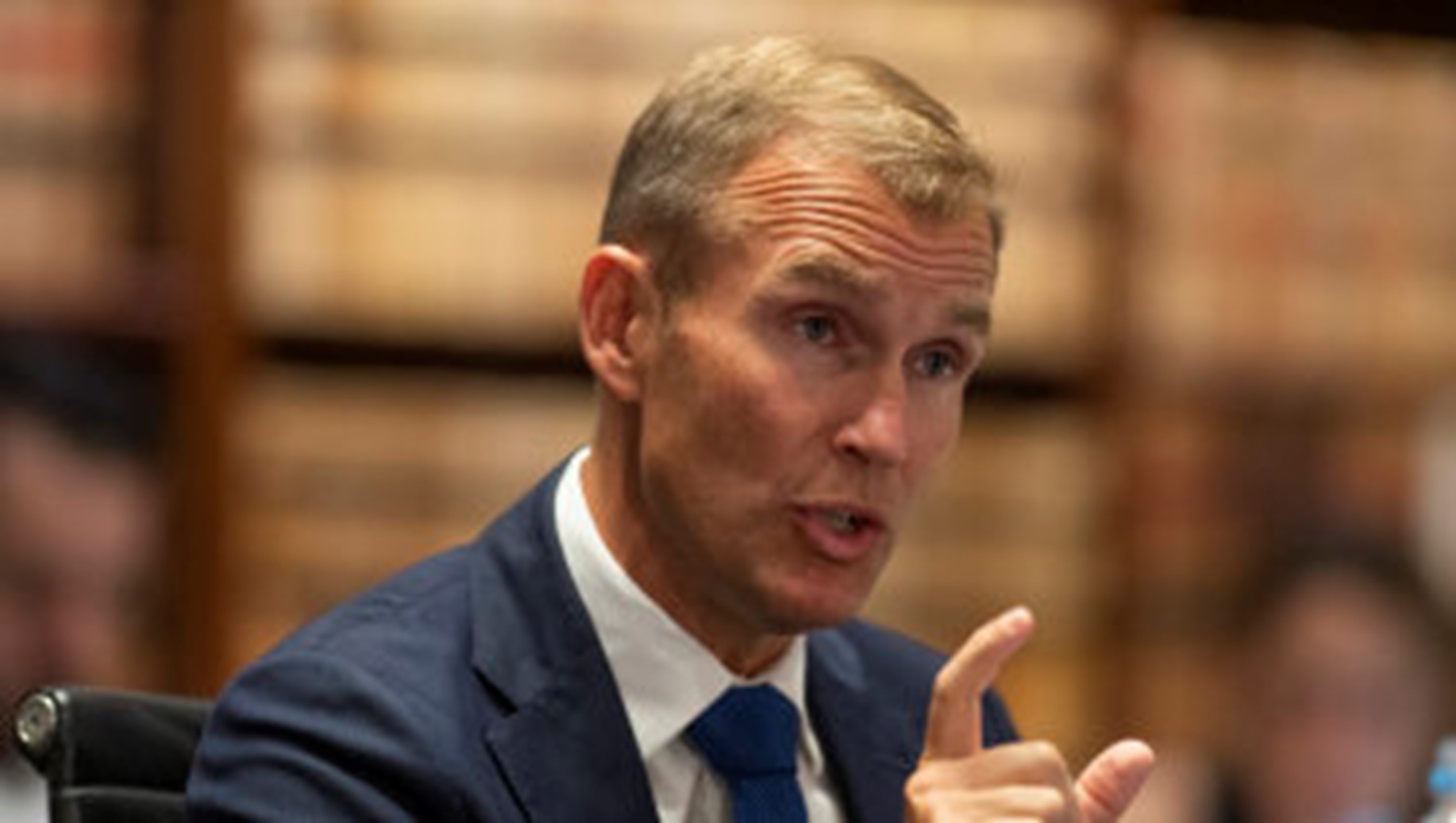 Sydney Morning Herald, article by City Editor, Matt O Sullivan, on this date 11th August 2021:-
"NSW Planning and Public Spaces Minister Rob Stokes has warned that delays to a shake-up of developer levies will lead to communities missing out on new local roads, parks and other vital infrastructure.
The state government's plans for an overhaul of developer contributions to help pay for community infrastructure projects have been dealt a blow after a NSW upper house committee called for a halt to new laws until the full extent of the changes has been fleshed out.
Sydney councils have voiced concerns that a shake-up of developer levies will deny them funds for community projects. While he accepted the committee's recommendation, Mr Stokes said the longer the overhaul was delayed, the "longer we miss out on the infrastructure necessary to support future growth. The only contributions system that would equally delight all stakeholders is one where councils receive a lot of money and landowners contribute no money," he said. "That would leave the entire infrastructure bill with the general taxpayer, which would be entirely unfair and unacceptable."
Mr Stokes, who needs the support of Labor or minor parties in the upper house to pass the laws, said the importance of the proposed changes could not be understated, warning the existing system was "opaque, inefficient and does not deliver the infrastructure that the people of our state deserve. We knew this reform wouldn't be easy, which is probably why it was in the too-hard basket for so long," he said.
The upper house committee's advice to halt the legislation's passage through Parliament until draft regulations have been developed and released for consultation comes after councils demanded last month that it be withdrawn. The peak body for councils in NSW welcomed the committee's stance and reiterated that local governments were "absolutely opposed" to changes that potentially left communities worse off. "Dealing with developer contributions in NSW needs to be managed with more transparency, not less," Local Government NSW president Linda Scott said.
"It's important that members of the Liberal, National, Labor and Greens parties, alongside members from a range of minor parties, all came to one view – that developers shouldn't be given a free kick." Councils have been concerned that the proposed changes will reduce the type of community projects eligible for funding from developer levies and give the Planning Minister greater discretion over where funds are spent.
They also fear plans to pool developer contributions into regional funds gives no guarantees the money will be funnelled back into projects in areas where levies had been collected.
Greens MP Cate Faehrmann, who chaired the committee, said a key concern was the lack of detail in the bill, which made it impossible to determine whether it would have a positive impact. "These are significant reforms … and we want to see that they are done right," she said.
Developer lobby group Urban Taskforce said the recommendation to defer the draft legislation was "disappointing, but unfortunately inevitable. It is not surprising that the bill is seen to be not ready to progress given the lack of detail available," Urban Taskforce chief executive Tom Forrest said.
But the NSW branch of the Urban Development Institute of Australia, which represents the property industry, said the "last thing the industry needs" was more uncertainty from the NSW Legislative Council on reforms to infrastructure contributions. "This will exacerbate the housing supply and affordability crisis across the state," president Steve Mann said.
CRC for Transformations in Mining Economies (CRC TiME)
MERC is a partner with CRC TiME on a no cost but consultative basis. They have webinars and workshops on their progress with the CRC establishment and their collaboration efforts. The most recent activity is a survey on post mining impacts on communities, networking gatherings on east and west coast and have set up an in kind register portal for MERC to join.
As relevant activities present, delegates will be kept informed on them for participation. The latest is an invitation for the Executive Officer to be involved in a teleconference briefing as follows:
"CRC TiME recently launched the 2021-2024 Research Prioritisation Plan (RPP) and formally opened the next phase of project development with online project idea submission. Through this process we aim to build collaborative projects that address the strategic challenges and opportunities that will underpin a transformation in mine closure and post mine transitions. Projects will need to step through three stage gates and the CRC will be actively supporting engagement through these stages to refine, join and support project ideas.
We invite you to attend a briefing by our new Research Director Prof Tom Measham and CEO Dr Guy Boggs on the priorities noted in the RPP and discuss how you can contribute and participate in the development of our next investment".
Strategic Plan 2020 – 2023
The Strategic Plan 2020-23 Strategic Directions, Deliverables and Actions were adopted by delegates at the Ordinary meeting on 27th November 2020 and is full of new strategies to be implemented  over the next three years which will hopefully help with membership growth and involvement of members. It is on our web page for reference.
LGNSW Special Conference 28th February – 2 March 2022
The LGNSW AGM and Conference will be broken into two parts being on 29th November 2021 (for the Annual Conference where the AGM to be conducted virtually) and February/March 2022 (Special Conference for the debating of motions, trade displays, workshops and conference speakers that MERC will attend with trade display).
Renewable Energy Zones
Recent reference group meetings for the Central West Orana REZ is on 2nd September 2021 and the New England REZ on 24th August 2021. Details from the meetings will be distributed under separate cover. For more information about NSW REZs please visit www.energy.nsw.gov.au/renewable-energy-zones or email rez@planning.nsw.gov.au.
Related Matters of Interest – Mining and Energy Issues
"DPIE Long Term Energy Service Agreement Design Consultation Paper"
The DPIE recently released the Long-Term Energy Service Agreement (LTESA) Design Consultation Paper, as part of the implementation of the Electricity Infrastructure Roadmap. An online briefing session was held on 18 August 2021 to orient stakeholders to the consultation paper, further explain the design and seek initial feedback.  Consultation closes 10th September 2021. Provide feedback online here . 
This consultation paper outlines proposed design concepts and structural elements of long-term energy service agreements (LTESA) for the purpose of gathering feedback. LTESAs are a central element of the Electricity Infrastructure Roadmap (Roadmap) and will offer an option to access price guarantees for eligible generation, long duration storage and firming projects.
The terms and conditions for each proposed LTESA design concept are discussed broadly under two categories: price terms and legal/ project terms. Questions relating to the proposed LTESA design concepts are set out in this paper – we encourage stakeholders to provide their feedback. Consulting on policy design and key implementation matters is an important part of the Department of Planning, Industry and Environment's Roadmap implementation strategy.This consultation paper outlines proposed design concepts and structural elements of long-term energy service agreements (LTESA) for the purpose of gathering feedback. LTESAs are a central element of the Electricity Infrastructure Roadmap (Roadmap) and will offer an option to access price guarantees for eligible generation, long duration storage and firming projects.
The Department has adopted a structured approach to seeking feedback through a series of papers on key policy areas. Since February the following papers have been released for consultation:
Central-West Orana Renewable Energy Zone Access Scheme Issues Paper;
Tranche two regulations to support the Electricity Infrastructure Roadmap Issues Paper (PDF 805KB);
Long Term Energy Services Agreement Design consultation paper1 (this paper).
The next phase of stakeholder engagement includes a series of papers that cover the policy detail within each of the substantive parts of the Electricity Infrastructure Investment Act 2020 (EII Act). These papers will provide policy context for each of the parts of the EII Act including how LTESAs fit into the broader framework of the Electricity Infrastructure Investment Safeguard.
The Department is developing further papers for stakeholder feedback including on administrative detail (e.g. on Tender Rules) and draft statutory instruments (e.g. a draft Central-West Orana REZ Declaration).
Purpose of this consultation paper This consultation paper intends to guide readers through key design concepts and structural elements of LTESAs. The terms and conditions for each proposed LTESA design concept are discussed broadly under two categories:
Price terms – the structural and commercial features that directly impact calculation of settlement cash flows such as: the derivative put option structure, fixed price, option length, repayment mechanism, and the contract volume and shape.
Legal and project terms – terms that impact projects' weighted average cost of capital, risk allocation and project development such as: pre-financial close interim milestones, conditions precedent, sunset dates, bonding, sharing of project cost reductions and change in law.
This paper does not provide extensive detail on potential designs or terms for the LTESA for firming projects, on the basis that learnings related to the long duration storage LTESA design will help to inform the design of the firming LTESA. We welcome your views on key considerations on the firming LTESA design and may consider further consultation in the future.
Overview of LTESAs
LTESAs are a central element of the Roadmap and will offer an option to access price guarantees for eligible generation, long duration storage and firming projects. LTESAs are option contracts intended to achieve the following objectives:
incentivise investment in New South Wales by providing a protection mechanism against low wholesale electricity prices
protect the financial interests of NSW electricity consumers by supporting sufficient (but not excessive) generation, long duration storage and firming projects Long-Term Energy Service Agreement Design NSW Department of Planning, Industry and Environment | CM9 Record Number | viii
encourage projects' participation in the National Electricity Market and wholesale contracts markets such as Power Purchase Agreements and markets that emerge as a result of the Energy Security Board's post-2025 review process
achieve an efficient risk allocation between projects and NSW electricity consumers. The outcome of an efficient risk allocation is expected to be investors providing low-cost capital to fund projects
be highly coordinated with the rollout of REZs and access rights for them. It is anticipated that projects will generally obtain both REZ access rights and LTESAs if they wish to build in a REZ.
The intention is that these will be allocated through a single tender process, the aim being to reduce and simplify processes and ensure an integrated experience for investors. LTESAs will be available to projects outside the REZ but must show outstanding merit.
LTESAs will be awarded periodically through competitive tender. Subject to the targets and requirements set out in the EII Act, the amount of generation and long duration storage capacity that is ultimately tendered, and the timing of those tenders, is a decision for the independent Consumer Trustee.
The Consumer Trustee will only conduct competitive tendering for firming LTESAs if directed by the Minister in accordance with the EII Act, and the Minister can only issue such a direction if the Energy Security Target Monitor considers the energy security target will not be met. Background Electricity Infrastructure Roadmap
The Electricity Infrastructure Roadmap (Roadmap) sets out an integrated, whole of system approach to attract and secure investment in the electricity infrastructure necessary to deliver a modern electricity system for New South Wales. The Roadmap will be implemented according to the framework provided by the EII Act.
Three-quarters of the State's electricity supply is expected to reach the end of its technical life within the next 15 years. Replacing the retiring plants creates significant risk to electricity prices and energy security outcomes for New South Wales.
To protect NSW electricity consumers and the state's economic prosperity from these risks, the NSW Government has established the Roadmap as a framework to support private sector investment in the needed generation, long duration storage and firming infrastructure. The Roadmap will deliver at least five REZs across New South Wales, which will enable 12 gigawatts of renewable energy generation capacity to be constructed by 2030. Two gigawatts of long duration storage will also be constructed by 2030.
By connecting multiple solar farms, wind farms and energy storage projects, REZs enable a planned approach to infrastructure development, while fostering local community support. REZs also capitalise on economies of scale so the electricity generated is more affordable.
The Department's role during this consultation phase The Department is supporting the establishment of the Consumer Trustee. As part of this establishment support, the Department is undertaking preparatory or preliminary work to facilitate the Consumer Trustee's early activities. This support is expected to continue while the establishment for the Consumer Trustee is ongoing. Ultimately, the independent Consumer Trustee will have sole discretion on the final structure of the LTESA, within the constraints of the legislation. The LTESA terms and conditions and tender processes are likely to develop and evolve over time.
The definition of outstanding merit and the assessment methodology are expected to be discussed as part of the consultation on the LTESA tender design"
"Australia's Biggest Renewable's Owner Plans Huge Wind & Storage Projects" article by Giles Parkinson, Renew Economy, 3rd August 2021:  "Australia's largest renewable energy operator is planning major investments in massive wind farms in New South Wales, and is also looking at a handful of big battery and other storage projects.
Powering Australia Renewables on Monday completed the takeover of Tilt Renewables' Australian assets, delivering it a 50 per cent boost in operating wind and solar farm capacity and a development portfolio of more than 2.2GW.
CEO Geoff Dutaillis expects the first major investment decision – on the 396MW Rye Park project north of Yass in NSW – to occur within the next month or two, given that the project already has a deal with Newcrest Mines to take much of the output. Rye Park will be the biggest in NSW to date, but an ever bigger project – the 1.3GW Liverpool Plains wind farm in New England – could follow, and will also likely include a hybrid element such as solar and storage.
"We're keen to get (Rye Park) over the line," Dutaillis told the latest edition of Renew Economy's Energy Insiders podcast. "It's no secret that New South Wales is an attractive region within the National Electricity Market," given the need to replace the state's ageing coal fleet and the state government's renewable infrastructure roadmap. We don't necessarily need the roadmap to get Liverpool across the line, but it gives us optionality to bring it forward in a different way and make it bigger. We are very focused on it not just being in a big wind farm. We need to get storage and flexibility capability into the portfolio."
PowAR is also considering its first move into Western Australia, with the 108MW Waddi wind and solar farm, and it has a 410MW wind project at Palmer, about 50kms east of Adelaide in South Australia that it is also looking to get across the line. Dutaillis says storage is also a key focus. "We want to move into supplying firm green electrons at a cost competitive price. So that brings with it the need to get storage into the portfolio, we need to get flexibility capability in portfolio."
Potential battery storage investments include a range of battery storage possibilities in Victoria, and in Queensland next to the Coopers Gap wind farm, as well as at Liverpool Plains.
However, a proposed "behind-the-meter" battery next to the Snowtown wind farm in South Australia is on the back burner because the market rules make it too complex and difficult to be competitive.
But PowAR is also looking at tapping into other storage technologies, including solar thermal and compressed air storage that is currently subject to regulatory investment test at Broken Hill, and could help support its Broken Hill solar farm and Silverton wind farm, both of which have been held back by the limitations of the transmission network at various times. PowAR is 40 per cent owned by 40 per cent owned by the Queensland Investment Corporation and 40 per cent by the Fund, and AGL owns a 20 per cent stake.
Its operation assets also include the country's biggest operating wind facility, at Coopers Gap in Queensland (working up to 453MW), and from Tilt it also gets the 336MW Dundonnell wind project in Victoria, which is also working to full capacity. Dutaillis said PowAR shared the renewable energy industry's concerns about the proposals included in the Energy Security Board's redesign of market rules, particularly the introduction of "capacity" markets that have been championed by federal energy minister Angus Taylor.
"We're already seeing that the development of renewable projects in this country has stalled," Dutaillis said. "The evidence speaks for itself. In Q1 2021 just one project of 400 megawatts reached financial close. And I'm pretty certain that the data that comes out next week from Clean Energy Council will be close to zero megawatts being financially committed. That's the lowest since before 2016. So that kind of tells you that these all of these hits that the industry is taking a dent in investor confidence."
Transmission and connections were also a key issue and needed new links to be built and the connections process to be improved. "One of my really big concerns, from a system perspective, is that we're not going to get there quick enough with that transmission and the new renewables (needed) to replace the coal retiring coal fleet," Dutaillis said.
"Vestas Secures Turbine Contract for Next Stage of Crookwell Wind Farm" Sophie Vorath, 3rd August writes in Renew Economy:- "Global wind giant Vestas has won the contract to supply and install the 16 turbines that will make up the 58MW Crookwell 3 wind farm, putting the New South Wales project on track to start generating power in late 2022.
In a statement on Tuesday, Vestas said it had been appointed by the wind farm's owner, Global Power Generation subsidiary Naturgy Group, to install 16 V126-3.4MW wind turbines and to maintain them over a 15-year period. The wind farm, which will be built in the Hume electorate of federal energy minister Angus Taylor, has not had an altogether easy passage, getting the green light in October last year after the NSW Land and Environment Court agreed to overturn a decision by NSW authorities to deny planning approval.
The NSW Land and Environment Court overturned the planning rejection initially issued by the NSW Independent Planning Commission, after a process of conciliation with the project's developers that saw the number of turbines reduced from an initial 23 to 16. The project will be located nearby to the 5MW Crookwell 1 project, which was the first wind farm to be established in New South Wales when commissioned in 1998 – also with Vestas turbines.
Global Power Generation has previously completed the 91MW Crookwell Stage 2 wind farm, the opening of which Taylor – a vocal anti-wind activist before he entered parliament – was unable to attend despite being the local member and minister for energy. Vestas said delivery of the wind turbines for Crookwell 3 was expected to occur in the second quarter of 2022, with commissioning to commence in the fourth quarter of that year. "Global Power Generation (Naturgy Group) is a globally valued customer to Vestas," said head of Vestas Australia and New Zealand, Peter Cowling. "We look forward to championing their ambitious vision of sustainability in Australia through the successful delivery of Crookwell 3 Wind Farm, and our remaining projects which are currently in progress".
"Amazon Contracted Solar Farm gets Registration from AEMO in Western NSW" Giles Parkinson, Renew Economy, 4th August 2021 writes: The 150MW Suntop solar farm has obtained its registration from the Australian Energy Market Operator (AEMO) and expects to begin "hold point" testing in coming days.
The news was released by contractor Bouygues, which announced on LinkedIn that its team had successfully completed first energy generation and received registration, "which means the solar farm is officially allowed to connect to the grid and has completed the first test on the existing network."Suntop is expected to be at full capacity by the end of the year, and has a long term contract for two thirds of its output with online retailing giant Amazon, which at the time was hailed as the biggest corporate power purchase agreement signed with a solar farm in Australia.
Owner and developer Canadian Solar also confirmed that Suntop – located about 10kms west of Wellington – had achieved its full generator exemption on July 23. "Energisation of the feeders back from the substation to the Inverters has progressed, along with the field hot commissioning works to the inverters and trackers," it said. "The Suntop Generator is scheduled to commence with Hold Point testing in early August. The project remains on schedule with target completion of all construction and commissioning activities in November 2021."
Amazon is also buying 60MW of output from in Canadian Solar's  110MW (ac) Gunnedah solar farm, also in New South Wales.
"More to Mining at Anglo American's Dawson Mine" Friends of Australian Mining Network, supported by Minerals Australia, August 2021, refer friends@minerals.org.au article: At Anglo America's Dawson coal mine in Central Qld, 165 ha of land has been fully rehabilitated and is being used by local farmers for cattle grazing.
Pit 25 – a former spoil dump and topsoil stockpile adjacent to the mine has been progressively rehabilitated since 2012 and now includes a water source and many thriving native pasture grasses and shrubbery. Cattle grazing trials conducted alongside rehabilitation show strong weight gain.
Read the full case study here: https://www.moretomining.com.au/case-studies/rehabilitation-at-anglo-americans-dawson-mine Read the MCA's media release here: https://www.minerals.org.au/news/mining%E2%80%99s-commitment-sustainability-showcased-new-campaign
Disclaimer The comments and details in the articles in this newsletter do not reflect the views, policies or position of the Association or its member Councils and are sourced and reproduced from public media outlets by the Executive Officer to provide information for members that they may not already be exposed to in their Local Government areas
Contacts
Clr Peter Shinton (Chair) peter.shinton@warrumbungle.nsw.gov.au 0268492000 or Greg Lamont (Executive Officer) 0407937636, info@miningrelatedcouncils.asn.au.