Introduction
Delegates, here is the Auguist MERC Newsletter, submitted to delegates in very different times to what it was several months ago for your information.
Please circulate the Newsletter to your fellow Councillors and senior staff, so they can appreciate and understand the excellent work the Association and you are doing on behalf of your Council and community, with regard to mining and energy related matters.
COVID-19 Virus Impact on MERC
The NSW Government is working very closely with Councils to support communities across the state in response to COVID-19. Consequently, there will be changes as circumstances alter that will affect MERC and members going forward due to the NSW Government's respective Ministerial Public Health Orders to implement controls as necessary to combat the COVID -19 Virus.
The MERC meeting held on 14th August 2020 was conducted as an Executive Committee meeting using zoom video conferencing through Forbes Shire Council after the connections through Warrumbungle Shire Councils' facilities did not eventuate as planned, with Chair and Executive Officer present in their chambers, with assistance from staff at the Council and Forbes Shire Council we got there in the end.
Two year terms for Executive Committee
MERC is to consider the Executive Committee being elected for two year terms and to clarify the wording in Clause 7.1 of the constitution on the composition of the Executive Committee on whether two from any one member Council can be on it, at a future Special General meeting of MERC.
Executive Committee currently comprises Chair, two Deputy Chairs and three other delegates with all to come from separate council areas and they are elected annually, however recent events have demonstrated the clause needs rewriting for clarity purposes.
At the Executive Committee meeting on 14th August 2020, it was agreed that the interpretation will be as follows until the Constitution wording is improved.
"it is understood that the position has always been that representation from as many separate members as possible be on the Executive Committee, unless there are not enough nominations, then multiple representation can occur".
Next Meetings for the Association in 2020
The locations/dates for meetings in 2020 were agreed to be held at Orange on 13/14th August and now in Blayney in November, however Orange meeting was cancelled. Hopefully Orange City Council are able to host a regional meeting in 2021.
The meeting on 14th August 2020 agreed that an Executive Committee meeting with be held by zoom on 20th November 2020 with Blayney to host the Ordinary, Special and Annual General Meetings on Friday 27th November 2020 to fit in with the LGNSW Conference and the request for delegates to have opportunity to particpate in the meeting as per normal.
Under the constitution, MERC is required to have one General Meeting (the Annual General) a year and as many other General (Ordinary) Meetings as the Executive Committee determine. It must have four Executive Committee meetings a year. Consequently it has been practice to have four Executive Committee meetings, four General (Ordinary) meetings after the Executive Committee, plus Special General meetings as required and one Annual General meeting a year.
Update on the Voluntary Planning Agreement
The Guidelines for VPA's and a VPA framework agreement (including scope and calculation methodologies) has now been agreed to by NSWMC & the MERC VPA Working Party. The aim was to have it endorsed by DPIE (in a way similar to that of the Blueprint for Renewable Energy that Northern JO's developed and was circulated by DPIE), put on their website and to be sent to members and all LGA's in NSW.
The Executive Committee were not happy with the approach that the VPA Framework Guidelines were not to be displayed on the DPIE website and resolved that it be pursued by the Executive Officer and to point out that this was already agreed to be done in the workshops MERC held with DPIE and NSW Minerals Council on developing the VPA Framework Guidelines.
Mike Young, DPIE, Executive Director, Planning & Assessments has now responded to the approach by the Executive Officer and indicated that this will occur and the VPA Framework Guidelines are to be displayed on the DPIE webpage. This is a great result for Local Government and our membership communities. The link is:
https://www.planningportal.nsw.gov.au/major-projects/assessment/policies-and-guidelines/key-guidance/social
Resources for Regions (R4R).
Details were recently released on Round 7 of the Resources for Regions Program as announced by the Deputy Premier, Hon John Barilaro, which was very well received by members, particularly the 24 eligible LGA's. Councils like Wollondilly were included as a regional entity and Singleton Council and Cobar Shire Councils were recognised with $4m plus grants. However there were some Councils that were not on the list that still had active mining or were affected in some way or the other and they were pursuing the government for clarity.
At the meeting on 14th August 2020 the Executive Committee on behalf of all members,  requested the Executive Officer write to the Deputy Premier to thank him and his atff for the review of the R4R and improving it to better suit mining impacted Councils. MERC also sought clarification on the program criteria as initially displayed to the working party there were 31 LGA's listed, however the final list was 24 and it wasn't clear the reasons for the reduction
The Executive Officer had discussions with DPIE, Regional NSW Deprtament, Executive Director Regional Programs, Johnathon Wheaton and his team recently and he provided the following clarification:
" Good to catch up with you today. As outlined on the Program website, several factors were considered in determining eligible LGAs for Round 7 of Resources for Regions. These included:
the LGA mining employment Location Quotient (LQ)
number of active mines in the LGA
level of mining activity in the LGA
funding previously received under the Resources for Regions program.
The employment Location Quotients (LQ) is based on place of employment in the ABS Census Place of Work data and is used as an indicator of the relative importance of, or reliance on, an industry or sector in an LGA or region compared with a reference economy. For the purposes of the Resources for Regions program, the whole of NSW is the reference economy (represented by an LQ of 1.0). As an indication, higher LGAs have an LQ over 40. For the examples you gave:
MidCoast LGA has a mining employment LQ of 0.90; mining activity is relatively low compared with other LGAs; and MidCoast LGA has not received funding under the previous six rounds of the Resources for Regions program.
Forbes Shire LGA has a mining employment LQ of 0.31; mining activity is relatively low compared with other LGAs; and Forbes LGA has not received funding under the previous six rounds of the Resources for Regions program.
Both Forbes Shire and MidCoast LGAs are eligible for all other Regional Growth Fund programs, receiving over $10 million (15 projects) and $17 million (62 projects) respectively so far.
It is standard practice that the Department will review mining data and other information prior to any future round of the Resources for Regions Program to consider any significant changes in the level and potential impact of mining in an LGA. We balance high transparency with strong probity and processes across all our programs – Resources for Regions is no different. There is a vast amount of information about the Program on the Resources for Regions webpage, and an especially long list of FaQs.
I hope this info is a useful follow on from our discussion today and happy to answer any other questions you might have. Will catch up soon".
Delegates are urged to look up the Guidelines and FaQs or approach the Regional NSW contacts in your regions for further details.
Membership Campaign
At the Ordinary meeting in Sydney on 5th  March 2020, it was agreed that MERC authorise the Executive Officer to develop and implement a marketing campaign in consultation with the Chair and relevant MERC membership staff to include pamphlets, notepads with "We are your voice – become a member" or suchlike on them for handouts, a banner indicating locality of members throughout NSW, a video to play on a laptop to link back to the webpage, set up a membership page on the website, etc to the value of $5000 plus take a stand at the LGNSW Conference in November 22-24, at Cessnock and do a presentation to the Country Mayor's Association at a future meeting.
Unfortunately, due to COVID 19, whilst a stand was booked for the LGNSW, this has been cancelled in its usual format and will now be a half day virtual conference, which doesn't suit an organisation like ours, relying on "face to face" conversation and relationship selling.
Discussions on the content of a membership web page and the marketing content with the principal of Cibis has occurred and has been written to suit the 2020-2023 Strategic Plan review changes. Volunteers to provide testimonials via video have been sourced at the August meeting with the Executive Officer to pursue them in due course once the scripts are finalised.
List of Speakers for future meetings of MERC
MERC will be continually pursuing the following speakers for future meetings with The Greens now listed:
Hon Rob Stokes, Minister for Planning & Public Spaces, Liberal Party;
Hon Matt Kean, Minister for Energy & Environment, Liberal Party;
Hon John Barilaro, Deputy Premier, Minister for Regional NSW, Investment & Trade, Leader of NSW National Party;
Hon Adam Marshall, Minister for Agriculture & Western NSW, National Party;
David Shoebridge MLC (Energy) & Abigail Boyd MLC (Mining), from The Greens;
Other relevant Opposition party members and government senior officers will also be pursued for meetings as required depending on locality of the meetings – Shadow Minister for Local Government (Greg Warren) keen to address delegates post COVID;
Relevant Senior Departmental Executives;
CEO's, Clean Energy Council and Clean Energy Finance Corporation, ARENA, etc.
Speakers organised to date for the November meeting are:
Dr Alex King, Executive Director, Resources Policy, Planning & Programs to speak on "Strategic Statement on Coal Exploration and Mining in NSW" (Missed last meeting due to the time changes with the zoom kerfuffle).
(Will be pursuing  relevant politicians for November meeting)
Research Fellowship Update
Here is the latest from Peter which the Executive Officer will follow up as the Executive Committee is keen to see this project commence, recognising the difficulties experineced dureing COVID 19:
"A potentially suitable project has been identified.  This is a gold & base metals miner preparing to commence consultation on a potential new underground mine near Cobar.  We have discussed aspects of the project with their management (but not yet with local government or any externals at their request), including timing and scope of their proposed engagement in the scoping phase, and these all appear compatible.  Further details and a formal agreement to proceed with the PM-augmented engagement will be confirmed once the company engages engagement and environmental consultants, suggested to be by early September.
The sponsorship proposal, including advice from the sponsors that they did not wish their funds to be used for university overheads, is currently moving through the UTS contract approval process.  The next step, assuming approval is provided, is to develop a formal contract and seek final sponsor agreement.  We hope that this will happen by the end of August/September and are pursuing UTS decision-makers consistently.
The Project Evaluation Plan (PEP), which aims to set out the details and justifications for what data will be collected during the engagements, is being developed and is due to be completed by mid-September.  Following review by academic supervisors and sponsors, we will seek review of this PEP by a range of engagement and PM experts using a Delphi survey method.  The first set of external consultation is scheduled for mid-September.
The design of the stakeholder PM tools and a web interface for stakeholders to access them through, including an online discussion forum to enable comments to be provided outside the workshops, is underway.  There are numerous elements to this part of the project, and we plan to have a working prototype ready by early October.
Current status – Pending contract finalisation with sponsors and approval from the mining company to provide scoping-phase engagement cooperatively with their consultants, we hope to begin the engagement in November 2020.
An issue identified by the mining company is that the proposed mine is located in far-western NSW, in an area with relatively low groundwater usage and 15 km from the nearest small town, and it will therefore be challenging to find 6-10 community stakeholders willing to participate in the trial engagement process.  We are considering two potential solutions to this issue.  One is the use of randomised selection within relevant demographic community strata/groups (e.g. gender, those living within vs outside a 5 km radius from the mine, landowners vs renters, business owners, indigenous groups, environmental groups), as recommended for example in this article – https://iap2.org.au/news/deliberation-beyond-citizens-juries/.  Although it would have the benefit of potentially improving the representativeness of the participants, the main difficulty is that it would likely require greater preparation time and significant assistance from the local government and this would raise privacy and logistical issues.  The alternative is to put additional effort into on-ground consultation with potential stakeholders, meaning we would again need assistance from local councillors and community spokespeople.  We would value the sponsor's consideration and advice in this matter – I'll call to discuss with sponsor representatives".
Strategic Plan 2020 – 2023 Review
The draft Strategic Plan 20-23 Strategic Directions, Deliverables and Actions compiled by the working party of Cr McRae, Cr Banasik and Glenn Wilcox have been adopted by the Executive Committee to include in the draft Strategic Plan for referral to delegates for their consideration and adoption on 27th November 2020. Any photos of females in mining activities are welcomed to ensure our Strategic Plan is more inclusive. Enquiries to the Executive Officer.
Update on CRC for Transformations in Mining Economies
MERC was invited last year to be a NSW partner in the establishment of the national Cooperative Research Centre (CRC) for Transformations in Mining Economies (CRC TiME) being established in Perth, Western Australia, at University of Western Australia, at no cost to MERC. This fits in with our strategic plan by being involved in making a difference through research partnerships with Universities and industry in Australia on various topics such as rehabilitation and post mining impacts on economies.
The national partnership was required to get the grant to set up the CRC for transforming mining economies from mining to no mining plus value add them. More will come from this partnership and delegates will be kept informed in due course from their regular newsletters.
For instance, MERC has recently received this email:" To introduce myself, my name is Ebrahim F. Salmi and I am a researcher at CSIRO/Mining3, in Brisbane (Research Scientist in Mining Geomechanics). I am looking after the Abandoned Mining Project in the CRCTiME. We have just started working on developing a metric system for the prioritisation of abandoned mine for rehabilitation and on identifying a few demonstration and testing sites for further detailed research.
I am wondering if you or any of your colleagues would be interested in this project and the potential outcomes. It would be great if we can organise to have a short chat, then I would explain the scope of the projects and the potential outcomes. I look forward to hearing from you in this regard."
The Executive Officer will talk with this chap and circulate details when to hand, this is something that MERC should consider getting involved in as a partner in the CRCTiME. Singleton Cr Dan Thompson is very keen on rehabilitation when on Mines Subsidence Board and Cessnock Deputy Mayor Cr Mel Dagg attended the replacement Subsidence Advisory Services NSW as an observer until no longer allowed to observe. Enquiries to Executive Officer.
Renewable Energy Zones
The NSW Government is implementing three pilots and one of them is the 3,000 megawatt Renewable Energy Zone (REZ) in the Central-West of NSW as part of their Electricity Strategy, Net Zero Plan and the Commonwealth-NSW Memorandum of Understanding on Energy and Emissions. Stu Hodgson addressed delegates on the REZ at the Executive Committee meeting on 14th August 2020 and indicated that they would like MERC to have a representative on their Regional Reference Group going forward, more details to come.
Warren Shire Council are keen to be part of the Central West REZ and have been put in touch with Stu on their inclusion in the Central West REZ plus they are developing their own Renewable Energy Policy which may be of interest to members.
For more information about NSW REZs please visit www.energy.nsw.gov.au/renewable-energy-zones, or email the team at rez@planning.nsw.gov.au.
Submission to the Productivity Commission on its Review of the Infrastructure Contributions System in NSW and their Rating Review
The MERC submission to the Productivity Commission has been submitted to meet the 28th August 2020 extension. This is an extra submission building on the response to DPIE on EPA Act Contributions system by MERC who were asked by the Productivity Commissioner, Peter Achterstraat to make a submission. A copy of the submission has been forwarded to delegates & put on the webpage.
The submission also includes comments on the Productivity Commissions recommendations that mining rating income being reduced to meet the average business rate levy income (which the State Government has supported), if introduced in legislation will be catastrophic for mining councils and needs to be followed up. Bland Shire Council are taking the matter to the LGNSW Conference and when their motion is to hand it will be distributed for members information and actions if need be.
Related Matters of Interest – Mining and Energy Issues
"Minister's Vision for NSW" 6/7/20 Renew Economy article: "NSW energy minister Matt Kean says cheap and clean wind, solar and storage can turn the state into an economic superpower. It's an opportunity too good to miss, he says on this week's Energy Insiders podcast.
We should grab this opportunity not only to deliver cheap, clean energy to the citizens of New South Wales, but by having a competitive advantage in low cost energy. It means that we can potentially reindustrialise our state and indeed our country, Kean says. And that is an opportunity for us to be an economic superpower, not just an energy superpower, an economic superpower. And it's too big an opportunity not to grab."
Kean says clean power also delivers an opportunity for clean transport and low cost and low emissions manufacturing. On the former, he has already his own first step by becoming the first minister in Australia to obtain a Tesla Model 3 as his ministerial car". Refer www.reneweconomy.com.au.
"Map of NSW generation – wind, solar, hydro, coal and gas" 6/7/20 article Here at Renew Economy we are often asked for more information about the location of wind and solar projects, and battery storage. Short of developing our own data-base (which we wish we had the resources for), we've decided to reproduce a series of graphs from the Australia Energy Regulator's latest "state of the market" report.
This first one shows the existing generators – coal (black), gas (grey), Hydro (blue), biomass (pink), solar (yellow) and wind (green). Battery storage doesn't feature because there is no grid-scale batteries in NSW, yet.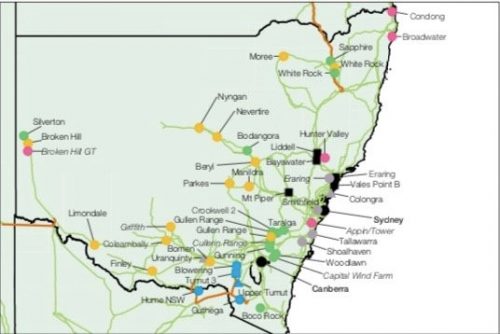 "NSW sets itself for biggest and quickest transition from coal to renewables" 9/7/20 Renew Economy article: "The New South Wales state government has confirmed it will seek a massive 8,000MW of wind, solar and storage projects in the state's north, the biggest call for renewables in the country, and setting itself up for what will be the biggest and most rapid transition from coal to renewables in the country, if not the world.
As foreshadowed by Renew Economy on Thursday, state energy minister Matt Kean announced on Friday plans to create an 8,000MW renewable energy zone in the New England region, tapping into the enormous response to the state's first renewable energy zone, which saw a phenomenal 27,000MW of wind, solar and storage projects for a region with the capacity of 3,000MW. "The nine-fold level of interest in the Central-West Orana REZ was astounding, so it makes absolute sense to go even bigger with the New England REZ," Kean said in the statement on Friday.
"The New England REZ will be able to power 3.5 million homes and, when coupled with Central-West Orana REZ, sets the State up to become the number one destination across Australia for renewable energy investment."
NSW has been a bit of a laggard on renewable energy investment in recent years, although its current pipeline of projects means that it is catching up.  But while it is the only state in the main National Electricity Market without a stated renewable energy target, it is headed for the biggest and quickest transition of them all, because the bulk of its ageing coal generators will retire in the next 10-15 years.
The Liddell plant is to close in early 2023, and this will be followed by the Vales Point and Eraring coal generators at the end of the decade, and then Bayswater (2036) and finally Mt Piper, in 2040 should it find enough coal to continue operations that long". Refer www.reneweconomy.com.au
"Clean Energy Outlook" CEO Clean Energy Council, Kane Thornton 15/7/20 writes: "Every dollar spent as part of Australia's economic recovery will either help or hinder our efforts to reduce emissions and transition our country for a carbon-constrained future. With governments around the world now expanding their role in kickstarting their economies and creating new jobs, they have very binary choices to make in determining the industries and initiatives that will lead this recovery.
The renewable energy industry could employ thousands more Australians over the next decade, but only if we take meaningful action now. Every dollar spent as part of Australia's economic recovery will either help or hinder our efforts to reduce emissions and transition our country for a carbon-constrained future. With governments around the world now expanding their role in kickstarting their economies and creating new jobs, they have very binary choices to make in determining the industries and initiatives that will lead this recovery.
As we're all well aware, COVID-19 has had a profound impact on the lives of every Australian. For the lucky ones, that may have involved a change to working arrangements or home-schooling kids. However, for many other Australians, the resulting levels of unemployment and economic hardship are such that have not been experienced for decades. The federal government has rightfully put job creation at the centre of its plans to jump-start the economy and ease the financial burden on so many Australians. Yet details on where these jobs will be created and in which industries is still up for debate.
Our recently released report titled Clean Energy at Work, makes a compelling case for the renewable energy industry to be at the forefront of these job creation efforts, with the added benefits of reducing emissions, stimulating the economy and accelerating the transition of our electricity system to renewable energy.
Clean energy job potential – Our report was based on research conducted by the Institute for Sustainable Futures at the University of Technology Sydney and is the largest study of current and projected employment in the Australian renewable energy industry. The study involved an industry-wide survey, measuring current employment and then applying employment factors to the scenarios in the Australian Energy Market Operator's (AEMO) Integrated System Plan to estimate future job creation.
The study revealed that more than 25,000 people were employed in the Australian renewable energy industry in 2019, with almost 10,000 of those jobs in small-scale rooftop solar. In total, solar (small-scale, large-scale and solar water heating) accounted for 56 per cent of total renewable energy jobs, followed by wind at 28 per cent, hydro at 10 per cent and batteries at 6 per cent.
More importantly for Australia's recovery from COVID-19, the research found that the renewable energy sector could employ as many as 44,000 people by 2025 if AEMO's Step Change Scenario is adopted, and even more if more ambitious policy settings are implemented. The creation of almost 20,000 jobs in renewable energy over the next five years is ideally timed to help the many Australians who have been directly impacted by the COVID-19 pandemic and by those who will feel the effects of the subsequent recession.
The report also found that the composition of the renewable energy industry is likely to change significantly over the next 15 years. By 2035, up to 70 per cent of all renewable energy job opportunities could be in rural and regional Australia, helping to redress some of the imbalance caused by the rapid migration of jobs to metropolitan centres.
The type of jobs available in the industry will also change as the industry matures. Currently, nearly 80 per cent of renewable energy jobs are short term and project-based in connection with the manufacturing, development, construction and installation of new sites. This is expected to shift considerably by 2035 when permanent jobs in operation and maintenance could account for up to half of all employment in the industry.
Policy measures required – While these findings are extremely promising for the renewable energy industry, a lot of hard work will be required to make them a reality. First and foremost, the significant growth in renewable energy employment assumes favourable policy settings. These policy settings assume that governments will make stronger and clearer policy commitments that provide investment confidence and drive reform to the energy market and grid to address the growing network constraints impacting the rollout of renewable energy.
As the past two decades have shown, efforts to accelerate emissions reduction in Australia, even to meet our Paris commitments, have been a political minefield. And unfortunately, the past summer's bushfires and the COVID-19 pandemic don't seem to have changed the focus, with the federal government and the National COVID-19 Coordination Commission enthusiastically spruiking a "gas-fired recovery" from the pandemic.
Policies must be put in place now that create a stable investment environment to bring forward the enormous pipeline of wind and solar projects across Australia. If we fail to do this, the once-in-a-generation opportunity presented by COVID-19 to transition our electricity system to one based on clean energy won't be the only thing that's lost.
In one of the Clean Energy at Work report's more alarming findings, it is predicted that if we continue on our current trajectory – what AEMO deems its Central Scenario, whereby no additional state or federal policies are put in place – the industry could lose upwards of 11,000 jobs in the next three years.
Another issue for the industry now and into the future is a shortage of skilled and experienced people to work on renewable energy projects. Issues such as policy uncertainty, the short-term nature of construction and installation jobs, remote site locations and salary competition with other industries are making it difficult for the industry to attract and retain quality workers.
To solve this problem, we will need to improve existing training systems, create targeted upskilling courses for workers to transfer from other industries and invest in the training of new workers. In addition to creating much-needed new job opportunities, this will ensure that the industry has a steady supply of workers with the relevant experience and qualifications.
The unemployment caused by the COVID-19 pandemic has resulted in considerable hardship for many Australians. But as the Clean Energy at Work report shows, the renewable energy industry has the potential to get thousands of Australians back to work in rewarding jobs that create a better future and provide the regional and rural economy with a much-needed financial boost.
If we can introduce policy settings that allow the renewable energy industry to thrive, renewable energy can rescue rural Australia from the profound impacts of COVID-19 and Australia can join the hundreds of countries around the world that are using renewable energy to jump-start their economies".
"Australian researchers squeeze more energy from sunlight in world-first breakthrough" Renew Economy article: "Australian researchers have unlocked the secret to squeezing more energy out of sunlight, by converting otherwise wasted sunlight into useful light, that could provide a way to significantly boost to solar panel efficiencies.
The research, led by scientists from the University of New South Wales and published in the journal Nature Photonics on Tuesday, outlines a new method for ensuring more of the sun's energy can be converted into useful electricity by using sunlight that would otherwise be wasted as heat.
In a photovoltaic solar cell, sunlight is converted into electricity through a process called the photoelectric effect, where individual packets of light, called photons, transfer their energy onto electrons within the solar cell material. If a sufficient amount of energy is transferred by light to an electron, an amount of energy known as the "bandgap", the electron is knocked loose from its atom and creates an electric current. This is the process by which solar panels convert light into electricity
Not all light from the sun carries enough energy to knock electrons loose from their atoms, failing to bridge the "bandgap", and this energy is effectively treated as an efficiency loss.
The amount of energy a packet of light can impart on an electron is proportionate to its frequency. The higher the frequency of light, the more energy the packet of light carries. Light in the infrared part of the spectrum usually lacks sufficient energy to produce electricity in a solar cell".
"Solar farm and big battery approved for Parkes in NSW" Renew Economy article 21/7/20: "Plans to build an 80MW solar farm and big battery in Parkes in the Central West region of New South Wales have been given the green light by the state government. The 80MW Quorn Park solar farm, which will include a 20MWh battery storage system, was granted development approval late last week by the NSW Department of Planning, Industry and Environment.
The decision was welcomed by the project's owner, Renewable Energy Developments, in a post from company director Colin Liebmann on business networking site, LinkedIn. A 2016 report in Renew Economy said Liebmann and his company had teamed up with Canadian wind energy giant, TransAlta, to help the latter with plans to develop large-scale solar projects in Australia.
At that time, TransAlta was looking at developing a 150MW solar plant near Parkes, which it was going to build, own and operate once the development phase was completed and commercial arrangements finalised. Any connection with the current project is unclear.
According to the Notice of Decision, the Quorn solar farm was approved for the range of benefits it would provide for the region and the state, including a capital investment of around $89 million, up to 130 construction jobs; and – once complete – enough electricity to power around 30,000 homes.
The Department also noted that the battery storage component of the project would provide "dispatchable" solar power to the National Energy Market and assist in transitioning the grid from coal and gas-fired power stations to renewable energy.
The consent was granted subject to a number of fairly standard conditions, but the department said it as satisfied that any impacts on the community or the environment could be appropriately minimised, managed, or offset to an acceptable level".
Disclaimer The comments and details in the articles in this newsletter do not reflect the views, policies or position of the Association or its member Councils and are sourced and reproduced from public media outlets by the Executive Officer to provide information for members that they may not already be exposed to in their Local Government areas
Contacts
Clr Peter Shinton (Chair) peter.shinton@warrumbungle.nsw.gov.au 0268492000 or Greg Lamont (Executive Officer) 0407937636, info@miningrelatedcouncils.asn.au