Introduction
Delegates, here is the April MERC Newsletter, please circulate the Newsletter to your fellow Councillors and senior staff this week, so they can appreciate and understand the excellent work the Association and you are doing on behalf of your Council and community, with regard to mining and energy related matters.  
Executive Committee
At the Annual General Meeting elections held on 18th March 2022 in Orange, the following delegates were elected to the MERC Executive Committee until the next Annual General Meeting in November 2022:-
Chair – Cr Michael Banasik (Wollondilly Shire Council);
Deputy Chairs – Cr Phyllis Miller, OAM (Forbes Shire Council) & Cr Kevin Duffy (Orange City Council);
Executive Committee – Cr Scott Ferguson (Blayney Shire Council), Cr Dennis Brady (Lachlan Shire Council) and Cr Denis Todd (Warrumbungle Shire Council).
The Executive Committee had a zoom meeting 12th April to review membership issues and MERC's value proposition following the recent departure of several coal mining LGA's from MERC. The Executive Officer is canvassing General Managers and Planning staff that regularly attend MERC for their thoughts on the suggestions put forward by the Executive Committee to further consider their feedback before the next Ordinary meeting in Sydney on 3rd June 2022 in Club York, 99 York St, Sydney CBD.
COVID-19 Virus Impact on MERC
In 2022 MERC will be resuming its' activities in the normal manner as the level of vaccination rate is reached for the State Government to relax controls sufficiently to enable this to occur, unless there is another major out-break and the Government issues a Public Health Order to follow.
What this means for MERC delegates is that 2022 will have quarterly face to face meetings and Executive Committee meetings will be by zoom means until changed. The AGM was a "one-off" approved by Department of Fair Trading providing it was held before 31st March 2022 and was allowed to be "face to face and by zoom".
Next Meetings for the Association in 2022
At the Annual General Meeting on 18th March 2022, it was determined that the next two MERC meetings will be held in Sydney in late May/early June (set for 3rd June 2022 venue confirmed to be in Club York, 99 York St, Sydney) & late August/early September.
Generally, MERC is trying to stick with the following week after the Country Mayors meeting and in a week when the majority of member Councils don't have a meeting to ensure a quorum and we meet close to when parliament sits or rises to get Ministers located in Sydney to speak eg Minister for Energy Matt Kean or Minister for Planning Anthony Roberts. Delegates usually bump in for the Sydney meetings the evening before and are encouraged to meet for networking over dinner when ideas are shared.
The AGM and Ordinary meeting will be held in Dubbo in November with a networking dinner and hopefully (if it can be arranged) a tour the day before of critical mineral sites and renewable energy developments or it may be as part of a mini conference on renewable energy inviting new members (a suggestion by the Executive Committee). The Executive Committee will have a meeting (by teleconference) before each Ordinary Meeting at a time agreed by the Executive Committee subject to confirmation by the Executive Committee).
Speakers for next Meeting 3rd June 2022
Invitations have been extended to the Deputy Premier, Hon Paul Toole; Minister for Planning Hon Anthony Roberts; Minister for Energy Hon Matt Kean and Steve Galillee CEO NSW Minerals Council in writing and via intranet, hoping that some of them can make it to address delegates at the next meeting. Minister Roberts staff and Steve Galilee have responded positively and are strong possibilities at this stage whilst Hon Matt Kean has acknowledged receipt of letters and invitation..
Orana Opportunity Network (ON2)
Delegates on 15th October 2021 considered a membership proposal from Orana RDA to be part of the Orana Opportunity Network (ON2) and participation in the UNSW Research Project on the Economic Impacts of Mine Automation in the NSW Orana Region.
After forwarding the proposal and documentation from the presentation to delegates, the decision has been made to join ON2 for 12 months as a Bronze member, then to reassess the benefits during the period whether to consider continuing as a member. The membership has been paid for and Executive Officer receives regular newsletters and will pass on information relevant to members from that. The information is very much Orana Central West oriented at the moment.
However, the Orana Opportunity Network (ON2) is very active in promoting activities and grants available in the Central West region that member councils may benefit from. The ON2 March Newsletter is available on o2n@o2n.org.au and there are other interesting articles on community workshops they have conducted in the Central West Orana REZ (CWOREZ) to glean issues, concerns, visons and opportunities.
CRC for Transformations in Mining Economies (CRC TiME)
MERC is a partner with CRC TiME on a no cost but consultative basis. They have webinars and workshops on their progress with the CRC establishment and their collaboration efforts.  As relevant activities present, delegates will be kept informed on them for participation. The following is an excerpt from the latest newsletter penned by Guy Boggs, CEO.
"I was delighted to join colleagues last week from other CRC's across Australia as we celebrated 30 years of the Cooperative Research Centre Program at the #CollaborateInnovate2022 conference in Canberra. The forum included a showcase at Parliament House where Parliamentary Members, Senators and senior leaders connected with CRCs from across industry. The CRC Program is unique globally and underpinning it all is the innovation that emerges when you truly connect and create valued partnerships between end users and researchers and build value chains that connect knowledge generation directly with knowledge use.                            .
It was hard not to leave Canberra feeling inspired by the many amazing speakers such as past Telstra CEO and CSIRO Chair, David Thodey:
Be bolder (innovation needs us to think past business as usual!)
Partner with industry (industry wants to connect with research!)
Strive for consistent policy (innovation takes time!)
CRC TiME has published a number of significant reports this year including the Impact Framework – this talks directly to how we connect research with user pathways and short, intermediate and long term outputs that will deliver on our strategic goals and objectives. I'd like to acknowledge the work of Dr Emma Yuen and Tira Foran and the Board  Research & Impact Committees in its development.
To dive deeper into our research findings, be sure to register for the Dig Deeper webinar series commencing this Friday. 
The first 10 webinars will be sharing the outcomes of the Foundation Projects so keep your eye out on our social media for the wide range of topics being covered over the coming weeks. Our partnership is focussing on critical initiatives for the next phase of investment and bringing our research, industry and regional hub partners together to co-design projects. I encourage you to reach out to us if you would like to participate in this process. If you are a student, and these initiatives interest you, please consider applying for the CRC TiME scholarship program.  It was great to meet with our University of Queensland based scholarship recipients while visiting our Brisbane office last week". 
Royalties for Rejuvenation Fund Update
The Deputy Premier announced the creation of the Royalties for Rejuvenation Fund in April 2021. The 2021-22 NSW Budget committed to setting aside $25 million each year to the Fund to support the economic diversification of coal mining communities over the coming decades. Coal mining communities will have a key role to play in advising the Government on how to best invest the Fund.
The Fund will support economic diversification in the four coal mining regions. As noted in the Deputy Premier's media release in May 2021, Expert Panels will be established with representatives from the communities in coal mining regions to input into delivery of the Fund.
The Department of Regional NSW is preparing a suite of amendments to the Mining Act 1992. As part of this package, the NSW Government is proposing to establish under legislation the Royalties for Rejuvenation Fund and its statutory expert panels. This will ensure that coal mining communities guide investments supported by the Fund.
Changes to the Bill are being introduced into Parliament and include the establishment of expert panels appointed for regions "where short-term priorities necessitate timely advice", MERC should be part of this. Refer www.regional.nsw.gov.au for more details as this unfolds in a changing political environment.
Renewable Energy Zones
A REZ is a hub of renewable projects across a region that forma a modern day power station, producing a large amount of energy for the State. The State Government has set them up in the New England, Southern NSW and Hunter/Central Coast Regions. The latest updates from Energy Corporation NSW & NSW Consumer Trustee, by James Hayes, CEO EnergyCo:
"The NSW Government has developed a comprehensive plan to ensure that NSW continues to have reliable and affordable electricity following the planned closure of the Eraring Power Station. This includes the acceleration of the Electricity Infrastructure Roadmap.  This email is to advise you of updates from the Energy Corporation of NSW and the NSW Consumer Trustee, within our respective statutory mandates, to achieve this acceleration.  
NSW Consumer Trustee:  The Roadmap is designed to be adaptive to changes in the market, such as those related to the retirement timeframes of existing power stations. The NSW Consumer Trustee has notified of an update to how it expects to implement the plan for competitive tenders, available here. 
This update shows that the indicative sizes for the Q4 2022 tender are expected to be 2,500 GWh annual amount of new generation and 600 MW of long-duration storage.
The NSW Consumer Trustee can recommend the award of more or less energy investment than the indicative tender size if it is in the long-term financial interests of consumers to do so. 
Excitingly, energy investment in NSW has continued at a pace since the Roadmap was enacted with around 3.6 GW of new investment committed and anticipated. Almost all of this new investment is likely to be able to participate in the enlarged Q4 tender, driving competition and value for consumers.
The NSW Consumer Trustee has been focused on providing an opportunity for investors and developers to learn about the competitive tender process and the value of the products that will be offered. Following stakeholder feedback, the Q2 pilot tender will now be a Market Briefing to better prepare the market for the enlarged Q4 tender.
Quarter 4 2022 tender: The NSW Consumer Trustee welcomes participation for Long-term Energy Service Agreements (LTESAs) from projects across NSW, including those outside of the Central-West Orana Renewable Energy Zone (CWO REZ) seeking to connect to existing transmission infrastructure. 
Access Rights will also be offered and are likely to be limited to projects within the CWO REZ for this specific tender. 
The tenders conducted by the NSW Consumer Trustee are the only way projects can be awarded an LTESA, Access Right or both products. Projects needing both products must seek these through a single competitive tender. 
Guidance Notes for generation and long-duration storage projects in each Renewable Energy Zone (REZ) and for those outside of a REZ will be available on the NSW Consumer Trustee website in April.
Market Briefing: The Market Briefing will be a series of engagements that will demonstrate: 
how the merit criteria will be assessed, including financial assessment, grid impacts and community and social licence. The intention of this is to help proponents bid successfully for LTESAs and Access Rights 
the characteristics of a project with 'outstanding merit' outside a REZ and how this will be assessed 
how the access scheme will work for projects in connecting to new transmission infrastructure via access rights and to existing transmission infrastructure 
the NSW Consumer Trustee's planned approach to competitive tenders so proponents can produce high-quality, competitive proposals. 
Information on how to participate in this Market Briefing will be directly emailed to you and available on the NSW Consumer Trustee's website in April.
Energy Corporation of NSW: As part of the NSW Government's commitment to accelerate the Roadmap, it has established a Transmission Acceleration Facility that will play an important role in fast tracking the delivery of critical transmission infrastructure. The Facility will be used to undertake development activities to accelerate key transmission projects, including the CWO REZ, the New England Renewable Energy Zone and the Hunter Transmission Project. 
The first investment to be completed will be the Waratah Super Battery. An Expression of Interest was released on 4 April 2022. Click here for more information.  The Facility will also allow the concurrent development of multiple renewable energy zones, to facilitate the acceleration of the Roadmap.
Improving communication: We are committed to delivering certainty on product and service design and more information about how the Roadmap comes together. 
As part of this commitment, in April we will be providing you with a deeper look at the value of the LTESA and how it will work to help facilitate new private investment in the long-term financial interests of NSW electricity consumers. In coming weeks and months, we will replicate this for other topics and use new channels to better deliver this information.
In the meantime, if you have a query or other information you would like to share with us you can do so by emailing Electricity.Roadmap@dpie.nsw.gov.au (for the Roadmap Taskforce and EnergyCo) and stakeholderengagement@aemoservices.com.au (for the NSW Consumer Trustee). We will also collate questions and publish a response to questions and other feedback received".
The REZ's are receiving a huge interest from renewable energy businesses providing a challenge for the NSW Government to facilitate it and for local communities/Councils to grapple with. Current MERC process for involvement in the REZ's is by receiving minutes/newsletters from each REZ Regional Reference Group meeting and forwarding them to members. MERC does not have members in every REZ that is being established.
If MERC is to get more involved in the REZ's it would need to have a discussion at a future meeting to review the current Strategic Plan actions and how it would like to resource any actions if it were to become more involved in the processes across the whole of the State given the growth of the REZ throughout NSW.
Related Matters of Interest – Mining and Energy Issues
"Broken Hill to get Big Battery" Giles Parkinson, Renew Economy, April 2022 writes: "AGL Energy has committed to another big battery project, this time a 50MW installation at Broken Hill with one hour of storage that will provide system strength services at the end of the grid. The 50MW/50MWh battery will be supplied by Fluence and its consortium partner Valmec, and the $41 million project is being backed by $15 million from the Australian Renewable Energy Agency as part of its support for advanced inverter technologies, also known as grid forming inverters.
Chief operating office Markus Brokhof said the Broken Hill battery was another step forward as AGL becomes a leading orchestrator of batteries in Australia. "As Australia moves forward with its energy transition, we know that firming technologies like batteries play an important role in energy storage and supporting renewable energy supply," Brokhof said.
"Broken Hill's unique edge-of-grid environment provides an ideal location for this advanced inverter technology to demonstrate how it can facilitate further penetration of renewable energy generation and add to the stability of the wider electricity network."
The announcement comes less than a week after AGL said it had received planning approval for the Liddell big battery, which will be built in stages up to 500MW and 2000MWh at the site of the soon to be closed Liddell coal plant.
AGL is also building a 200MW battery at Torrens Island, again to test grid forming inverter technology, and will likely expand that battery's storage size from one to up to four hours (or 800MWh) as the market expands. The company is also committed to a 250MW big battery at the site of its Loy Yang A brown coal generator and aims to create new clean energy hubs and industrial precincts around these centres as part of its strategy for the future.
AGL also has contracting rights over the new Wandoan battery in Queensland, and the Dalrymple North battery in South Australia, which pioneered the grid forming inverter tech in Australia's main grid and has a contract with Maoneng for the supply of 200MW and 400MWh of battery storage.
AGL also owns the 200MW Silverton wind farm near Broken Hill, (pictured above) and the 50MW Broken Hill solar farm, both of which have been heavily constrained at times because of the bottlenecks on the transmission line. ARENA CEO Darren Miller said the next step for large-scale batteries was to show their capabilities in strengthening the grid as more renewables come online.
"Energy storage has been identified as a key priority technology under the Australian Government's Low Emissions Technology Statement. We are particularly interested in seeing how AGL's Broken Hill battery will utilise and demonstrate advanced inverter technology in a weaker section of the energy grid," Miller said. "large-scale batteries could provide a cheaper solution to providing system stability as the grid takes on more renewable energy.
Advanced inverters is keen as a key technology to enable the transition to a grid with 100 per cent renewables. They have been demonstrated in off-grid situations, and in smaller examples on the main grid. ARENA and the Australian Energy Market Operator are keen to see them deployed at scale in the main grid to prove the theory that synchronous generation will not be needed to provide all the different services essential for grid security.
Fluence general manager in Australia, Aaron McCann said Broken Hill advanced grid-forming inverter battery is the first project Fluence is delivering to AGL within the framework agreement announced in January 2021. "Broken Hill battery's full power occurs instantaneously to quickly respond to large changes in voltage and/or frequency, which is the fastest response of all battery energy storage systems currently available in the market," he said in a statement.
The project will be located on industrial land around 6km northwest of Broken Hill airport, with completion set for early 2023. It will be built on the lands of the Wiljali people. "I want to thank the community, Broken Hill Council and Broken Hill Local Aboriginal Land Council who have been instrumental during the planning stages, providing their support and feedback for this project," Brokhof said.
See RenewEconomy's updated Big Battery Storage Map of Australia
" Australian Start Up Eyes Disused Mine Shafts for Gigawatt – Scale Gravity Energy Storage" Sophie Vorrath, April 2022, writes for Renew Economy: "A newly launched Australian start-up has unveiled its own take on gravitational energy storage technology that will use super-heavy weights in legacy mine shafts to capture and release energy, with around 3GWh of potential storage capacity already identified for development.
The company, called Green Gravity, is headed up by ex-BHP executive Mark Swinnerton, who has led the engineering of the technology from Wollongong in New South Wales, and is working with universities and engineering partners – including the University of Wollongong and Soto Engineering – to develop it further.
The new company and technology launch comes as Swiss outfit Energy Vault gathers huge interest and numerous deep-pocketed investors in its "gigawatt-scale" kinetic energy based energy storage solution inspired by pumped hydro, but using blocks of solid material instead of water.
So far, the Swiss energy storage company has attracted interest from such giants of industry as Korea Zinc, Enel Green Power, Saudi Arabia's Aramco and Swinnerton's former employer, BHP. Even Andrew Forrest's Fortescue Future Industries is proposing to use gravity to charge the batteries in its "infinity train", that will feature trains laden with iron ore charging as they come down the hills from mines to the port, injecting enough energy into the batteries to take the empty trains back to the starting port.
And, of course, pumped hydro operates on the same principal, Charging, or pushing water up to a higher reservoir, and then letting the water flow downwards to spin the generator when needed.
Green Gravity wants to use the potential gravitational energy of large masses, but Swinnerton says there are a few key differences to his company's technology – some of which promise to make it cheaper and easier to build and more flexible in its applications.
The first key difference is in the use of proven mechanical parts and disused mine shafts – the latter of which exist in "bucketloads" around the country, Swinnerton told RenewEconomy on Monday. He puts the number at nearly 100,000.
Not all of these are suitable, of course, but Green Gravity has so far identified 175 mine shafts profiled across about 80 mines that it believes are very highly suited to housing the technology and would require minimal work to be converted for energy storage purposes.
"We've got about 3GWh of capacity already identified as really highly suited to our technology" said Swinnerton. "This is real capacity that … is spread across the [National Electricity Market] and usually already connected to, or right next to existing transmission infrastructure. "These first 175 [sites] are in all sorts of places, including Illawarra, the Hunter region, Mt Isa in Queensland, in Tasmania; and many of them are concrete-lined, premium shafts that are no longer required for mining operations and sitting there idle".
"Many of these shafts require minimal work to get them ready. …And then there's another 3GWh after that that will be in slightly more difficult conditions, but we'll figure out how to use more and more mine sites as we get more experience."
Another key difference to the value proposition for Green Gravity, Swinnerton points out, is in the flexibility of the energy storage solution. While some gravitation energy technologies are focused on offering long-duration storage, Swinnerton says his company's technology promises more variability. "This technology is highly flexible. We can configure it for very short duration, where it can assist with local grid stability for distributed energy storage. But we also think there's an opportunity in the two- to four-hour end of the spectrum as well. And then, of course, the longer duration, too."
Given the basic physics of the technology, what each Green Gravity system offers will depend somewhat on the size and depth of the existing mine shaft, as well as the weight and density of the mass used to capture and release the energy. Some of the multitude of smaller disused mine shafts scattered, for example, throughout country Victoria, could prove valuable as a source of community renewables energy storage for regional communities, Swinnerton points out. That said, to make the most of the spaces and depths the mine shafts offer, Green Gravity's technology will initially use "super, super heavy" weights made from steel, and possibly also iron ore.
On the financial side of the equation, Swinnerton says the company has so far been backed by a number of private investors but is talking with the federal government and with the NSW state government about the possibilities of grant funding. The company has also "started conversations" with venture capitalists and is aiming to conduct a fund-raising round in the next few months. And there's lots of interest from miners, too.
"We're really encouraged about the reception we're getting across the full spectrum of mining houses. It's very attractive for many of them, as both an energy storage solution and in terms of mine rehabilitation. According to Green Gravity's head of business development, Fionna Millikan, of the roughly 85,000 decommissioned legacy mine sites around Australia, and of that number only 3,000 have been rehabilitated, which adds up to a "large liability" for industry and government.
"Green Gravity's concept of using the potential energy in a mass in a vertical mine shaft has a lot of advantages," says David Whittle, a senior research fellow at Monash University and expert in mine planning. "The environmental footprint of such an operation is very, very small. Even compared to things like lithium batteries. So this has got to be one of the lowest environmental footprint renewable energy storage concepts there is," he said. "By reusing the existing infrastructure of disused mines, Green Gravity is developing sustainable energy storage infrastructure at a very competitive cost," Swinnerton added "In the coming years our technology will offer a viable and scalable alternative to lithium-ion solutions. Green Gravity is working with multiple large energy, manufacturing and mining companies to rapidly develop a demonstration plant at a mining site."
"Clean Energy Council Australia Annual Report" The 2022 Clean Energy Australia report (refer to www.cleanenergycouncil.org.au) April 2022, provides a comprehensive overview of the Australian Clean Energy sector and the latest key figures and statistics on the Australian energy market.
In a year when Australia's renewable energy industry generated more clean energy than ever before and added a record amount of new capacity, the report takes an in-depth look at the major developments and trends that drove the clean energy industry in 2021.
The Key findings are:
Almost a third of Australia's total electricity generation came from clean energy in 2021, with 32.5 per cent of total generation coming from renewable sources, an increase of 4.8 percentage points compared to 2020.
There were 27 large-scale projects completed in 2021, adding 2955 MW of new large-scale renewable energy capacity. A further 68 large-scale projects were under construction at the end of 2021, representing more than 9 GW of new capacity and employing over 35,000 Australian workers.
2021 was another record-breaking year for the industry, with the small-scale solar and wind sectors recording their fifth- and third-straight record-breaking years respectively. The small-scale solar sector added 3.3 GW of new capacity to pass the 3 GW mark for the first time in 2021, while the 1746 MW of new wind capacity added during the year comfortably surpassed the sector's previous record of 1100 MW.
Australia's three largest solar farms and two of the country's three largest wind farms were commissioned in 2021. 
Australia's largest battery was commissioned in 2021 and a further 30 large-scale batteries were under construction at the end of the year with a combined capacity and storage duration of 921 MW/1169 MWh. Australian households installed 34,731 batteries in 2021, which was a strong increase on the 23,796 batteries installed in the previous year.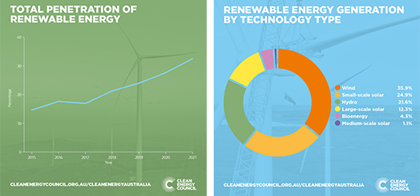 2021 was another record year for clean energy in Australia, with almost 3 GW of new large-scale renewable energy projects completed. The rooftop solar sector also had its fifth-straight record-breaking year, installing almost 400,000 new systems to add 3.3 GW capacity. However, these extraordinary achievements are clouded by a significant slowdown in the pipeline for new large-scale renewable energy projects, which is due to continued policy uncertainty combined with the challenges associated with connecting renewable products to the grid– Kane Thornton, Chief Executive, Clean Energy Council
Read the Clean Energy Council's media release launching the 2022 Clean Energy Australia report.
"Pumped Hydro Project Promises Money & Jobs for NSW Coal" Sophie Vorrath, Renew Economy writes, April 2022: "Plans to develop a 300MW pumped hydro energy storage project in the New South Wales New England region would generate hundreds of jobs and tip tens of millions of dollars into dwindling coal economies, a new study has found.
Walcha Energy, a joint venture between Mirus Energy and Energy Estate, is proposing to build more than 4GW of wind and solar and up to 10 gigawatt-hours of mixed energy storage, including big batteries and a pumped hydro project at the Dungowan Dam.
An economic impact assessment of the $580 million Dungowan PHES by consultancy ACIL Allen has found the pumped hydro component of the project would deliver significant economic benefits to the region, which hosts some of the state's biggest coal communities, as they transition away from the fossil fuel.
The report, published in full on Thursday, found that over the five years it was expected to take to build the initial 300MW, 10-hour phase of the Dungowan PHES, the project would generate 500 full time jobs on average, using workers mostly from the New England and Upper Hunter regions.
ACIL Allen also forecast that an additional $2.5 billion in gross product or $57 million a year would be generated by the project, with the vast majority of that sum – or around 85% of all operational expenditure – likely to be spent in the local region over the 50-plus years of its operational life.
Post construction, the Dungowan Dam facility was expected to support "significant enduring local employment opportunities," the report added, with 35 full-time equivalent direct jobs and a further 58 full-time equivalent jobs in the local region.
All told, ACIL Allen's modelling suggested that the roughly $8.5 million a year that flowed from the project would translate into a "real income boost" of around $150 a year per resident of the local region. Walcha Energy director Simon Currie said the results of the study underlined the significance of building large-scale, long life infrastructure such as pumped hydro to support NSW regional communities and help build out the state government's New England REZ.
"Walcha Energy has the ability to offer dispatchable energy to NSW consumers and large energy users through our portfolio of wind and solar backed up by batteries and pumped hydro," Currie said. "We strongly support the accelerated build-out of transmission infrastructure for the NSW Renewable Energy Zones which will enable retirement of coal-fired power stations and help NSW on its journey."
Dungowan Dam has been supported by the NSW government through a grant under its Emerging Energy Program to complete pre-investment feasibility studies. GE is the technical partner for the project under a joint development agreement.
Its proponents say its added benefits include its close proximity to proposed new transmission lines for the New England REZ, as well as the option of connecting to Tamworth sub-station to pipe renewable energy to the north and the west. The project is also said to have a high level of "buildability," due to the existing road access to the upper and lower reservoirs, and to hold promise for future expansion – Walcha says there's potential to add additional phases of up to 700MW, with a possible 24-hour operation.
Pascal Radue, president and CEO of GE Renewable Energy's hydro division, describes Dungowan as one of the best pumped hydro opportunities in Australia. "[This project] proves that with hydropower we can not only significantly advance the energy transition in Australia but also create significant added value for the economic development of the region, the state and the country," Radue said this week.
Walcha Energy says the Dungowan PHES is currently undergoing scoping studies, with a lot of work already completed around the feasibility and suitability of the site, which it says puts it ahead of many competing proposals.
Disclaimer The comments and details in the articles in this newsletter do not reflect the views, policies or position of the Association or its member Councils and are sourced and reproduced from public media outlets by the Executive Officer to provide information for members that they may not already be exposed to in their Local Government areas
Contacts
Clr Michael Banasik (Chair) michael.banasik@wollondilly.nsw.gov.au  0425798068 or Greg Lamont (Executive Officer) 0407937636, info@miningrelatedcouncils.asn.au.