Introduction
Delegates, here is the April 2019 MERC Newsletter (pre Federal Election issue). This newsletter has a lot of important information in it for you to read, please circulate this to your fellow Councillors and senior staff, so they can appreciate and understand the excellent work the Association and you are doing on behalf of your Council and community, with regard to mining and energy related matters.
Update on the Voluntary Planning Agreement Steering Committee
Another meeting of the Steering Committee was held 2nd May 2019 to consider the position papers by NSWMC (on the implications of autonomous mining for VPAs) and MERC (to review Umwelt's Worker Domicile Model and to, identify any impacts which are not included in that model which MERC considers should be the subject of financial contributions through VPAs, plus the methodologies for their calculation).
The meeting was realistic in that where there was general agreement that while neither organisation was likely to be able to mandate use of a particular methodology by their members, there was a reasonable prospect of the Committee identifying a mix of methodologies that could be used in combination to address the concerns of members. This could be recommended by both organisations to their respective members and would have some utility in streamlining future VPA negotiations. It was also highlighted that this approach may have greater utility for application to smaller, non-coal operations.
NSWMC members reiterated that they were open to such an approach, but that their membership would not agree to any mixed methodology that did not involve some proportion calculated via the Worker Domicile Model. NSWMC will also need to have a clear rationale to support further costs which are outside this model, but noted that a generalised, 'black box' figure on top of that calculated through the Worker Domicile Model could potentially be justified as a consideration to impacted communities if reasonable. Certainty and predictability of costs is a key concern of their members.
MERC members agreed that they would likely support such an approach subject to the endorsement by members at the meeting on 10th May 2019 with a background report being provided to assist them with the decision. Verification processes for various VPA models were briefly discussed, and Committee members agreed that this should be considered and potentially written into a standardised agreement.
The Committee agreed to work together to develop a VPA framework agreement (including scope and calculation methodologies) for consideration at the next Committee meeting to be held on 23rd August 2019 in Sydney. Both parties agreed that the future of the Committee should be considered if no substantive progress was made at the next meeting.
Resources for Regions (R4R) versus a Royalties for Regions – Media Release, etc.
MERC will continue to canvass the new NSW Government for changes to the current Resources for Regions program to resemble a Royalties for Regions one. There is widespread support for changing the existing program to a Royalties for Region program with a set percentage being allocated to mining and energy affected Councils for infrastructure, social and economic impact addressing.
The Mayor of Singleton Council and Deputy Chair of MERC, Cr Sue Moore indicated that the Deputy Premier, Hon John Barilaro, met with her Council recently and indciated that he is going to review the current Resources for Regions Program and this will mean the consideration of doing away with the BCR > 1 (Cost Benefit Ratio greater than one as a benefit for the State) which involves legislation change and to look at the contribution levels. Watch this space.
MERC has Phil Donato (MP for Orange and leader in the Legislative Assembly for the Shooters Fishers & Farmers  Party) and Roy Butler (MP for Barwon and from Shooters, Fishers & Farmers party attending our meetin on Friday 10th May 2019 at Forbes Services Memorial Club to talk about Respources for Region program being changed and other matters. The State Director of the Shooters, Fishers & Farmers Party Filip Despotoski emailed on 31st January 2019 to the Executive Officer the following statement:
"thanks for reaching out to Senada from our Parliamentary Office regarding
            support for Royalties for Regions policy. We would support such a policy".
Given the need for the government to have support for legislation changes from the minor parties, it is fortuitous that we have Phil and Roy agree to meet delegates on 10th May 2019, to ensure this program format is changed to a Royalties for Regions set % provided direct to the LGA's to utilsie or similar..
Regional Advisory Forum (RAF)
Given the changes to the Planning and Environment portfolios in Cabinet recently (Hon Rob Stokes, Minister for Planning & Public Places is back in charge of this very important portfolio, Don Harwin has been replaced by Hon Matt Kean, Minister for Energy & Environment), consequently, it is not known if RAF will be retained nor is it likely that a further meeting will be held within the next few months. If it is scrapped, this will mean that a lot of important relevant information that Cr Hasler regularly relayed to MERC, will not occur.
Next Meetings of Association for 2019
The next Executive Committee meeting will be on 9th May 2019 and the Ordinary General Meeting next day on 10th February 2019, both meetings starting at 9am and held in the Forbes Memorial Services Club.
The Forbes Shire Council Events Coordinator Jolene has organised for delegates and partners arriving early on 9th May 2019 to participate in a tour departing the Forbes Memorial Services Club at 1pm of the multi stock Central West Livestock Exchange, to visit the VAST Solar farm then for a tour of the Amazing Sculpture then back to the Club by 4.30ish. The Network dinner that evening will be held in the Forbes Sport & Recreation Club Chinese Restaurant. Confirmation of numbers are required if not already advised the Executive Officer.
The demand for accommodation for motels in the Forbes CBD will be at a premium on 10th May 2019 due to the Van Fest Music event in town that night, so delegates need to contact them and book as soon as possible. Phone numbers for the motels in the CBD provided by Jolene are as follows:
Plainsman Motel – 6852 2466; Forbes Victoria Inn – 6851 2233; Econolodge Ben Hall Motor Inn – 6851 2345 and Country Mile Motor Inn – 6852 4099. There are other motel/ hotel  options available.
The August meetings are to be held in Sydney at Club York, Bass rooms on 8/9th August 2019 (same as February meeting for Executive Committee and Ordinary meetings).Mid Coast Council have now confirmed they will host the November meetings in Gloucester with 7/8th November 2019 for Gloucester. Dates will be confirmed by the Executive in due course, but by sticking with the pattern of second Thursday/Friday in the aforementioned months is what we are working on for your diaries.
Membership Campaign
Awaiting Coonamble Shire to respond. They have been invited to attend the meeting in Forbes as observers. The Association at its May meeting in 2018, adopted a Marketing Policy to ensure membership increases by targeting more renewable energy development affected LGA's in NSW and to formalise and stregthen the membership campaign. If any delegates have any colleagues in Local Government that may be interested in being part of our voice, please contact the Executive Officer.
Speakers for next meetings of MERC
The Executive Officer has confirmed the following speakers fro the meeting in Sydney 8/9th August:
Felicity Greenway, DPE (PIE), Acting Executive Director of the Integrity & Ethics Unit to address delegates on the 19 recommendations of the Kaldas Review Report, which the DPE (PIE) have adopted all of them and progress with them;
Tony Corbett, Port of Newcastle, Trade & Business Development Manager, for an update on mineral movements out of the Port and future changes.
MERC will be pursuing the following speakers for future meetings
Hon Adam Marshall, Minister for Agriculture and Western NSW, National Party;
Hon Rob Stokes, Minister for Planning & Public Spaces, Liberal Party;
Hon Matt Kean, Minister for Energy & Environment, Liberal Party;
Hon Gladys Berijiklian, Premier, Liberal Party;
Hon John Barilaro, Deputy Premier, Minister for Regional NSW, Investment & Trade
Other relevant Opposition party members and government senior officers will also be pursued for meetings as required.
Life Membership Updates – Mitchell, Martin, Connor and Brady
John Martin – The Chair and Executive Officer attended the Singleton Council meeting on 15th April 2019 and presented the Life membership Award Cr John Martin OAM. See article in this newsletter;
Cr Lilliane Brady OAM – Cr Brady OAM has submitted a letter of thanks to the Executive officer and requested its contents be circulated to delegates. The letter reads "I wish to thank you and each member of the Association for this prestigious honour. I am so grateful to receive a Lifetime Membership to the Association of Mining & Energy Related Councils (NSW) and I look forward to seeing you all at the next meeting. With all my heart, thank you. Lilliane Brady OAM, Mayor Cobar Shire Council". A presentation will be made to Lilliane at the May meeting in Forbes;
Col Mitchell – Is elated with the award and is endeavouring to attend the MERC meeting in Sydney on 9th August 2019 to receive his award;
Chris Connor – Is equally honoured to receive the Life Membership and is hoping to attend the meeting in Gloucester in November 2019 to receive his Award.
Research Fellowship Update
On 8th February 2019 at the Ordinary General Meeting, Dr Juan Castilla Rho, University of Wollongong, Research Fellow Particpatory Modelling, briefed delegates on the participatory modelling research proposal with the three options, outputs and outcomes over 2-5 years with funding and MERC contributions.
The outputs will be participatory modelling workshops; part of a management flight simulator; in journal papers; presentation at International conferences; published in news and media outlets. The outcomes are expected to be the piloting of participatory modelling social licence pathways; facilitate the assessment of mining and energy proposals; project has the potential to be included in guidelines, best practice and ultimately planning regulation.
Since that time, Juan has found a PhD student for the project and the student has presented a paper to MERC delegates on how the project would work and he has also fine-tuned the timeframe and costings for the project. The details of them are included in the Business paper for the Ordinary General meeting to be held on 10th May 2019 to consider the project.
However, Juan has now left the University of Wollongong and moved to the University of Technology Sydney (UTS) to lecture in participatory modelling social licence pathways for them, working with an international expert in Alexey Voinov (Russian) who resides in Australia and the PhD student wants to go with him to UTS The University of Wollongong SMART team still wishes to be involved in the project, with MERC.
Delegates will need to consider all of the issues outlined in the Business Paper and to determine if MERC is to proceed with the project or not, and if so in what format and with which University and PhD student, at the 10th May meeting in Forbes.
Related Matters of Interest – Mining and Energy Issues
Environment gets another bite of the PIE in mega – agency  Jacob Saulwick and Peter Hannam write in the SMH 4-5 May 2019 weekend edition, that NSW will have an 'environment' department once more after the word was added to the mega – agency now called Planning, Industry and Environment (PIE). Jim Betts (ex Infrastructure NSW) will be the boss of the department that will cover the environment, housing, regional development, Aboriginal affairs, science, industry, planning, local government and government property.
Mr Betts said "Our cluster has been created by the Premier to deal with some of the most contentious issues of our era. We all want NSW to be prosperous, liveable, environmentally sustainable and socially inclusive, but in pursuit of these goals there are sometimes difficult trade – offs to be made."
In his letter to staff, Mr Betts stressed a commitment to tackle climate change and said the Environmnet Protection Authority (EPA) would remain independent. He also said " We won't waste time on pointless bureaucracy. We will be decisive, bold and constantly move forward with the government's agenda"
Life membership honour for long-serving Singleton Councillor for service to mining-related councils of NSW Singleton Council released the following media release dated 15th April 2019, under this title:
Former mayor of Singleton and long-time sitting councillor John Martin's decades of service to the Association of Mining and Energy Related Councils of NSW has been recognised with Life Membership awarded at tonight's ordinary council meeting. Association of Mining and Energy Related Councils of NSW Chairman Cr Peter Shinton and Executive Officer Greg Lamont were at the meeting to make the presentation.
The Association represents a diverse number of NSW councils with an interest in mining, energy and the developing coal seam gas (CSG) industries.  Cr Martin was informally involved in the Association stemming back to 1993 and served as a delegate between 2008 and 2016 including as a member of the executive committee, helping to write the guidelines that would pave the way for voluntary planning agreements.
He said he was particularly proud that Singleton and Muswellbrook Councils were the first to receive Royalties for Regions funding, although "it hadn't happened as much as he'd like since then. The Association is an important organisation because it is a voice of local government on mining and now energy to our government departments about matters such as Resources for Regions, and the improvements needed for industries so far as councils are concerned," Cr Martin said.
"It gives council a voice to the government on mining and energy-related issues as they directly relate to the people in our community.  For me, the presentation and life membership means that it's for our council, because I didn't do any of this work for myself – I did it on behalf of our council. We've made a lot of forceful representations over the years and had a few successes, and a few that didn't get up too well."
In presenting the award, Cr Shinton said he acknowledged Cr Martin's outstanding contribution to the Association, describing him as an "absolute gentleman, full of credible information. The life membership honour was in recognition of John's efforts in making a significant contribution to the success of the Association as the peak body in NSW, empowering and advocating on behalf of councils of NSW that are impacted by mining and energy developers," he said.
"It gives me great pleasure to bestow this badge, certificate and plaque in the recognition John deserves from his peers, as a distinguished member of our Association."
 Rushed new Queensland solar rules to drive up costs, and lead to industry slow-down Clean Energy Council , 2nd May 2019 article highlights some solar issues that could cause ructions in NSW as follows:.
New rules rushed through by the Queensland Government are likely to hit the commercial solar sector hard when they come into effect in less than two weeks, and will make it harder for the state to meet its own renewable energy target, the Clean Energy Council said today. Anna Freeman, the Clean Energy Council's Director of Energy Generation, said the new regulations for solar meant that electricians had to be used for work such as carrying unplugged solar panels or bolting them to a rail.
"This is like having to call in an electrician to hang a TV on a bracket on your wall. It's absurd. It would be virtually impossible to electrocute yourself by handling an unconnected panel. You're at greater risk from plugging in a toaster at home," Ms Freeman said.     
"The changes will drive up the cost of building both large solar farms and commercial solar systems installed in places like shopping centres, schools, swimming pools and factories. Estimates from solar businesses are that the cost of building commercial projects will increase by 10 to 20 per cent, delaying the payback period for businesses and schools, and making many projects unviable.
"Combined with the effect on large-scale solar farms, these changes will slow the installation of solar across the state and make it more costly for businesses to control their energy costs. Not even an electrical apprentice will be able to handle and attach an unconnected solar panel, so the opportunities for apprentices to work in the new solar industry are going to be slashed. At the very time in which the Federal Labor Party announces its commitment to boost apprenticeships in renewable energy, the Queensland Government continues to persist with a regulation that will kill off many clean energy apprenticeships.
"From 13 May, those businesses which already have projects under construction are going to have to wear this extra cost, without the ability to pass this on to their customers. This means many small- to medium-sized businesses will be out of pocket," she said.
Ms Freeman said that the sudden regulatory change had not been justified, with the government not able to demonstrate a single safety incident on a solar farm relating to the mounting and fixing of solar panels. "To our knowledge, no other jurisdiction on the planet has such extreme and unnecessary regulation in place," she said.
 "We are asking the government to immediately delay this new regulation before people start losing their jobs, so that proper consultation can take place with the solar industry. "If the Palaszczuk Government is willing to return to the table, we are confident that we can work co-operatively together with all parties to find a way forward that does not destroy jobs and investment."  

New gas terminal for Port Kembla From the NSW Government's NSW News 3rd May is the following article: A new gas terminal at Port Kembla will create local jobs, help to bring down household gas bills and achieve energy security into the future.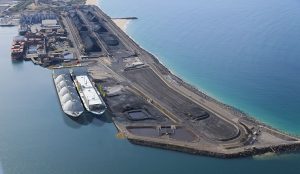 The NSW Government has given planning approval for Australian Industrial Energy to construct the gas terminal at Port Kembla. The new terminal will accommodate Liquefied Natural Gas (LNG) carrier ships, a floating LNG handling facility, wharf infrastructure and a pipeline to connect to the existing NSW east coast gas network nearby.
Once operational, the terminal could supply 70 per cent of the state's annual gas demand and help to ease the cost of energy bills for the 33,000 businesses and a million households in NSW that depend on natural gas.  With the creation of 150 jobs during construction and up to 50 ongoing roles once operational, the terminal is also a major boost for the economy.  
Before approving the terminal, the NSW Government assessed the environmental, social and economic impacts identified by community, government and independent stakeholders.
Planning approval includes conditions to:
manage impacts during the construction of the import terminal, including excavation and dredging activities in Port Kembla harbour and management of contaminated materials and acid sulphate soils
manage hazards and risks associated with the operation of the LNG import facility and gas pipeline
regulate and monitor air and water discharges from the project during construction and operations.
Minister for Energy and Environment Matt Kean said the Port Kembla gas terminal will be a game-changer for improving energy security and helping to ease energy costs. "It could support gas-fired electricity generation in NSW and help make sure we have reliable electricity."
Uranium mine slides through. Industrial Careers, 29th April 2019 article states:
The Coalition appears to have signed off on a controversial uranium mine one day before calling the federal election, and did not announce it until the day before Anzac Day. The Yeelirrie Uranium mine in Western Australia is embroiled in a case in WA's Supreme Court brought by members of the Tjiwarl traditional owners.
The former Liberal Barnett government controversially approved the mine in 2017, despite the state's EPA advising it not be approved. Now, Environment Minister Melissa Price has announced the federal approval, which she says is subject to 32 strict conditions to avoid and mitigate potential environmental impacts.
The Australian Conservation Foundation's Dave Sweeney says the timing is suspicious. "We need decisions that are based on evidence and the national interest, not a company's interest or not a particular senator's or a particular government's interest," he said. "This reeks of political interference, rather than a legal consideration or due process."
More information is available here.
Contacts
Clr Peter Shinton (Chair) peter.shinton@warrumbungle.nsw.gov.au 0268492000 or Greg Lamont (Executive Officer) 0407937636, info@mininrelatedcouncils.asn.au.