INTRODUCTION
Delegates, here is the March MERC Newsletter, please circulate the Newsletter to your fellow Councillors and senior staff this week, so they can appreciate and understand the excellent work the Association and you are doing on behalf of your Council and community, with regard to mining and energy related matters.  
CONFERENCE DATE CHANGE TO 6th – 9th JUNE 2023
MERC is partnering with RDA Orana to run a mini conference in Dubbo during the period 6-9th June 2023. This is a change from the earlier mooted dates of 23rd-26th May 2023, due to the clash with other events affecting the attendance of delegates and the unavailability of venues to accommodate the needs of our conference.
Apologies to any members if any accommodation has been booked at this stage, it will need to be changed to attend the components of interest that is relevant to your Councillors' and/or senior staff on the program, which is outlined in this newsletter We have some exciting sessions and relevant speakers lined up.
All Councils and Joint Organisations of Councils throughout NSW are being invited to attend, as well as stakeholders from industry and government agencies who are being enticed with marketing material via social media and email etc., to ensure state wide coverage of this very important and often misunderstood topic with decision makers having to strive for –" zero emissions" Federally by 2050 and less in some states.
On this basis, using the expertise of our event partners at RDA Orana  and our input, a lot of questions will be asked, answered and the impacts on our communities clarified and understood at the conference so Councils can adjust accordingly.
It is anticipated that potential members for MERC will emerge as they will see that MERC is a specific valued apolitical voice for any Councils in NSW with mining & energy related developments or be a member out on interest for Local Government communities generally in NSW. by way of MERC having the ability to organise this conference and being an advocate with a strong voice for them.
Competitive conference attendance packages (including an early bird registration incentive) are being carefully considered by the organising Committee, taking into account potential sponsorship (where related industries have been targeted and packages compiled to assist them make their decisions). The organising Committee has been meeting weekly by zoom to ensure the conference is a success.
The focus has been on ensuring the cost is not a deterrent from as many Councillors and specialist technical staff attending this very important forum and for the organising Committee to at least break even with the outlays. A discount is being offered to current MERC members. Details on these packages will be released shortly once sponsorship is finalised in coming weeks..
The staging of a three day conference in regional NSW and using an organising Committee consisting of the Executive Officer from MERC, the CEO RDA Orana and their event staff member, rather than utilise expensive event planners, means that despite the excess workload, overheads are relatively low compared to other industry conferences held in cities.
The conference theme is 'Towards Zero Emissions" and is designed to integrate industry with government (Federal, State and Local Governments) to discuss the issues and impacts to work out the solutions by listening and observing best practice examples and hearing from experts from all sectors of the mining and energy space.
The conference will commence with the industry component on the first two days including a ¾ day for site visits to energy and mining developments of immense interest to industry, government and council members/ technical staff that can attend these days if they wish.
These 2 days are followed by day where industry and community representatives from Councils, State & Federal Governments in a forum discussing, the key issues such as use of a variety of energy options including the taboo nuclear energy option and its impacts on communities plus emerging options with hydrogen, coal, wind, solar, battery, electricity, microgrids, waste management and so forth.
Provision has been made to have a session to discuss the issues and to look for solutions on the complexities of ensuring there are a workforce and housing to ensure the energy options developed is produced to keep the lights on, businesses running and communities functioning.
It is a innovative program on a topical and controversial issue designed to attract a lot of interest from the NSW decision makers, including local Councils and their senior specialist staff.
Speakers and panellists targeted for the conference are the Premier of NSW, Chris Minns; the Federal Minister for Climate Change & Energy Hon Chris Bowen; Hon Penny Sharp, NSW Minister for Climate Change and Energy; respected Energy and Climate Change expert Dr Kerry Schott, International Expert on Energy, Dr Saul Griffiths, Rewiring Australia; Kane Thornton, CEO Clean Energy Council; a speaker on nucllear energy from Australian Nuclear Science & Technology Organisation; Steve Galilee, CEO NSW Minerals Council; Kevin Gallagher, Managing Director and CEO Santos; Professor Veena Sahajwalla, Director ARC Microgridrecycling Research Hub; James Hay, CEO EnergyCo; Mark Vaile, Chair Whitehaven Coal; Sanjeev Gupta, owner of SIMEC Mining GFC Alliance – Tahmoor Coal Mine; Twiggy Forrest, owner of Fortescue Minerals; Roger Fletcher, owner of Fletcher Meats; Mike Sutherland, GM ASM, plus more from NSW Councils, Shadow Ministers and Universities………..Have a look at the program following, noting that it is still being developed and speakers being confirmed:
Tuesday, 6 June 2023, Day 1: Industry Innovation Forum including lunch and followed by informal networking drinks – Dubbo Rhino Lodge, off the Newell Highway past the Zoo. Sessions include.
Leading and funding innovation.
Opportunities for clean energy adoption.
Monitoring and measuring emissions.
Activating innovation in regions (Zero Hub Innovation Zone workshop) 
Wednesday, 7 June 2023, Day 2: Industry Tours x 2 (buses), pick up from RDA Orana Office and motels. (Note: Finer details of both tours are being confirmed)
Resources Tour: 

Materials Science Advancements & Process Flowsheets presentation
ASM Metallization Technology (KSM) presentation
Tomingley (Alex Cherry) Ambient Noise Technology – Passive Seismic
CMOC North Parkes – training centre
Parkes Strategic Planning Precinct (SAP)

Energy Tour

Dubbo Hydrogen site 
Blueridge Microgrid/Lavo
Bodangora Wind Farm
Alkane Drill Rigs
Energy Co Substation
Squadron Energy – community engagement
3pm Workforce and Housing Session – Dubbo Rhino Lodge
Welcome Function 5:30pm The Exchange 
Thursday, 8 June 2023, Day 3: Industry and Community Development Forum – Dubbo Rhino Lodge, off Newell Highway, past the Zoo. Sessions include.
Zero emissions future
Industry Outlook
Leveraging opportunities
Managing transition
Formal Dinner, Lazy River Estate (buses will also support this). Keynote speaker TBC
Friday, 9 June 2023, Day 4: 8.30am-1.30pm. MERC Meeting – Jacaranda Room Dubbo RSL Memorial Club. Observers and potential members will be encouraged to attend. Life membership presentations.
GOVERNANCE MATTERS
1          Next Meetings of Association – The next Ordinary meeting will be on 9th June 2023 in the Dubbo RSL Jacaranda Room. The August Ordinary meeting location is yet to be determined, whilst the AGM meeting will be held in November at a location to be determined. The Executive Committee will have a meeting (by teleconference) beforehand on dates to be determined by the Chair in consultation with the Executive Committee.
2          Resources & Energy Mini Conference The Mini Conference date slots have been changed and now booked for the week 6-9th June 2023 as outlined above. The conference will be run in partnership with RDA Orana with MERC's Ordinary meeting being held on Friday 9th June 2023 after the conference, hoping that members attend the conference and networking dinner day before at least.
3          COVID-19 Virus Impact on MERC – In 2023 MERC will be resuming its' meeting cycle activities in the normal manner. What this means for MERC delegates is that 2023 will have quarterly meetings as "face to face" meetings with use of zoom in exceptional circumstances. Executive Committee meetings will be by zoom means as determined. A lot of value is gleaned from being at a meeting in person and this can be lost when delegates attend by zoom. The focus will always be on giving delegates an opportunity to attend meetings. However, delegates must be present to vote for the AGM in view of the voting system in the constitution. 
4          Speakers for Next Meeting in Dubbo – The invitees to be approached to speak at Dubbo will be Ministers, Opposition, Mining & Energy Industry Leaders and speakers from areas of Innovation in the space such as Universities, Associations, experts, plus sponsors.
5          Inland NSW Growth Alliance (formerly Orana Opportunity Network (O2N) – MERC is trialling as a Bronze Member of INGA for 12 months. Their Newsletters are available on their website on o2n@o2n.org.au.  A partnership has been forged with Orana RDA to joint hosting of a Resources Energy & Innovation Forum with MERC in Dubbo as outlined above;
6          CRC Transformation in Mining Economies (CRCTiME) – MERC is a partner with CRC TiME on a no cost but consultative basis. They provide updates on progress with an opportunity for members to join webinars, workshops, surveys etc. Latest update is below.
7          Renewable Energy Zones (REZ) – Consultants have conducted a survey of 21 stakeholders, including the Executive Officer of MERC on how the government can improve its "social licence" with roll out of the REZ's. Details are outlined below.
MATTERS OF INTEREST
(i) Renewable Energy Alliance (RE-Alliance)
Andrew Bray, National Director Re-Alliance writes: "In a great example of the local leadership that is needed to build a successful energy transition, a local west Victorian organisation is calling for transmission infrastructure upgrades to unlock the opportunities offered by renewables.
The Wimmera Development Association (WDA) is "the peak economic development organisation for the Wimmera Southern Mallee region." They recently released the report 'Keeping the lights on & enabling a renewable energy revolution in Wimmera Southern Mallee'.
The Wimmera Southern Mallee (WSM) region has some of the best wind and solar resources in the country – and the report highlights the widespread local support for renewable energy, with 80% supporting new wind projects and 86% supporting new solar projects.
There are three Renewable Energy Zones in western Victoria, and the projects in them represent a potential of $6.16 billion in investment, 1,737 jobs and 3,082 indirect jobs for the region.
However a major block to accessing these opportunities is transmission infrastructure. Without infrastructure upgrades, the more than 19 renewable energy projects under consideration will not be able to be connected.
"The WDA, representing the communities in the region, is strongly supportive of transmission infrastructure upgrades in the WSM region to unlock the economic opportunities flowing from both proposed and future renewable generation capacity."
The Wimmera Development Association committed to being "prepared to be public (and vocal) supporters of any decision that involves moving the terminal station to Bulgana." They also, "would like the opportunity to partner with government on promoting the wider opportunities that renewable energy investment can deliver in repositioning the Wimmera Southern Mallee regional economy."    Read more about the Wimmera Development Association's report.
It's wonderful to see local leaders advocating for transmission lines that will help their communities make the most of the opportunities our renewable energy transition offers.
At RE-Alliance, we have advocated for the recently legislated landholder payments in NSW and Victoria. Transmission is crucial to Australia's energy transition, and we are committed to seeing communities benefit from hosting transmission and other infrastructure powering Australia's switch to renewable energy".
(ii) Renewable Energy Zones (REZ's)
A REZ is a hub of renewable projects across a region that forma a modern-day power station, producing a large amount of energy for the State. The State Government has set them up in the New England, Southern NSW, Hunter/Central Coast Regions and in the Riverina and Southern Riverina.
In following up Mike after the last two meeting presentations by him, EnergyCo, as part of their Stakeholder Engagement Strategy have set up a Listening Program where the MERC Executive Officer was one of 21 entities to be interviewed on a one on one basis (to ensure MERC is involved in the roll out of REZ's as a stakeholder) to assist in shaping how EnergyCo leads the delivery of the Renewable Energy Zones and Priority Transmission Projects in NSW.  
EnergyCo has engaged the services of RPS Group to conduct a series of one-on-one stakeholder interviews. Undertaking the consultation through an independent company ensures all feedback will remain anonymous as well as giving EnergyCo deeper research insights.
When the interviews are complete, RPS Group will provide un-identified interview transcripts for analysis. The key themes and insights from this data will help shape the way EnergyCo work in the future and they plan to release a public report summarising the insights from both our community survey and stakeholder inputs.  The results of the interviews are yet to be received.
(iii) RDA Orana / ON2
RDA Orana are organising a Resources & Energy Industry Innovation Forum in May 2023 in Dubbo and discussions have been held with MERC for its mini conference having a Local Government Day as part of the Forum, site visits day before, RDA Orana newsletters often have matters of interest for delegates which will be passed on when relevant information in them. More details will be released in mid-March when the marketing commences.
(iv) CRC TiME – Partner Update Stages of projects (as at 24/02/23)
CEO Guy Bloggs provides a quarterly update on the CRC Transformation in Mining Economies next due end of April, will be in next months Newsletter.
OTHER MATTERS OF INTEREST – MINING & RENEWABLE ENERGY
"Green Supply Chain Outlined" 11th April 2023, article in Industrial Careers: "Big firms behind Australia's heavy industry supply chains say it could transition to net zero emissions. The pathway to net zero emissions will be complex and challenging, but a collective statement from the heavy industry supply chain says companies are ready to work together and position Australia to prosper in a decarbonising global economy.
Three years of extensive research and analysis on behalf of the Australian Industry Energy Transitions Initiative, alongside robust debate and consultation with its partners, shows significant decarbonisation of Australian heavy industry is possible and outlines pathways for how it could be done," the statement reads. "It will require a significant stretch in ambition, and coordinated action across businesses, investors and government, while being inclusive of our communities, workers and Traditional Owners and Elders on whose lands we operate."
The companies come from diverse sectors but says that they share a common vision of Australia as a globally competitive, equitable, net zero emissions industrial economy with the potential to also become a net zero emissions energy and commodity export powerhouse. They plan to leverage abundant renewable energy and mineral resources, home-grown intellectual property, and experience to drive a competitive advantage.
Together, the Australian Industry Energy Transitions Initiative has identified five objectives to enable heavy industry to transition to net zero emissions consistent with global efforts to limit warming to 1.5°C.  
Set a strong, clear, enduring framework with a net zero emissions goal to align industry, finance and government. 
Transition to the large-scale, cost-competitive, renewable energy system of the future. 
Accelerate development and demonstration of the emerging technologies needed.  
Drive deployment of low-carbon solutions, reduce barriers and support investment towards the transition.  
Develop integrated net zero emissions industrial regions, supply chains and energy network solutions.
The Clean Energy Finance Corporation (CEFC) says the collective statement, signed by participants of the initiative, demonstrates a commitment to act towards achieving the outcomes described in its 'Pathways to industrial decarbonisation' report, and highlights the urgent action required to work towards reducing greenhouse gas emissions".
"Australian Hydrogen Superpower Dream could be a Massive Waste of Money" Sophie Vorrath, Renew Economy, 6th April 2023writes:"The well-funded push to make Australia a green hydrogen superpower is shaping up to be a costly economic mistake and a waste of the nation's abundant renewable energy resources, Rewiring Australia co-founder Saul Griffith has warned. Speaking at a parliamentary inquiry on Thursday, Griffith said Australia – with its huge land mass and unparalleled solar and wind resources – has the "easiest shot on goal" of almost any country in the world to become a renewable superpower, but not through hydrogen.
"The idea that hydrogen will play a large role in the energy future does not make economic or thermodynamic sense," Griffith says in Rewiring Australia's written submission the Joint Standing Committee's inquiry into Australia's transition to a green energy superpower. "It will play a small role, but attempting to carve out a large role for it represents a wasteful way to achieve clean energy goals."
Griffith is not the first or only energy expert to question the green hydrogen super-hype. The common theme among these critics, including Bloomberg's Michael Liebreich,, is that green hydrogen will play an important role, but only in certain hard to abate sectors. For the rest, wind and solar and storage will do the job. And yet, this is far from the message we are getting from Australia's governments, and even energy market arbiters.
The Australian Energy Market Operator's draft Integrated System Plan for the national grid now includes a "hydrogen superpower" scenario that models the end of all coal generation by 2032, and is the only scenario consistent with 1.5°C. (Although it has indicated it may dial down the hydrogen equation in the next version).
All federal and state governments have ambitious hydrogen strategies – including a federal stretch target of producing green hydrogen for $2/kg – and are pouring hundreds of millions into research and development and project proposals.
On the private side of the ledger, according to this tally in December of last year, more than 90 projects representing $A250 billion in investment are planned around the country – a figure that's bound to have increased substantially in the past few months.
Griffith, who's main focus through Rewiring Australia is to lobby for rapid and broad electrification – starting with Australian households and cars – says these billions could be much better spent. "It gives me pause for concern," he told the committee, which noted in comments during the session that the seemingly infinite promise of renewable hydrogen had been the hottest topic of the inquiry.
"When I look at the… graphs – and I do it diligently and I do it from first principle physics, I struggle to believe that hydrogen will be the contributor that is being lobbied for in this country," he told the inquiry.
Griffith argues that certain parties with their own vested interests have had a "heavy hand on the tiller of the hydrogen conversation," including Australia's regional neighbour Japan, which sees hydrogen as the answer to its very particular set of energy security problems.
The International Energy Agency, too, has come in strongly behind hydrogen, predicting, as a Griffith notes, that by 2050, 50% of the world's electricity will be used to make the zero emissions fuel. "The International Energy Agency is not a nonpartisan group – it was initially founded as a sort of trading bloc of fossil fuel producing countries for oil and gas. So, it really is the mouthpiece for the oil and gas industry," Griffith said.
"They are famously wrong on all their projections of the energy transition… but nevertheless, governments look to the International Energy Agency for advice. The people I respect doing the modelling of this, [they say] you know 90-95% of the economy will be all-electric, with 5%, maybe, hydrogen, on the high side. If [the IEA's prediction on hydrogen] is true, there's no way we will hit our climate targets because you need all that electricity to be running the economy. That's a very expensive way to do things."
Expensive because, as Rewiring Australia explains in its written submission, it takes three times as much electricity to produce the hydrogen that eventually powers a machine that could have been powered with just one third of the starting electricity if it was stored in a battery not a hydrogen cell.
"Over-investment in hydrogen is likely to leave Australian homes and Australian businesses with less economic savings and fewer emissions reduction," the submission says. "With so few people per square kilometre, and so much land, we have the opportunity to produce more renewable energy than we do currently and more than we need domestically, and we can do it cheaper than other nations. The question is what to do with that extra energy capacity."
Griffith says the answer to that question is to become a world leader in electrifying the primary production of materials from ores and doing so with renewables. "We have a superpower opportunity well suited to Australia's natural resource advantages – metal ores and low-cost energy. Steel sells for roughly 10 times the price of iron ore. As a simple example, today we earn around $78 billion in revenue from iron ore exports. If we refined that and exported it as steel, it could make up to $707 billion in revenue," the submission says.
"This version of an Australian bauxite industry would be earning $48 billion in exports, three times as much as today's $16 billion," Griffith says, although he adds that to do this will require an enormous amount of renewable electricity. This highlights the importance of boosting our renewable energy production to assume the status of a world superpower," he says. "That's really the fundamental argument …up-processing these things in Australia to, maybe not finished stainless steel but at least into pig iron, or into a highly concentrated lithium brine, is absolutely how we should export our energy.
"So, use the renewables here to do that. We may not make the cars for America but we will make the steel and aluminium and lithium," Griffith told the Committee".
"NSW Hosts Best Performing Wind Farms as Market keeps Eye on Liddell Coal Closure" Giles Parkinson, Renew Economy, 4th April 2023, writes" New South Wales was host to half of the best performing wind farms in Australia in the month of March, helping the country's biggest grid produce more power from wind and solar than any other state. According to industry consultant Rystad Energy, NSW generated 1010 gigawatt hours of electricity from wind (492GWh) and large scale solar (518GWh) in March. While that put it on top of the rankings in terms of output, in terms of market share of large scale wind and solar (15.8 per cent), it was well behind South Australia (46.6 pct) and Victoria (23.8 per cent). Those figures do not include rooftop solar.
Acciona's Gunning wind farm north of Canberra was the best performing wind asset in the country in March, with a capacity factor of 43.7 per cent, which turns out to be much higher than the capacity factor of the last three remaining units at the Liddell coal generator, which peaked at 38 per cent. Those three units will be closed this month, ostensibly removing nine per cent of the state's generation capacity, although it has been a long time since the ageing and decrepit facility has been operating at anywhere near its full capacity.
The other best performing wind assets in Australia in march were found in Western Australia, where APA Group's Badingarra wind farm delivered a capacity factor of 43.7 per cent, and the Biala wind farm in NSW (41.4 per cent). In all, NSW played host to five of the top ten wind assets in the month, while Tasmania hosted three and W.A. another two.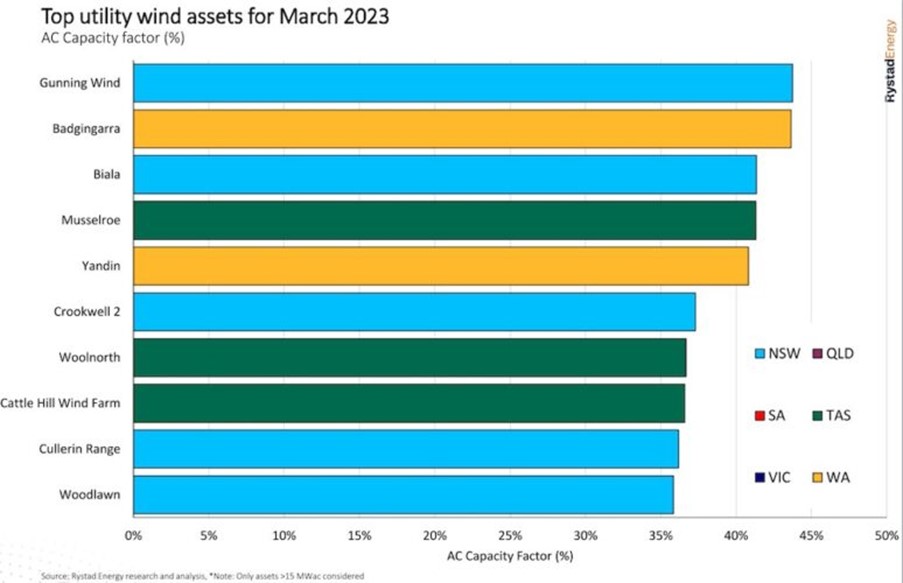 "Australian Coal Plant are Producing less Power but Mine Toxic Pollution" Rachel Williamson, Renew Economy, 5th April 2023 writes " Coal fired power plants are still one of the biggest contributors to air pollution in Australia, despite recent closures, outages and breakdowns, a new study has found. The analysis by Environmental Justice Australia is the latest in the wake of dozens of studies showing the damage that fossil fuels generally, and coal power plants specifically, are wreaking on human health.
In 2021-22, coal power plants produced 7 per cent and 5 per cent less electricity in New South Wales (NSW) and Victoria respectively, but air pollution actually increased, according to data crunched from the National Pollution Inventory (NPI).
"Coal-burning power stations are among the biggest polluters in Australia, causing serious health impacts in the community, including increasing rates of asthma in children, contributing to low birth weight in newborns and the development of serious heart and lung conditions," says Environmental Justice Australia senior campaigner Joy Toose. The technology to reduce this pollution exists and is used widely around the world, but shockingly, coal-fired power stations in Australia continue to operate without best-practice controls, exposing millions of Australians to unnecessary levels of toxic air pollution."
1.1.1 Less power, more pollution
In Victoria, mercury emissions rose by 12 per cent year-on-year, with AGL's Loy Yang B being the worst offender. Fine particle pollution is also up, with the volume of PM2.5 released or particles in smoke with a diameter of 2.5 micrometres, rising by 10 per cent, and PM10 rising by 11 per cent.
The data comes from the first full year to include the Environment Protection Authority (EPA) announced new licence conditions for Victoria's three remaining coal power plants as well, which added limits on mercury and particulate pollution for the first time. The rise in air pollution is indicative of the laxity of these new limits, Toose says.
In NSW, all five coal power plants reported increased mercury levels, which rose by 18 per cent, while PM2.5 pollution is up 7 per cent. Nitrogen oxide, a particularly nasty organic compound, touched 2.23kg per megawatt, compared to 1.3kg in Victoria. Vales Point Power Station was the biggest culprit and has since received another exemption from NSW's EPA to continue polluting above its licence limits for nitrogen oxide.
Mount Piper Power Station near Lithgow say power production drop by 32 per cent, and yet PM2.5 pollution rose by 147 per cent, PM10 by 78 per cent, and mercury by 59 per cent. But Queensland has the biggest polluters: Stanwell, Millmerran and Tarong power stations are among the top 10 sulphur dioxide polluters in the country of more than 2000 reporting entities.
Tarong also tops the list for PM2.5 pollution, and it joins Stanwell, Gladstone and Callide in the top 10 of nitrogen oxide polluters. These four are also in the top 20 of mercury polluters, with Millmerran Power coming in at number eight. Coal power plants are one of two sources of controllable mercury emissions, the other being metals production, according to a paper looking at emissions between 2000 and 2019.
"Within the coal-fired power plant sector, we find that emissions from black and brown coal-fired power plants were roughly equivalent from 2000 to 2016. Following the 2017 closure of Hazelwood… black coal-fired power plants now account for roughly 60 per cent of sectoral emissions," wrote the authors of Two decades of changing anthropogenic mercury emissions in Australia: inventory development, trends, and atmospheric implications.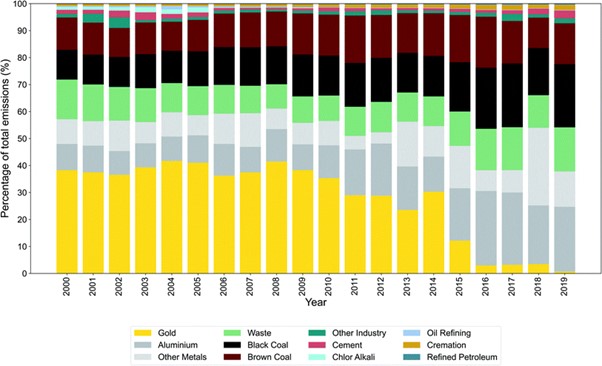 1.1.2 Air quality on the radar
Air pollution is beginning to get airtime. Last week a Clean Air Forum hosted by Labor MP Dr Michelle Ananda-Rajah saw chief health officer professor Paul Kelly saying he'd asked a subcommittee of the Australian Health Protection Principal Committee to make indoor air quality a key priority for the next 12 months.
Last year, a stern warning from 99 experts in The Lancet medical journal said fossil fuels are exacerbating the health effects of climate change — although globally deaths from coal burning are down 18 per cent between 2015 and 2020.
Studies have long shown the kinds of dire consequences of air pollution caused by coal power plant pollution. Minimal exposure to PM2.5 particles may increase the risk of lung cancer as well as other heart and lung conditions, as do sulphur and nitrogen oxides, while mercury causes impaired cognition and developmental delays in babies.
A report by Greenpeace in 2020 suggested that 800 people die prematurely in Australia every year due to illnesses caused by coal power plants We know that coal fired power stations are a major contributor to the air pollution that causes a significant health burden to the people of NSW, including 603 early deaths a year," Lake Macquarie GP Kathleen Wild said. "While many are aware of how air pollution contributes to lung problems like asthma and emphysema, there is increasing evidence that it also contributes to your risk of heart disease, dementia, low baby birth weight, and several other diseases.
"This is why there are limits on nitrogen oxide and sulphur dioxide chemicals that pollute the air from coal power stations, and it is a health concern to the Lake Macquarie and Central Coast communities that exemptions have been granted to Vales Point Power Station to exceed limits on air pollution."
1.1.3 Air quality commitments
Victoria released its Air Quality Strategy in October 2022, but Voices of the Valley spokesperson Wendy Farmer says the Latrobe Valley, where the state's remaining coal power stations are, has been excluded from the plan. "Our community has powered Victoria for decades and shoulders a huge health burden from breathing toxic air as a result, but we've been shut out of the government's clean air plan," she says. "If the government's clean air plan is truly for all Victorians, the Latrobe Valley should be included, alongside the priority areas identified in Melbourne's West."
While the plan does not specifically outline an exit from coal power, it does highlight the state's renewable energy capacity goals and incentives to move towards clean energy sources. NSW also has an air quality strategy for 2021-2030, which explicitly talks about a requirement to improve "air impacts" from coal power and committed some of a $2 billion air quality fund to "coal innovation". It also outlined the state's exit from coal power over the coming two decades."
Disclaimer The comments and details in the articles in this newsletter do not reflect the views, policies or position of the Association or its member Councils and are sourced and reproduced from public media outlets by the Executive Officer to provide information for members that they may not already be exposed to in their Local Government areas
Contacts Clr Kevin Duffy (Chair) cr.duffy@orange.nsw.gov.au or 0418652499 or Greg Lamont (Executive Officer) 0407937636, info@miningrelatedcouncils.asn.au.  .