Introduction
Delegates, here is the April 2017 Newsletter for your information, please circulate this to your fellow councillors and senior staff so they can appreciate and understand the excellent work the Association and you are doing on behalf of your council and community with regard to mining related matters. This newsletter has a mining historical flavour based on Broken Hill for your information and interest, in view of the meeting being held in Broken Hill.
Events at the AMRC meeting in Broken Hill 11/12th May 2017
As you are all aware, the next Executive Committee and Ordinary meetings of AMRC are in Broken Hill on 12th May 2017, with details on accommodation and travel options circulated in a previous emails to delegates by the Executive Officer. We hope all attendees are happily booked by the time this newsletter is circulated before the meetings.
The Executive Committee will meet in the morning of 11th May 2017, at 9am in the Musicians Club, the Ivory Room. The minutes will be circulated before the Ordinary meeting next day via email and in hard copy format.
A mine tour is  organised for the afternoon on Thursday 11th with a tour of the Cristal Sands Separation Plant. The CEO from the Mines Separation Plant will do a presentation to delegates thereafter take them on a tour of the mine site where access is possible.
Silver City Tours will then take the delegates to the Perilya Mine Museum at the Reilya Mine Site and then a tour of the district high lighting mining related features and commentary by the tour guide, on board the bus.
The networking dinner on Thursday night will be held at the Astra, corner Argent and Crystal Streets, around seven to seven thirty, bar facilities are available beforehand, with Ordinary meeting next morning being held at the Musicians Club, in Crystal Street on the 12th, at 9.00am, where we have morning tea at 10.30am and lunch at 12.30pm before departing.
Broken Hill has a lot of mining history of national interest, and Councillor Christine Adams, a local historian from Broken Hill City Council will enlighten delegates at the meeting on Friday morning after the Mayoral welcome from Councillor Darriea Hurley on the mining nad heritage history of Broken Hill. Should be an interesting perspective on mining from a local councillor.
Information on the Cristal Mine Separation Plant, it's proposed expansion, Perilya Mines and Mining History are provided below to give some background in case you cant make it.
1.Cristal Mines Separation Plant (from their website)
"Cristal Mining is one of Australia's premier mineral sands miners. Cristal Mining's mining and mineral separation operations are located in two significant mineral sands provinces in Australia, namely the Murray Basin in New South Wales and southwest of Western Australia.
Cristal Mining was formerly named Bemax Resources Limited (Bemax) and was listed on the Australian Securities Exchange (ASX).
Cristal Mining, under its former name Bemax, was incorporated in Australia in 1987 and has grown through successful exploration and acquisitions, including the acquisition of the Western Australian-based Cable Sands group in May 2004. Cable Sands, which continues to operate as a subsidiary of Cristal Mining, is one of Australia's first Titanium minerals producers, having commenced production in 1956.
In late 2004 and early 2005, Bemax commenced construction of the Ginkgo Mine and Broken Hill mineral separation plant in the Murray Basin. Heavy mineral concentrate production at the Ginkgo Mine commenced in December 2005 and commissioning of the Broken Hill mineral separation plant occurred in February 2006.
In 2006 Bemax became the largest producer of leucoxene, the third-largest producer of rutile and the seventh-largest producer of zircon globally, and is now recognised as one of Australia's premier mineral sands miners.
In 2008, Cristal Australia Pty Ltd acquired all of the shares in Bemax via an off-market takeover bid and Bemax was removed from the ASX official list of listed companies.
Cristal Australia Pty Ltd is a wholly-owned subsidiary of the National Titanium Dioxide Company Limited (Cristal). Cristal is a private company with headquarters in Jeddah, Kingdom of Saudi Arabia.
2. Expansion of the Cristal Mines Operations –  Western NSW region.
Further information was gleaned from their website which outlined their expansion plans as per the following Fact Sheet which talks about Broken Hill, Balranald, Cobar, Central Darling Shire Councils and the mines infrastructure needs in relation to road, rail and energy which is of topical interest, albeit in retrospect and has not been updated on their website.
Ginkgo – Snapper Surface Mining Projects – Cristal Mining presently has two operating mines in the Murray Basin. Dredge mining has been in oper­ation at the Ginkgo mine near Pooncarie since Dec 2005. Surface mining commenced at the nearby Snapper mine in 2010 with a second dredge commencing at Snapper in Jan 2011.
The ore is initially concentrated at site and then trucked to Broken Hill for further processing at our mineral separation plant (MSP). Final MSP products are transported by rail to Port Adelaide where they are shipped to our customers in Australia and to the rest of the world.
Atlas – Campaspe Surface Mining Project – Cristal Mining is planning to establish a further mine in the Murray Basin to be called Atlas-Campaspe. Atlas-Campaspe will be located 80 km north of Balranald and approximately 270 km south-east from Broken Hill. Because of its remote location, construction of appropriate infrastructure support has been a major component of development.
Cristal Mining is currently funding an $8 million feasibility study to determine the viability of the Atlas- Campaspe Project and to achieve both State and Commonwealth government environment approval and Development Consent. The Environmental Impact Study (EIS) was completed and submitted to the Department of Primary Industries of NSW in February 2013 and environmental and mining approvals are expected by the end of 2013. Preliminary design is planned to commence during 2014.
The deposit consists of over 6 million tonnes of contained heavy mineral to be concentrated and processed into Ilmenite, Leucoxene, Zircon and Rutile end products. The mine has a planned mine life of 11-20 years.
Economic Impact – The Atlas-Campaspe project will require a capital investment of approximately $200 million (2012 dollars) staged over 6 years, with an initial up-front cost of $140 million. Over 200 personnel will be required during the construction phase of the project. Between 100 to150 full time employees will be required when the site is operational.
Benefits to the local and State economy over the mine life are estimated at over $1,000 million. This would also incorporate a further expansion of the present Broken Hill MSP.
Infrastructure – Power options are presently being considered. Initial power will be via on-site generators. The option to construct a new power line from Balranald will be revised at a later date.
As mentioned logistics is an issue in a remote location like Atlas Campaspe. At this time the preferred transport route is to truck heavy mineral concentrate (HMC) from Atlas-Campaspe to Ivanhoe, and then rail the HMC from Ivanhoe to our MSP. This route involves travelling highways from Balranald to Ivanhoe. There is approximately 50 kilometres of unsealed road to the south of Ivanhoe.
A proposal put forward by the local shires of Balranald and Central Darling is to have this section sealed as part of the Wool Track between Balranald and Cobar. Cristal Mining has supported the local shires in this endeavour and has secured State Government funding for this project.
With potential infrastructure upgrades and employment opportunities on offer in the local area, positive community feedback from Ivanhoe and Balranald has been strong.
Sustainability and Environment – Cristal Mining has a successful record of rehabilitation in both the east and west of Australia. Former mining projects Jangardup, Yarloop and Sandalwood have been successfully rehabili­tated in consultation with the local landowners.
Cristal Mining recently completed its first major rehabilitation program in the Murray Basin at Wemen and Ginkgo mine sites. Innovative design has significantly reduced the effects of erosion at these sites. Not even the 1-in-200 year flooding event that occurred in February 2011 could dampen the efforts.
Community – Cristal Mining employs 211 staff and over 350 contractors at these operations the majority of whom live within the region. It is estimated that the State and the region benefit by over $120 million per year in salaries, payments to suppliers and royalties."
3. Perilya Mining at Broken Hill (from their Website)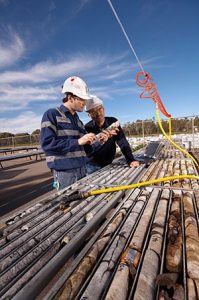 "By approaching opportunities with a fresh set of eyes, using innovative approaches to tap into the rich seam of past knowledge, and introducing new practices and technologies, we believe that we can unlock the considerable latent value at Broken Hill." Paul Arndt – Managing Director  & CEO
In 2010 Perilya achieved a significant milestone – its first eight years of successful operation of its Broken Hill Mine.  The company has brought a new lease of life to the historic Broken Hill mine since acquiring it in June 2002, increasing production and extending its life to more than six years based on existing reserves. 
During these eight years, Perilya Broken Hill mined approximately 15 million tonnes of ore and shipped over 800,000 tonnes of zinc metal and 450,000 tonnes of lead.
Further increasing ore reserves and extending the mine life at Broken Hill to beyond 10 years are important cornerstones in the company's strategy for sustainable growth.
World class ore
The Broken Hill ore body is "world class", having produced more than 200 million tonnes of ore over the 120 years since mining commenced in 1885.   This long history in mining has endowed Perilya with well – developed infrastructure that has the capacity and flexibility to operate at higher volumes and with a range of ore sources.
Despite Broken Hill's long history, many areas still remain relatively under explored – creating new and exciting opportunities for Perilya.
Perilya now manages 1,042 square kilometres of prospective terrain which includes the mine leases, incorporating the Southern Operations, the North Mine, and the Potosi Trend, and the historic Little Broken Hill and Pinnacles areas.
The Broken Hill operation produces two products, a zinc concentrate and a lead concentrate.  Concentrates from Broken Hill are a premium coarse-grained product, being of low complexity and containing a grade of about 50 per cent zinc in the zinc concentrate and 70 per cent lead in the lead concentrate.
Mining techniques
Perilya has introduced significant changes and improvements in the operations at Broken Hill. An underground equipment replacement program has resulted in improved productivity, while the concentrator was simplified to improve recoveries and concentrate quality.
Mining is principally conducted using a long hole open stope method with variations developed for extraction of the secondary resource located in the previously worked pillars area.
Long hole stoping currently accounts for 70 per cent of underground production, with pillar extraction and development ore contributing approximately 30 per cent of the total. The ventilation system comprises ten ventilation shafts with three surface exhaust fans and one surface intake fan.
The proprietary techniques and operating approaches developed through operating a large, complex remnant mine not only enables Perilya to extract full value from Broken Hill, but also provides a competitive advantage for developing other challenging ore bodies.
The miners
Perilya is fortunate to be part of a skilled and experienced mining community that is supportive and has a strong sense of identity.  The company has an experienced and settled residential workforce, one that blends younger professional and technical expertise with mature Broken Hill mining experience – a workforce that is committed and eager to embrace new ideas and technologies.
Looking forward
Perilya aims to increase production and improve margins at the Broken Hill mine, one of the largest historic base metal mines in the world.  Development of the North Mine, the Potosi decline and Flying Doctor deposit (subject to feasibility) will provide additional ore streams to fill spare concentrator capacity.  In addition, promising near mine exploration has the potential to create further development opportunities in the Broken Hill region.
4. Mining History of Broken Hill (from the www.travelin.com.au website)
Built on the back of mining, Broken Hill boasts an incredible story of life underground.
After more than 125 years of mining in Broken Hill, the 7.5km-long, 1.6km-deep Line of Lode has yielded 300 million tonnes of ore – enough to fill more than 1500 Sydney Opera House concert halls – and generated over $100 billion.
Boom, bust and bravado
Fortunes have come and gone in Broken Hill against an economic background of boom and bust.
Today, mining in Broken Hill is still big business. It generates more than $400 million a year, which, in 2012, accounted for almost half of the city's gross regional product. The two main mining operators, Perilya and CBH Resources, together employ more than 500 locals in mining works.
Over the years, the vivid stories associated with extreme fluctuations in the city's wealth have contributed their own richness to the unique character of Broken Hill.
You can experience these stories first-hand on a series of easy, self-guided walking tours – the Broken Hill Heritage Trail, the Broken Hill Cemetery Walk or the Heroes, Larrikins and Visionaries of Broken Hill Walk. Pick up a brochure from the Broken Hill Visitor Information Centre.
Syndicate of Seven
Seven men from Mount Gipps Station put Broken Hill on the map in 1883. The group, known later as the Syndicate of Seven, discovered ore on an isolated 'broken hill'. These men were George McCulloch, Charles Rasp, James Poole, David James, Philip Charley, George Urquhart and George Lind. Together, they formed the first mining company in Broken Hill, the Broken Hill Proprietary Company Limited (BHP).
Rasp and his fellow station hands David James and James Poole pegged out the original lease in September 1883. Rasp is the most famous of the seven today, but the equally well-educated and considerably tougher George McCulloch actually masterminded the syndicate and helped form BHP in 1885. McCulloch was an active patron of the arts and helped establish what is now the Broken Hill Regional Art Gallery. McCulloch also funded Broken Hill's first hospital.
The young jackaroo Philip Charley also benefited from the find. Charley first recognised silver chlorides near Rasp Shaft (pegged by McCulloch) and his ongoing involvement enabled him to import a 1907 Silver Ghost – the first Rolls-Royce in Australia. But others didn't do so well. George Urquhart and George Lind sold their shares at a loss. James Poole sold half his share to the cattle king, Sidney Kidman, for a herd of bullocks worth only £40. As perspective on their mistakes, in its first year alone BHP mined ore worth more than £42,000 (equivalent in value to about $6.5 million today). You can see busts of the original Syndicate of Seven outside the Broken Hill City Council Chambers.
Pioneering Unionism
For most of Broken Hill's history, mining was a very dangerous profession, but social changes made here resonated around the world. In the late 1800s, safety in the mines was the sole responsibility of the workers themselves. As a result, miners put up with terrible conditions, toiling away by lamplight with hammer and chisel, and breathing silicon-laden dust underground or lead fumes from the smelters. Many died of miners' phthisis or lead poisoning. Accidents were common and often resulted in death; over the years, more than 800 miners have lost their lives on the job. Today, their legacy is commemorated at the Miners Memorial that stands on top of the Line of Lode.
This memorial is a telling reminder of why Broken Hill pioneered a culture of trade unionism, including the introduction of the 35-hour working week and the defeat of conscription in Australia. In 1890, almost every worker on the Line of Lode belonged to a union like the giant Amalgamated Miners' Association, once one of the most powerful unions in Australia. Massive attempts were made to improve working conditions, including a large strike in 1892.
Union activities at the turn of the century were frequently hostile, which led to Broken Hill developing an infamous reputation for intense and frequent strikes. The conditions that induced these events were a far cry from modern, safety-first methods that use high-tech extraction machines, huge dump trucks and cement-lined underground roads. The city's proud militancy is presented in the 1905 Trades Hall building – the first privately owned trades hall in the southern hemisphere – and in murals on walls of buildings in central Broken Hill."
Voluntary Planning Agreement Working Party (VPAWP)
A meeting was held in Sydney with the NSW Minerals Councils CEO Steve Galiliee and Director Policy Greg Sullivan, (their Chair seat is vacant and they have called for expressions of interest for a replacement who is to be appointed soon), Association's Chair, Cr Hollee Jenkins, Steve Laone and the Executive Officer. The meeting discussed our respecteve differences in the negotiations on the VPA plus Resources for Regions eligibility criteria and other matters of interest.  
Both parties agreed to continue as the is still more to do with a cents per tonne model by the AMRC or call it another name with some variations to ensure we get what our communities need versus the NSWMC worker domicile model being altered to account more for post mining impacts on the community. The clarity on the use of IPART as an umpire, when are they involved, who pays and the legal substance of the documents, still needs to be agreed to by the parties and to fit in with with NSW State Government changes, so busy times ahead getting this sorted. But we are not too far apart on the models and final agreement.
More details are provided in the business papers and further discussions will be held at the meetings in Broken Hill this week.
Regional Independent Assessment Panel (RIAP)
We have finally got to the bottom of this.
Enquiries and minutes have revealed that it appears that the panel has been established to independently review projects being funded by the NSW State government for projects such as Resources for Regions, Water and Waste Water backlog Program for Infrastructure NSW, Country Bridges, and other infrastructure projects, etc. However the appointment of the CEO from NSWMC and the former Executive Officer were on the Panel only  to review Resources for Regions applications and the Panel recommended to the Minister who received grants against set criteria as independents..
The officer on the Panel from Premier's and Cabinet Department, Chris Hanger, is to write to the Association to request the appointment of a delegate to the Panel to replace Don Tydd. There are no current applications to consider.
The panel consists of Roger Fletcher (Chair), Fiona Simson (ex Clr Liverpool Plains Shire Council and National Farmers Federation), Jenny Davis (convenor from NSW Infrastructure), Derek Schoen (NSW Farmers), Richie Williamson (private appointment), Stephen Galilee (NSWMC), Don Tydd (AMRC), Chris Hanger (NSW Department of Industry now Premier 's and Cabinet Department), Naomi Dinnen (Treasury) and Ray Calligeros (Probity Audit).
Enquiries are continuing as to the background, status and if an AMRC delegate is to be part of this panel. Delegates will be updated in due course.
Website
The website is a work in progress and the focus has been on getting more relevant information on the site such as minutes, submissions, etc.
Changes to delegates has been rectified and if there are any other discrepancies or ideas on its format please contact the Executive Officer who will organise to adjust the details and consider all options.
Photographs will be changed as they evolve such as a photo of chair Shinton and Deputy Chair Connor with Shadow Minister Adam Searle at the meeting on 2nd March 2017.
Review of Strategic Framework (Plan) 2017 – 2020
A working party has been established to review the 2013 – 2016 Strategic Framework for next three years.
The chair and convener is AMRC Deputy Chair Coal Cr Chris Connor, the members of the working party appointed on 2nd March 2017 are:-
Cr Melanie Dagg, Cessnock City Council
Cr Michael Banasik, Wollondilly Shire Council
Cr James Nolan, Broken Hill City Council
Glen Wilcox, Lachlan Shire Council
Jason Linnane, Singleton Shire Council
The convenor will provide an update to the meeting at Broken Hill in May with the aim to have it presented to the delegates for consideration in August.
Related Matters of Interest
"We're getting out of coal".  "Starting in 2022 and ending by 2050, we are getting out of coal. We already run Australia's largest solar and wind farms. We've also started afund that will put up to $3billion into making renewable energy for everyone. And this is just the beginning. You with us?"……….. Who do you think would place full page adverisements like this in daily papers? It was in the Sydney Morning Herald 24th April and was presented by AGL. More details from their web site www.agl.com.au/the plan.
"'How Adani mine could cost us $70m" Published in the Sydney Morning Herald on 24th April 2017, the article raises concerns in the press that a proposed loan of $1 billion from the Commonwealth Government to fund a rail link to the giant Adani mine in Queensland's Galilee Basin has been called into question by economic modelling showing it may cost NSW hundreds of millions dollars a year by increasing the global supply of coal by about 6%. The article says some NSW mines would close, jobs lost communities affected and state government misssing out on $240million a year in royalties, etc
A spokesperson from the NSW Department of Industry made this statement in response "NSW produces high quality coal that is exported mainly to Japan, Korea, China and Taiwan. We do not expect a significant impact on the traded coal prices or NSW coal production if the Adani project is approved. All matters in relation to this project are for the Commonwealth and Queensland governments". NSW Minerals Council was reported as not wanting to make a comment. The Australia Institute commented. Refer www.smh.com.au
"Council pushes Westpac to reject Adani mine"  Byron Shire Council has upped the pressure on Westpac over any potential funding of the Adani mine by voting to withdraw the $1million it has with the bank.. The Council also said it woul prevent Westpac getting any of the $70million plus term deposits held by the council that is maturing this year. Byron Council has aligned with six other councils on this stand. Westpac said they had not been approached by Adani and the other three traditional banks have said they would not fund them. Refer www.smh.com.au 24th April 2017.
VPA Working Party Visits
If any council would like to know more about the background to the VPA Working Party, progress with negotiations and how the models proposed for Road and Non Road impact calculations, the timelines and the proposed Guidelines will work, please contact the Executive Office. Arrangements can be made to do a presentation to your council or its relevant staff to assist, by members of the Associations Working Party.
Contact
If you have any queries in relation to this newsletter please do not hesitate to contact the Chair or the Executive Officer to see how we can assist you in your busy role as a Council delegate to the Association of Mining Related Councils.Our contacts are:-
Chair, Clr Peter Shinton, by email peter.shinton@warrumbungle.nsw.gov.au or phone at Council on 02 68492000.
Executive Officer, Greg Lamont, by email greg@yourexecutiveservcie.com.su or info@miningrelatedcouncils.asn.au or phone on 0407937636
Greg Lamont – Executive Officer
Clr Peter Shinton – Chair